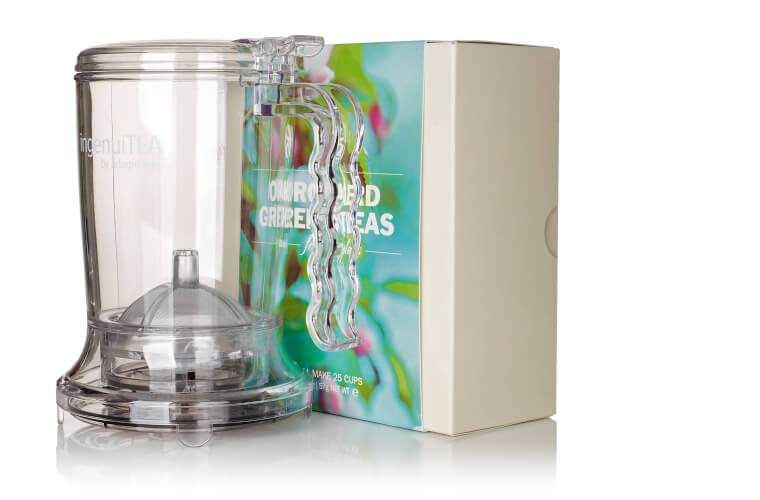 There's something therapeutic about brewing tea.
I'm not a huge tea drinker but when I was in the process of giving up sugar I found that special herbal ones really helped allay the sugar cravings.
I don't think it was the tea itself, but rather the process of brewing a cup that distracted me long enough to make a conscious choice about whether to eat the sugar I was craving or not.
A few months ago Adagio approached me asking if I'd like to try their range. I wasn't hugely enthusiastic if I'm honest, being rather fussy about what I drink. However, in the sprit of trying new things I agreed to try some of the Adagio tea range.
Oh my.
I've been mightily impressed.
From the decaf Earl Grey to the Honeybush Vanilla the variety and flavours are fabulous.
And the most exciting part?
Yup. Brewing it in my special little one mug loose tea infuser, the ingenuiTEA. You can see how it works in the little clip below where I'm using it as I type this!
It's made from BPA free plastic and is super easy to wash…I just tip the leaves out and give it a rinse in clean water!
What sets the Adajio teas apart more than anything else is that these hand-picked teas are sourced directly from origin.  The company works with the farmers, and the freshness means they are brimming with even more nutrients than usual. All in all a win win which I what I like to see in a company!
Because I love the tea so much I asked if they would provide one of my readers with some goodies to try too.
The prize is:
1 IngenuiTEA tea infuser
1 glass mug (featured in the video)
So if you like tea, this is the giveaway for you! It's the last one from a summer of gifting so I wish you lots of luck.
In order to be in for a chance of winning this fabulous prize all you need to do is log in using your Facebook account or email address in the box below and follow the instructions. You have until midnight on Wednesday 20 September to enter.
If you're new to entering competitions using Rafflecopter then you might find this guide helpful.
The giveaway is only open to UK mainland residents over the age of 18. No cash alternatives will be given. The winner will be picked at random and emailed to request a postal address. You will have one week to supply an address before another winner is picked. The prize will be fulfilled by Adajio Tea directly. 
I was gifted some tea, the ingenuiTEA and mug.
I've shared the giveaway on The Prize Finder and: