This week I'm offering one lucky reader the chance to win a Zero Gluten Baker, a bread maker specifically designed for baking gluten-free bread.
For those of you who don't know what that is, I reviewed it a few years ago on my YouTube channel…
I've always been quite adverse to using a bread machine when making gluten-free bread because it's so easy to make by hand. You'll find lots of my recipes here.
However, I know loads of you don't feel confident about making bread so a machine takes away any worries you may have.
I do have a couple of recipes using a bread maker on my site, and I did develop a number specifically for the Zero Gluten Baker. If you contact them I'm sure they'll share those with you.
My new vegan and gluten-free loaf is a great starting point. It has a lovely crispy crust and soft inside and can be flavoured any way you like. Feel free to add seeds, herbs or even chocolate chips or dried fruit.
My sweet fruit, nut and chocolate loaf is delicately spiced and great for a delicious mid-afternoon snack.
In order to be in for a chance of winning this fabulous prize all you need to do is log in using your Facebook account or email address in the box below and follow the instructions.
You have until midnight on Wednesday 23 August to enter.
If you're new to entering competitions using Rafflecopter then you might find this guide helpful.
The giveaway is only open to UK mainland residents over the age of 18. No cash alternatives will be given. The winner will be picked at random and emailed to request a postal address. You will have one week to supply an address before another winner is picked. The prize will be fulfilled by Imetec directly. All entries will receive a weekly newsletter from the Free From Fairy with recipes and tips. You can unsubscribe at any time.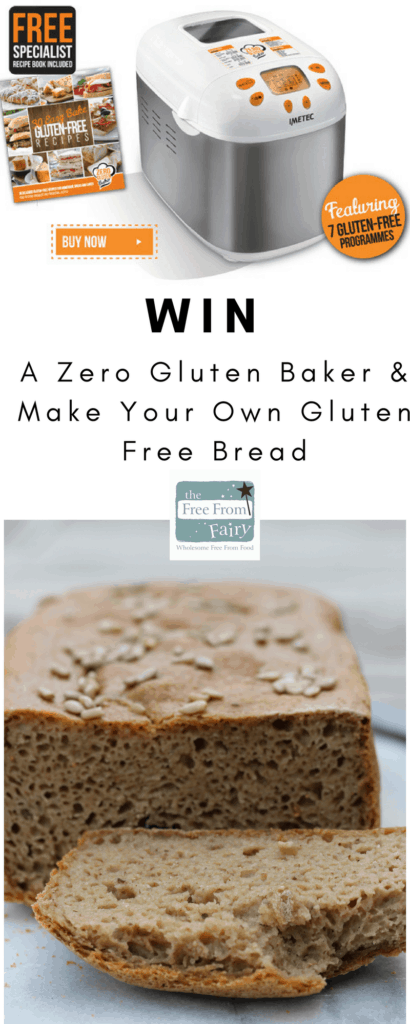 This giveaway is listed on Prize Finder and: