Print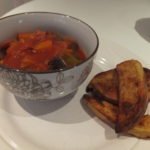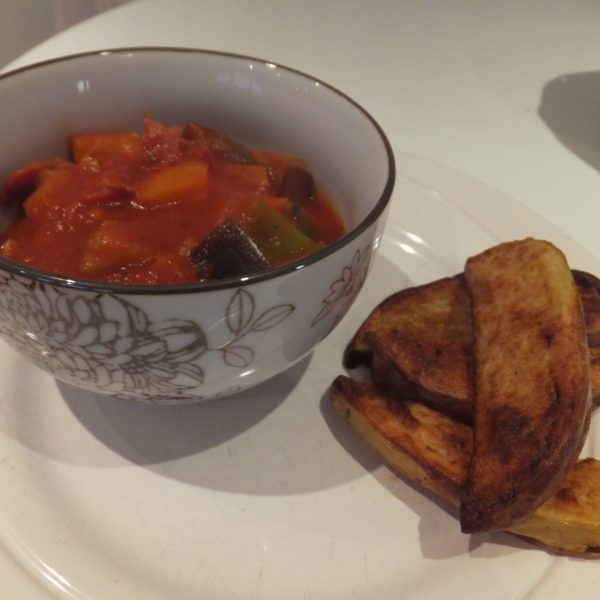 Meaty ratatouille
Gluten-free, Dairy-free, Egg-free, Nut-free, Soya-free, fish-free, can be vegetarian
Servings
2
adults & 2 children
1

red onion finely chopped

1

aubergine cut into small pieces

1

red

yellow or orange pepper cut into small pieces

1

clove

garlic

100

g

green beans cut into pieces

8

slices

chorizo

I used the pre-sliced stuff, you could use the sausage - check ingredients carefully and leave out if vegetarian!

250

ml

or there abouts! passata or a tin of chopped tomatoes with a tbsp tomato puree

200

ml

low salt stock

I use Marigold

1

tsp

dried mixed herbs

or a handful of fresh herbs finely chopped if you have them to hand!

Half tsp dried rosemary

Grind of black pepper
Add the chopped chorizo, onion and pepper to a large pan and fry over a low heat for approx. 5 minutes making sure that they don't burn

Add the garlic and aubergine and continue to cook over a low heat until the vegetables start to soften (another 5-10 minutes). I usually do this by adding a little water and putting the lid on the pan to let the vegetables 'sweat' - not a great word but the one I believe the chefs use!!

Finally place all the other ingredients into the pan, put the lid on and leave it to bubble gently away for approx. 40 minutes, stirring occationally. For the final 15 minutes take the lid off to let the sauce thicken a little before serving.

Whilst the meat ratatouille is cooking prepare something to go with it! Potato wedges go down well with the kids as do polenta chips or just plain boiled rice or quinoa to be super healthy! It is also rather lovely with pancakes and grated cheese if your diet allows it!