Description
Why buy one of my gluten free cookery classes?
Well, because I'm not a chef. I'm a mum who has learnt how to feed her coeliac, allergic child with passion and love.
With a background in science I've experimented for years to discover the secrets to cooking free from food.
Nothing is too difficult because I love a challenge.
I'm an experienced gluten free cookery presenter and teacher. I've demonstrated how to make gluten free food at many food festivals and have even cooked on stage with Michael Caines MBE.
My aim is to give you the confidence and skills you need to start making your own wholesome free from food that everyone can enjoy. That way, there is no need for separate meals and everyone can eat the same food together.
All you'll need is a willingness to learn and a good internet connection.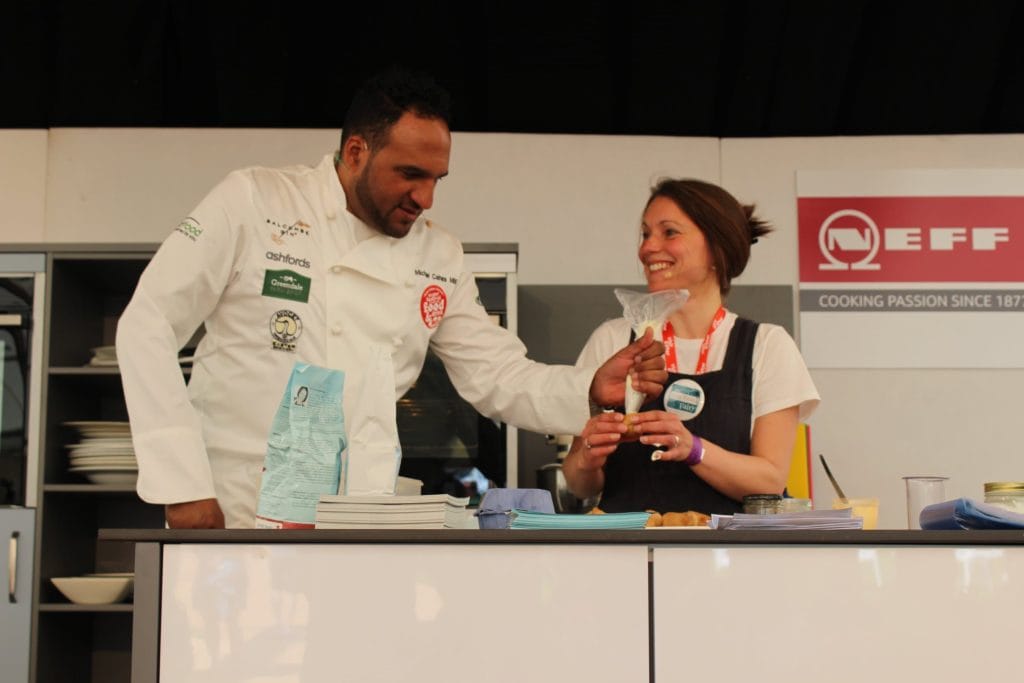 What will the gluten free cookery classes include?
Whatever you like! The idea is that we cook what you'd like to learn. The free 15 minute call is designed to establish exactly what that will be.
After the call we'll arrange a mutually agreeable time to carry out the lesson.
I'll email a list of ingredients and equipment that will be required (this will be based on what you have in your kitchen. I won't expect you to buy equipment but can recommend it if required).
After the lesson you'll receive the recipes in PDF format for you to keep.
You'll also receive a recording of the lesson so that you can watch what we did in your own time.
How long should I book?
A one hour lesson should be sufficient to teach you how to cook around 2-3 dishes, depending on their complexity and you're existing baking knowledge.
An example would be a simple gluten free bread (like a flatbread or soda bread), a gluten free cake and some gluten free biscuits.
You can book the time you think you'd like. If we cover all the dishes you'd like to make in less time then I will refund you any money you overpaid.
Just use the drop down to choose how many hours you'd like. £75 is for one hour.
What will I need for the gluten free cookery classes?
You'll need a good internet connection as the class will take place via video call.
Ideally you'll need a laptop so that you can see what I'm doing on a big screen. You could use your phone or tablet for the call but it may be harder to follow.
All instructions for joining the video call will be emailed in advance and the platform I use is very easy.
You will also need to buy the ingredients in advance of the call and be set up ready in your kitchen.
I usually recommend baking with my gluten free flour blend because it provides consistent results. If you are not in the UK and can't get hold of it then we can look at alternatives.
Can I buy this for a gift?
If you'd like to buy this as a gift for someone just email me after you've completed the purchase and I'll send a bespoke gift voucher to you.
Customer Reviews Excellent lesson
I learned loads at your cookery session and I really enjoyed it. The clarity with which you present and demonstrate recipes and obvious in-depth knowledge of food made for an excellent session, can't wait to try out some more of your recipes.