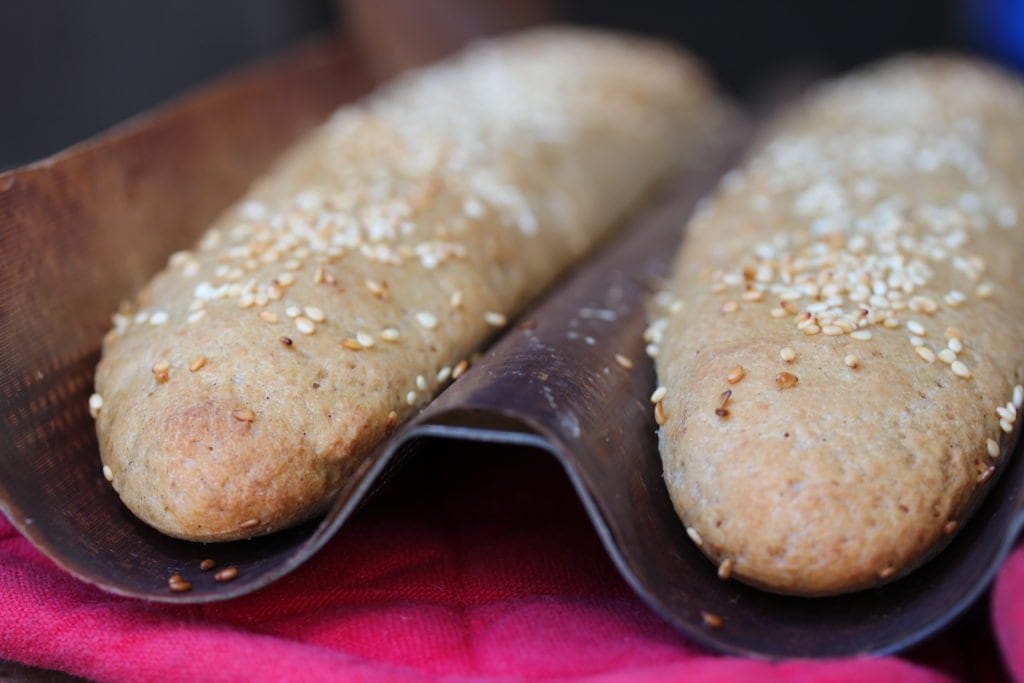 Please note that links here are affiliate links. That means that if you buy a product directly from the link I will receive a small amount of commission from your purchase. You pay the same price but you're helping me to continue running this site. Thanks!
Over the years I have tried out a lot of products, baking equipment and the like. To save you searching for the best things I'm sharing what I love and use right here. Please note that this page contains affiliate links which means if you click on a link and buy something I get a small commission while you pay the same price. That money helps to run this site so thank you.
Kitchenware
I use this Baguette tray to make this baguette recipe.
This Non stick liner is fabulous for lining the baguette tray and also for lining baking trays, rather than having to grease them.
This loaf tin is a must have if you are going to be baking gluten free bread. The high sides and narrow width create a lovely loaf with a good rise. Standard tins don't work very well with gluten-free bread because the lack of gluten means a lack of structure. The high sides of this tin makes sure there is enough room for the dough to be supported as it rises.
Kitchen Gadgets
The Sage Scraper Mixer Pro is one of my favourite gadgets. I was sent my to review and have never looked back. It makes creating bread, cakes and meringues particularly easy.
My Optimum Vac 2 high power blender was also a gift from the company. However my life was transformed when it entered it! It makes short work of creating things like soups, dips, nut milks, nut creams (that I use in things like cheesecake), smoothies and a whole lot more.
I would also recommend getting a small hand blender. I think I got mine in Lidl at some point but something like this is very useful for making small amounts of dip, chopping nuts, making banana ice cream for one etc.
My Sage smart waffle maker is fabulous for a breakfast treat. Most days the kids have pancakes or waffles for breakfast as they can be packed with protein and when made with my flour blends also pack in lot of other nutrients to keep them full till lunch.
My pasta maker is fabulous for making homemade gluten-free egg pasta. There is nothing quite like fresh pasta and it is perfect made with my plain flour blend.
Store Cupboard Essentials
For gluten-free flour I recommend my own blends (of course), because I think they are the most nutritious on the market and create the most consistent results. They are made from a blend of 70% wholegrain flours mixed with a little potato and tapioca starch with nothing else added. You can buy the plain flour here or the self-raising here.
I use a lot of coconut oil and coconut products. I work with Coconut Merchant because I believe they are a fabulous company that not only produce high quality organic products but also help the communities from which the coconuts are sourced. I recommend their:
Coconut chips/flakes
Coconut honey alternative
Ndali organic vanilla powder is my preferred vanilla extract.  It is pure vanilla and contains no sugar like more vanilla extracts.
Nielson Massey pure almond extract is a fabulous pure extract, again with no sugar that I use a lot in my baking.
Psyllium husk powder – I use this in most recipes instead of xanthan gum which can cause tummy upset in those with sensitive tummies.
Baking powder – I use this Dr Oetker one because it is readily available everywhere
Xanthan gum – if you want to use it in recipes. Many gluten-free recipes call for it but if you use my flour blends you don't need it unless making bread products