Description
In addition to the gluten free bread mix you will need the following ingredients to make a vegan and gluten free loaf of bread:
7g Allinson dried Easy Bake yeast
2 tbsp vegetable oil (I use olive oil)
1 tbsp sugar (honey, maple syrup, rice syrup etc) – optional but affects flavour
1 tsp cider vinegar or lemon juice
530g warm water (it's best to weigh this, rather than use a measuring jug because it needs to be accurate)
Preparation instructions
Watch the video…
These may look complicated but it's to ensure you get perfect results.
In reality all you have to do is stir your gluten free bread mix together with yeast, oil, sugar, vinegar and warm water, leave it to rise then bake it.
But I want you to get perfect results so here are the more detailed instructions that you can print out if you wish. The instructions are not printed on the packet.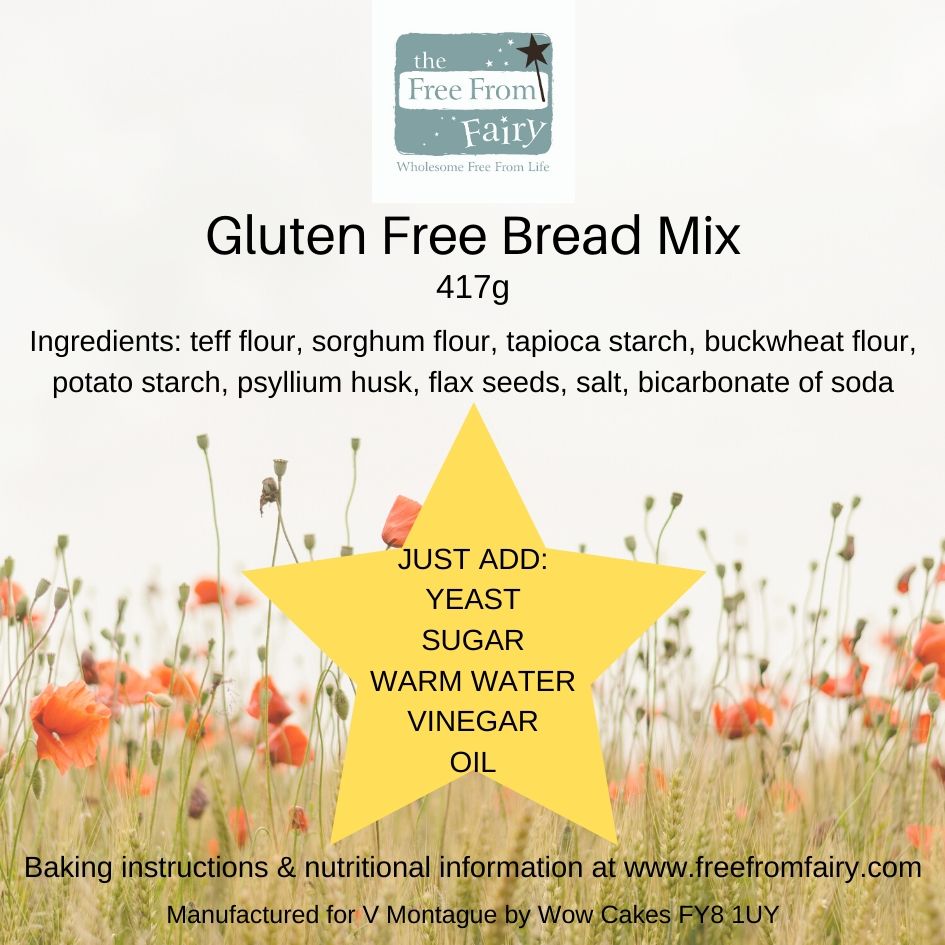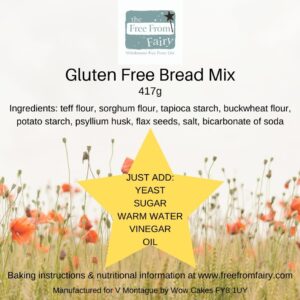 Gluten Free Bread using the Free From Fairy bread mix
A simple recipe for gluten free vegan bread that uses the Free From Fairy's gluten free bread mix. A wholesome gluten free alternative to wholemeal bread.
Equipment
1 2lb Bread tin or 2 1lb bread tins

Mixing bowl
Ingredients
7

g

Dried yeast

-

I recommend Allinson Easy Bake yeast

2

tbsp

Olive oil

-

you could use another vegetable oil. Plus extra for baking

1

tbsp

Sugar

-

you can use honey, maple syrup or coconut sugar for a refined sugar free version or omit all together for an entirely sugar free version

1

tsp

Cider vinegar

-

or lemon juice

530

g

Water (warm)

-

I use 130g boiling mixed with 400g cold to make the perfect temperature.
Instructions
Switch your oven on to 70 degrees C/ 50 degree fan. This gives you the perfect environment for the yeast to rise the bread.

Prepare a 2lb loaf tin by rubbing oil all around the tin and then liberally sprinkling it with gluten free flour to coat. (I recommend this tin. If you buy using this link I get a small percentage of the sale price while you pay the same amount - thanks). If you want to make a 1lb loaf, half the mixture and additional ingredients and cook as below.

Put the mix into a large bowl with 7g Allinson's dried easy bake yeast and 1 tbsp sugar (if you want to use honey or other liquid sweetener then add at the next step). Stir well.

Add 2 tablespoons vegetable oil, 1 tsp vinegar or lemon juice and 530g warm water (130g boiling water mixed with 400g cold water).

Stir until thoroughly combined and dough like, then scrape into your prepared tin.

With wet hands or a spatula push the dough into the tin and rub with oil.

Cover with an oiled piece of tin foil and place the loaf into your warm oven, leaving it for 15 - 20 minutes to rise - it should reach the top of your tin.

Once the dough has reached the top of the tin, remove the tin foil and turn the oven up to 230 degrees C (210 degrees fan/gas mark 7).

Bake for 50 minutes. For a 1 lb loaf cook for around 35 - 40 minutes.

Leave the loaf to cool in the tin for 5 minutes before carefully removing it and leaving it to cool on a wire rack on one side.

Be gentle when cutting the loaf (especially when still warm) because it is very soft and moist and it will stick together if you squash it!
Nutrition (Approx)
Serving:
100
g
|
Calories:
223
kcal
|
Carbohydrates:
38
g
|
Protein:
5
g
|
Fat:
5
g
|
Saturated Fat:
1
g
|
Sodium:
286
mg
|
Potassium:
8
mg
|
Fiber:
5
g
|
Sugar:
2
g
FAQ's
What is the nutritional data?
How do I store the gluten free bread mix?
The mix should be stored in a cool, dry place. It has a shelf life of 12 months. I have chosen at this point not to add the yeast into the mix because this will reduce the shelf life.
Why do I have to add sugar? Why not include it in the mix?
I decided not to include the sugar in the mix to give people the option of what type of sweetener (if any) they wanted to add. This way, those on a refined sugar free diet can still eat this bread by using coconut sugar, maple syrup, honey or rice syrup. Equally, the bread can be made without sugar for sugar free bread. It just alters the taste slightly and as there is a lot of sugar in bread you may miss it. You do not need the sugar to create a good loaf of bread though.
Does it matter what yeast I add?
I recommend using the dried Allinson Easy Bake yeast because it is both gluten free and works well in the recipe. I have tested the bread with Allinson Dried Active yeast and it still works but it needs longer to rise. I haven't tried using fresh yeast.
How long will the baked bread last for?
Once baked the bread will be fresh for at least 3 days if stored in an air tight container or wrapped well. After this I recommend toasting it. Alternatively you can slice it and freeze it once cooled.