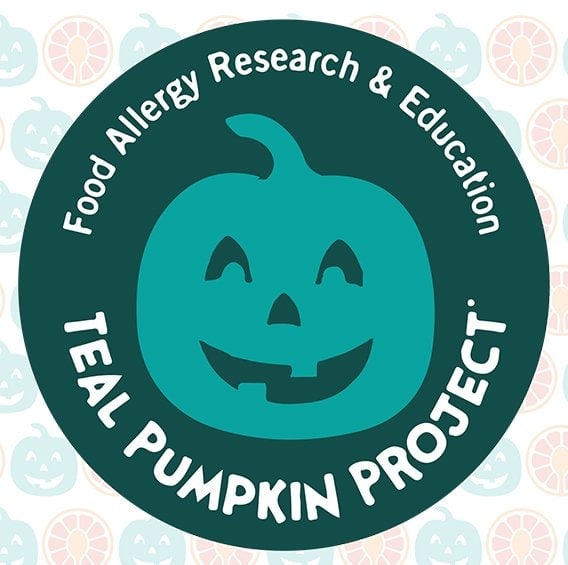 Are you someone who enjoys Halloween and stocks up on goodies for trick or treaters? Have you ever considered what it must be like to be a child and be given treats that you can't eat?
If so you'll want to read on to make sure you're providing treats that all the kids can enjoy…
In the UK alone it is estimated that some 7.1% of children have allergies to food (BSACI 2011), while 1% of the population have coeliac disease (a life-long autoimmune condition that necessitates a strict gluten-free diet for life).
In our house we don't go trick or treating. I personally don't feel comfortable with the kids going out asking for treats from neighbours (and I hate the constant asking for sweets afterwards).
However, there is also another good reason. If I let 'Roo' go out, the chances are she would come home with a whole host of sweets that she couldn't eat because they contained gluten.
And that, believe me, leads to tears.
Which leads me on to teal pumpkins and the five things you should know about them…
Teal coloured pumpkins were introduced in the USA in 2014 by Food Allergy Research & Education (FARE)
Teal pumpkins are used as a way to raise awareness of food allergies and to show inclusivity
There are loads of free resources to help you promote your teal pumpkin on the FARE website
If you want to provide allergy friendly treats at your house or party you can add your location to an interactive map here.
Support the teal pumpkin project by providing non-food treats. Get ideas for what they might be here.
So grab a pot of teal coloured paint (it's a blue/green colour for those of you, like Mr M, who don't know that!) and make Halloween fun for everyone.
You'll also be helping to raise awareness of food allergies, so it's a win win for everyone!