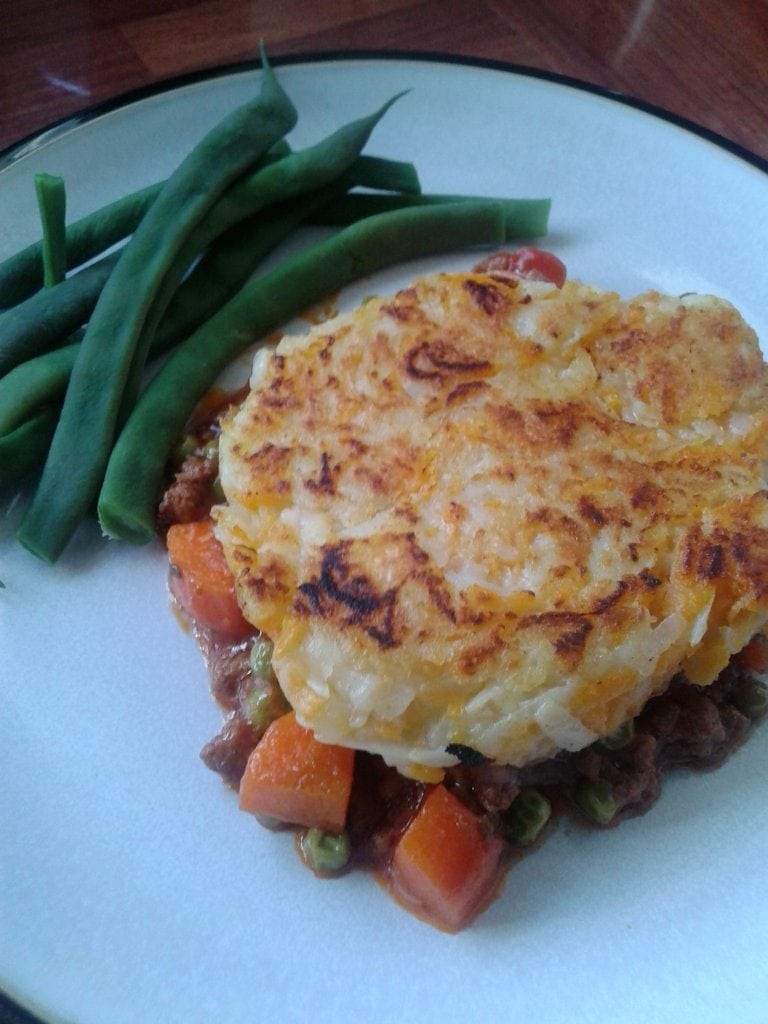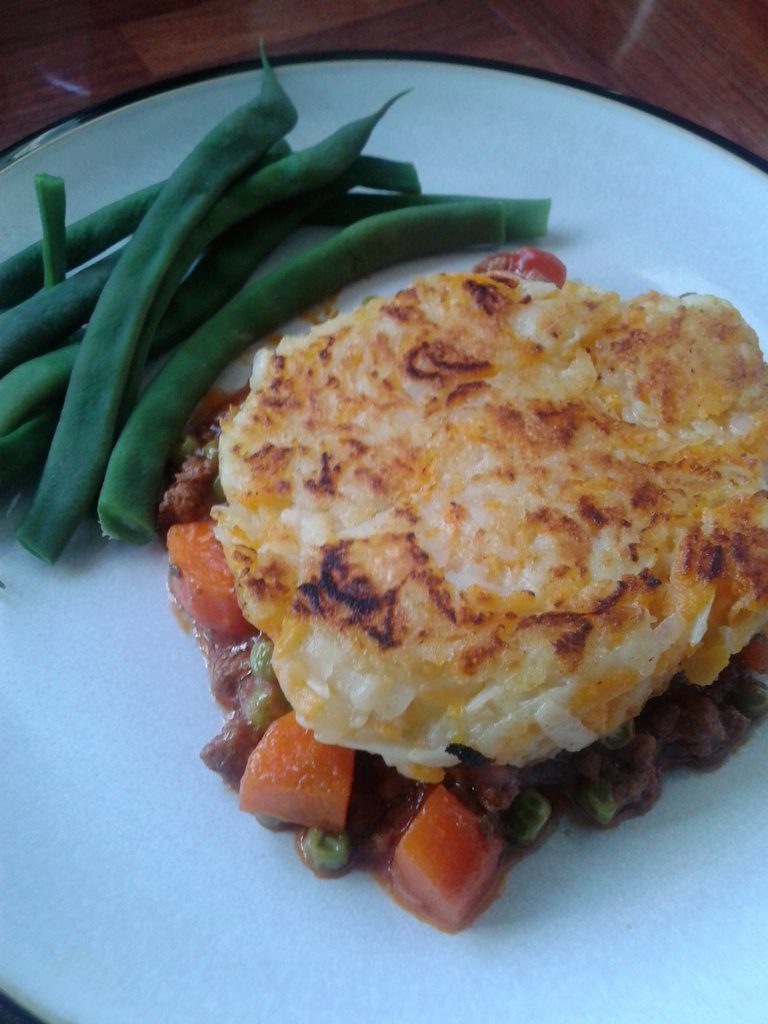 OK, so I am on a roll at the moment and finally getting around to posting more recipes for you.  I have so many stacked up now that I really need to stop writing and just share some!
I am still considering writing a book.  If any of you lovely readers have experience of publishing, or a comment to make about whether you would consider buying a book written by me then I would be most grateful of a message!  Sharing all my recipes on here for free is great, but without an income it will have to stop at some point!!!
So, here is the recipe.  I adapted it from one of Lorraine Pascal's, in her book 'Fast, Fresh and Easy Food', which is a fantastic book filled with loads of inspiration!  Why not buy it for your favourite cook this Christmas!  It is only £5!!
My daughter hates mashed potato so making rosti's to go on top of this cottage pie gets her to eat some carbohydrate with the meal!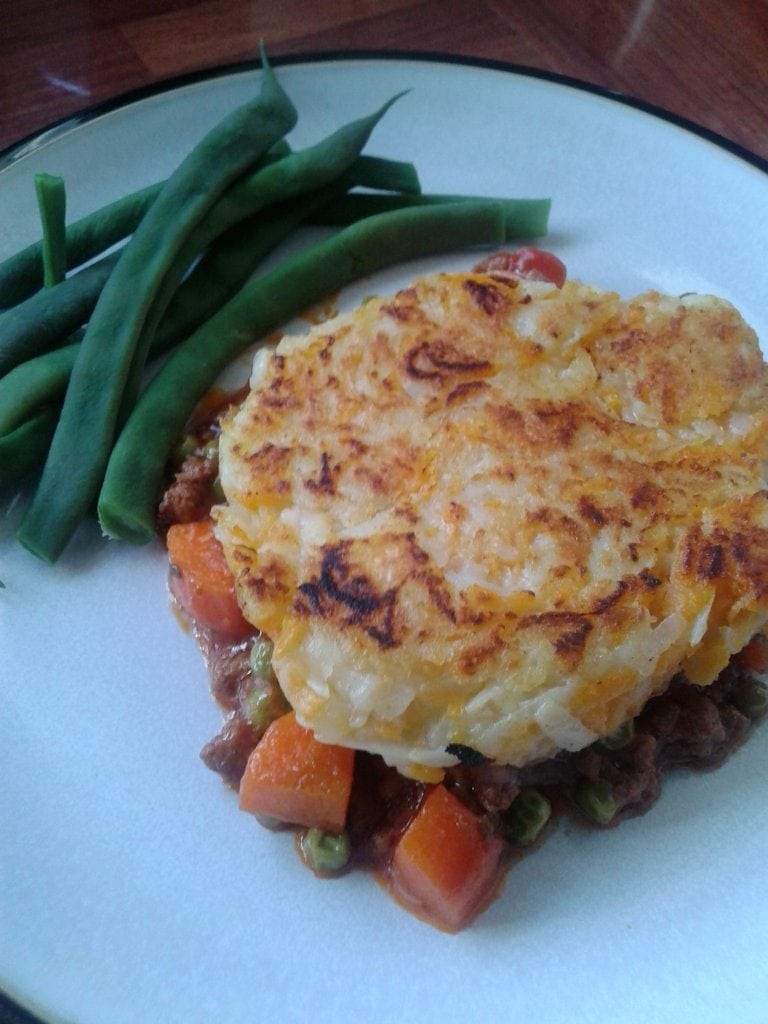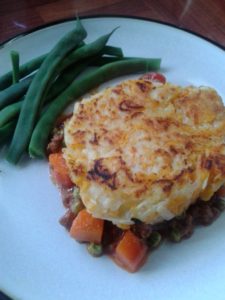 Cottage pies with rosti tops
Ingredients
For the filling:

2

sprigs fresh rosemary

-

chopped; or a tsp of dried

4

sage leaves

-

finely chopped

400 - 500

g

organic lamb mince

3

carrots

-

peeled and diced

2

spring onions

-

finely chopped

1

clove

garlic

-

finely chopped and crushed

400

ml

tomato passata or a tin of chopped tomatoes

2

tbsp

plain gluten-free flour

100

g

tomato puree

A splash worcestershire sauce

-

check gluten-free, omit if you want fish-free

100

g

frozen peas

200

ml

red wine

-

low-salt stock - I use Marigold, or water

For the topping:

2

medium potatoes

2

medium sweet potatoes

-

count towards your 5 a day

A glug of oil

-

ideally, extra-virgin olive oil
Instructions
Place a drizzle of oil in a pan and add the rosemary, sage and mince. Cook over a low to medium heat until the mince is brown all over

Add the carrots and cook for a further 4-5 minutes, stirring regularly

Add the flour to the mix along with the garlic and spring onions and stir well before adding the passata

Add the tomato puree, worcestershire sauce and wine, stock or water and peas and stir well before leaving to cook on a low heat for about 20 minutes, with the lid off, until thickened and the vegetables are soft

While the sauce is cooking, prepare the rosti's. Cut the normal potatoes in half and leave the sweet potatoes whole. Place them in a pan of boiling water and cook for 10 minutes

Once the potatoes are cooked, cool them in cold water before grating them into a large bowl. Season with pepper (and salt if not for children) and mix well with your hands

Form the potato into balls and then flatten them into a rosti shape, don't worry too much about the shape!

Place the rosti's into a pre-heated hot frying pan with a good glug of oil. Cook on each side over a medium heat for approx. 5-10 minutes until golden and crisp. When you turn the rosti over you may need more oil

Drain the rosti's on a piece of kitchen roll before serving on top of the sauce, with vegetables of your choice

Total cost = approx. £7.85 (breakdown at bottom of post, based on Tesco prices on 29.01.14), using organic meat
Cost breakdown – all prices correct on 29.1.14.  Where small quanities have been used an estimation of cost has been made.
Tesco fresh rosemary = 80p, couple of sprigs = approx. 15p
Tesco fresh sage = 80p, couple of leaves = max. 15p
Tesco organic lamb mince (400g) = £5
Tesco value carrots (1.5kg) = 89p, 3 carrots = approx. 15p
Tesco spring onions = 89p, 2 onions = approx. 20p
Tesco garlic bulb = 30p, 1 clove = approx. 3p
Tesco value tinned tomatoes = 34p per tin
Doves Farm plain gluten-free flour = £1.70, 2tbsp = approx. 3p
Tesco tomato puree = 48p (200g), 100g = 24p
Tesco frozen peas = £1 (1kg), 100g = 10p
Marigold reduced salt stock = £2 (150g), 5g = 6p
Tesco white potatoes = £2 (2.5kg), 2 potatoes = approx. 40p
Tesco sweet potatoes = (no price today!), about £2 (1kg), 2 potatoes = approx. £1
Tesco extra virgin olive oil (1lt) = £3.75, couple of glugs = approx. 10p