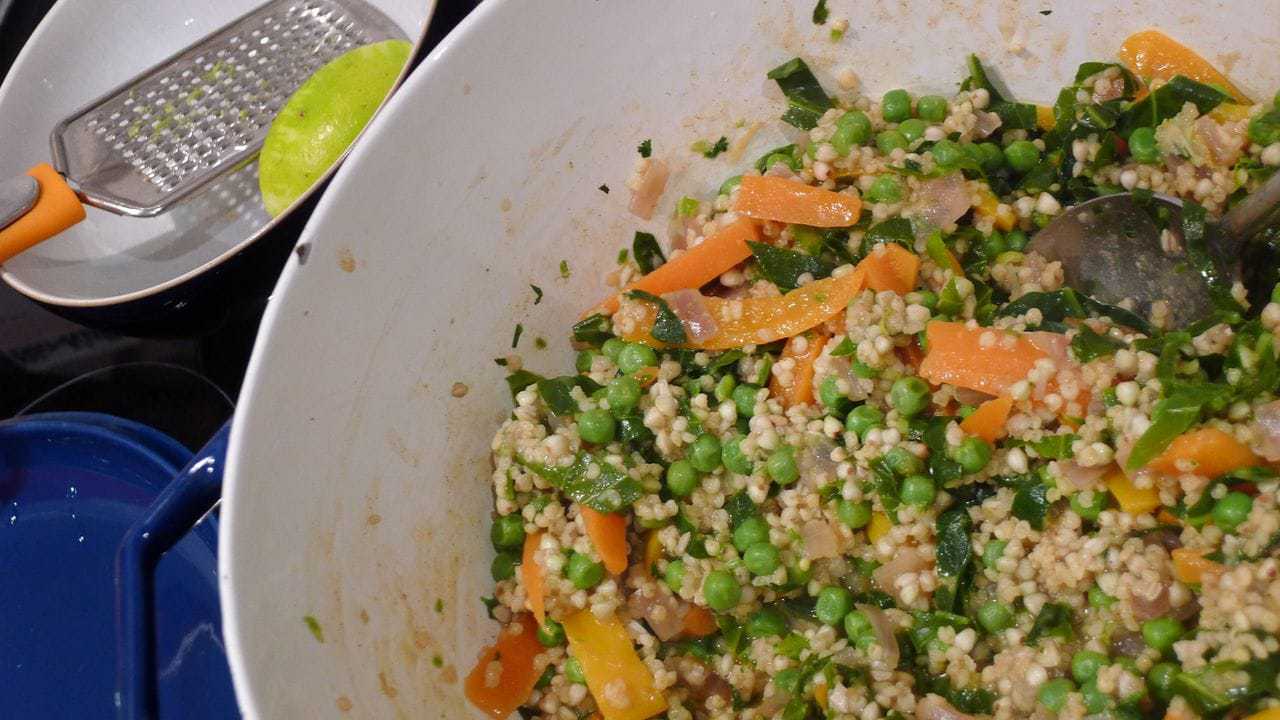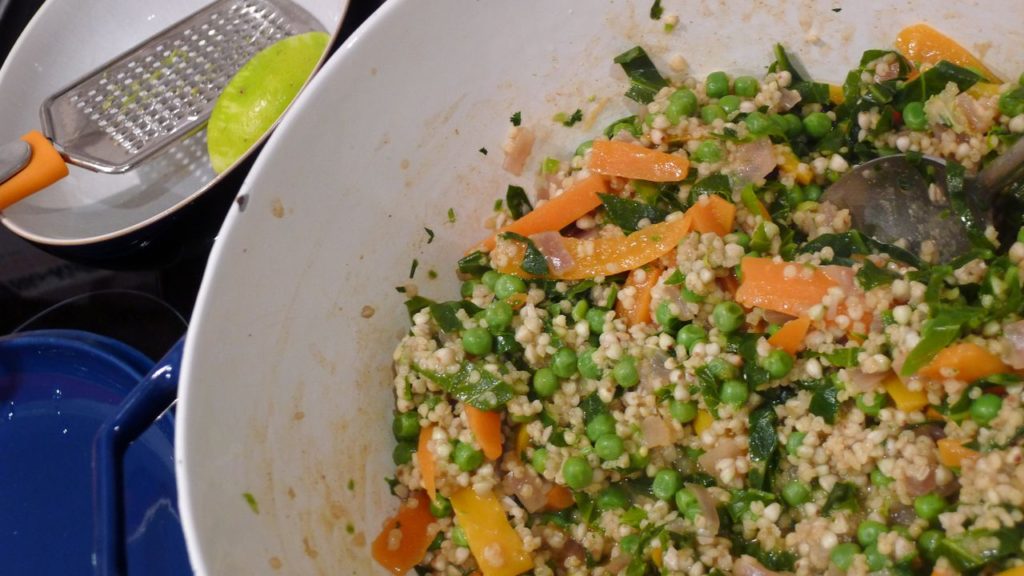 This is going to have to be a very quick post!  I have had a busy few weeks, helping my mum move house and trying to develop my own rice-free flour mix.  On top of that, today I have been preparing for my first Nature's Path photoshoot.  Three of the recipes that I have developed for them will be photographed tomorrow ready for their release in January, February and March next year!  Keep your eyes peeled on the Nature's Path website for them!
Anyway, as well as developing my rice-free flour mix I have been exploring alternatives to rice in other dishes.  After Doves Farm very kindly sent some samples of their new grains to me I decided to try them out in a kind of alternative pilauf.  The results were delicious so here is the recipe.  Let me know what you think…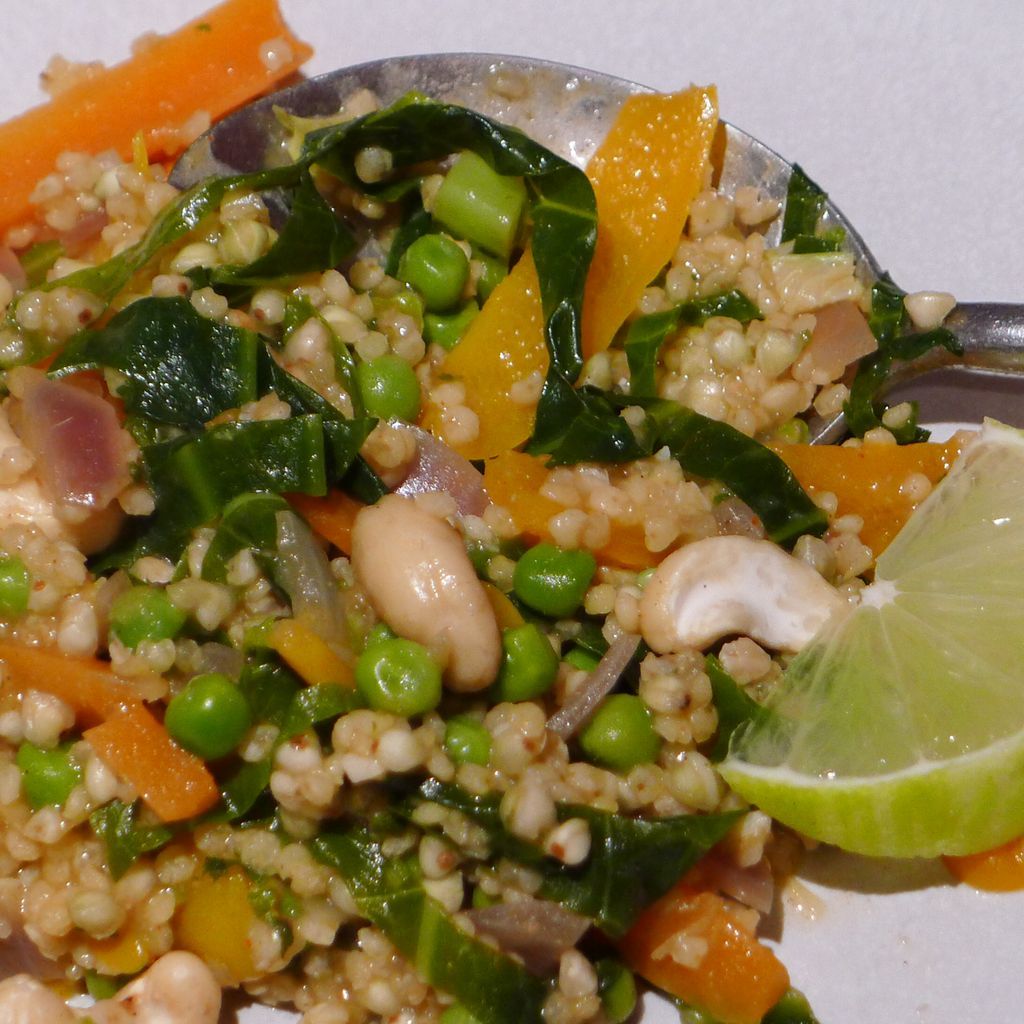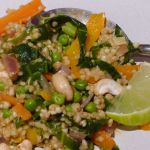 Spiced Vegetable Millet & Buckwheat Pilauf
Gluten-free, Dairy-free, Egg-free, Soya-Free, Vegetarian, Vegan
Ingredients
100

g

millet grains

100

g

buckwheat grains

1

large carrot peeled and chopped

1

red onion

-

finely chopped

1

orange or other coloured pepper

-

chopped

1

clove

garlic

-

finely chopped

1

thumbnail piece of fresh ginger

-

finely chopped

3-4

leaves

spring greens or a large handful of spinach

-

finely chopped

100

g

frozen peas

1

lime - zest and juice

1

tsp

ground cumin

1

tsp

ground paprika

1/4

tsp

ground cinnamon

1

tsp

sized piece solid creamed coconut

Handful mixed nuts

-

toasted (for the top)

Handful fresh corriander

-

chopped, to serve
Instructions
Place the millet and buckwheat in a large saucepan over a medium heat and toast for approx. 5 minutes until you can start to smell them cooking.

Remove the grain from the pan and add the onion, carrot and pepper along with a large splash of water.

Place the lid on the pan and sweat the vegetables over a low heat until soft (about 15 mins - you may need to add more water to prevent burning or sticking).

Once the vegetables are soft, add the garlic, ginger and spices and stirring all the time cook for a further minute.

Add 1 pint of water (or stock - but check gluten-free), the grains, peas, spring greens and creamed coconut. Stir then leave to cook with the lid on for about 12 minutes or until most of the liquid has been absorbed.

Remove from the heat and leave with the lid on for approx. 3 minutes until all the liquid has been absorbed. In the meantime lightly toast the nuts in a frying pan over a medium heat, until slightly brown (watch them all the time so they don't burn!).

Just before serving stir through the lime zest and juice and serve scattered with the nuts and chopped coriander.
I shared this with: