A healthy chocolate flapjack recipe I hear you question!
Well, knowing how popular my banana and date flapjack recipe is, I thought I would set about creating a chocolate one, and what better excuse than being challenged by Holland & Barrett to do so for their big freefrom bake off competition!
When I returned home from the Food Bloggers Connect conference in London on Sunday night I found my mystery box of ingredients, ready for my challenge to be revealed the following day.
I waited with bated breath for my challenge to be revealled…and to my joy it was chocolate!!! Yippee…my favourite thing in the world!  My challenge was to create a chocolate, sugar-free recipe.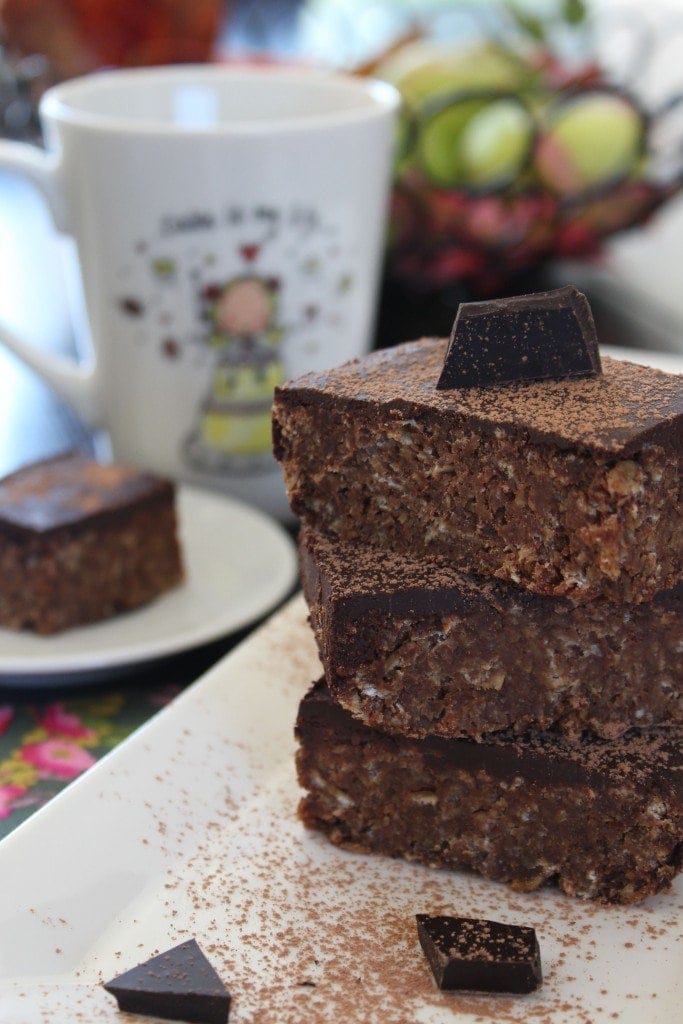 Of course, my brain got to work immediately thinking about how I could create something that was not only refined sugar-free but also free of many other allergens…and the freefrom chocolate flapjack recipe was born!
As Holland & Barrett had sent me some sugar-free chocolate I decided to use that to top my chocolate flapjacks…to make them just a little bit naughty!  If you leave that off then you only need five ingredients, which I am sure you will have in your cupboards…oats (gluten-free or otherwise), coconut oil (or butter if you prefer), good quality vanilla extract, cocoa powder and dates.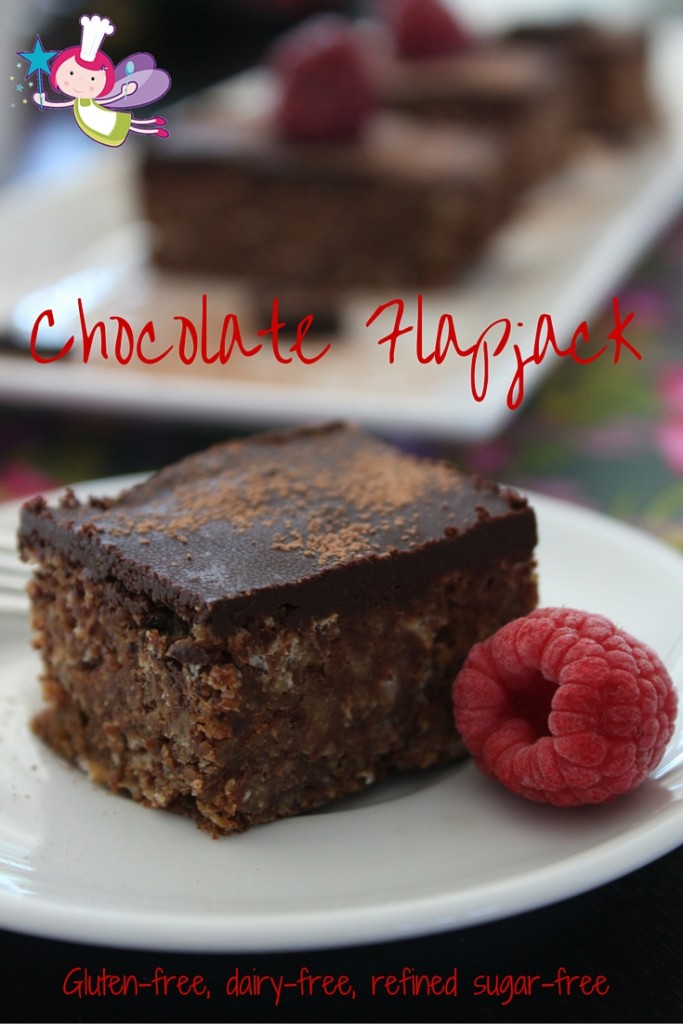 Yes, that little list is it!
Combine them together for a little taste of heaven!  Dense, squidgy, chewy, chocolatey heaven to be precise!
If you like the recipe please would you vote for it over on the H&B FreeFrom Facebook page that you can find here? You can also vote by liking the video on the H&B FreeFrom YouTube page, by favouriting the H&B FreeFrom tweet of my video, or tweeting #VoteVicki. It would mean a lot to me!
As always, if you make the recipe do let me know what you think, and if you take any photos before wolfing them down then please do share them with me on social media!
Without further ado I present my chocolate flapjack recipe:
Healthy Chocolate Flapjacks
Gluten-free, Dairy-free, Egg-free, Soya-free, Nut-free, Refined sugar-free
Ingredients
200

g

gluten-free

or 'normal' if you can tolerate oats

200

g

dates soaked in 200ml boiling water

70

g

coconut oil or butter

melted

3

tbsp

cocoa powder

1

tsp

vanilla extract

100

g

sugar-free chocolate

optional - check allergens, melted
Instructions
Place the dates in a bowl with the boiling water and leave for about 20 minutes

Transfer the dates and water to a blender or small chopper and blend until a paste is formed

Transfer the date paste into a large bowl then add the melted coconut oil or butter, cocoa powder, vanilla extract and oats

Mix well, then place the mixture into a greased tray measuring approx. 15cm x 25cm

Spread the mixture out and smooth the top before placing in a pre-heated oven at 180 degrees, 160 degree fan, gas mark 4 for 25 minutes

Leave to cool before topping with melted chocolate or cutting into slices
Pin the recipe for later so that you can always find it…