My recipe for gluten free flapjacks is a winner for everyone. These microwave flapjacks are so quick to make. From starting the recipe to the finished flapjacks will take around 7 minutes. If you don't need them to be gluten free, make them with 'normal' oats.
This post contains Affiliate links. As an Amazon Associate I earn from qualifying purchases.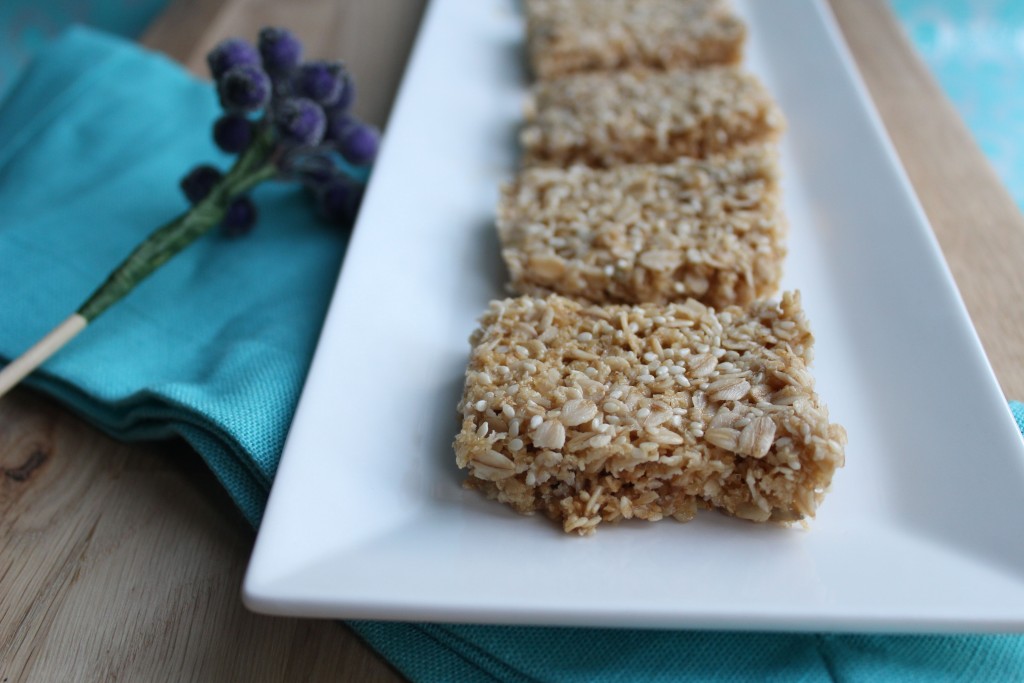 If you're stuck for a quick treat then try this.
These gluten free flapjacks are so quick to make. The only thing you have to do is wait for them to cool before you can eat them.
If you try to cut these flapjacks up before they are cool they will fall apart. You have been warned.
As well as being gluten free these can be dairy free flapjacks too.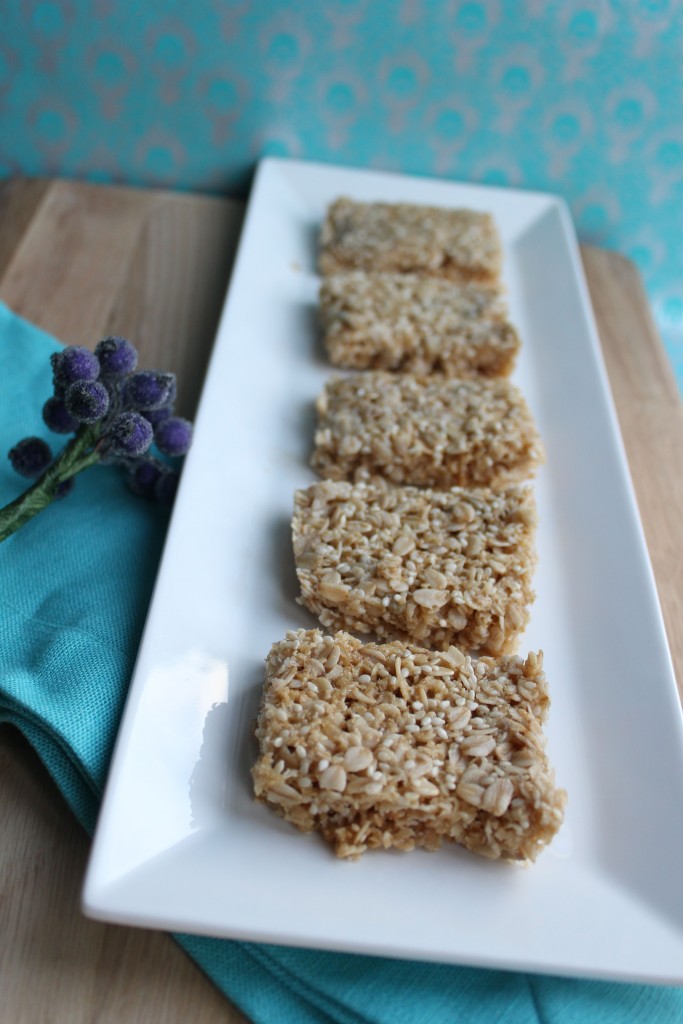 What do I need to make these quick flapjacks?
It's such a simple recipe that there is very little required to make them.
You need four base ingredients, butter (or margarine if dairy free), sugar, golden syrup and oats.
In addition to the ingredients you'll need a rectangular dish to mix and cook the flapjacks in and a microwave.
How do I make flapjacks?
Weigh out the butter (or margarine) into your chosen rectangular dish. I love the look of this Le Creuset one and I know they are very good quality.
My favourite casserole dish is this Le Creuset one that I use for almost all my cooking. I've had it for years and it still looks brand new. Well worth the money!
Add the syrup and sugar to the dish with the butter then place it in the microwave for 30 seconds on full power.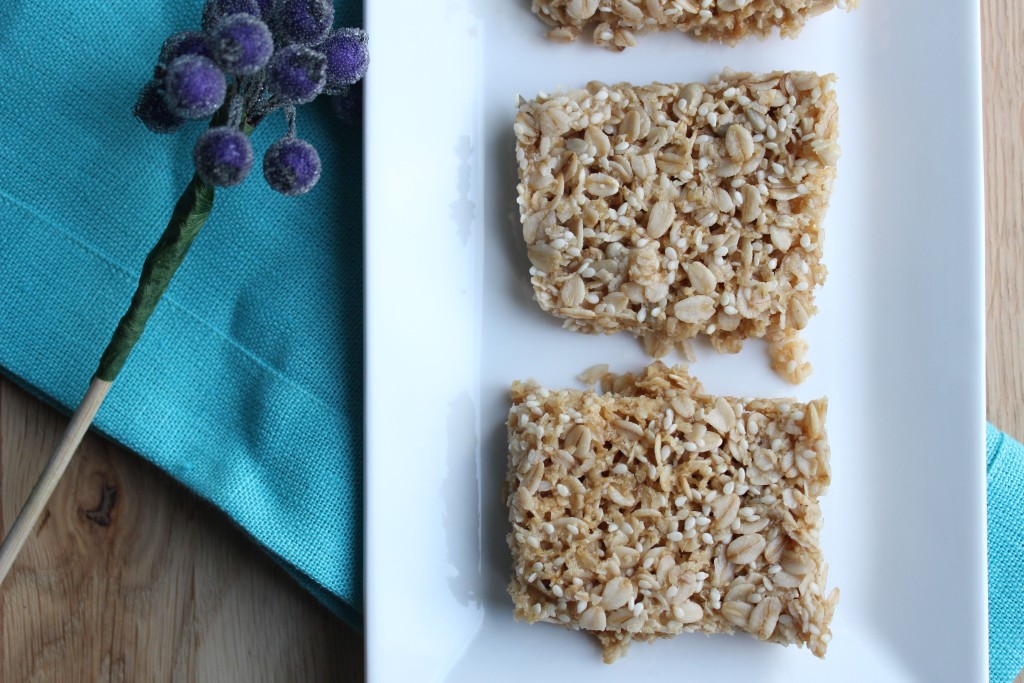 Give the butter, sugar and syrup mixture a good stir. The butter should have melted. If it hasn't then replace the dish in the microwave and zap it for another 15 seconds.
Once the ingredients are melted add the oats and stir well to combine.
Then press the mixture into the base of the dish so it is evenly distributed and well packed in.
Place the dish back into the microwave to cook the mixture. In three minutes you'll have the most delicious flapjacks.
But as I said before, do make sure you leave them to cool before you cut them up into slices.
Can I add other things to these microwave flapjacks?
This simple flapjack recipe is the perfect base for you to play with.
I often add seeds or chopped dried fruit to the mixture.
The key is to replace some of the oats with these ingredients otherwise they can become dry.
If you want chocolate chip flapjacks add chocolate chips. If you want fruit flapjacks add some raisins.
My favourite is to add some sesame seeds as they contain reasonably high levels of calcium.
'Roo' and I have to avoid dairy so this is one of the ways to make sure there is enough calcium in our diets.
I hope you enjoy the recipe. It's one of mum's that I adapted to be gluten free and dairy free.
Other flapjack recipes
Since you're a flapjack lover, like me, you might like my other flapjack recipes.
I have a recipe for healthy flapjacks. These are sweetened with banana and dates and are one of my post popular recipes.
This recipe for chocolate flapjacks is also refined sugar free but incredibly delicious.
And if you can't eat oats I even have an oat free flapjack recipe.
Finally I developed these fruity flapjacks for Nairn's that are refined sugar free, gluten free and vegan.
And if you enjoy these recipes get a copy of my free recipe ebook by entering your details below. In it you'll find recipes for gluten free pastry, bread, pizza, Yorkshire puddings, Victoria sponge, pancakes and gingerbread.
Pin my recipe for gluten free flapjacks so you don't lose it: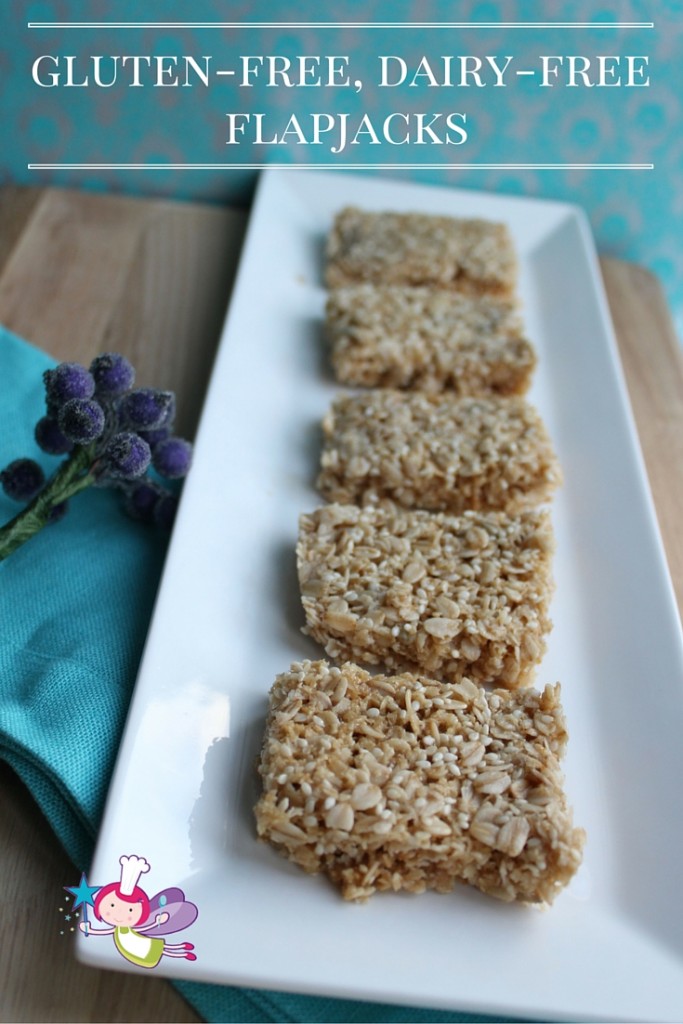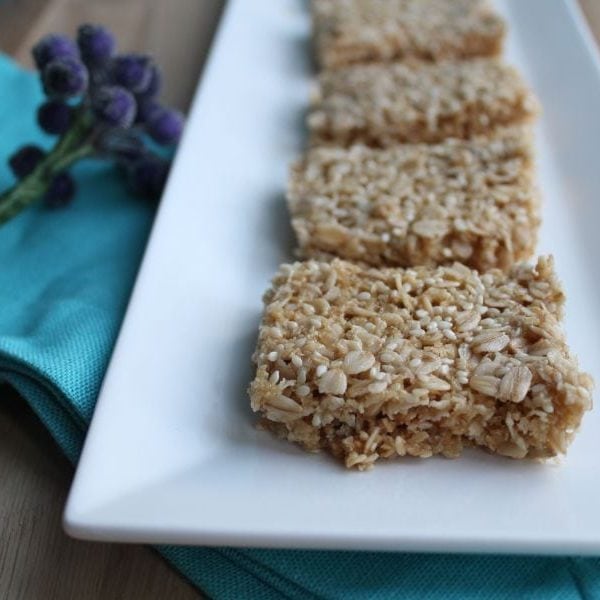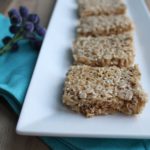 Super Quick Gluten Free Flapjacks
Gluten-free, (dairy-free), egg-free, nut-free, soya-free
Ingredients
85

g

butter

dairy free spread or coconut oil

25

g

brown sugar

2

tbsp

golden syrup

170

g

oats

make sure they are gluten free if you need these flapjacks to be gluten free

Choice of seeds and dried fruit

Optional
Method
Melt the fat with the sugar and syrup in a microwave

Stir in the oats and place in a microwaveable container approx 20cm by 15cm

Microwave on full power for 3 mins.

When cooled cut into small pieces and impress your friends and kids!

When you are confident with the recipe add seeds and dried fruit instead of some oats
Nutrition Facts
Super Quick Gluten Free Flapjacks
Amount Per Serving
Calories 186
Calories from Fat 90
% Daily Value*
Fat 10g15%
Cholesterol 23mg8%
Sodium 78mg3%
Potassium 77mg2%
Carbohydrates 22g7%
Protein 3g6%
Vitamin A 265IU5%
Calcium 16mg2%
Iron 0.9mg5%
* Percent Daily Values are based on a 2000 calorie diet.