These fruity flapjacks are so easy to make with just 3 ingredients. They can be cooked in a microwave in just three minutes.
This post contains Affiliate links. As an Amazon Associate I earn from qualifying purchases.
This post contains paid-for content. For more information see my privacy policy and disclosure page.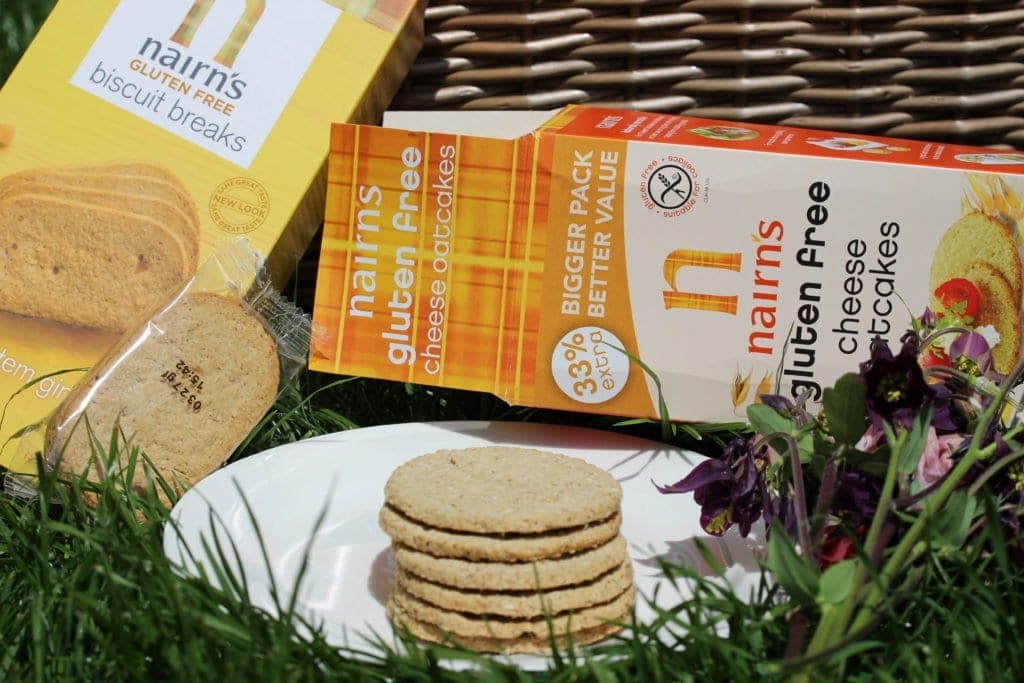 The story behind my fruity flapjacks
When Nairn's contacted me asking if I would work with them to spread the news that their packs of oatcakes have increased in size by 33% for the same recommended retail price I was delighted to say yes.
Not only have I always loved Nairn's products, but I also love any company who manages to give me more for my money. Especially when the product is natural and not bulked out with cheap ingredients.
When I first stopped eating wheat, wheat-free breads were less than edible. And given how much I love bread I wasn't going to replace my daily sandwich with something that was nothing like bread.
Instead I turned to naturally wheat-free alternatives to bread.
Oatcakes were high up on the list as the perfect lunch to accompany a bowl of soup or salad, or topped with butter and cheese.
Since their entry into the gluten-free market in 2010, Nairn's have evolved and expanded. They carefully source, farm and mill their oats to ensure they are safe for coeliacs to eat.
They bake all their products in a dedicated gluten-free factory and recently invested £6.5 million in a new factory in Midlothian.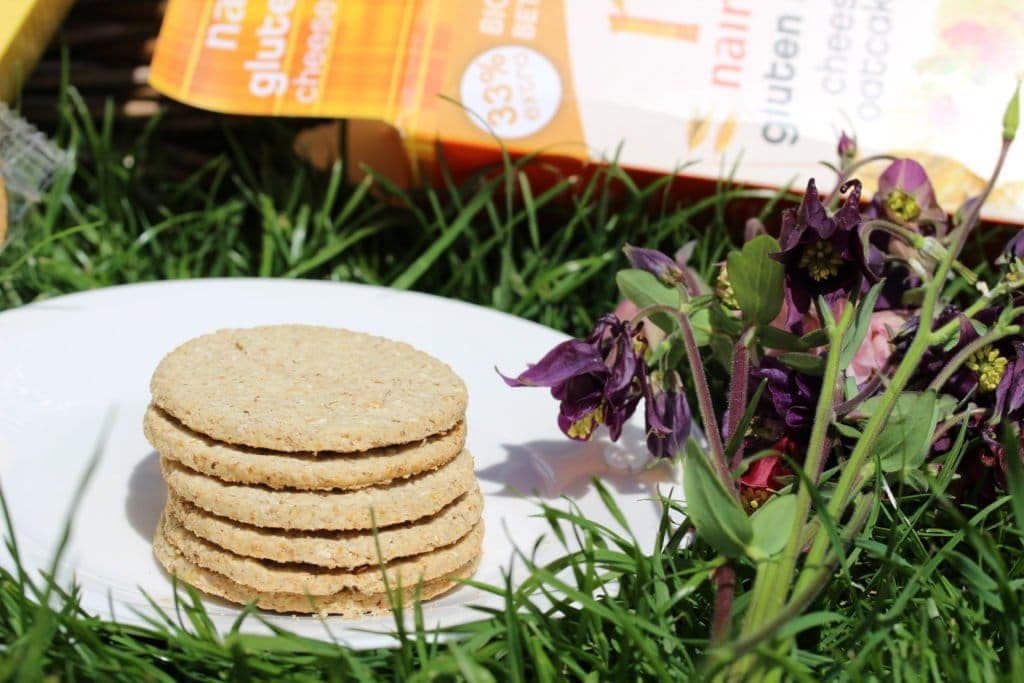 Not only do they produce delicious plain gluten-free oatcakes, they also have a huge range of other gluten-free goodies.
From my favourite cheese oatcakes to sweet biscuits and the absolutely fabulous, Snackers.
For those of you who haven't seen them, Snackers are little bags of bite sized crispy oat snacks.
They come in three flavours (Cheese, Smoked Paprika and Salt & Balsamic Vinegar) and are a great healthier alternative to crisps.
Now I've discovered these they will be a regular item on my shopping list providing a great little portable snack for the kids. They were so popular in this house that they were eaten before I could even take any photographs.
The best thing about all the Nairn's products is that they are wrapped in small individual portions which make them the perfect snack to have in your bag whether going to work, school or on holiday.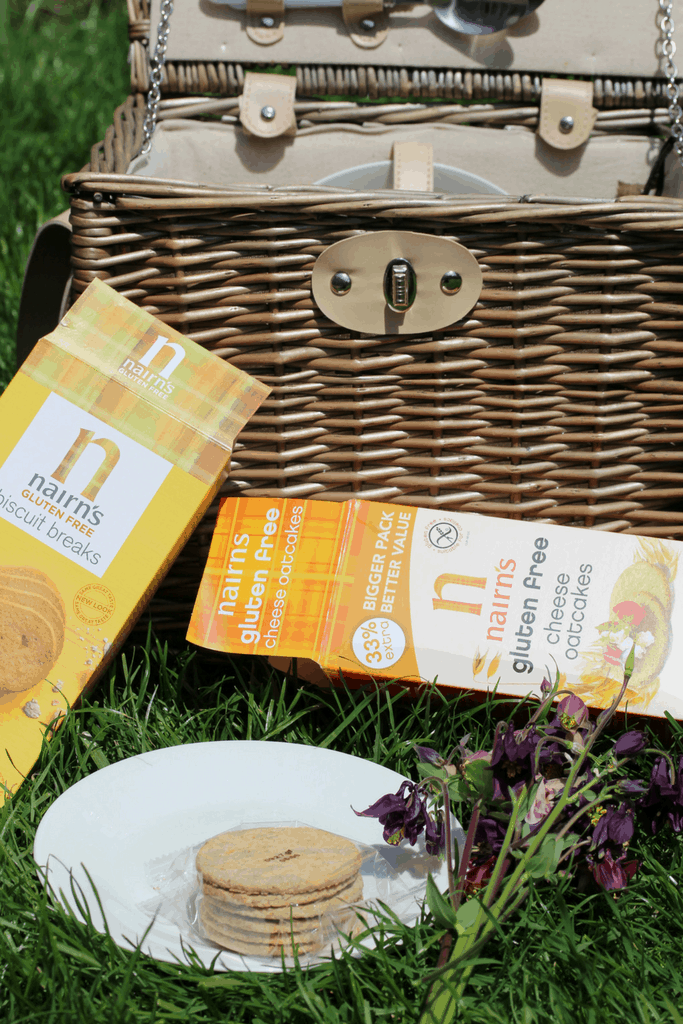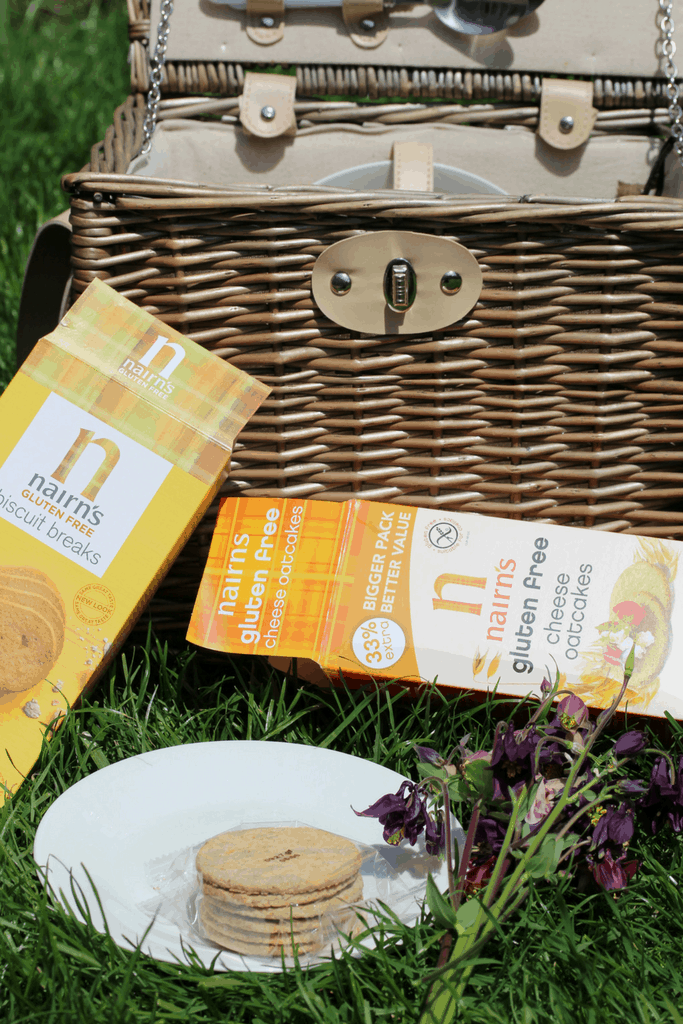 Nairn's sent me a number of products to try and when I saw the oat muesli it looked like the perfect base for fruity flapjacks. Along with raw oats it has sunflower seeds, flax seeds, dried cranberries and sultanas.
How do you make fruity flapjacks?
Flapjacks are often touted as a healthy treat but with a load of sugar, syrup and butter, the traditional flapjack is less than healthy.
I've developed a number of healthier flapjack recipes over the years but this has to be the simplest and quickest yet.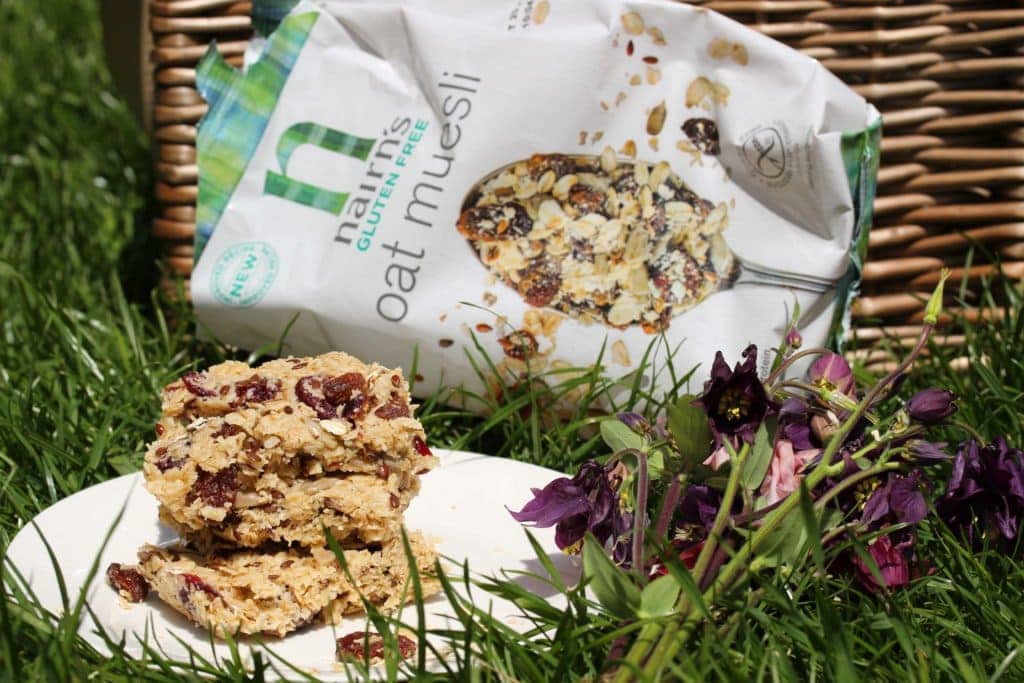 Within 10 minutes I had delicious refined sugar-free, dairy-free and gluten-free fruity flapjacks.
They are sweetened with honey, and the fabulous dried fruits contained within the muesli.
Perfect for when you or the kids are in need of a snack but have no idea what to have.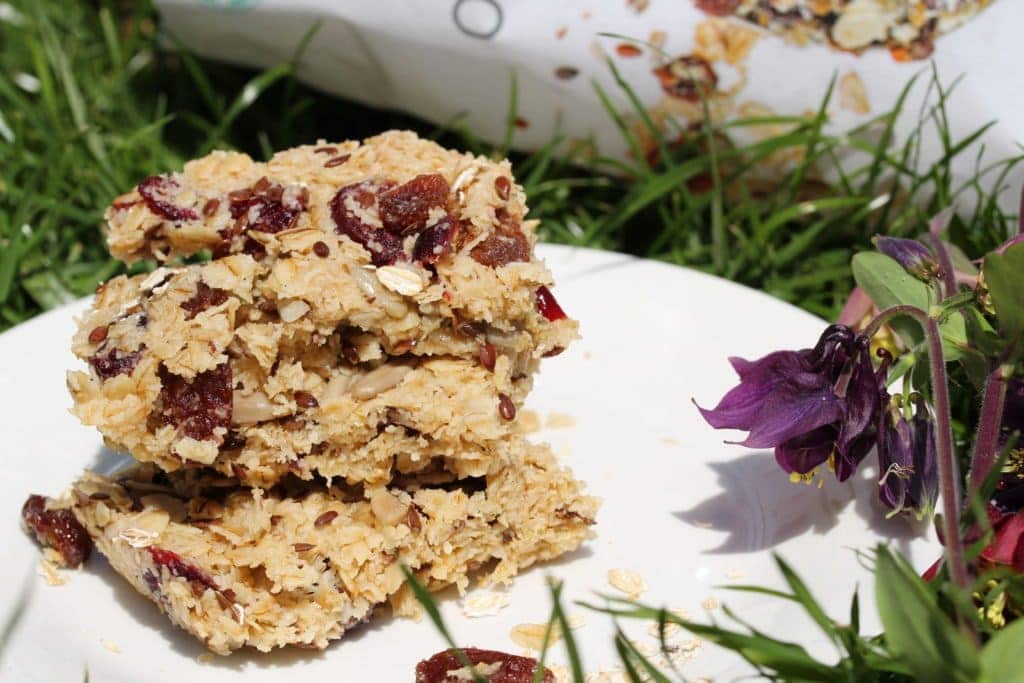 All you have to do to make these delicious 3 ingredient flapjacks is melt the coconut oil with the honey in a bowl in the microwave. Then add the museli.
The mixture is then spread and pressed into a microwavable dish and cooked for just 3 minutes.
3 ingredient flapjacks in 3 minutes!
Other flapjack recipes
As I mentioned above I'm rather a fan of flapjacks and have a number of recipes that you'll find below:
Healthy Banana And Date Flapjacks
And if you like the sound of these then sign up for my free recipe booklet. In it you'll find recipes for gluten free pizza, scones, Yorkshire puddings, Victoria sponge and more. You'll also get my weekly newsletter of recipe inspiration, tips and news…
Pin my 3 ingredient fruity flapjack recipe to Pinterest: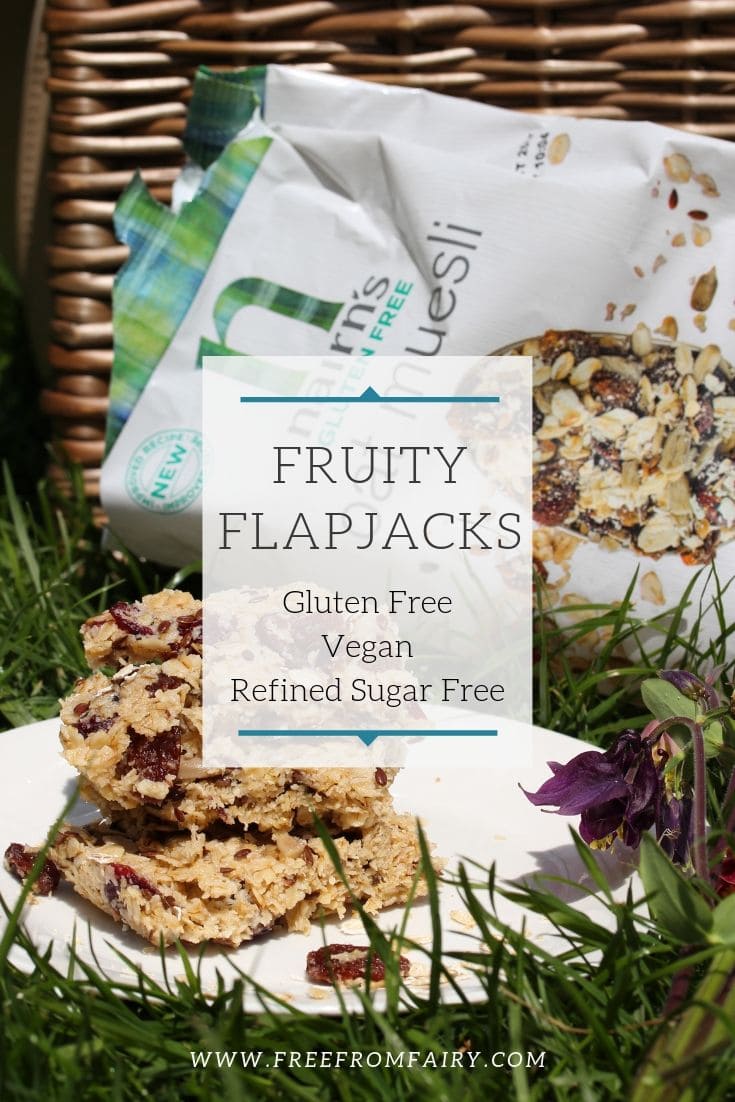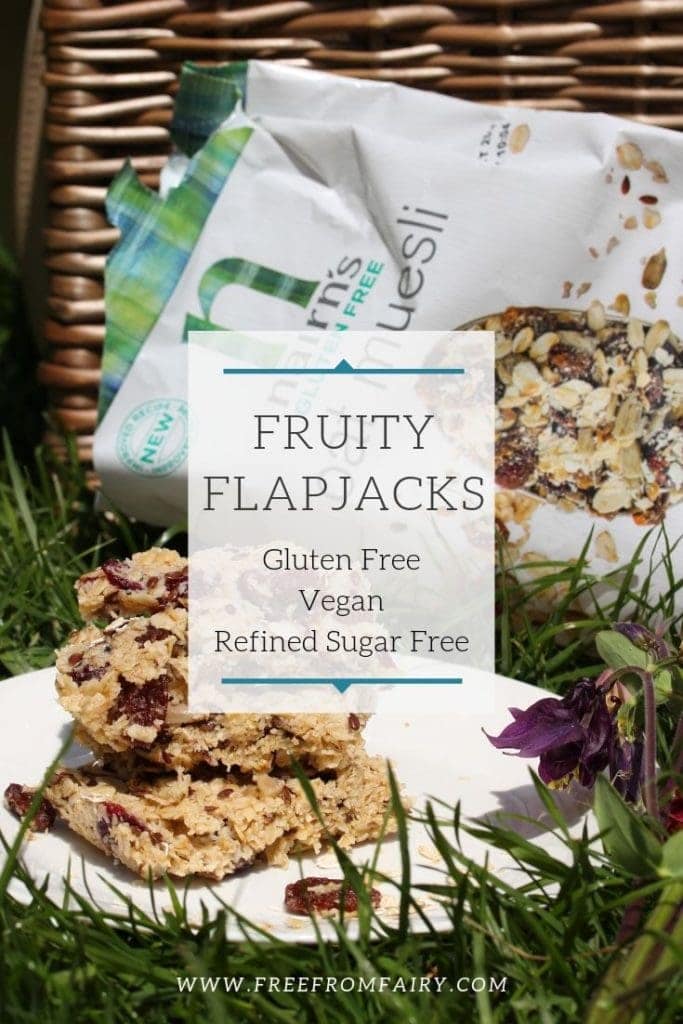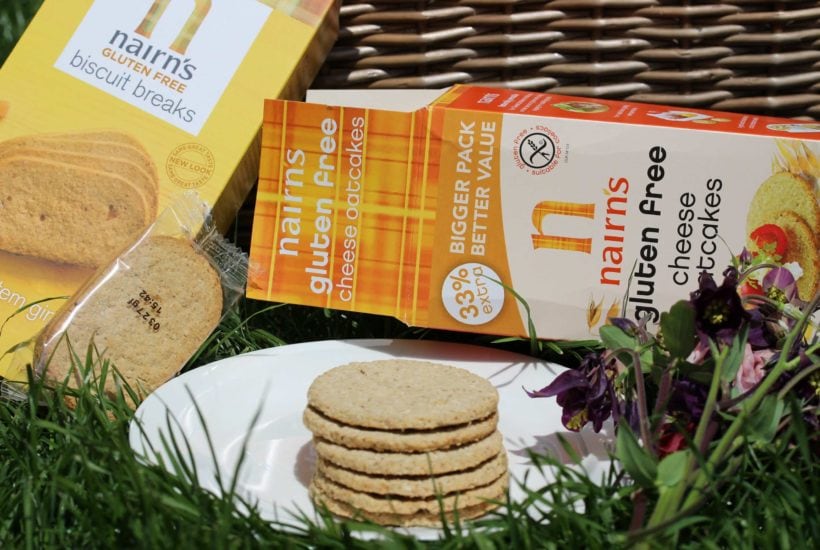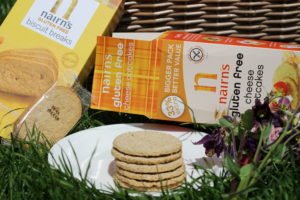 Fruity Flapjacks (3 Ingredient Flapjacks)
These fruity flapjacks are so easy to make with just 3 ingredients. They can be cooked in a microwave in just three minutes.
Instructions
Place the coconut oil and honey in a microwavable bowl and heat in a microwave on full power until melted (around 1 - 2 minutes)

Add the oats and stir well

Tip the mixture into a microwaveable dish measuring approx. 20cm x 15cm and microwave on full power for 3 minutes

Allow to cool completely before cutting into slices
Notes
Nutrition data for information only
Nutrition (Approx)
Calories:
194
kcal
|
Carbohydrates:
17
g
|
Protein:
3
g
|
Fat:
13
g
|
Saturated Fat:
10
g
|
Sodium:
1
mg
|
Potassium:
14
mg
|
Fiber:
3
g
|
Sugar:
8
g
|
Calcium:
7
mg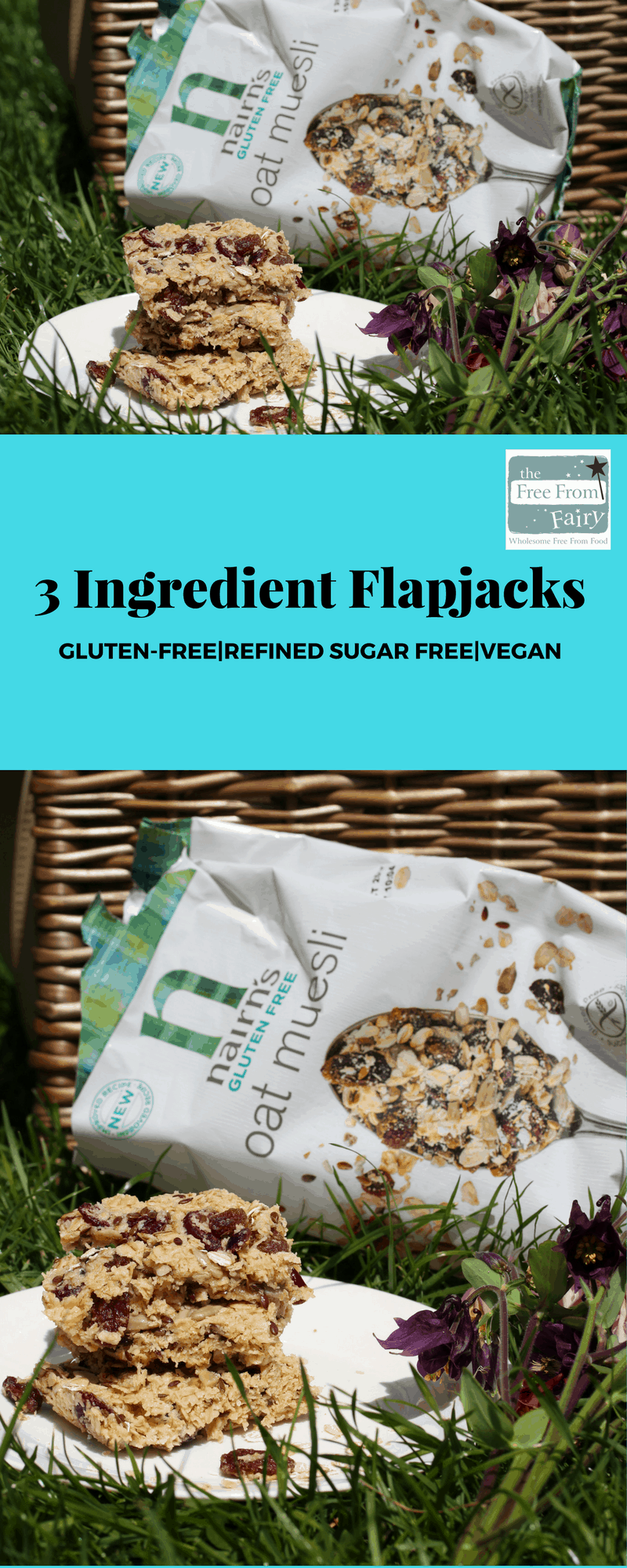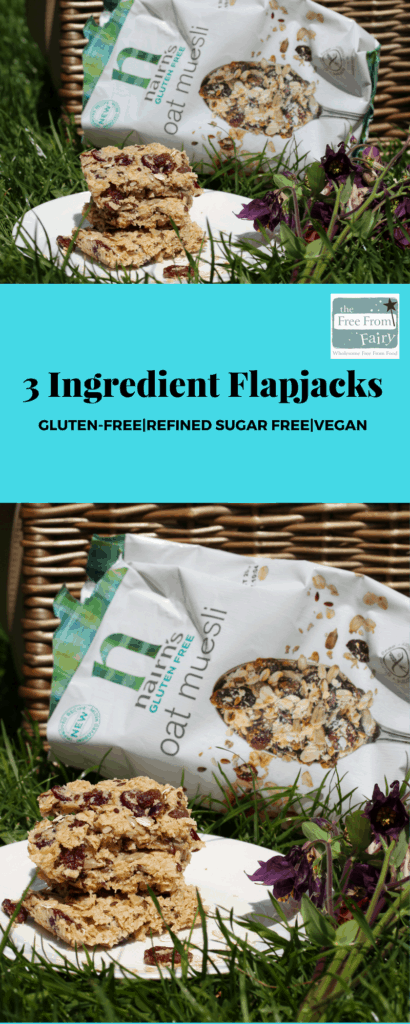 I shared this with: