It's been an odd week…
Mr M and I spent last weekend away from the kids at the Allergy and Free From Show in Liverpool. It was great to meet people who knew nothing about me but my sales were lower than I had hoped for.
Then, on Sunday night when we were leaving Liverpool we picked up a new member of the family. Many of you will have seen pictures of her on social media…a tiny little cockerpoo puppy called Minnie.
I've been working on Mr M for quite a while to get one and the timing was just perfect…well almost perfect. I wouldn't recommend arriving home with a new puppy at 11pm after a long weekend of working, but hey.
On Tuesday morning I wrote a blog post introducing her to you…it published but then vanished from existence.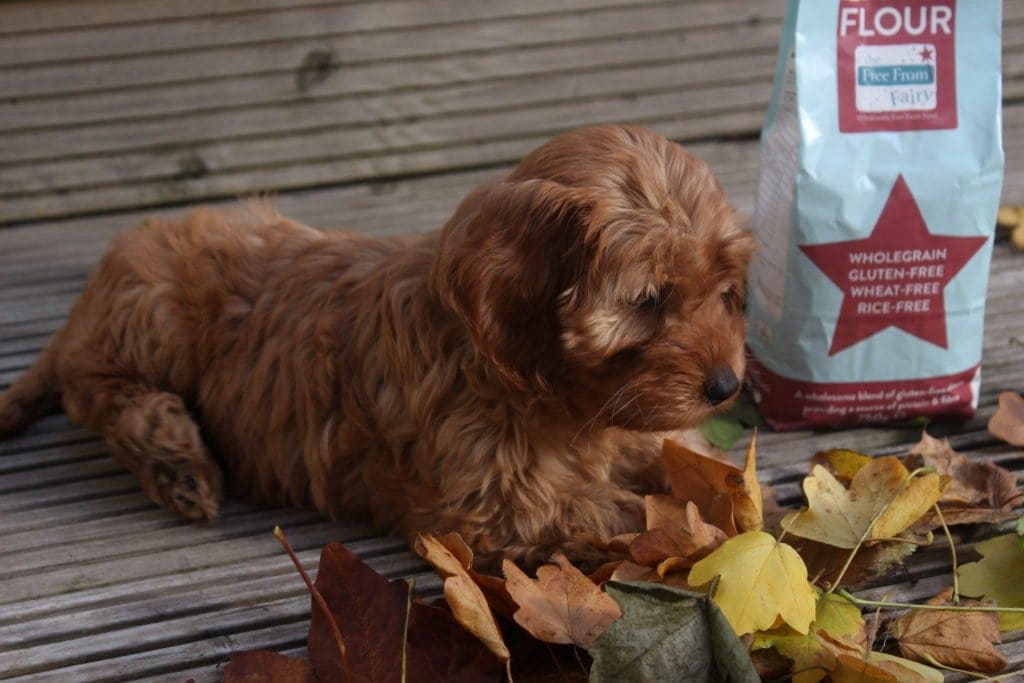 On Tuesday afternoon I left Minnie and the kids in the capable hands of my mum and step dad while I visited River Cottage, this time for a Christmas feast with some other wonderful bloggers, all thanks to Foodies 100.
I was treated to incredible food (that they had adapted to be gluten, dairy and sugar free), fabulous company and some top tips on how to brine and cure meat that I just have to share with you.
I had no idea that you could make your own ham with none of the nasty ingredients that get injected into shop-bought ham, or that curing meat could be so simple…but it is!
As well as being shown how to make your own ham and venison bresaola, the lovely chef, Andy taught us that soaking a turkey or chicken in flavoured brine creates wonderful moist breast meat too (anyone for a spot of gin to flavour your turkey? Yes please, it tasted amazing!).
As you know I am a big fan of wholesome, natural food so the idea of creating ham with none of the preservatives, sulphites or sugar is very appealing.
I know many of you have allergies and concerns about what goes in food so I want to share what I learnt about creating an allergen friendly ham. It's perfect for just about anyone so nobody has to miss out this Christmas.
So here are the steps required for the best ham you're likely to try this Christmas:
Source a good piece of pork handle (this comes from the 'arm' of the pig). Go for the most expensive you can afford and ideally organic to ensure it has the most nutrients and flavour. Ask the butcher to bone it and tie is for you. I will be buying mine from Greendale Farm.
Find a pot big enough for your joint…one that is free from aluminium if you are going to leave the joint to cure in it (otherwise the aluminium will leach into your ham and make it taste strange)
Place 1 litre apple juice, 1 litre cider, 2 litres of water and 1 kg salt in the pot. You could add muscovado sugar or treacle too if you weren't avoiding sugar (about 1kg) and bring to the boil with some black pepper, ripped bay leaves and whatever fresh herbs and spices you have to hand (eg rosemary, thyme, chilli etc)
Boil for 10 minutes until the salt (and sugar) has dissolved
Allow to cool completely
At this point you could transfer the liquid to another container before adding the pork joint (if your pot is aluminium). A plastic or earthenware tub or big zip lock bag would be fine
Place the pork into the cold liquid and leave for 3 days per kilogram in a cool place like a garage or larder. If you have neither, the fridge would be fine
Once the time is up, dry the joint off completely and leave uncovered (yes, uncovered!) in the fridge until you want to cook it
Once you are ready to cook the ham place it in a big pot of water and bring to the boil. After 15 minutes of boiling check the taste of the water. If it's too salty tip it away and start again.
Boil the meat for around 30 minutes per 450g. You could add flavourings such as cloves, bay leaves, cinnamon, peppers and onions to the water if you liked
To make it extra special follow a recipe for glazing and baking the ham like this one from Mel of Le Coin De Mel. For some reason I haven't ever posted my recipe…I'll get around to that at some point before Christmas!
So there you have it…an allergen free Christmas ham. I'm certainly going to be doing it this year. Let me know if you do too!
I was invited by Foodies 100 and River Cottage to attend this event.  I was not obliged to write a favourable review but I had a wonderful time..!