These simple gluten free dairy free cupcakes were made by my children (aged 7 and 9).
The recipe can be used to make any gluten free dairy free cake. The result is moist, spongy and light.
Decorate the cupcakes any way you choose. The kids made these for Halloween so they are iced accordingly.
This post contains Affiliate links. As an Amazon Associate I earn from qualifying purchases.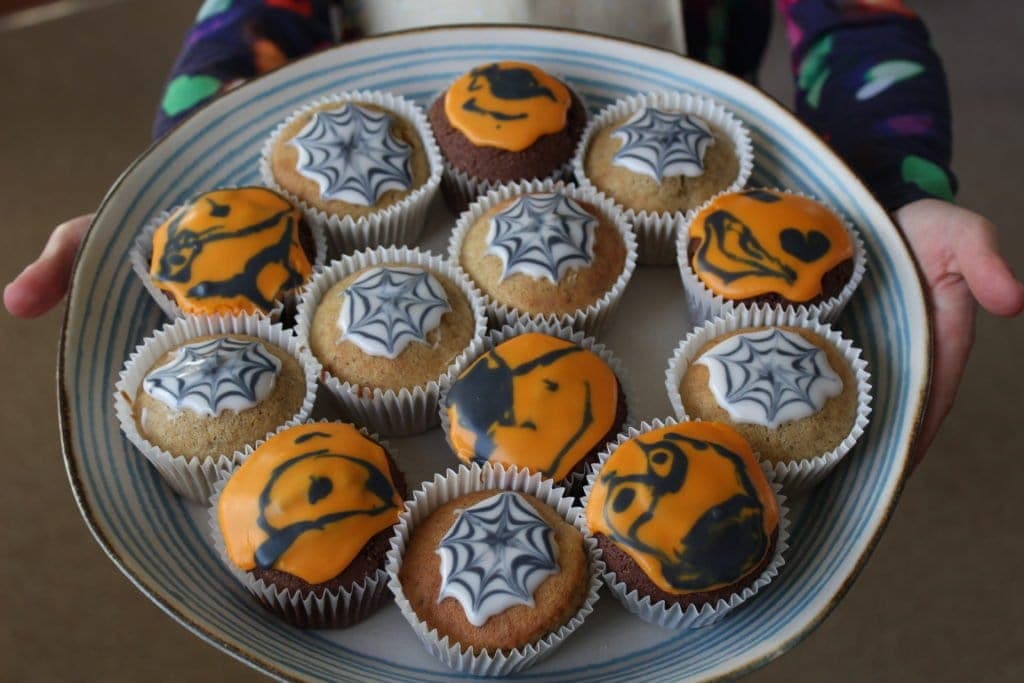 The story behind the recipe
At 10am yesterday a lorry pulled up outside our house to finally deliver my flour.  A precarious pallet stacked to over my height lurked at the back.  Finally, after weeks of worry it had arrived and as an added bonus, it wasn't raining (one of my number one fears).
The kind driver helped unload the pallet into the house so now as I write there are towers of boxes everywhere I look.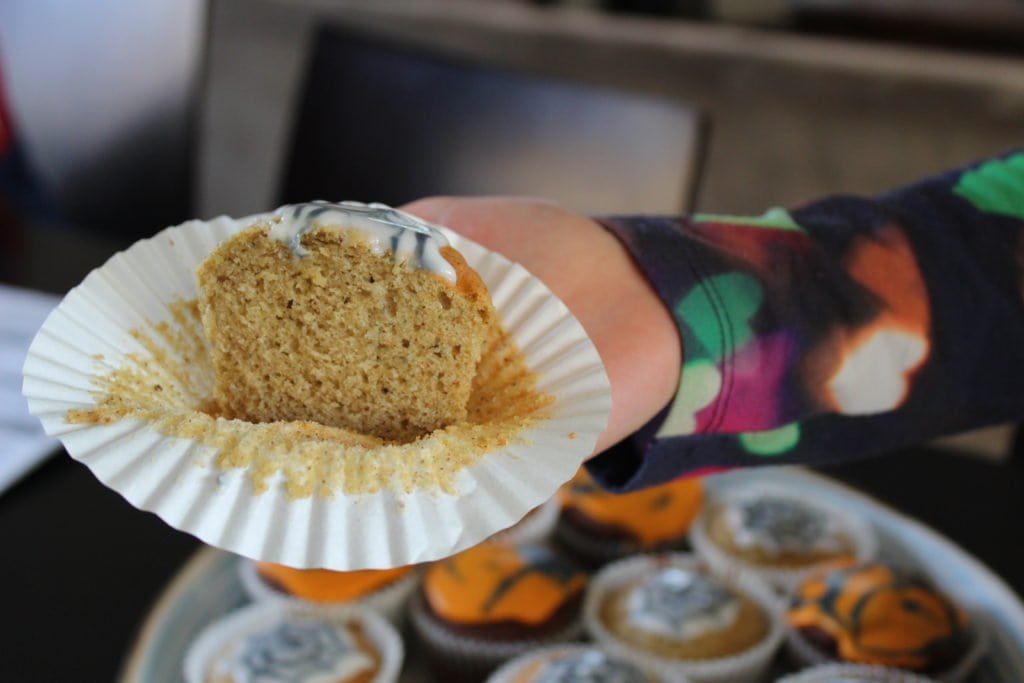 Anyway, the kids had an inset day so the first thing they wanted to do was to create some spooky cakes for Halloween!
'Roo' decided on vanilla and cherry cupcakes and Pickle decided on mint chocolate ones.  I stood back and told them how much of each ingredient to add and they did the rest.
The result were lovely squidgy and light gluten free dairy free cakes that literally anyone could make. I therefore thought I would share the basic recipe with you for you to flavour any way you like.
You can also choose to ice them any way you like. Here are some ideas for you…
Dairy Free Frosting ideas
Glace icing
The children made a simple glace icing for the gluten free dairy free cupcakes pictured. It's the simplest frosting you'll come across. You can find a recipe on the Good Housekeeping website. They coloured it with food colour gels and used the different colours to decorate the cupcakes.
Dairy free buttercream frosting
This recipe uses margarine to create a frosting that is identical to that made with butter.
Vegan chocolate frosting
This recipe for vegan chocolate frosting is made without margarine and instead uses cashew nuts as its base.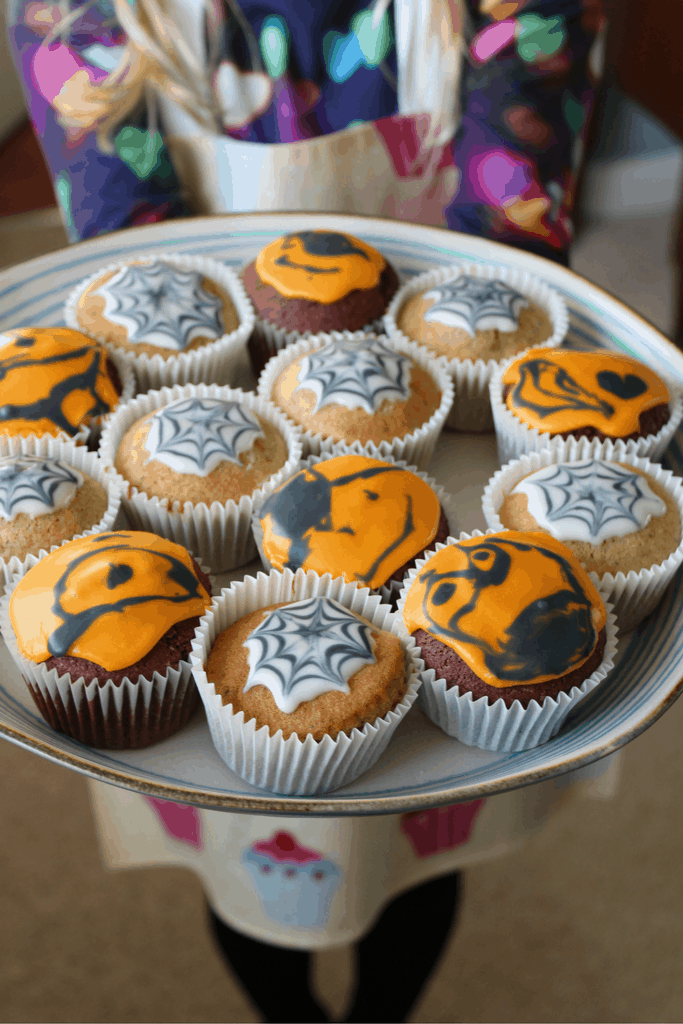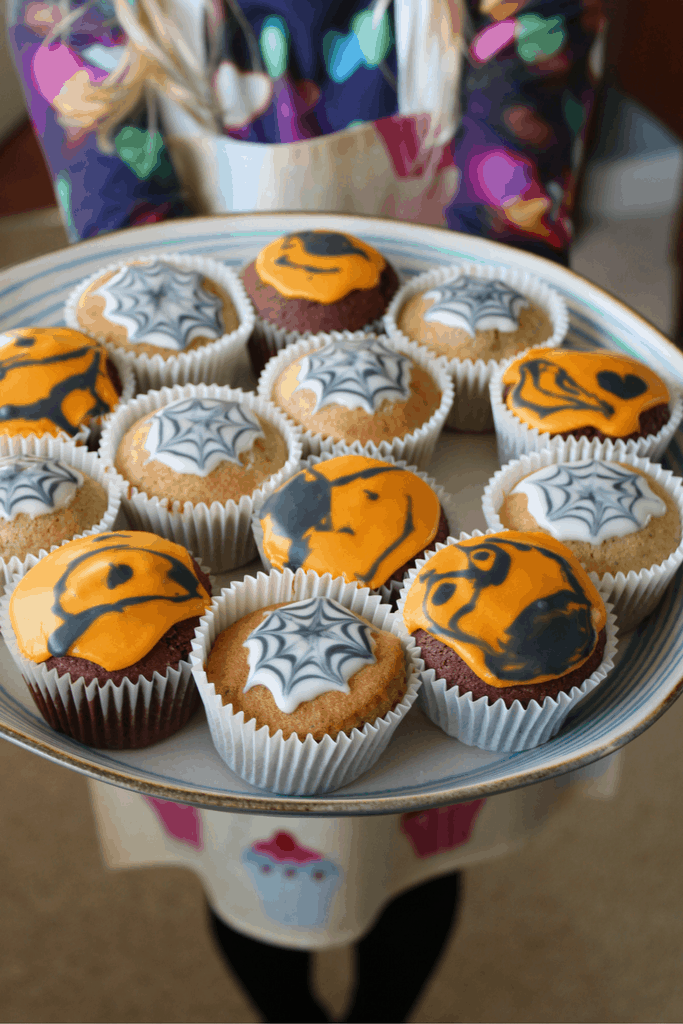 How do you make gluten free dairy free cupcakes?
It's really very simple. I use this Sage stand mixer so after creaming the margarine (or butter if not dairy free) and sugar together, all the other ingredients can be added and mixed to form a batter.
If you don't have a stand mixer you can use a hand held electric whisk. Or failing that, you can use a wooden spoon and your muscles but you won't get such light cakes.
If you want to make your gluten free cupcakes extra moist then make a sugar syrup to pour over the top. You'll find out how to do that in my recipe for gluten free chocolate cupcakes.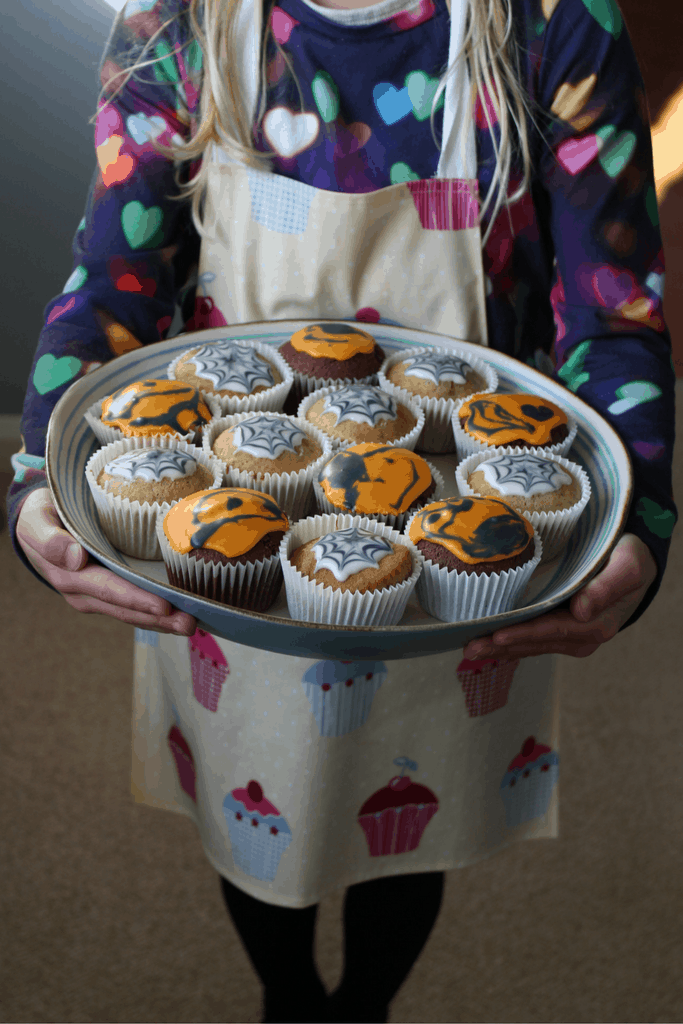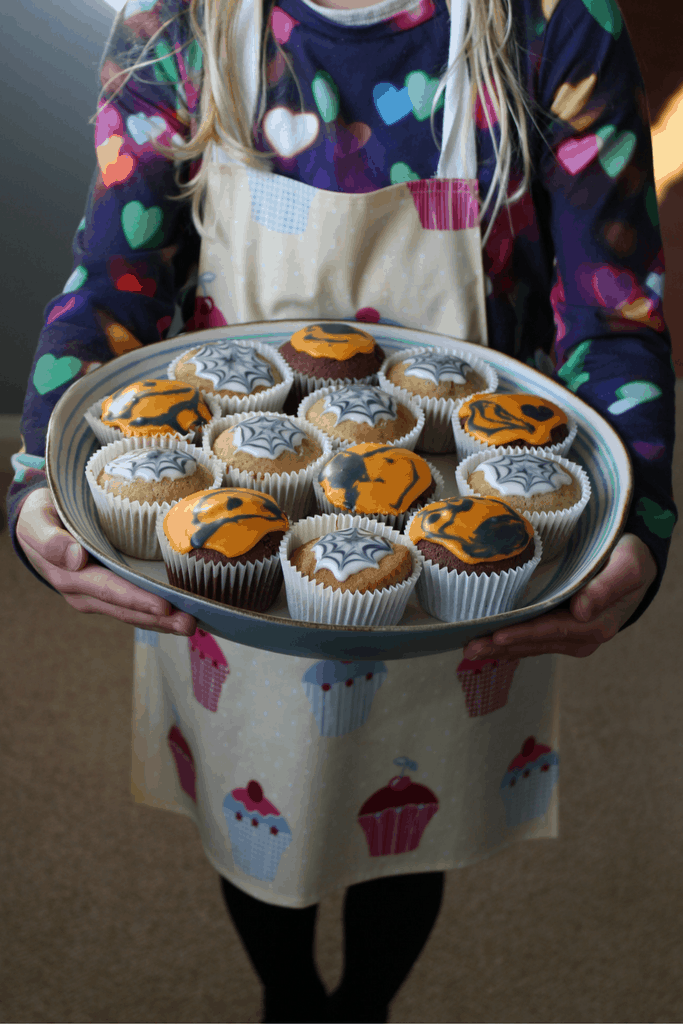 What flour do you use?
I choose to use my wholegrain gluten free flour blend in cakes these days. It has no rice flour in it and subsequently, no arsenic. It also means that the final bake is not gritty like cakes made with blends that contain rice flour.
I created the flour blend when I couldn't find anything nutritious on the market to bake with. I also couldn't find one single flour blend that I could use in all my baking from gluten free bread to biscuits, pasta, pastry and cakes.
With my science degree I spent two years testing different gluten free flours until I came up with a blend that could be used for everything whilst having a high wholegrain content. You can find out more about my rice free wholegrain gluten free flour blend here.
You can also buy it from my gluten free flour shop.
And if you're not even sure what a gluten free flour blend is then you must read this: What On Earth is a Gluten Free Flour Blend?
In it you'll find out why the gluten free flour you use is the single most important thing to bake successfully. I promise that once you've read it you'll have far less baking disasters and you'll waste far less ingredients.
Free recipe book
If you like this recipe enter your details in the box below to get my free downloadable gluten free recipe book.
It includes recipes for Victoria sponge, scones, Yorkshire puddings and more.
Pin this basic gluten free dairy free cupcakes recipe so you don't lose it: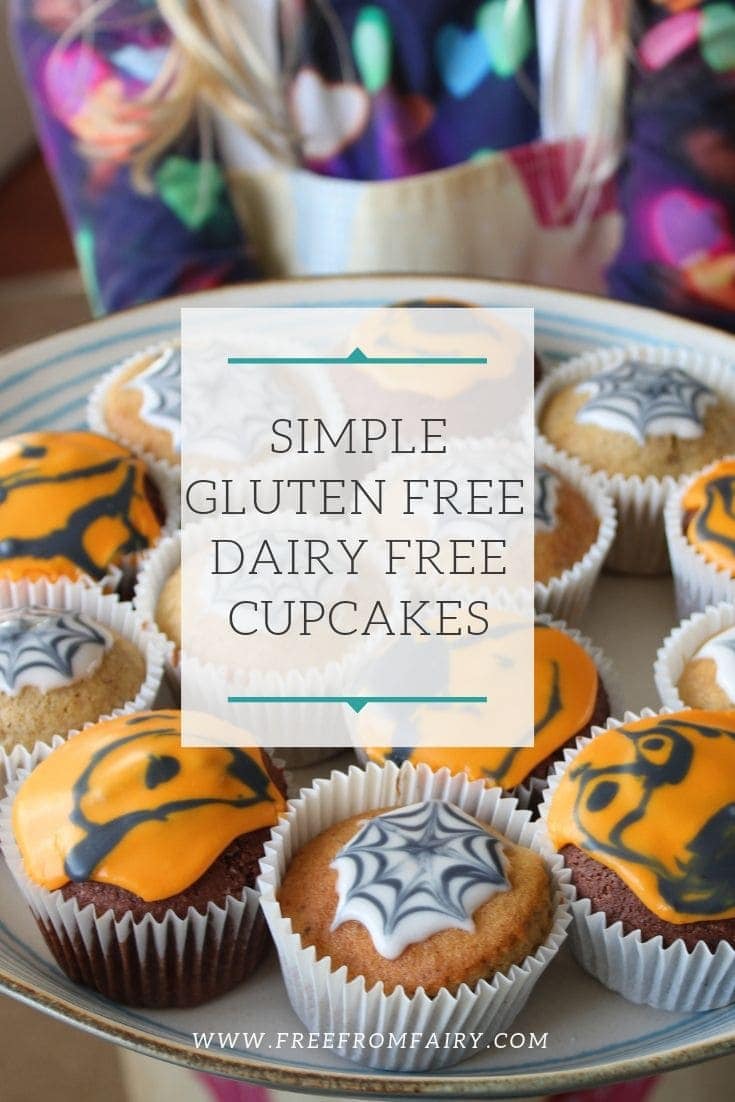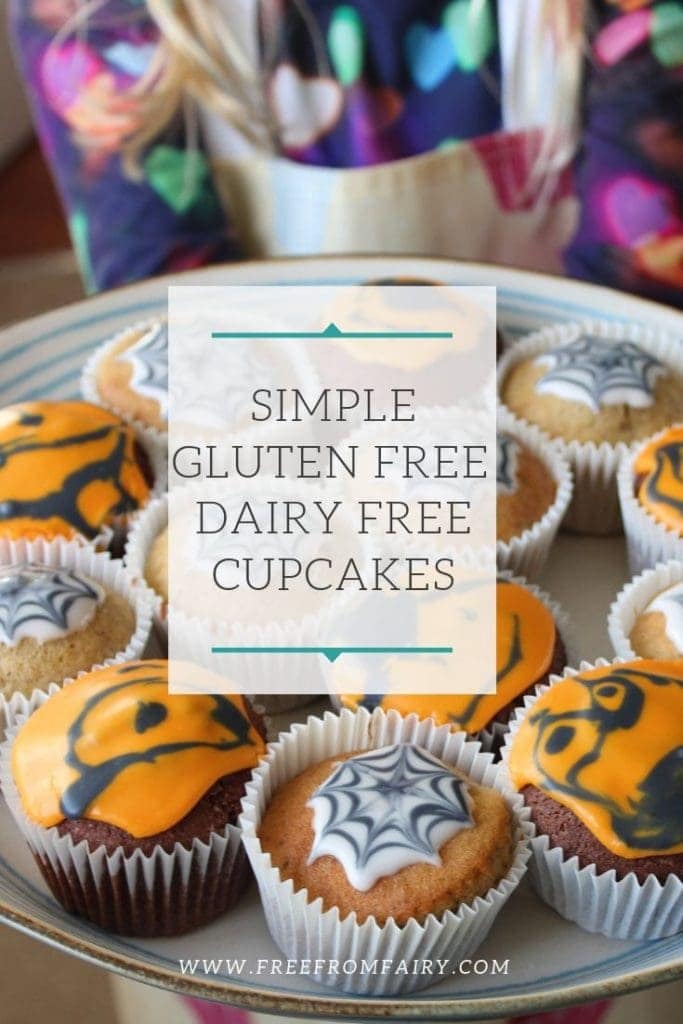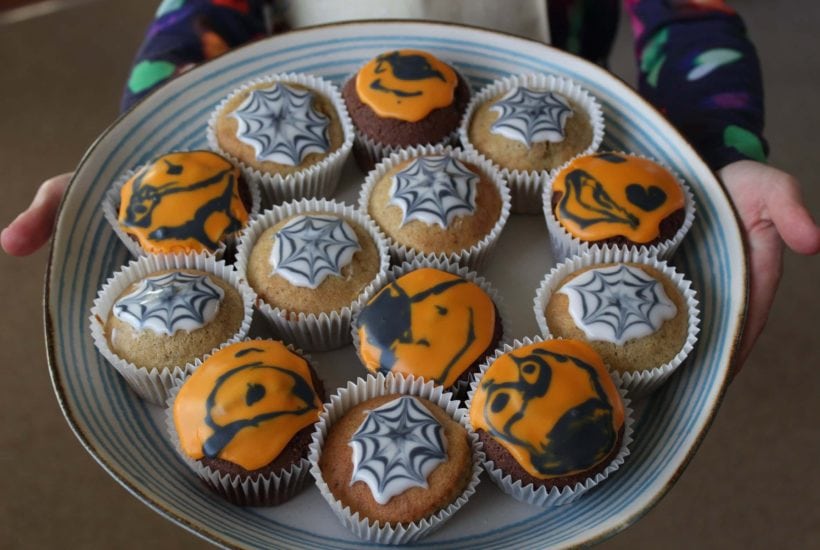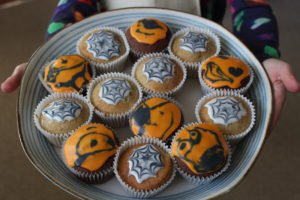 Gluten Free Dairy Free Cupcakes
Gluten-free, Dairy-free, Nut-free, Soya-free
Instructions
Place the margarine and sugar in a large bowl or the bowl of a stand mixer and beat together until light and fluffy.

Add all the other ingredients and gently combine before beating together for a further minute

Add chopped glace cherries, raisins, chocolate chips or anything else that takes your fancy

Bake in a pre-heated oven at 180 degrees, 160 degree fan, gas mark 4 for 15 - 20 minutes until springy to the touch

Cool before decorating
Notes
Nutrition data doesn't include fillings or icings
Nutrition (Approx)
Calories:
207
kcal
|
Carbohydrates:
24
g
|
Protein:
3
g
|
Fat:
11
g
|
Saturated Fat:
3
g
|
Cholesterol:
46
mg
|
Sodium:
113
mg
|
Potassium:
113
mg
|
Fiber:
1
g
|
Sugar:
13
g
|
Vitamin A:
625
IU
|
Calcium:
40
mg
|
Iron:
0.6
mg