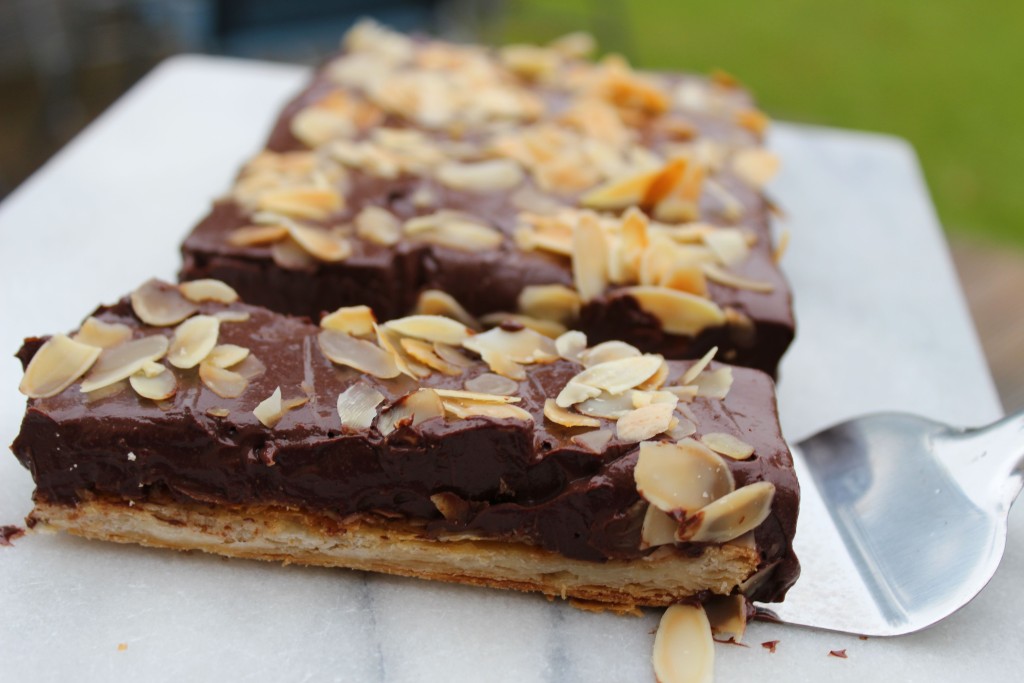 Last week I wrote about some of my favourite things from the past few months.  In it I included Silly Yak who make a ready to roll gluten-free pastry.  I'm sad it isn't dairy-free too, but hey!  Perhaps they will work on that.
UPDATE 2019 – Silly Yak pastry is no longer available, however you can still make this recipe using other gluten free pastry.
Since the GAPS/SCD diet does not allow grains, pastry is not on my menu right now so being able to pick up a ready to roll pastry in Tesco saves me slaving over something I can't eat!
When Silly Yak asked if I would like to try out their pastry I was delighted and immediately started scouring the cupboards for inspiration.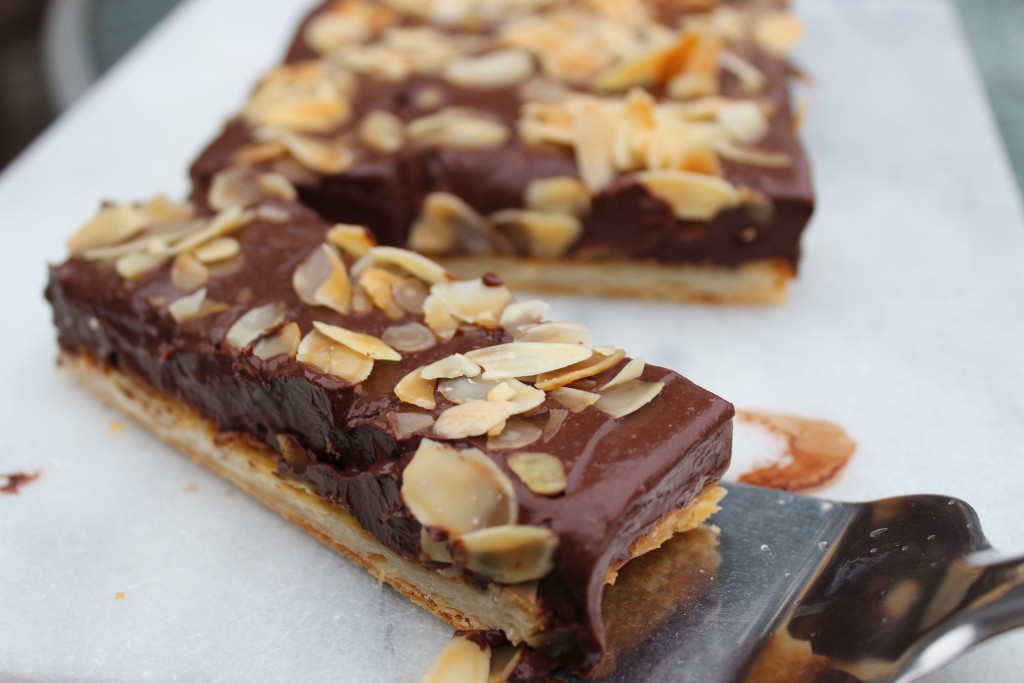 Inspiration struck when I stumbled across some long-life Yutaka tofu that had been sitting in my cupboard for a while!  Making a sweet pudding with tofu has been on my list of things to do for a long time, and so it was…the decadent chocolate slice was dreamt up!
Now if, like me, you like puddings to take up very little of your time in creating then this recipe is for you.  It does need some chilling time so factor that in if you do decide to make it.  You will never guess that tofu forms the basis of it!
A silky, smooth, creamy chocolate topping sits upon a crisp pastry base with toasted almonds scattered on top for some extra texture.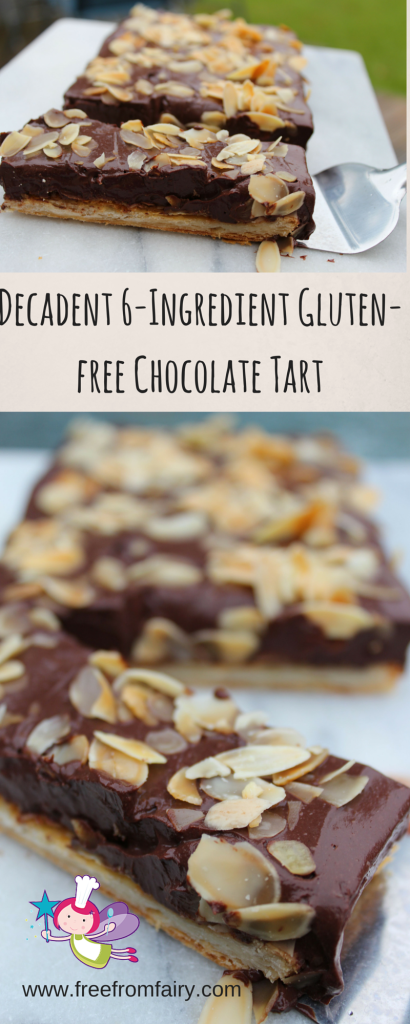 In the time it takes to cook the pastry you will have had plenty of time to prepare the topping and to sit down with a cup of tea (or something stronger).
I say that…but when do I EVER do that???!  I mean, if I have 20 minutes to spare they are always filled.  I really need to take a big dose of my own advice!
As always if you make this please do post photos on your favourite social media account and be sure to tag me or use the #freefromfairy!  It makes my day to see my recipes in use!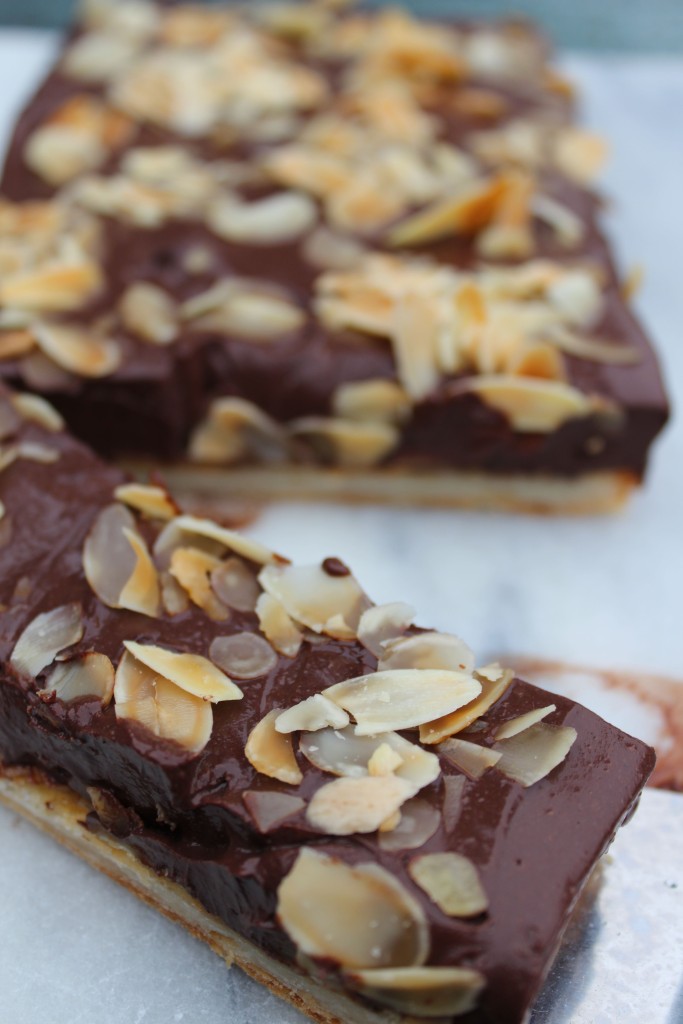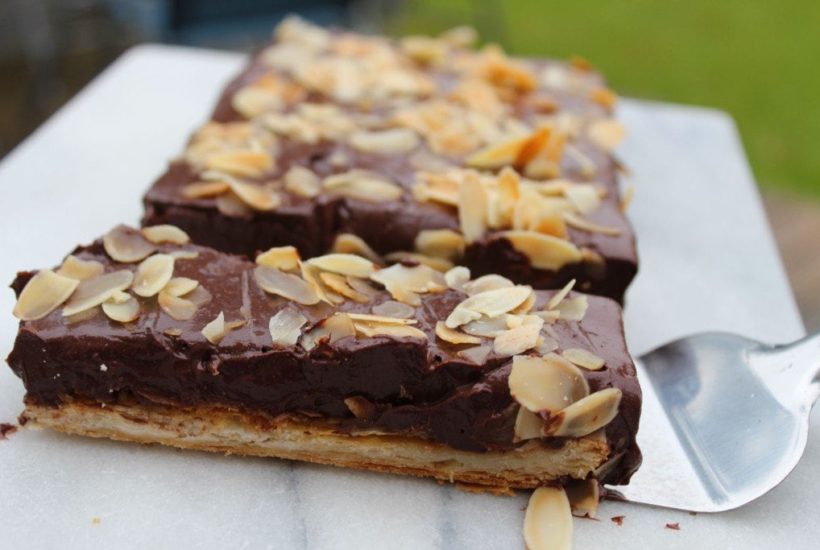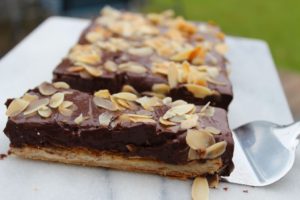 Decadent Gluten-free Chocolate Slice
Gluten-free
Ingredients
350

g

longlife tofu

-

I used Yutaka

100

g

coconut sugar -

or ordinary white sugar

50

g

raw cacao or cocoa powder

20

g

coconut oil -

melted

Handful flaked almonds

1

packet Silly Yak pastry

-

or make your own gluten and dairy-free using my recipe
Instructions
Scatter gluten-free flour onto a clean, dry surface and roll out the pastry until approx. 30cm x 20cm or roughly the size of the baking tray you are going to use

Transfer the pastry to the baking tray and push gently into the corners. The pastry will shrink a little upon cooking so don't be afraid to push it a little way up the edges of the tray

Cook according to the instructions then remove from the oven and allow to cool

While the pastry is cooking drain the tofu then place it into a food processor. If you don't have a food processor then place in a bowl and use an electric whisk (or arm strength) for the next step

Add the sugar, cacao and coconut oil to the tofu and blend/whisk/beat until smooth

Place a handful of flaked almonds into a frying pan over a medium heat and, stirring occationally leave until starting to brown...about 5-10 minutes

When the pastry is cold top with the chocolate mixture and scatter over the toasted almond flakes

Chill for at least an hour before slicing and serving