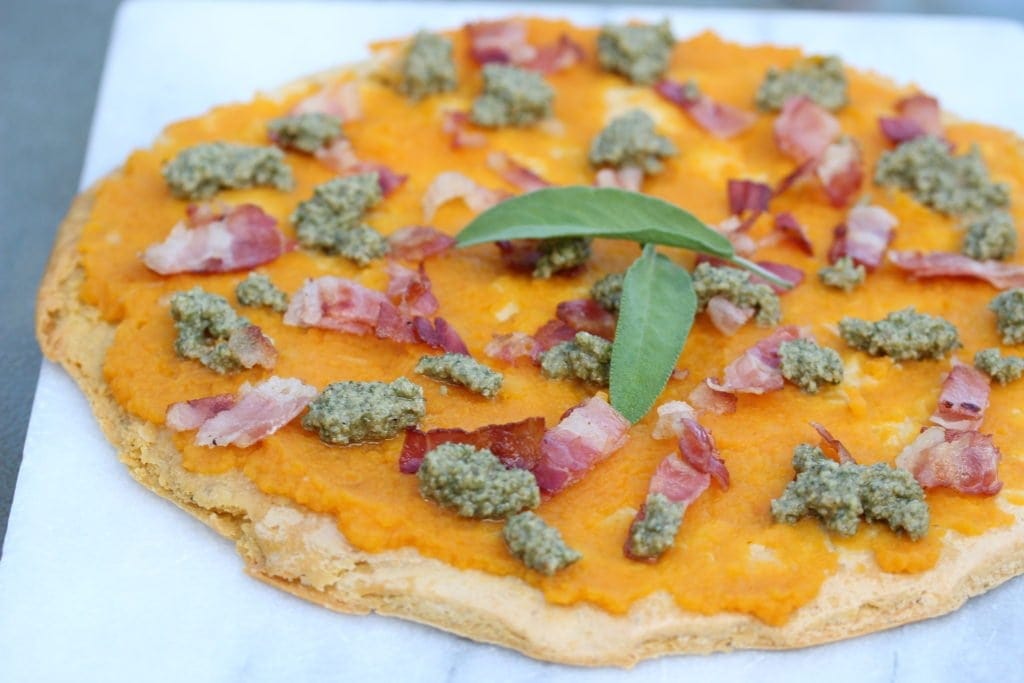 I often question what on earth I am doing in my life, and never more so now, when every waking hour (and many supposed sleeping hours) I wonder what on earth I have taken on…
Many of you will have read that I decided to take the huge leap and attend the Allergy & Free From Show next month to sell a first batch of my wholegrain flour blend.
Although the initial terror has passed, the realisation of how much work I need to get done between now and then has fully emerged.
Everything else has been ejected from my mind.  Ask me my name and I might hesitate in my response.  I feel as though I am a rabbit caught in the headlights.  Wildly looking around to find my exit and not having a clue which way to turn.
However, family life continues and I have to gather myself together sufficiently to do the normal tasks of washing, cleaning, organising the kids, shopping and cooking our meals.
Usually things run fairly smoothly.  Cleaning happens on a Saturday; washing happens when it needs to; I do a meal plan on a Sunday to last for a week, then order the food to be delivered; ironing never happens…you get the picture.
Of late most of that has gone to pot.  I've forgotten to book the shopping slot; I've forgotten to meal plan and consequently we've run out of food because I didn't order enough; Pickle has run out of school shirts because I forgot to put the washing on (where have all his shirts gone?)…the list goes on (I won't embarrass myself further).
Last night was one of those nights where the fridge was almost empty so a conjuring trick had to occur in order to feed the family.
I found a bag of chickpea flour in the freezer (I freeze flours that I am not going to use frequently to keep them fresh) along with half a packet of sliced pancetta and some butternut squash puree.  A bag of walnuts, some nutritional yeast and olive oil lurked in the cupboard and a lone lemon was found in the fridge.
A trip into the garden secured some fresh herbs and lettuce leaves and hey preto, I had the meal (with left-over pesto for another day – result). This will make extra squash puree so freeze it in ice-cube trays for a day when you have nothing in the fridge!
A farinata based pizza with butternut squash, pancetta and sage pesto.  I have to admit.  Even I was impressed at my ingenuity.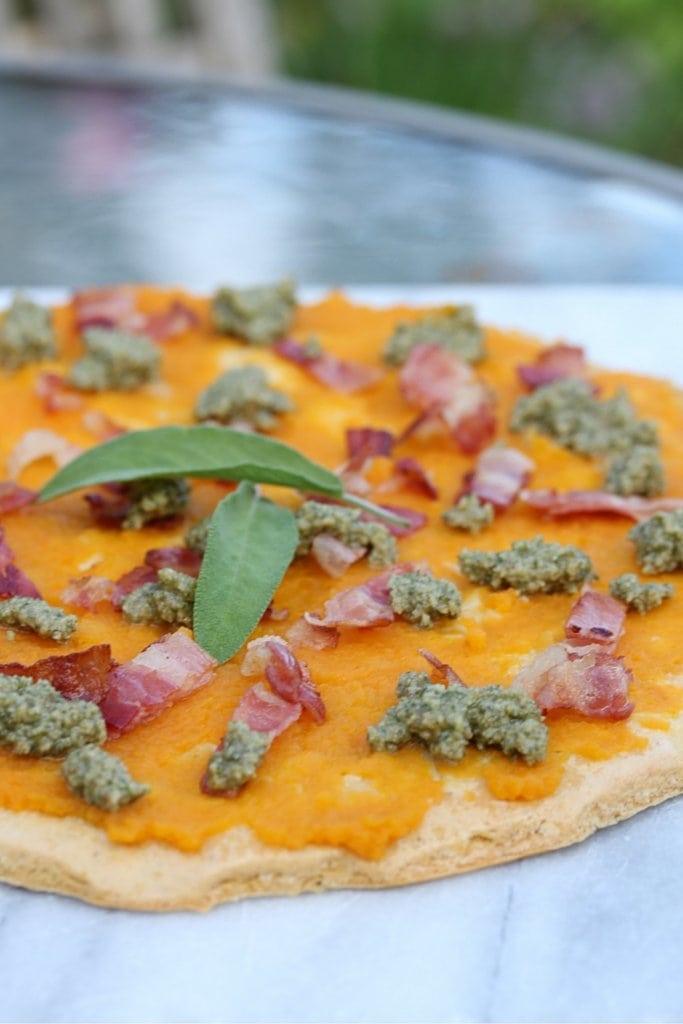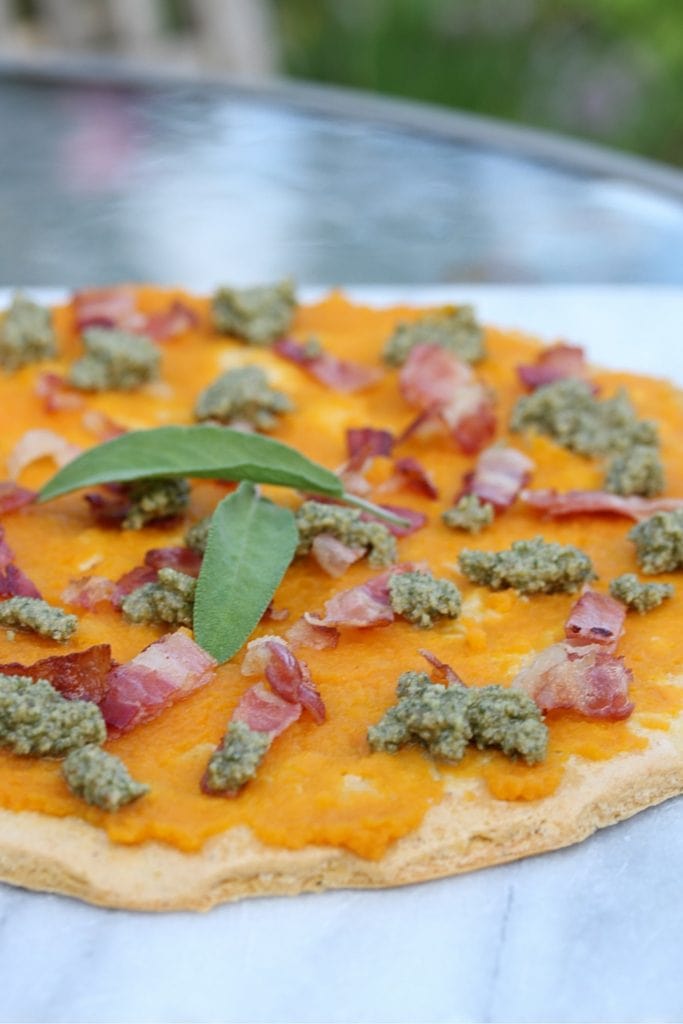 There is nothing set about this recipe. Use the base and add your own toppings, it's just an idea rather than a rigid thing.
I made two of these to feed 2 adults and 2 kids.  Just in case the children turned their nose up to butternut squash and sage I made one with a tomato topping sprinkled with nutritional yeast.  Pickle loved the squash one; Roo expressed her views…and they weren't positive!
Like most of my recipes, they are designs to inspire…go forth and make it your own.  Just let me know what you did if it worked so I can do it next time!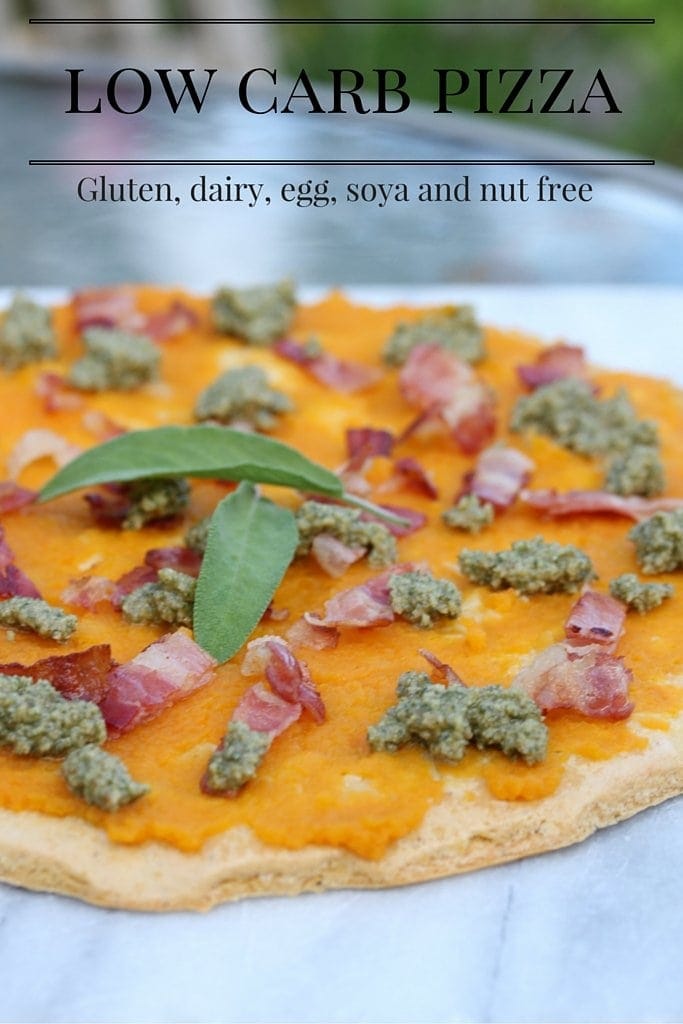 Pancetta, Squash & Sage Pesto Farinata Pizza
Gluten-free, Dairy-free, Egg-free, Nut-free, Soya-free, Low Carb
Ingredients
For the Farinata base:

150

g

chickpea flour

-

check it's gluten-free

250

g

water

2

tbsp

extra virgin olive oil

-

plus extra for cooking

Lots of black pepper

1/4

tsp

sea or rock salt

Fresh rosemary and thyme

-

a couple of sprigs of each - finely chopped

For the pesto:

Handful of sage leaves

Handful of walnuts

1 - 2

tbsp

nutritional yeast -

you could use parmesan if you didn't avoid dairy

Juice of half a lemon

Extra virgin olive oil - enough to make a paste

For the butternut squash puree:

1

small butternut squash

Extra virgin olive oil

Salt and pepper to taste

Pancetta or bacon

-

chopped into small pieces and fried until crisp
Instructions
Pre-heat the oven to 200 degrees c (180 degree fan)

For the farinata:

Place all of the ingredients into a bowl of large jug and beat well until few lumps remain

Put a large (30cm diameter) oven-safe frying pan on a medium-heat hob with a large glug of oil. I added a silicon liner (or parchment paper) too to make it easier to get the farinata out when cooked

Pour the batter into the pan once it's hot, then transfer to the hot oven

Bake for 20 minutes then remove from oven, flip over and bake for a further 20 minutes

For the squash puree:

Chop the squash in half lengthwise and scoop out the seeds

Chop into rough pieces and place on a baking tray

Drizzle with a little olive oil, turn the pieces to coat in oil and place in the oven with the farinata

Bake for around 25 minutes (depending on the size of the pieces) until very soft

Remove from the oven and place in a blender or food processor to make a puree. Season with salt and pepper

Meanwhile make the pesto:

Place all the ingredients into a hand-held chopper (small food processor) and whizz until fairly smooth. Use enough olive oil to create a consistency that you like (there is nothing specific about making pesto)

Once the farinata has been baked, transfer it to a serving dish. Spread with the butternut squash puree, scatter with fried pancetta or bacon and dollop small drops of the sage pesto at random intervals

Eat hot or cold
Pin the recipe so you don't lose it: