As you may recall, about a month ago I was invited to the launch of Holland & Barrett's first ever freefrom store in Chester.  It was a fabulous evening where I got to see first hand the commitment that Holland & Barrett have to the freefrom market.
They currently stock over 1000 freefrom products on-line and have plans to expand this range to nearer 3000.  As I wrote before, the wonderful thing about it is that they support and stock not only the big brands, but the little artisan producers too…meaning that those fabulous small producers have an outlet for their innovative, delicious products.
As a means of testing out some of the products that they now stock, Holland & Barrett sent us a package full of goodies.
When Roo and Pickle came home to it last week they were understandably excited.
I was excited too because it meant an excuse to do some baking and to put some of the ingredients to the test!
The first packet that got ripped open were these Kintaro pop rice snacks with strawberry and gojiberry.  Being sweet, the kids thought they were great.  Being sweet, I wasn't so impressed and Mr M thought that they were "like cardboard with chewy bits"…he isn't a fan of rice cakes of any kind!
If you are after something that fits in your handbag and fills a hole in an emergency then these probably fit the bill!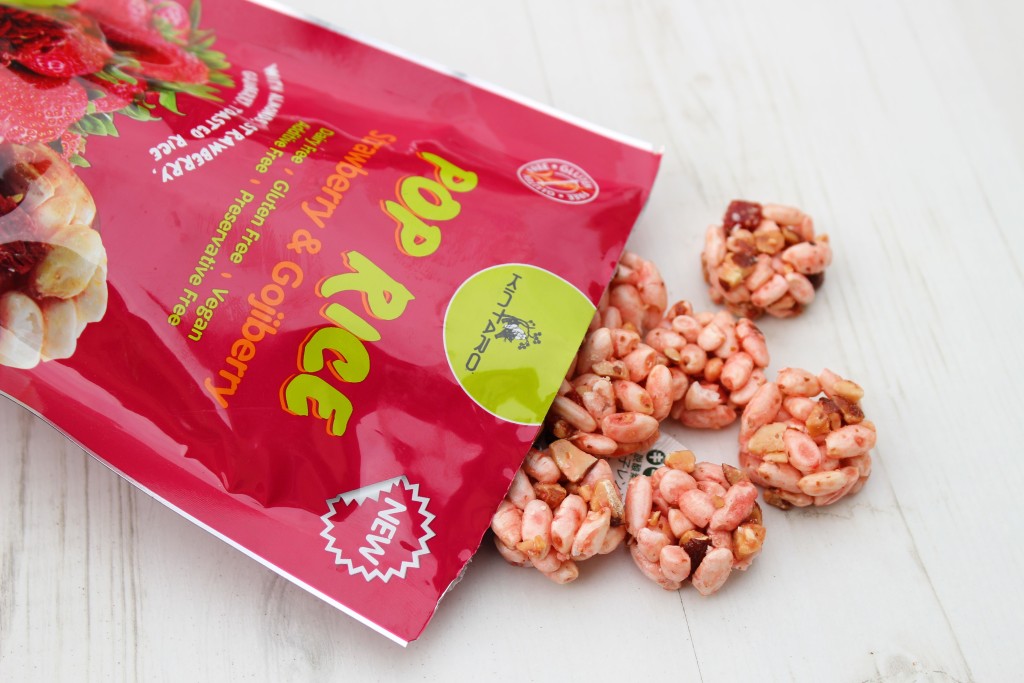 Avoiding the Goody Good Stuff cola bottles, the next item that was snaffled were the quinoa chips by Eat Real.  Despite an enormous bag, they only held 30g of crisps which disappeared in the time it took me to blink!  There were "mmms" all round for this product and Mr M said they were like quavers.  They got the thumbs up from everyone but the thumbs down from me regarding packaging waste!
The kids love Feel Free's alphabet pasta. It is fun, aimed at kids (and big kids) and they are not made with rice flour like most gluten-free pasta.  We particularly enjoy them with pesto on and they make a great alternative to sandwiches in a pasta salad.
Now, I got to the things that excited me in the package!
Choc Chick's high quality cacao powder and Meridian's dark tahini paste.  Dark tahini paste is a paste made from the whole sesame seed and is rich and dark in flavour.  The combination of cacao and tahini shouted to me and I couldn't resist knocking up some double chocolate tahini cookies while Mr M cleared up after lunch on Sunday!
Tahini, being made from sesame seeds, is highly nutritious.  Sesame seeds are an excellent source of protein, copper and manganese;  a good source of tryptophan, calcium, magnesium, iron, phosphorus, vitamin B1 (thiamin), zinc, selenium, essential fatty acids, methionine and dietary fibre; the only source of sesamin and sesamolin (lignans that have been shown to lower cholesterol and protect the liver from oxidative damage) and they also contain vitamin E!
That combined with the 'wonder' powers of raw, minimally processed cacao, which contains magnesium, and other essential minerals such as calcium, sulfur, zinc, iron, copper, potassium, and manganese; polyphenols, antioxidant rich flavonoids; vitamins: B1, B2, B3, B5, B9, C, E; essential heart-healthy fat: oleic acid a monounsaturated fat; protein and fibre…I figured I was onto a winner!
Head on over to the recipe if you feel like making them!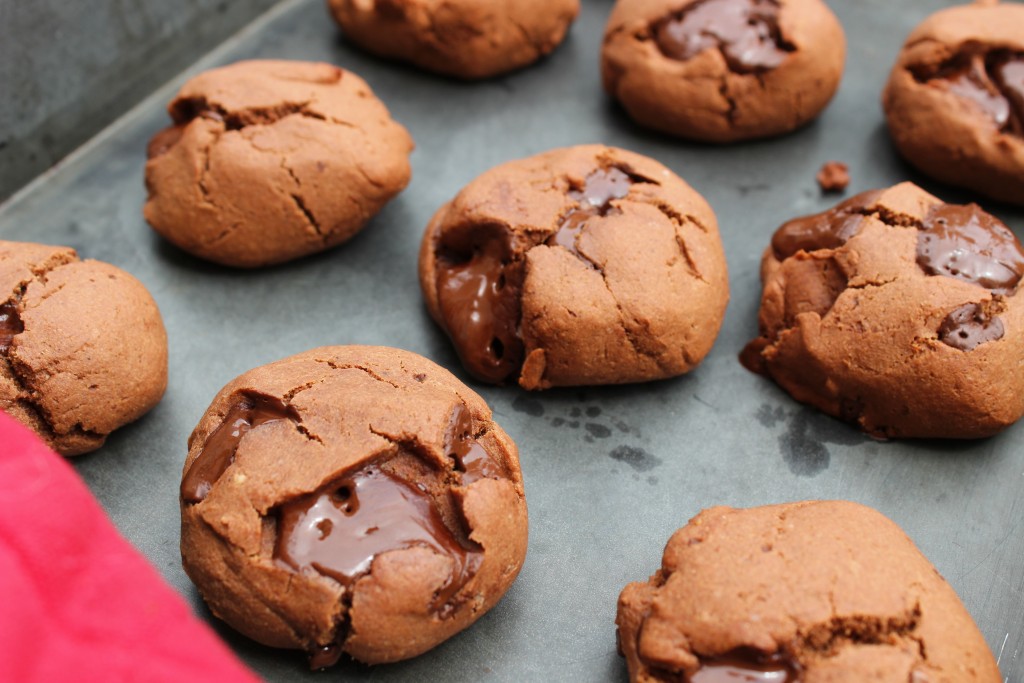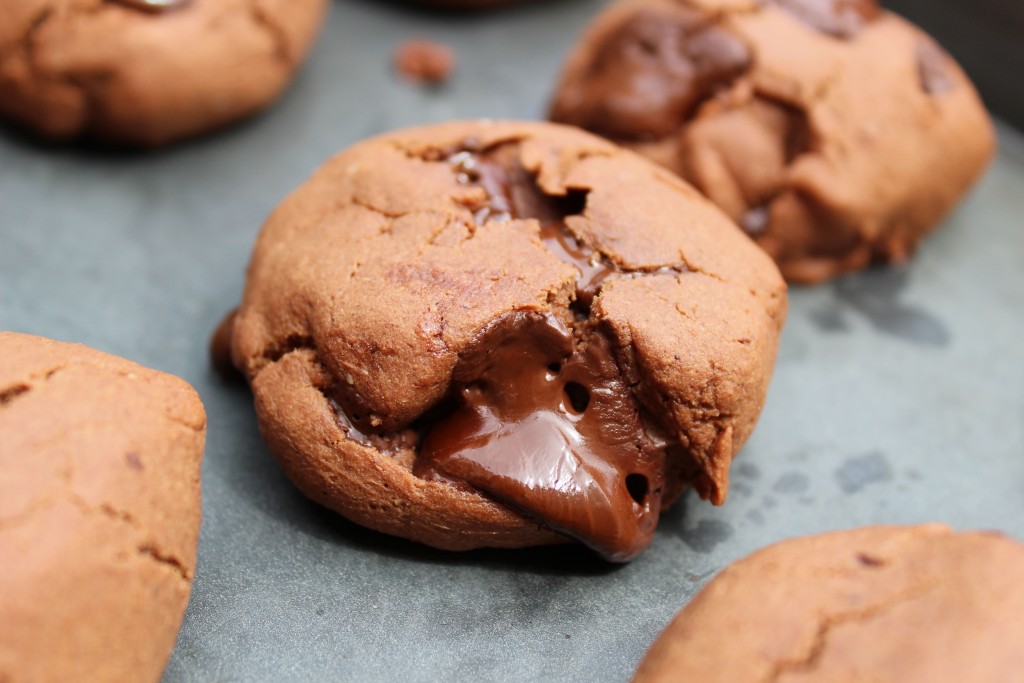 They helped get the kids up Hay Tor on Dartmoor…when I say 'get up', Pickle ran most of the way…and it is STEEP!
Staying with cookies, the wonderful honeycomb smash cookie mix by Bake At Home was whipped up by Pickle on Saturday so that they could be taken by Roo to a birthday party!  He really enjoys baking at the moment and jumped at the chance of making these.  With very minimal input from me, this is what he produced in about 20 minutes from start to finish…for which he was very pleased!  I am told they taste delicious! I loved the packaging and for someone who isn't confident at baking these would be the perfect thing to have in the store cupboard.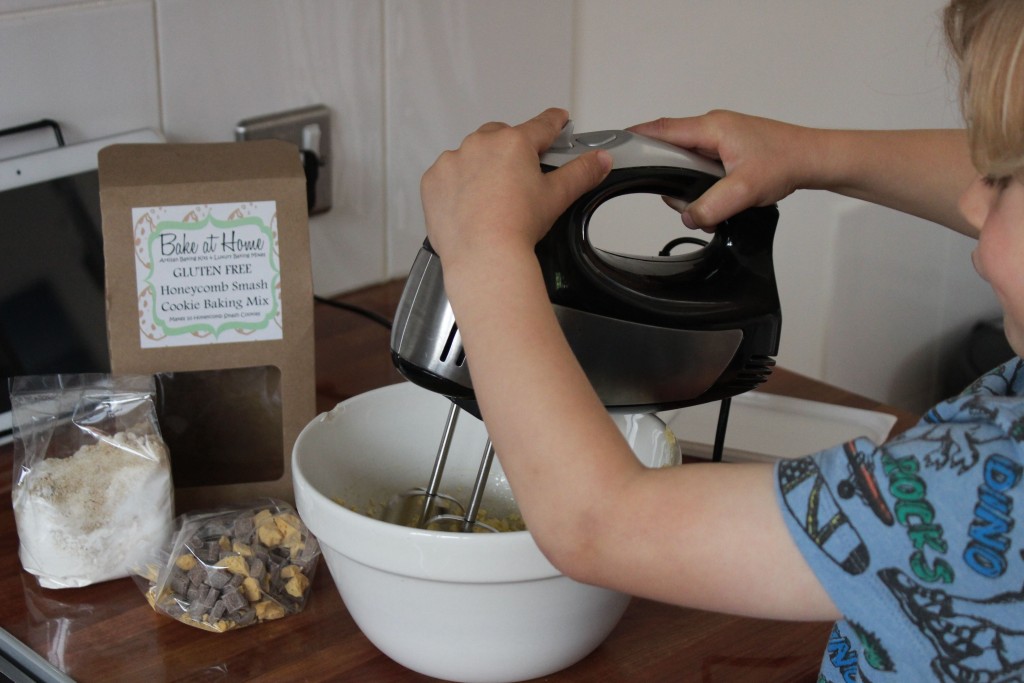 k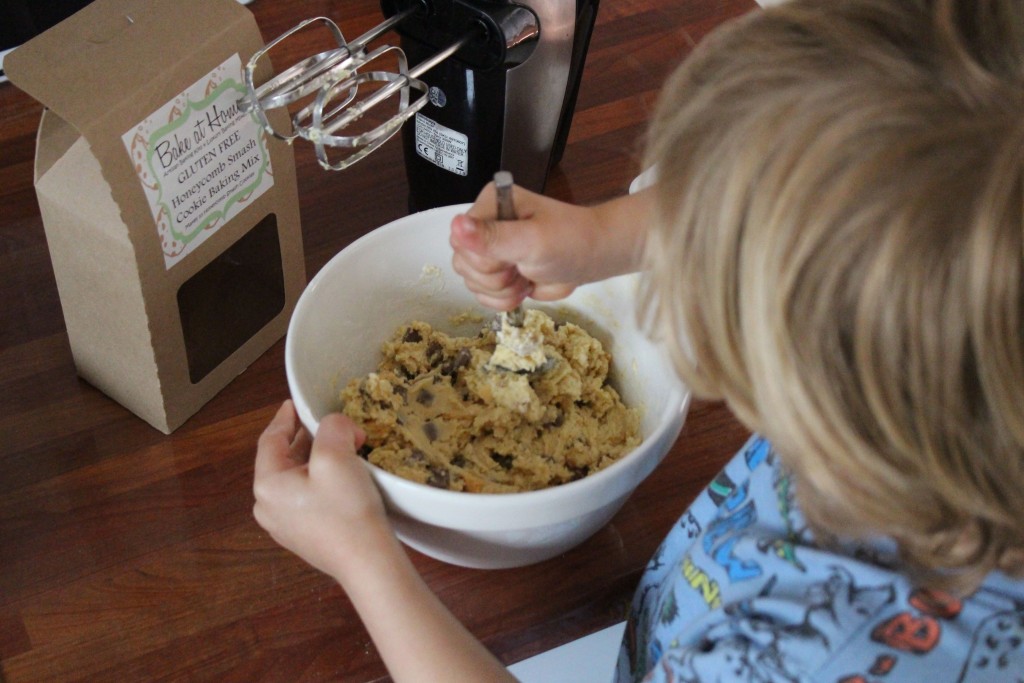 k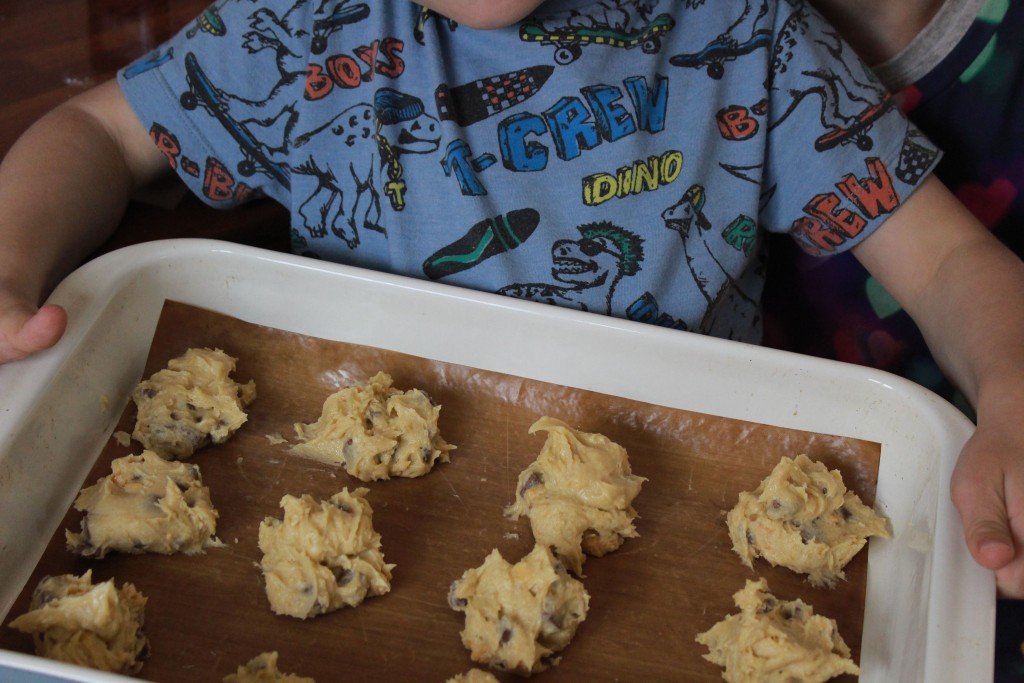 k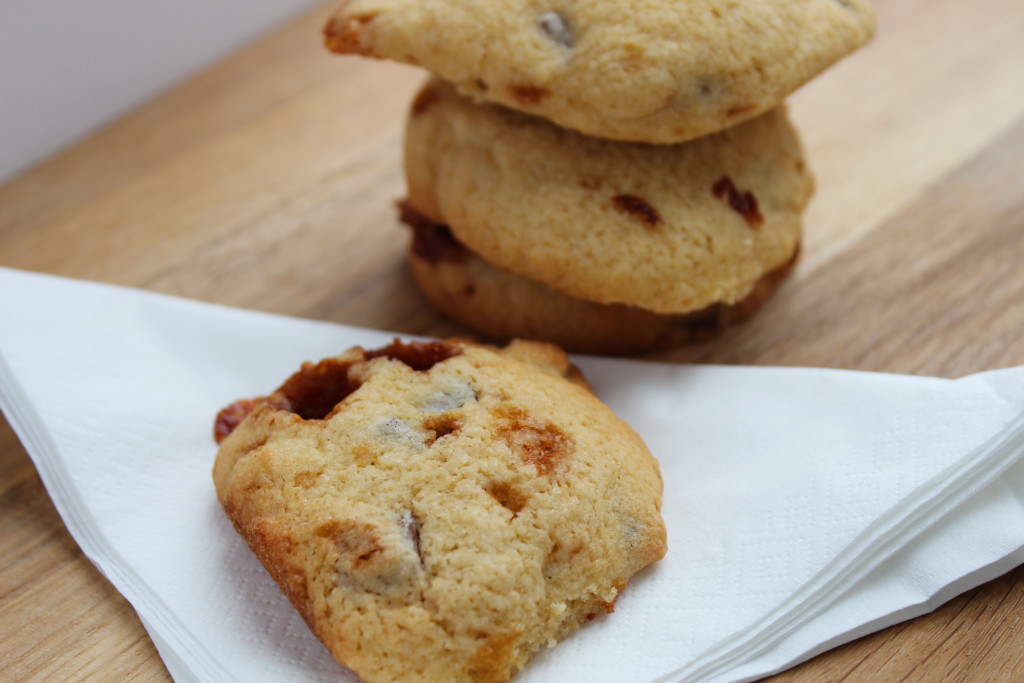 On Sunday I decided to use the bombay potato sauce by Punjaban to make something a little different.  I was very impressed by the ingredients of the sauce, with nothing artificial, no sugar or salt.  In fact, the type of sauce that I would make at home…but in a jar to save me the bother!  I am usually rather snobby about jars of sauce…usually because I find that they contain lots of sugar and salt amongst other things that I would rather avoid!  I would, however, happily buy this again and the whole family enjoyed it.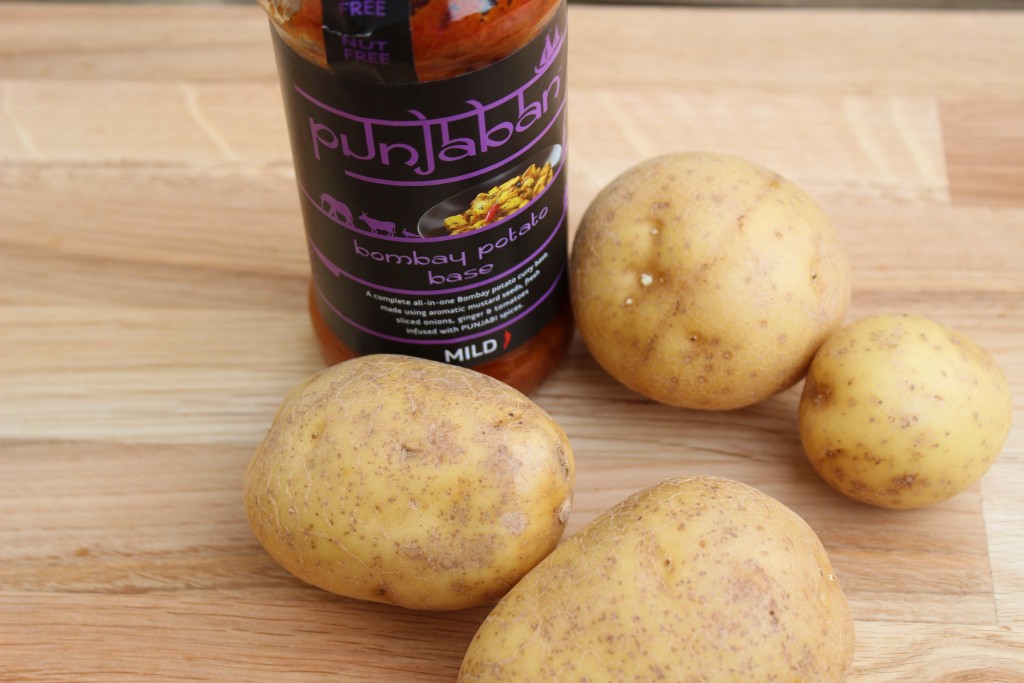 In addition to making some bombay potatoes I marinated two chicken legs with the sauce, drizzled them with oil then roasted them for 50 minutes at 200 degrees, re-marinating every 10 minutes.  The resulting chicken smelt divine and went well with the bombay potatoes and a variety of vegetables.  Everyone agreed that is made a nice change to a Sunday roast!
I have to admit to not having yet tried the other jar of sauce that Holland & Barrett sent.  The ingredients aren't quite so 'virtuous' as that of the bombay potatoes, and creamy mushroom and white wine isn't something that the kids will entertain.  It is therefore in the cupboard waiting until my mum and step dad come for tea when it shall be poured onto quorn pieces to make a quick and easy vegetarian meal for them!
If you have got this far in my post you may be wondering why I mentioned a recipe.  Well, I am getting there! Slowly! The final ingredient that I was sent was Sowan's milled flax-seed.
As you will know if you read my blog regularly, or have ever made my recipes, I use flax seeds a lot.  Ground up they provide essential omega fats as well as adding a binding quality to gluten-free bakes.  In short, I always have some in the house!
I usually buy whole linseed from Tesco and grind them in my coffee grinder, but having a tub of them already ground makes life much easier!  The packet says to store them in the fridge once open, but having done my research I always keep mine in the freezer…once ground, flax quickly looses its nutrients so freezing it helps to maintain them!
Anyway, I add them to my pancake mix (you can find the recipe here) every morning…to make sure the kids get off to a good start.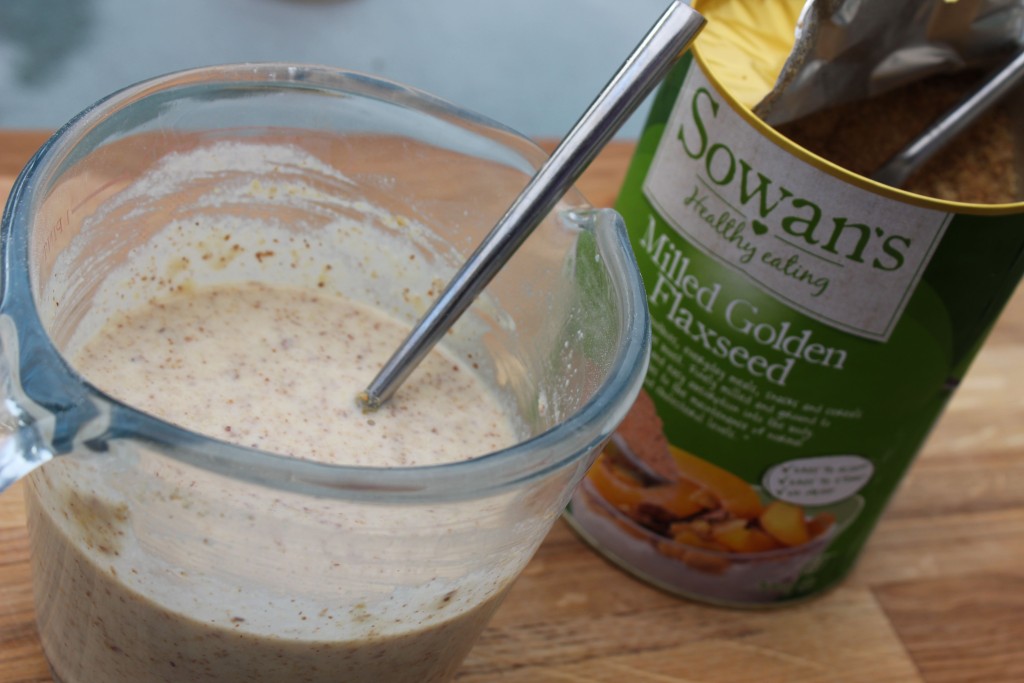 In addition I have used it in my new invention of carrot cake oatmeal…the perfect way to sneak some veggies into the kids whilst using up the pulp from my carrot juice (which I incidentally made in my Omniblend V blender…not a juicer…and then squeezed through a nut bag).  Nothing gets wasted if I can help it here!
So here is the recipe…let me know what you think! If you make it do post a picture on Pinterest, Instagram, Facebook or Twitter using the #freefromfairy.  I'd love to see your versions!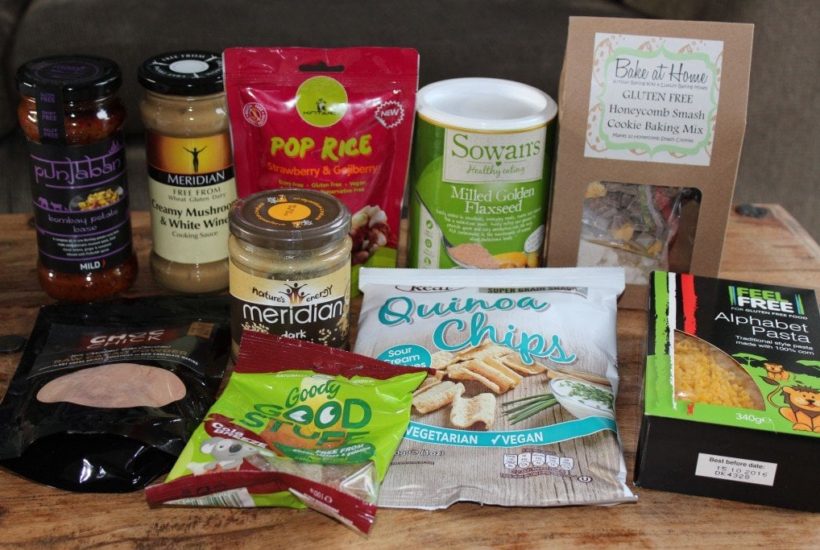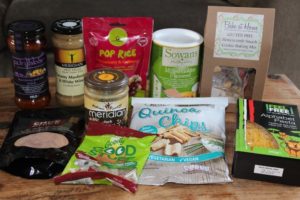 Carrot Cake Oatmeal
Gluten-free, Dairy-free, Egg-free, Nut-free, Soya-free, Refined sugar-free
Ingredients
50

g

gluten-free oats -

or 'normal' if you can eat them! or rice flakes

2-3

dried dates

-

chopped

Handful raisins

1/2

tsp

ground cinnamon

150

ml

dairy-free or dairy milk

1

tbsp

ground flax seeds

Pulp from 1 large carrot that has been juiced
Instructions
Place all of the ingredients into a bowl and mix well

Cover and refrigerate overnight, or for at least 20 minutes

Serve cold (or warm) with extra milk, yoghurt or cream if desired

If you like very sweet things you might like to add some sweetener of your choice.
What are your thoughts on the new freefrom range that Holland & Barrett stock?  Are you as impressed as me?  Be sure to check out their website where you can use filters to identify which products are 'safe' for you…
This post was sponsored by Holland & Barrett and I was sent these products in order to write the post.  However, I am always honest in my writing and was not influenced by being paid.  Being paid just means that I can continue this website!
I shared this with: