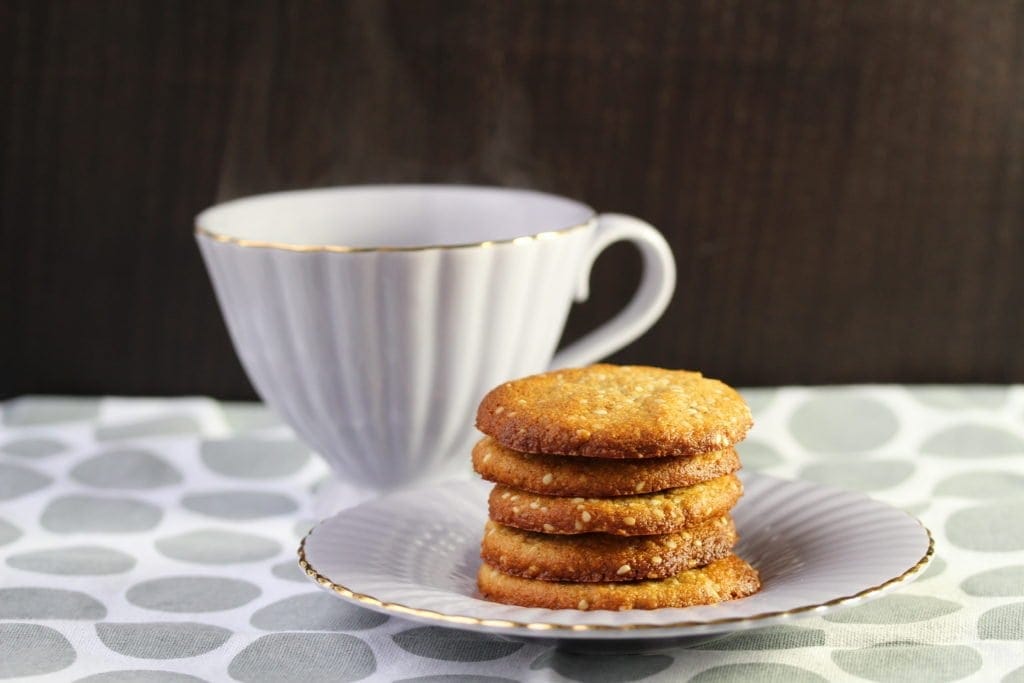 Cookies are a much needed part of my life but on a grain, starch, refined sugar and dairy free diet you might think biscuits would be a no no.
Thankfully my creative side always kicks in when facing dietary restrictions meaning that nobody has to miss out.
These babies are based on my ever popular ginger biscuit recipe. That one uses coconut flour but this time I wanted to make something with almond flour.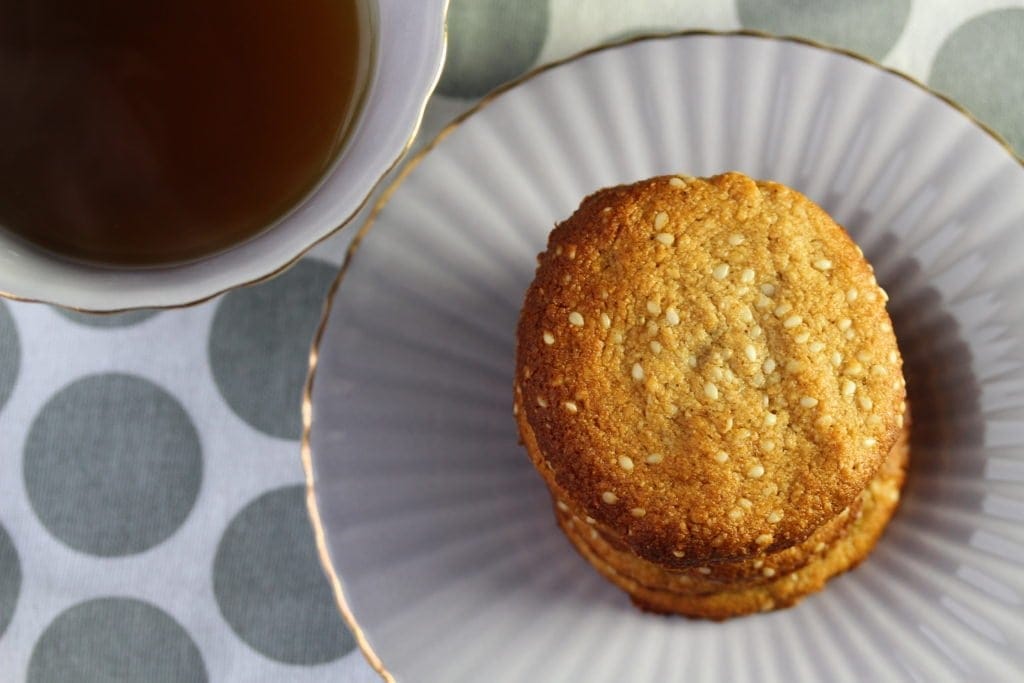 Just four ingredients (plus the sesame seeds) are needed for this recipe and it takes a matter of minutes to put together.
The quantities are purposefully small…to prevent me eating too many in one go but also because they are a soft cookie and will get softer in storage.
I haven't yet tried it, but I believe that if you are vegan and replace the honey with maple syrup or rice syrup (for lower fructose) you will end up with a crisper cookie. The honey is hygroscopic meaning it attracts moisture from the air making the cookies soft.
I use a whole tablespoon of ground ginger when I make these. If you are not partial to a spicy ginger biscuit then cut that amount down to around a teaspoon. However, ginger has medicinal properties and has been used as a natural anti-inflammatory, travel sickness and tummy soother throughout the ages. When I was pregnant with Roo I ate a lot of ginger in the hopes of calming my morning sickness!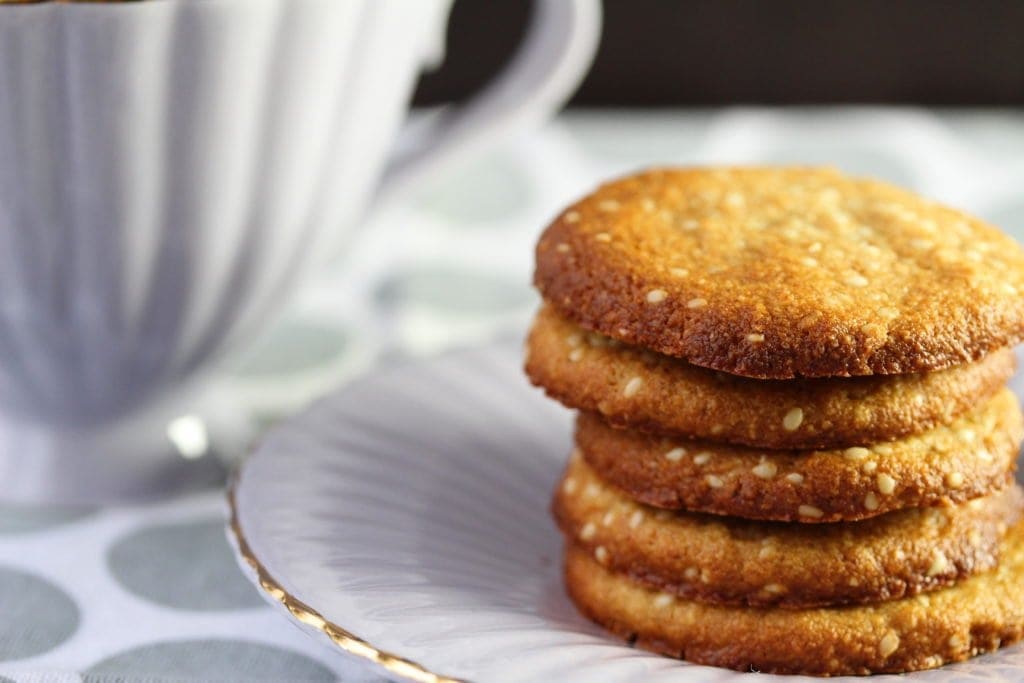 The almonds provide a source of protein, fibre, magnesium and vitamin E; the sesame seeds provide a source of calcium, copper and manganese to name a few their beneficial properties and coconut oil is now thought to have numerous health benefits including reducing 'bad' cholesterol, helping with the affects of Alzheimer's and reducing inflammation.
All in all you couldn't get a more 'worthy' biscuit.
They are low in sugar but there is a tablespoonful of honey per 6 biscuits so I wouldn't suggest you scoff more than a couple at a time (although I confess to eating all six when I first created them). Honey may not be refined sugar but it is still sugar none-the-less!
Do let me know what you think if you make them.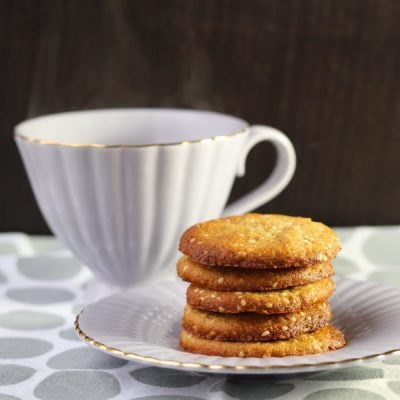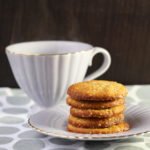 Ginger & Sesame Cookies
Gluten-free, Dairy-free, Egg-free, Refined Sugar-free, Soya-free, can be Vegan, suitable for paleo, GAPS and SCD diets
Ingredients
40

g

ground almonds

20

g

virgin organic coconut oil

I use Coconut Merchant - you can double this for a thinner, larger biscuit (like a ginger snap but without the snap)

1

tbsp

ground ginger

less if you want them less 'fiery'

1

tbsp

sesame seeds

optional

15

g

runny honey

A few drops of almond extract

optional
Method
Place all the ingredients in a bowl and squash the coconut oil and honey into the dry ingredients until you have a dough

Divide the dough into 6, roll each piece into a ball and place on a lined baking tray

Flatten the dough to make a circle around 3cm in diameter

Bake in a pre heated oven at 180 degrees/160 degree fan/gas mark 4 for 8 - 10 minutes until golden

Cool on the tray
Pin the recipe so you don't lose it.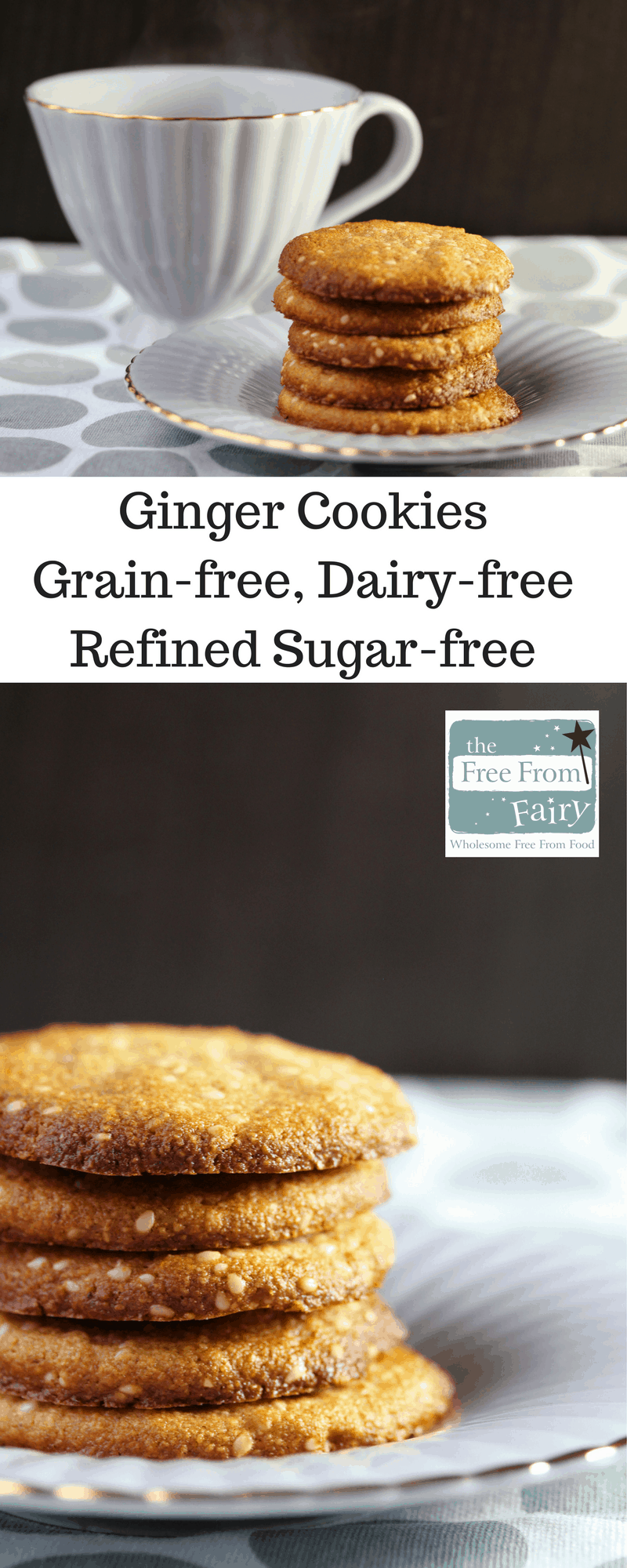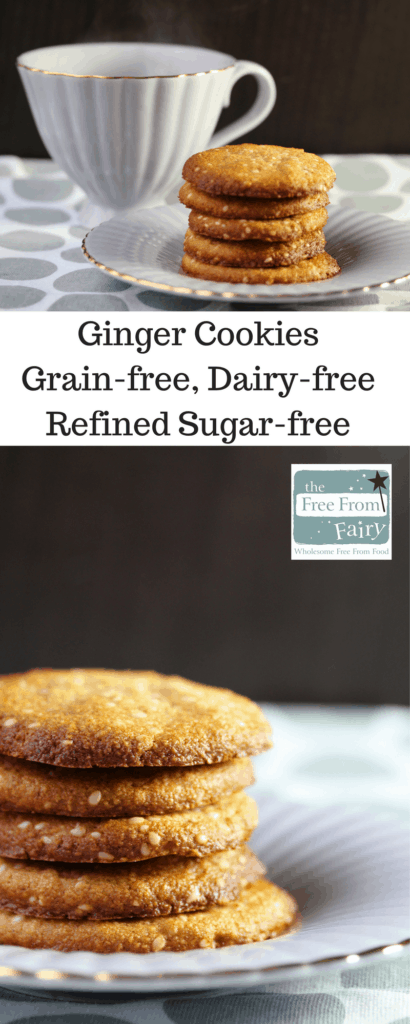 I've shared this recipe with: