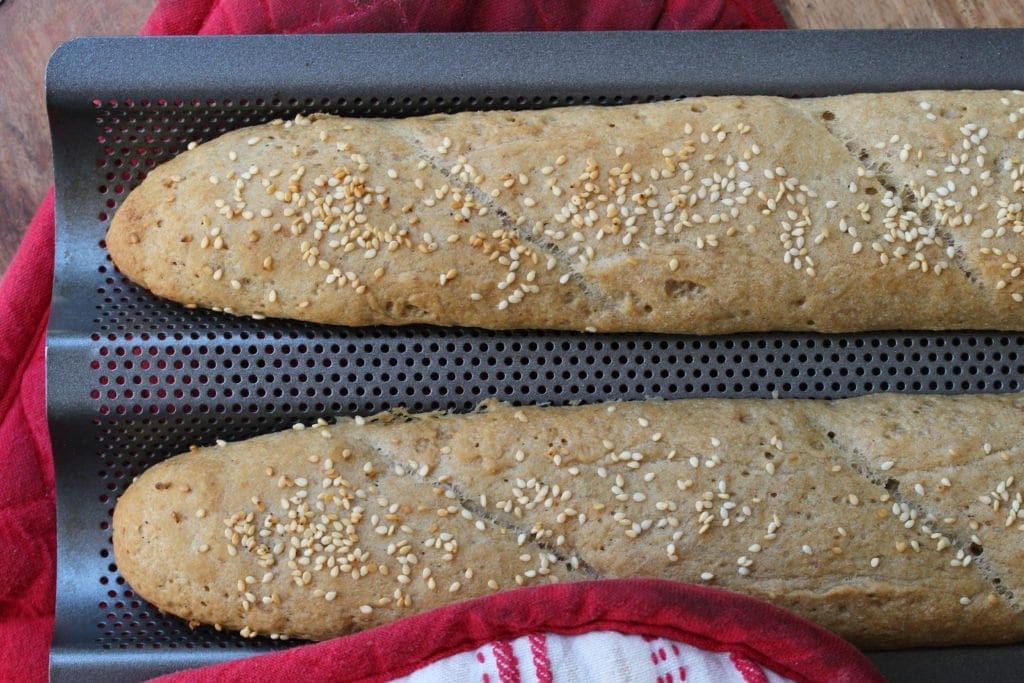 Finally a recipe I hear you cry! And not just any recipe, my long awaited gluten, dairy and egg free baguette recipe.
I have made these a lot in the last year or so since perfecting my wholegrain gluten-free flour blend. The outside is soft and chewy while the centre is springy and moist.
They are incredibly simple to make, like all bread with my flour blend. The structure holds together well and I re-shape my baguettes just before baking them to ensure they bake nice and high.
It takes around 5 minutes to mix the batter together and a further 40 minutes to rise. With a bake time of 20 minutes you can have fresh baguettes in just over an hour. And I promise you, you'll never want to eat a piece of pre-packaged bread again. Even the gluten eaters enjoy these.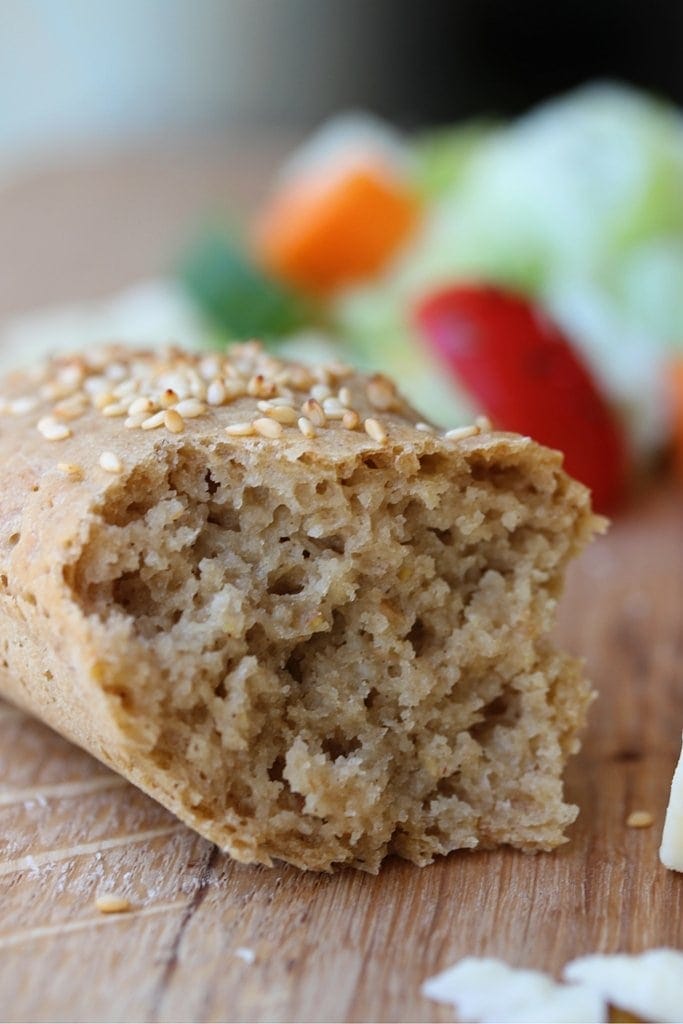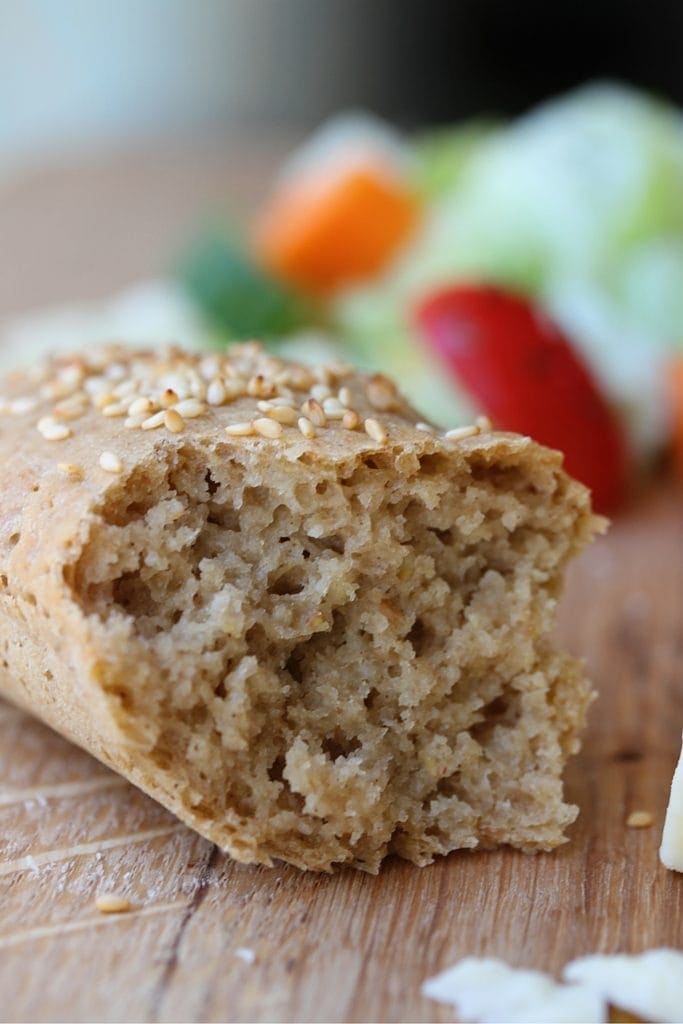 I use a baguette tray
that I bought from Amazon, lined with some reusable non-stick liner
(if you buy either of these things by following these links I will get paid a bit of commission but you will pay the same price).
One word of warning about my method. I always use the same method to make my bread because I have found it works in my less than warm house. I allow the bread to rise in a cold oven with a baking tray of boiling water underneath. I then remove the risen bread, turn the oven on, preheat it to the desired temperature (leaving the tray of water in the oven), then bake the bread with the tray of water. This creates steam in the oven making the bread rise well initially and providing a soft crust.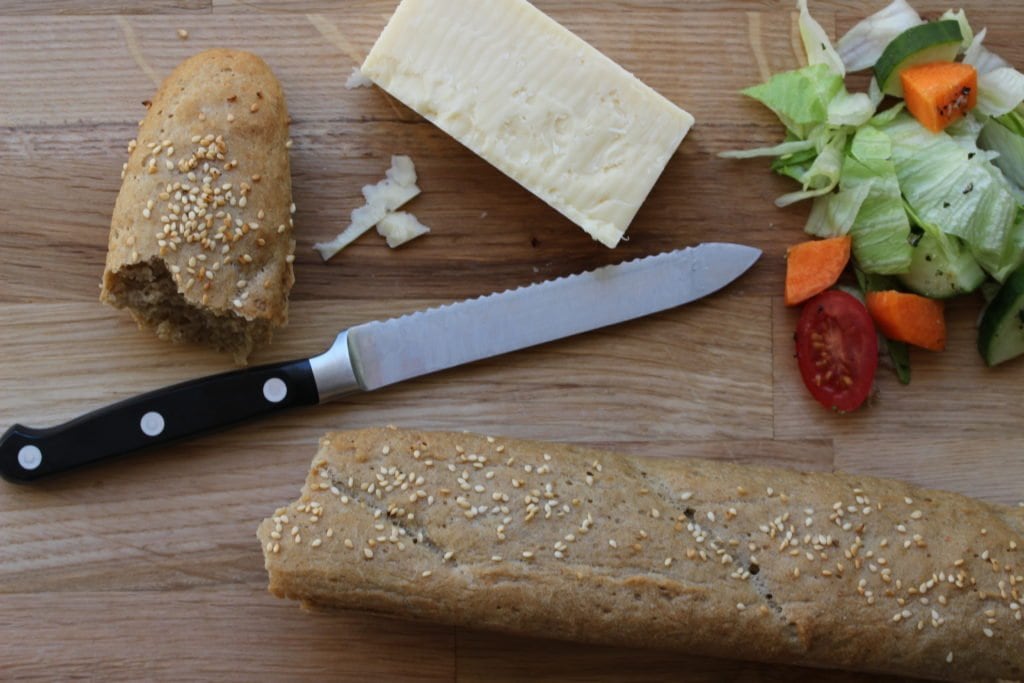 I always make my bread the same way and have never had problems with my oven…but I know some people worry about putting steam in their oven. I'll leave you to decide what you do but please don't blame me if you use my method and something happens to your oven.
These are best eaten straight from the oven, but if you do have some left over just slice it and freeze. To defrost just place in the microwave until warmed through then enjoy.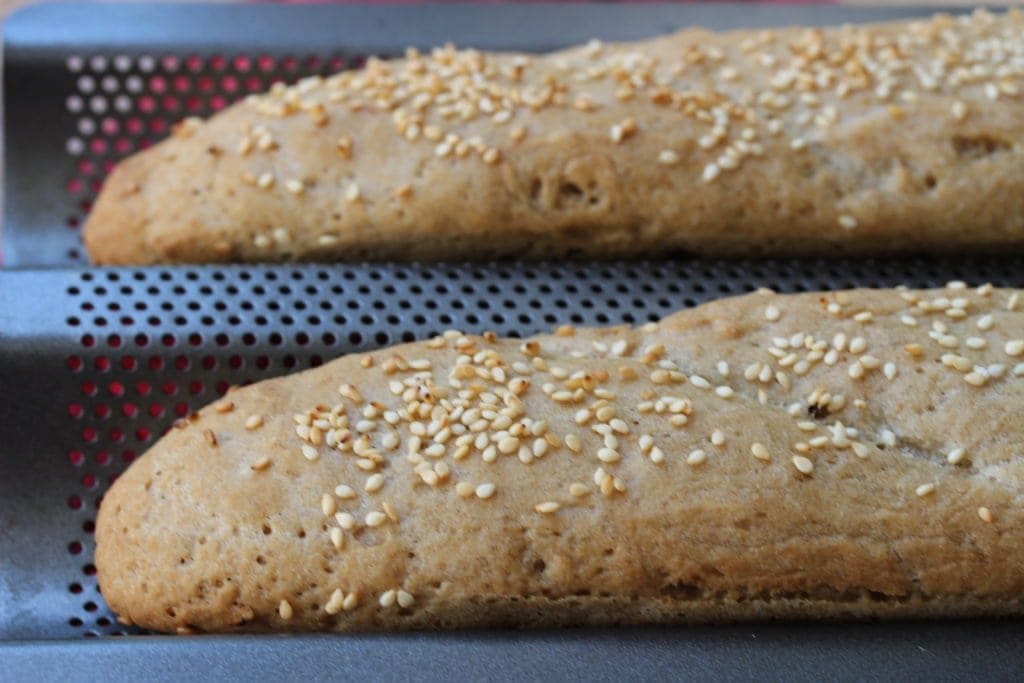 To make these baguettes you will need my flour blend. To find stockists click here.
Enjoy.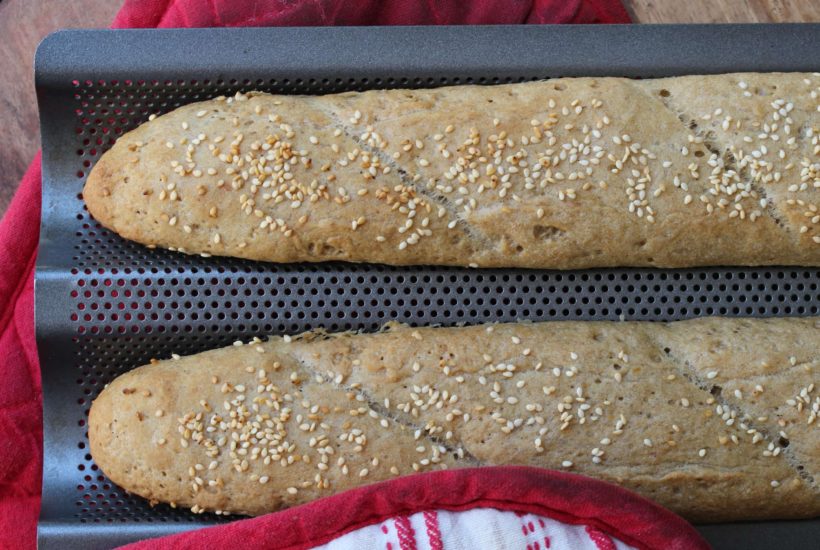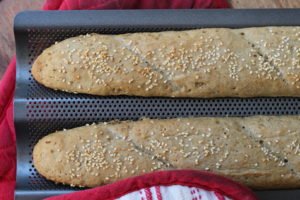 Wholegrain Gluten, Dairy, Sugar & Egg Free Baguette Recipe
Gluten-free, Dairy-free, Egg-free, Nut-free, Soya-free, Sugar-free, Low FODMAP
Ingredients
400

g

Plain Free From Fairy Flour

7

g

fast acting gluten-free yeast

1

tsp

rock or sea salt

2

tbsp

ground flax seeds

1

tsp

psyllium powder or 1 1/2 tsp xanthan gum

320

ml

warm water

-

ideally filtered or bottled - yeast doesn't like chlorine and I find a more consistent loaf if I use filtered water

4

tbsp

extra virgin olive oil

1/2

tsp

balsamic vinegar

-

or other vinegar such as cider if you don't have balsamic
Instructions
Place the dry ingredients into a large bowl or the bowl of a stand mixer and mix together well

Add the wet ingredients and beat together for around 1 minute until you have a smooth batter like a cake mixture

Line a baguette tray with re-usable non-stick liner (see above for what I use). I use one piece for the tray

Dollop tablespoon sized blobs into each dip of the baguette tray, making them join but not worrying about what it looks like at this stage

Once all the batter has been used up, wet your hand and smooth each baguette into a baguette shape

Place in a cold oven with a tray of boiling water and leave to rise for 30 minutes

After 30 minutes remove the baguettes from the oven (leave the water in) and switch it on to 240 degrees C, 220 degrees fan oven, gas mark 9

Just before placing the baguettes in the hot oven gently reshape them if desired with wet hands or a wet pallet knife

Gently cut three lines in the top of each baguette

Sprinkle with water and seeds if desired before baking them in the steamy oven (be careful when you open the door) for 15 - 20 minutes

Leave to cool in the baguette tray before cooling on a wire rack (or eating them)
Pin the recipe so you don't lose it: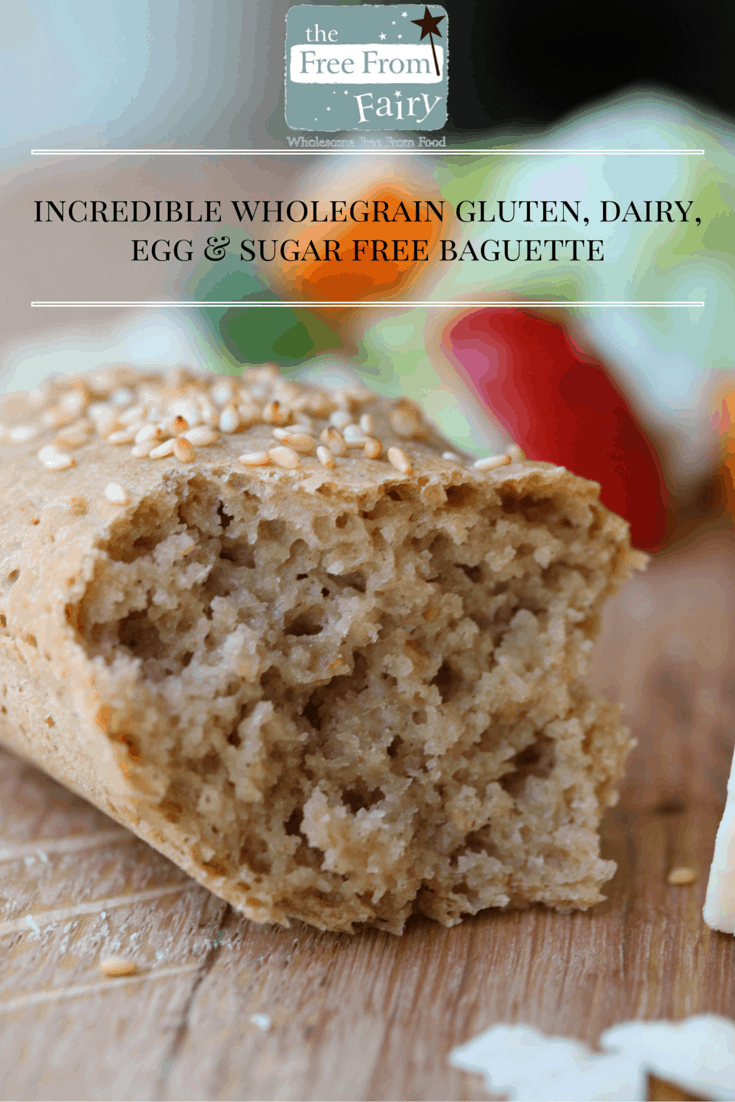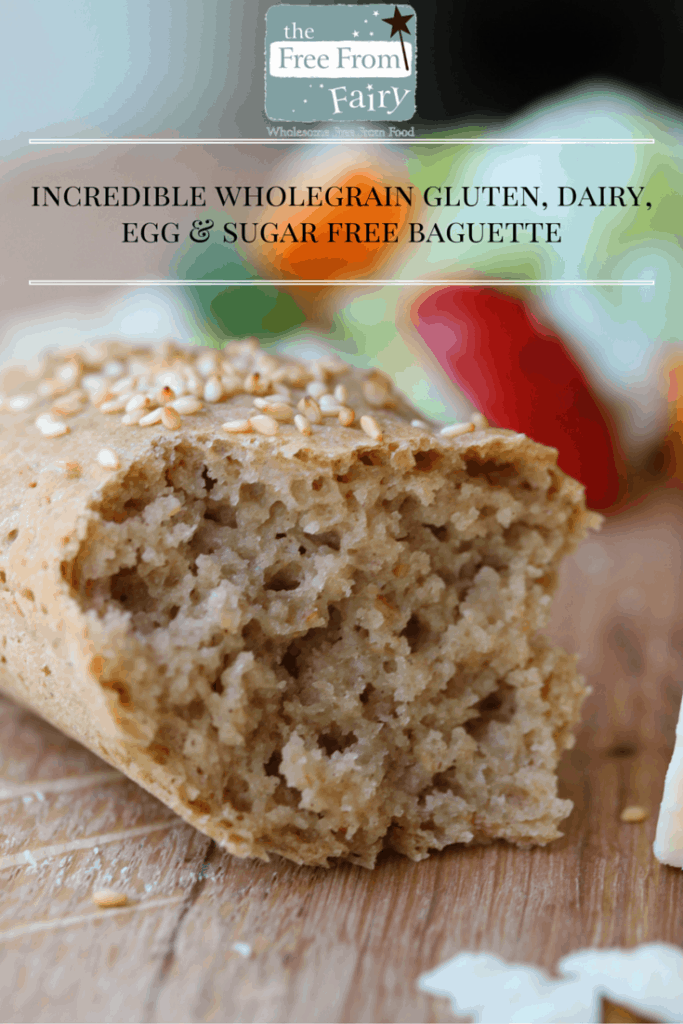 I've shared this recipe with: