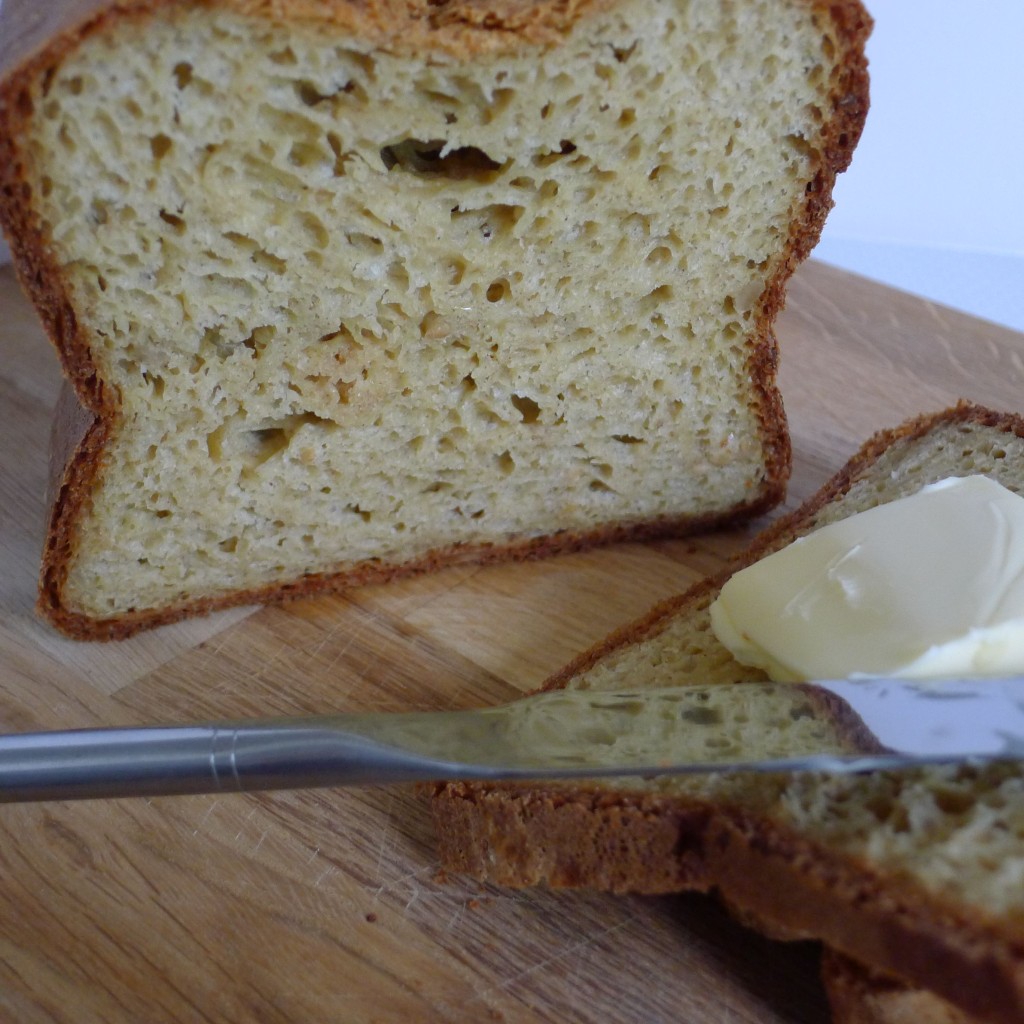 As a scientist by training I have been carrying out numerous 'experiments' of late trying to perfect my perfect loaf of gluten free bread. The criteria for said bread was that it could be made using flour on prescription, contain ingredients I had actually heard of (and could get), was moist and tasty and did not contain huge amounts of sugar and salt like bought versions.
Over the years I have tried many recipes having myself been off wheat for a number of years. I always drew the same conclusion…that I would rather avoid bread all together if that was what it was going to be like! However, with renewed vigour and my daughters health to think about, a few weeks ago I set about researching how to make the perfect loaf!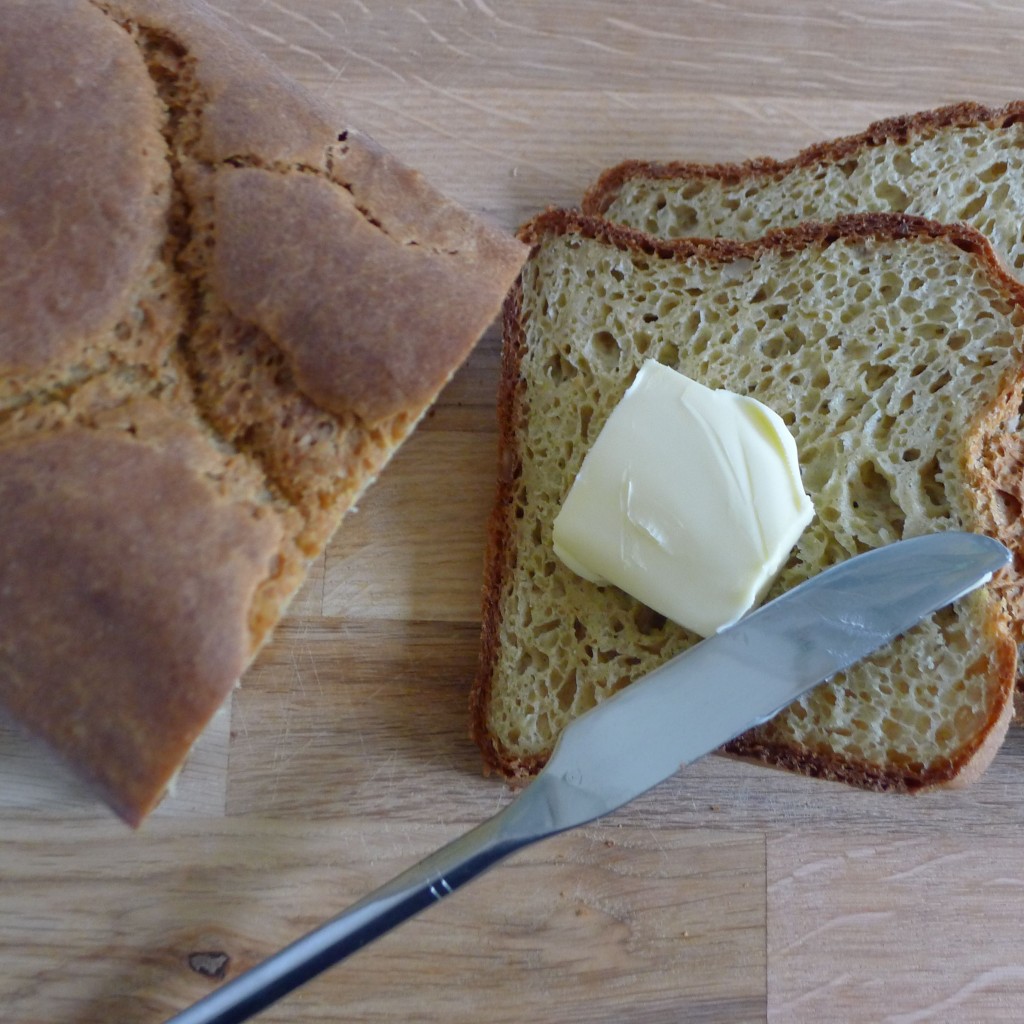 There is lots to read out there on 'Google' if you look and I have picked up tips from Gluten free on a shoe string and Gluten free easily in particular. Their posts are very helpful. But, being me, I like to experiment and am not that keen to take somebody else's recipe!! Today's loaf came out really well so I thought I would share it. It ticks all the criteria above and most importantly of all, my daughter loved it! I am sure I will continue to fiddle with it…not being able to make the same loaf twice, so will post any other successful recipes here as soon as I have them!!!
My top tip when it comes to making gluten free bread is to pretend you are making a cake! I am very familiar with them…but bread has always slightly scared me! Not any more…it is just like making a cake and very easy. Just make sure you are careful to weigh out the correct amounts. It is actually much simpler to make this loaf than a gluten containing loaf of bread (in my humble opinion of course!)…not so much faffing…which suits me cos these days I can't be doing with faffing!! Must be my age!!!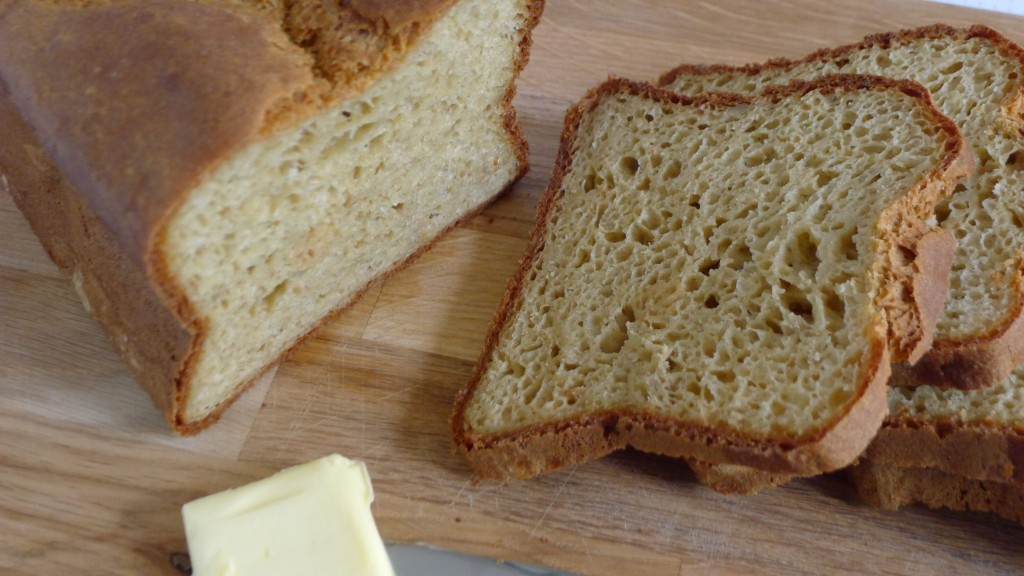 White flax seed loaf (gluten, dairy, soya, nut free)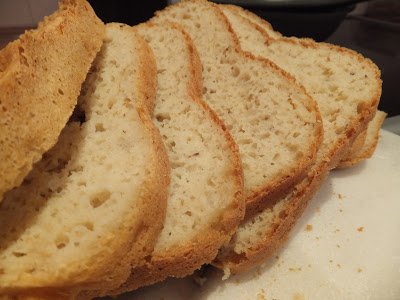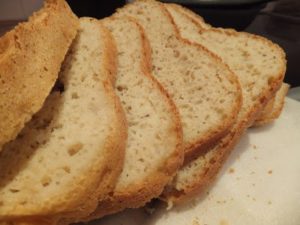 White flax seed loaf
Ingredients
400

g

Innovative Solutions pure gluten free blended flour

50

g

white teff flour

-

I used Innovative Solutions again

2

and a half tsp dried active yeast

1

and a half tsp xanthan gum

1/8

th tsp vitamin c powder

-

I happened to have this so put it in having read about doing so in my research!

1

tsp

salt

1

tbsp

ground flax seeds

2

tbsp

runny honey

350

ml

water

-

use cold water from the tap and heat on high power for 1 min 30 seconds to get to the right temperature

3

medium eggs

-

free range in this house - straight from the fridge

4

tbsp

olive oil
Instructions
Place all the dry ingredients together in a large bowl and mix well

Warm the water and add all the other liquid ingredients to it and mix well with a fork

Add the liquid ingredients to the dry ingredients and, with a handheld whisk (or stand mixer if you are lucky enough to have one), mix together until you have a smooth 'batter' - much like a cake mix! I mixed for approx. 2 minutes to get air into it. You could do this by hand but it would take a fair bit of work!

Grease a large bread tin with a little oil...this is where your unused breadmaker pan can come into its own! That is what I have used and it means you get a proper sized slice of bread, not something that a fairy would like to eat!

Pour your mix into the tin and smooth the top. Put in a warm place for 35 - 50 minutes depending on how warm a place you find - it will be ready when doubled in size. Be very careful when transferring into the oven as any knocks will send your mix down and give you holes in your loaf (I have done it - I know!!)

Pre-heat your oven ready for your double sized mix - to 180 degrees

Bake for 50 - 55 minutes until it sounds hollow when you tap it and has a lovely golden colour on top

Leave to cool for 5 minutes before removing onto a wire rack to cool completely