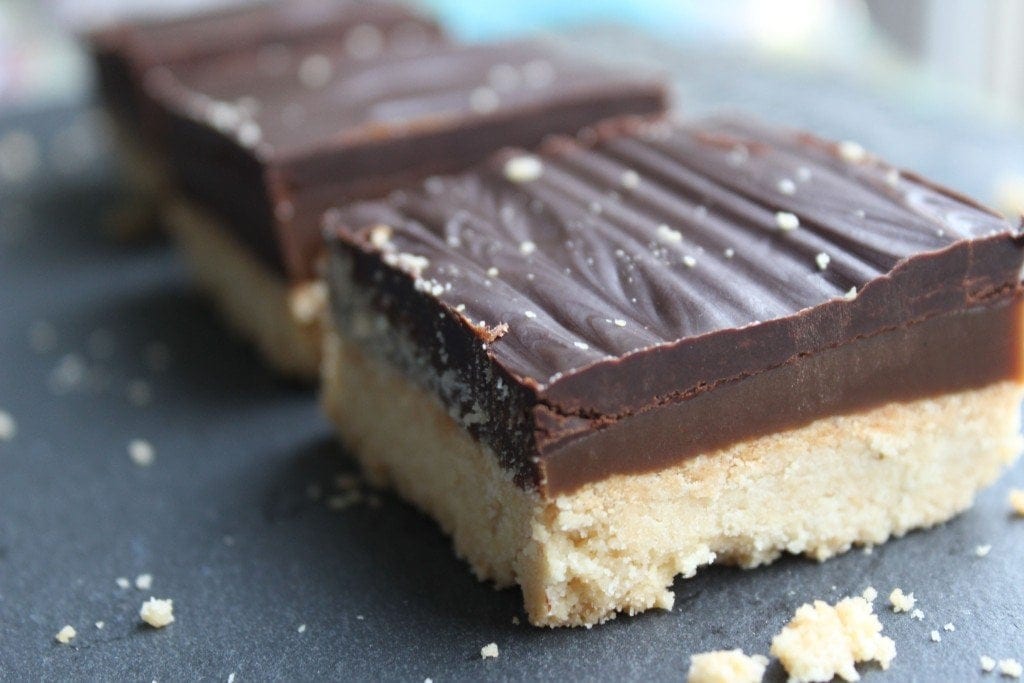 Over Christmas I started looking back at some of my old recipes on here.
The photographs are terrible…I had no clue about photography and I didn't much care because I didn't expect anyone to read what I was posting (apart from friends and family who were catering for Roo)!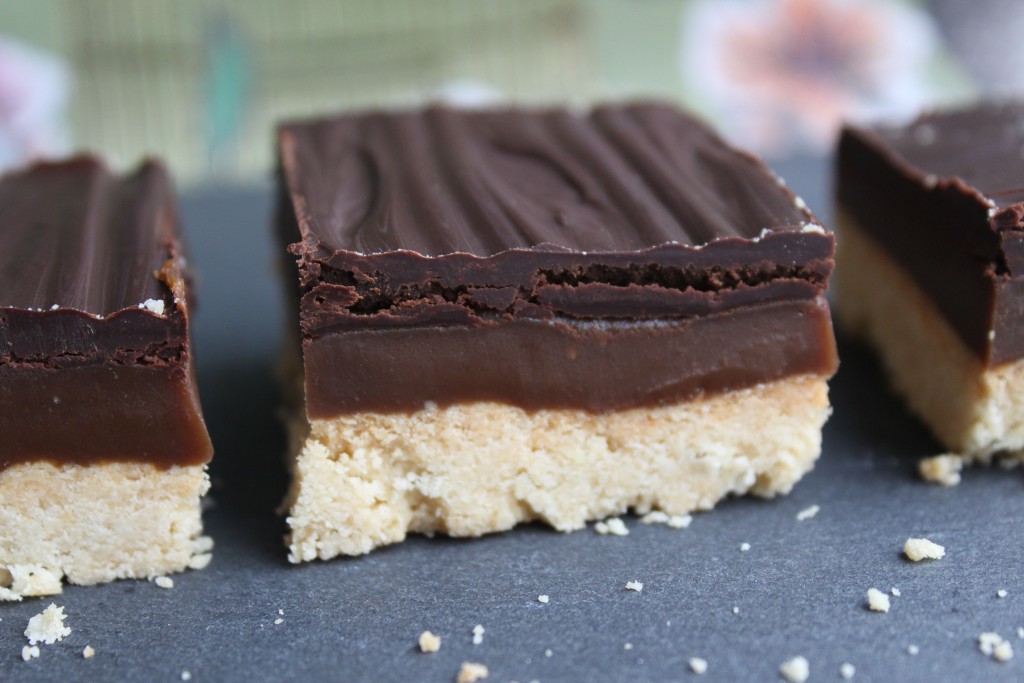 Fast forward three years and a move to my own website (rather than the blogging platform that I started on) and things are rather different!  My photography has improved (there is much more to be done though!), I have a loyal readership (thanks guys!), I have developed my own multipurpose healthier gluten-free flour blend and I work with many freefrom companies!  Wow!!  It is good to look back and realise how much one has achieved!
One of my most popular recipes is my gluten-free and dairy-free millionnaire shortbread one.  It is also one that has a terrible photo!!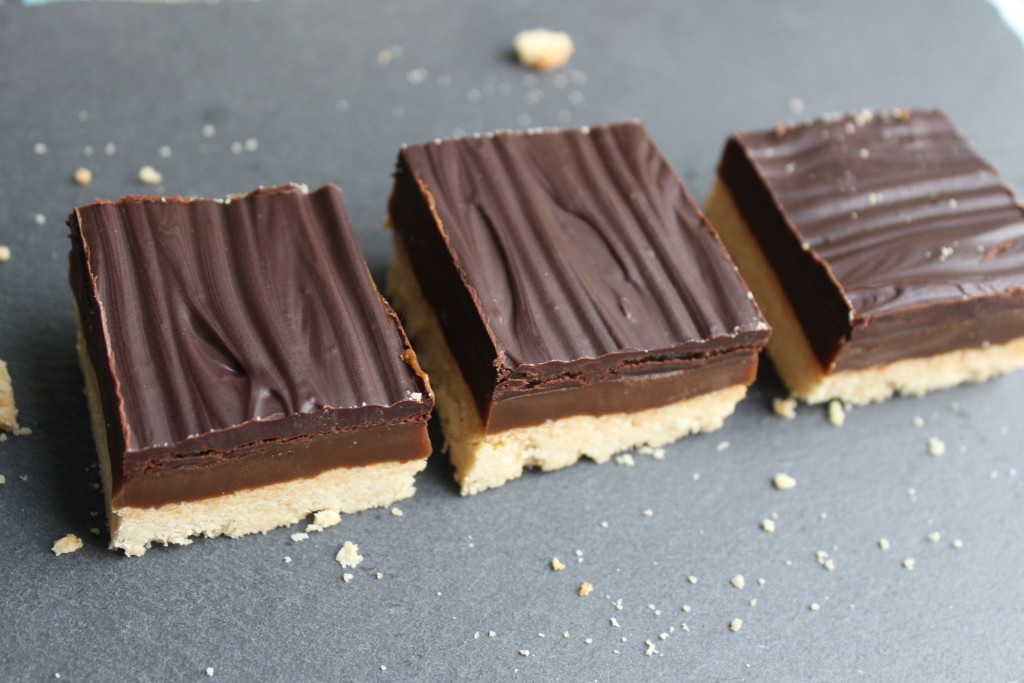 My plan had been to re-make old recipes and take better photographs of them.  However, because I now create much healthier recipes with less sugar in I couldn't quite bring myself to make the original again, and over the coming months you will see me going back over my recipes and giving them a 'health-revamp'!
With this particular recipe I decided to create a new healthier version and I know you are going to love it!!!  In my opinion, this is even better than the original but I'll leave you to decide (and will leave the original still posted because I know many of you like it!).
Of course, just because it is 'healthier' than a normal recipe for chocolate caramel shortbread (or millionnaire shortbread), does not mean it is healthy!  But my view is that the occasional treat is fine, particularly if it is a healthier version of a treat!
I've used coconut sugar in the caramel due to its natural caramel taste which disguises the flavour of coconut from the coconut milk (something that is important in this house since Mr M hates the taste of coconut!).  The jury is out as to whether it is any more healthy than table sugar although it is not processed in any way and therefore retains some nutrients (albeit in minimal quantities); it is thought to contain nearly as much fructose as table sugar and it is the fructose in sugar that it is now known to be problematic to our bodies.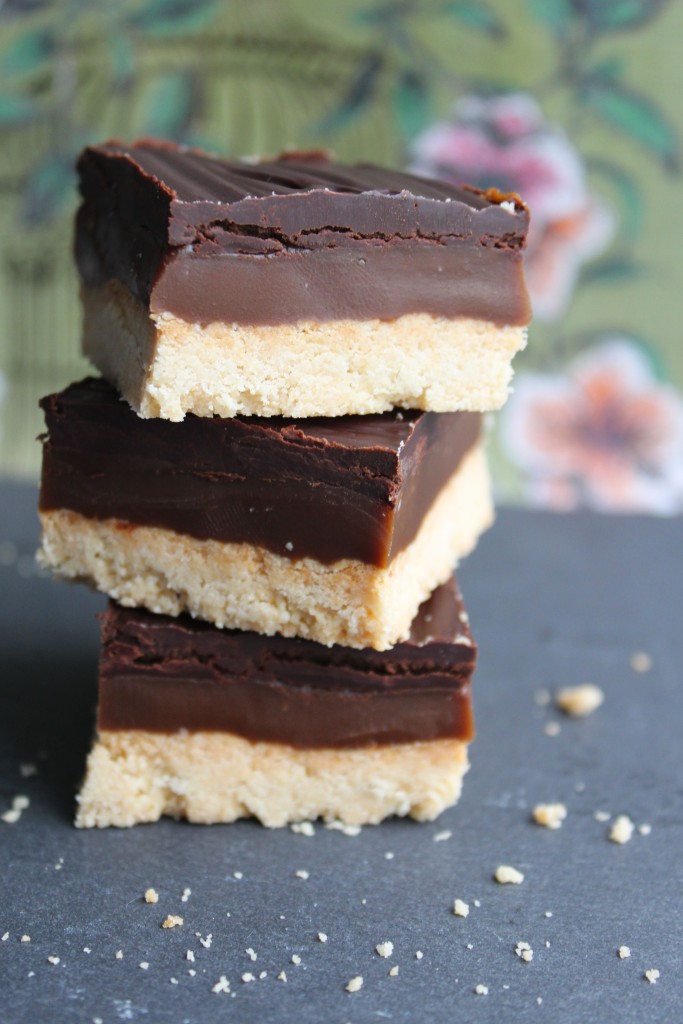 I have used maple syrup in the base because it has only 35% fructose as opposed to 50% fructose in table sugar (just thought you might like to know why I chose the sweeteners I did!).  I have kept the quantity low because I believe that the sugar in the caramel and the chocolate makes this sweet enough!
So here goes…I really hope you like it as much as we do here.  Please let me know if you make it.  You know I always like to see your versions on social media!  Just use the tag #FFF.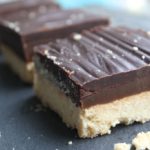 Healthier Chocolate Caramel Shortbread
Gluten-free, Dairy-free, Egg-free, Soya-free, Refined Sugar-free, Vegan, Paleo, Grain-free
Ingredients
For the base:

180

g

ground almonds

40

g

coconut oil

30

ml

maple syrup

For the caramel:

150

g

coconut sugar

1

tin coconut milk

50

g

coconut butter

or solid coconut cream

1/2

tsp

rock or sea salt

Chocolate top:

100

g

dairy-free dark chocolate

2

tbsp

coconut milk

the thick part from the top of a tin
Instructions
Make the base first by melting the coconut oil, then stirring in the almonds and maple syrup

Push the mixture into a dish measuring approx. 20cm x 12cm, then bake in a pre-heated oven at 190 degrees (170 degree fan, gas mark 5) for around 20 minutes until firm

Once baked, remove from the oven and allow to cool completely before adding the caramel layer

To make the caramel layer, place all the ingredients into a small saucepan and bring slowly to the boil (over a low heat), stirring every now and again to make sure the sugar dissolves

Boil over a low heat for approx. 25 minutes, stirring all the time, until it becomes thick. You can test when it is thick enough by dropping a tiny bit in a glass of cold water. If it forms a soft ball then it is ready

Pour quickly over the cooled base and spread evenly. Place in the fridge to set before applying the chocolate layer

Finally to make the chocolate layer melt the chocolate and coconut milk together. You can do that in the microwave (but be very careful not to burn it), or in a bowl over a pan of boiling water (not allowing the bowl to touch the water)

Pour evenly over the cooled caramel mixture and leave to set before cutting into small slices and storing in an airtight container (if very hot, in the fridge otherwise at room temperature).
Don't loose the recipe! Pin it now!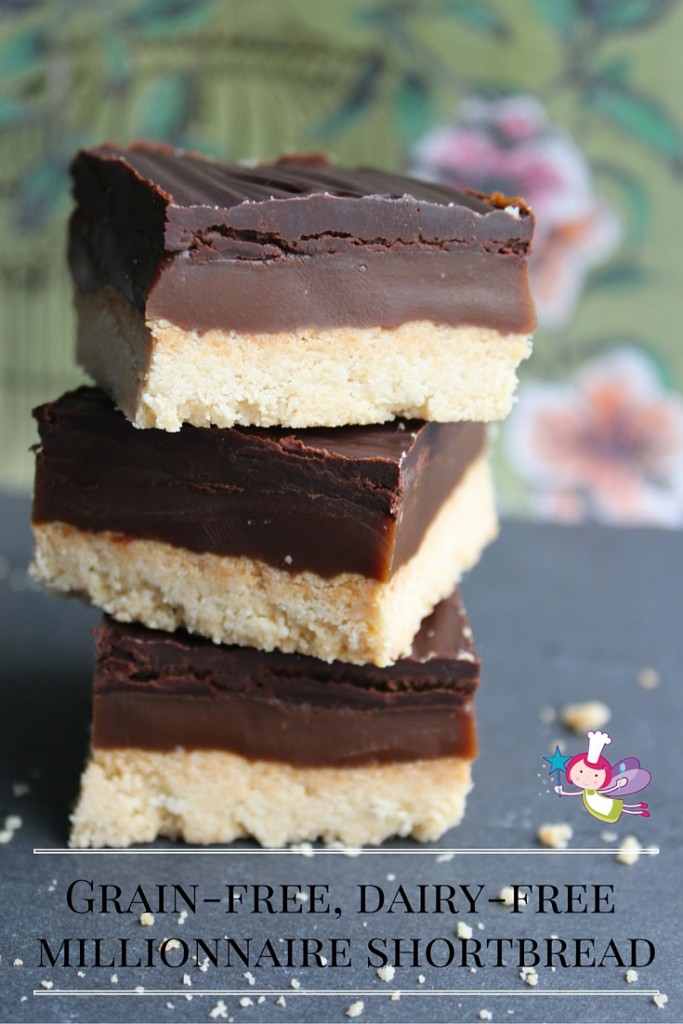 And if you want something to do with the leftover coconut milk that you have, check out this recipe for chocolate, coconut, banana smoothie over at Honest Mum…it looks delicious!