I am sure a considerable number of you got a breakmaker for Christmas. Hands up!
And those of you who didn't get one may well be considering one…
But now it is sitting on the side taking up room and you are not really sure what to do with it!
Well I have the answer for you! Bake yourself a beautiful, tasty, indulgent fruit, nut and chocolate loaf. That is what I created when I was sent the Sage breadmaker to try out for them! (Please note I have only tried this recipe in that machine so please don't hold me responsible if it doesn't work in yours!)
For those of you who don't know, Sage products are endorsed by Heston Blumenthal himself, so when I was asked to try their breadmaker out I felt very honoured!
It is a beautiful machine, all stainless steel and gorgeous to look at, although like all breadmakers, it takes up a lot of space on your worktops.
It has a gluten-free setting and it is very easy to use…giving you the option to dial in your own timings for each rise, and for the bake, which you can save for next time you use it.
For someone like me who likes to experiment this is fab!
You can also make jam in it, but unlike the Zero Gluten Baker, it does not have any settings for cakes, nor does it have anything other than the basic bread pan.
That aside, it is a nice machine!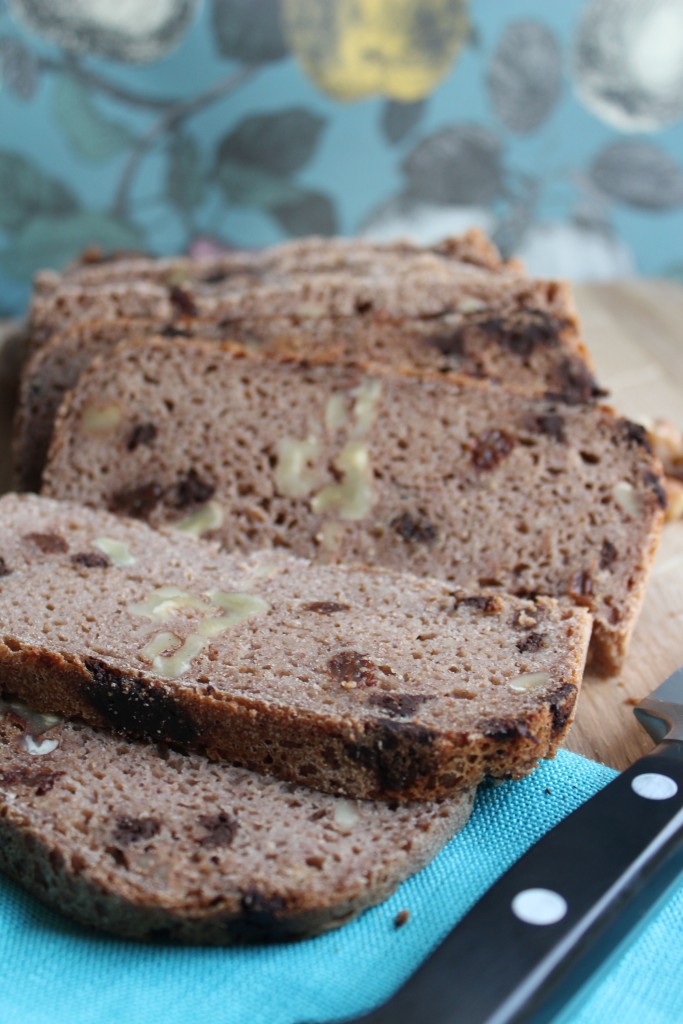 So, back to the bake.
Unlike my usual rules of using ingredients that you can buy from the supermarket, I'm afraid I have used some specialist gluten-free flours in this bake.
I find that Doves flour alone does not make for a good tasting loaf, and it is also nutritionally devoid!
I would have used my multipurpose rice free wholegrain gluten free flour blend, but then I wouldn't have been able to share the recipe with you which Sage asked me to do.
My flour blend is now available to buy here.
I have therefore used a couple of flours that you will need to buy in a healthfood shop or on line (you can buy them from Shipton Mill, or Healthy Supplies although I believe Shipton offer the best value).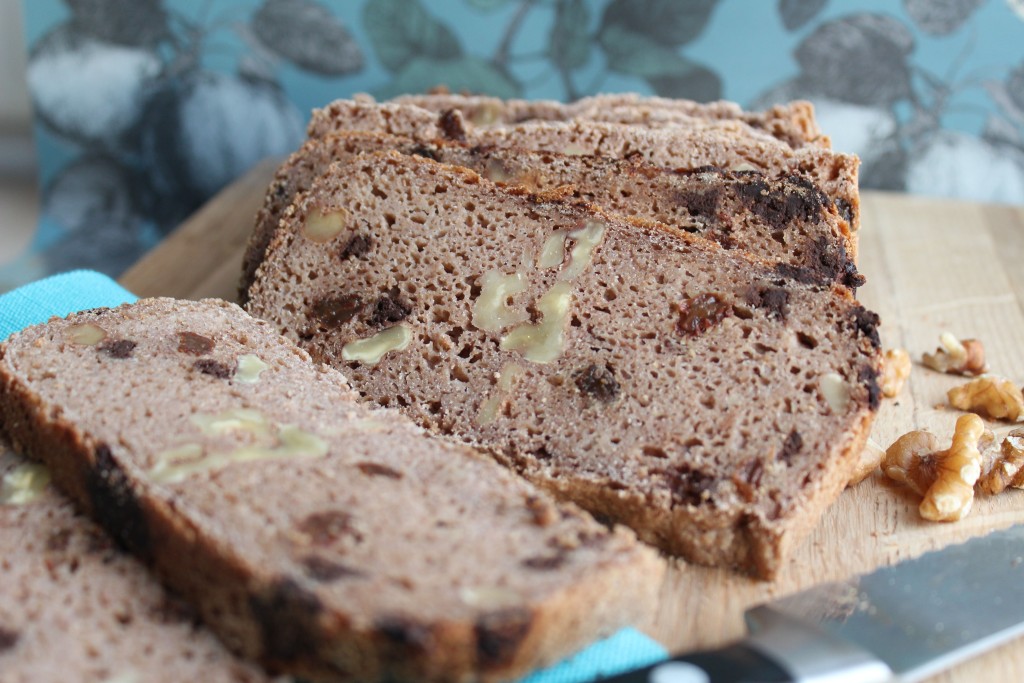 Slightly sweet, this bread is delicious as a mid afternoon snack and I am sure it would be wonderful toasted. I have frozen most of my loaf since it was far too moorish to have on the side. All it needs to bring it back to life is 30 seconds in the microwave (1 slice) and it is as if it is just baked!
I'm really hoping Sage like my recipe as there is a Scraper Mixer Pro up for grabs for their favourite recipe! I've never had a mixer (I do most things by hand or with a hand-held whisk!) so this would be simply superb!
Anyway, without further ado, here is the recipe. I hope you like it…do let me know if you bake it and share any photos you might take on your favourite social media channel tagged #FFF!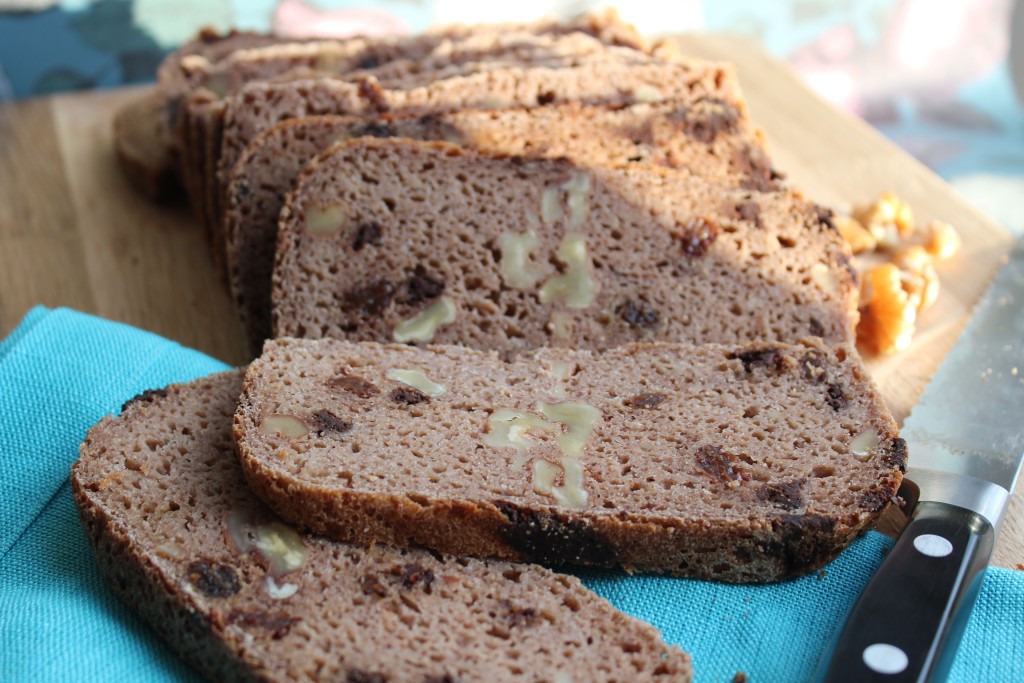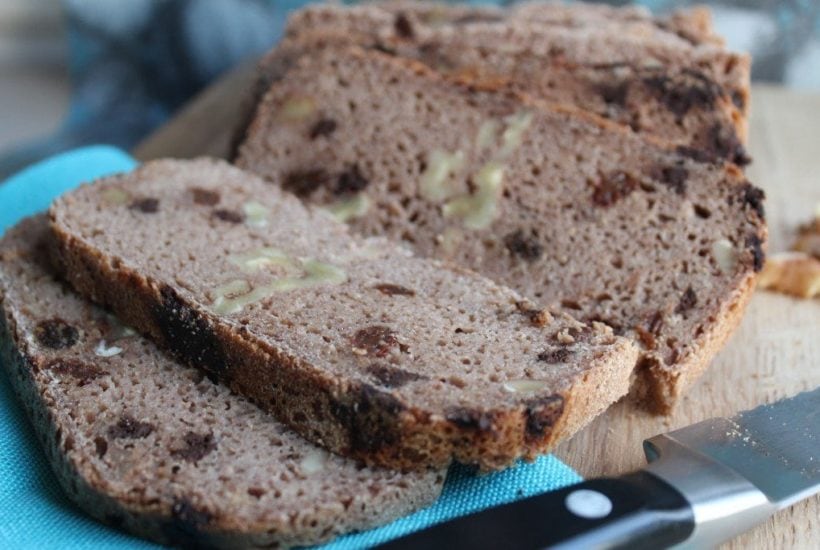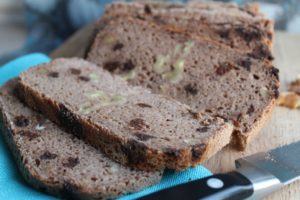 Breadmaker Gluten-free & Dairy-free Fruit, Nut & Chocolate Loaf
Gluten-free, Dairy-free, Soya-free
Ingredients
150

ml

warm water

-

around 27 degrees c

150

ml

warm milk

-

as above

1

large egg at room temperature

30

ml

extra virgin olive oil

200

g

plain gluten-free flour blend

100

g

sorghum flour

100

g

teff flour

2

tsp

xanthan gum

1

tsp

rock or sea salt

2

tbsp

sugar

2

tsp

ground cinnamon

1

tsp

mixed spice

50

g

raisins

50

g

chopped walnuts

50

g

dairy-free chocolate chips

2

tsp

ground flax seeds

1/4

tsp

vitamin C powder

-

or crush some vitamin C tablets and measure

4

tsp

fast action yeast

-

check ingredients - I use Allinsons Easy Bake
Instructions
Place the ingredients in the bread pan in the order specified by your breadmaker. The Sage says liquids, then oils, then dry ingredients, then yeast

Add the fruit, nuts and chocolate chips into the fruit and nut dispenser when you hear the first beeping sound. If you don't have one then add them with the dry ingredients

Place the bread pan into the machine, select the gluten-free setting, medium crust colour and 1kg loaf size setting if you have these options

Press go!

As soon as the loaf is baked, remove it from the machine and allow to cool for about 5 minutes before turning out onto a wire rack. Try to leave it to cool for a while before eating as it will continue to cook a little in the cooling process.
Don't loose the recipe! Pin it to a Pinterest board now!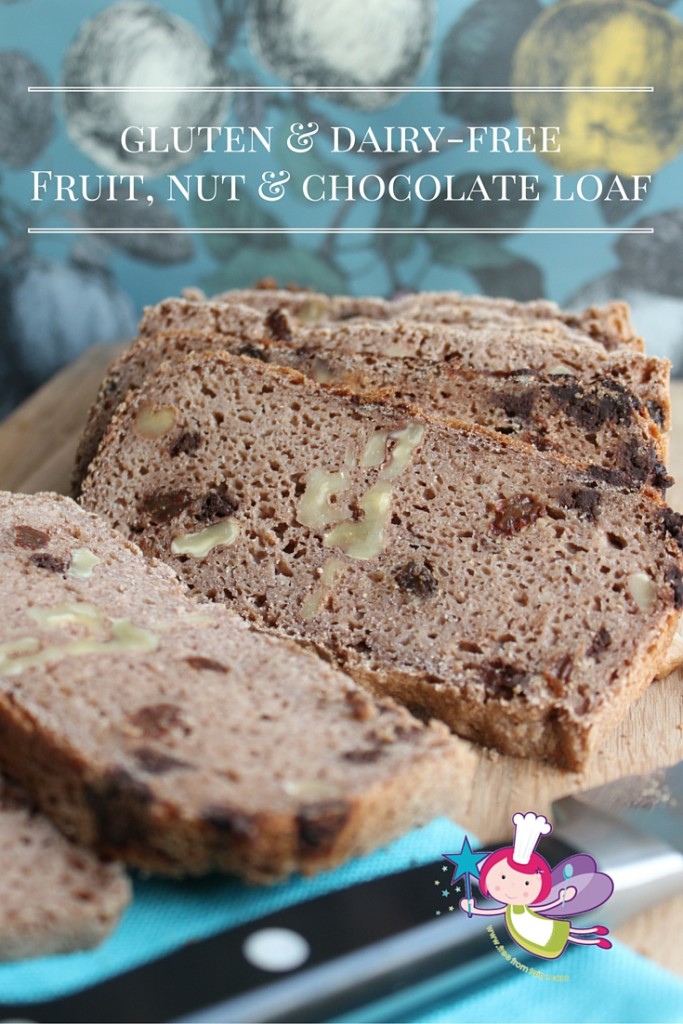 I was sent a Sage Custom Loaf Breadmaker for the purposes of creating this recipe and entering the competition to win a Sage Scraper Pro Mixer. I was not paid for the recipe and was not asked to write this review…but since I liked the machine I have done so! All words are my own.