I created this recipe for simple vegan orange cake for Allergy Awareness Week. It is gluten free, dairy free, egg free, nut free, soya free and refined sugar free! But I guarantee that along with being very easy to make it tastes delicious.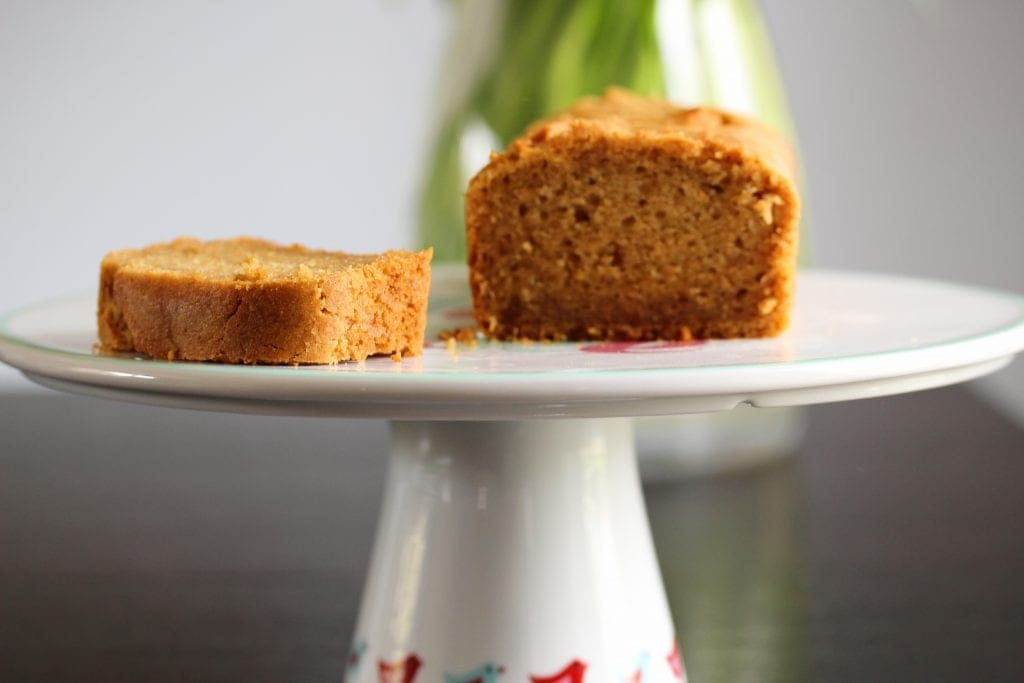 Today, in honour of Allergy Awareness Week I'm sharing a very free from cake recipe; a recipe that is perfect for those with allergies and intolerances to food.
It's also perfect for vegans or indeed anyone who has run out of eggs.
I regularly go to bake a cake and then find that I've run out of eggs. Yes, I am disorganised but in my defence we get through a lot of eggs.
Back to the cake.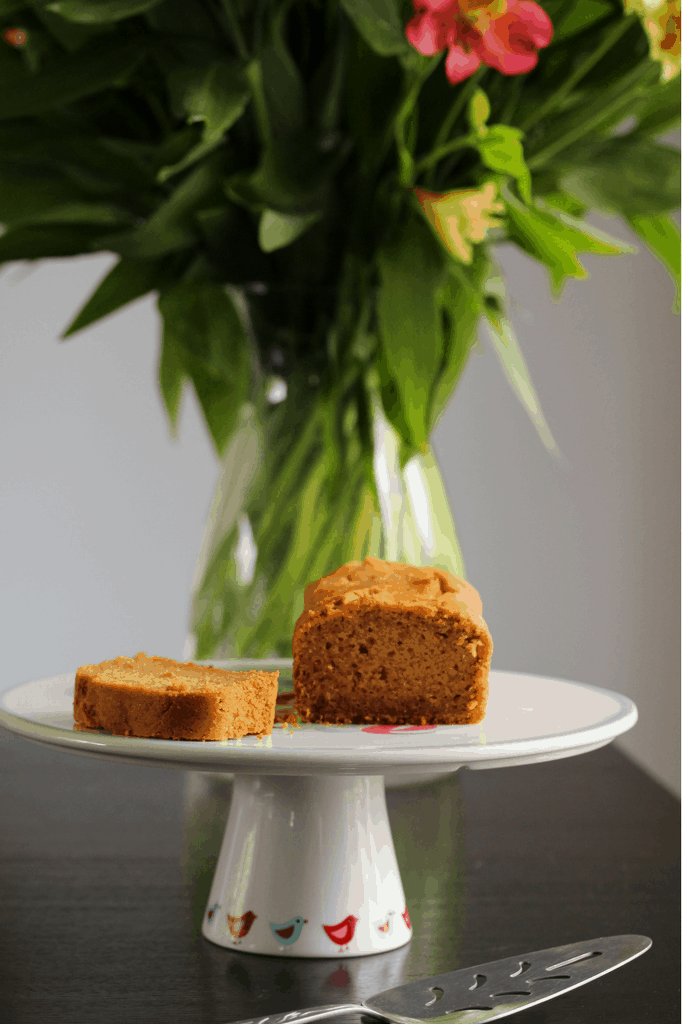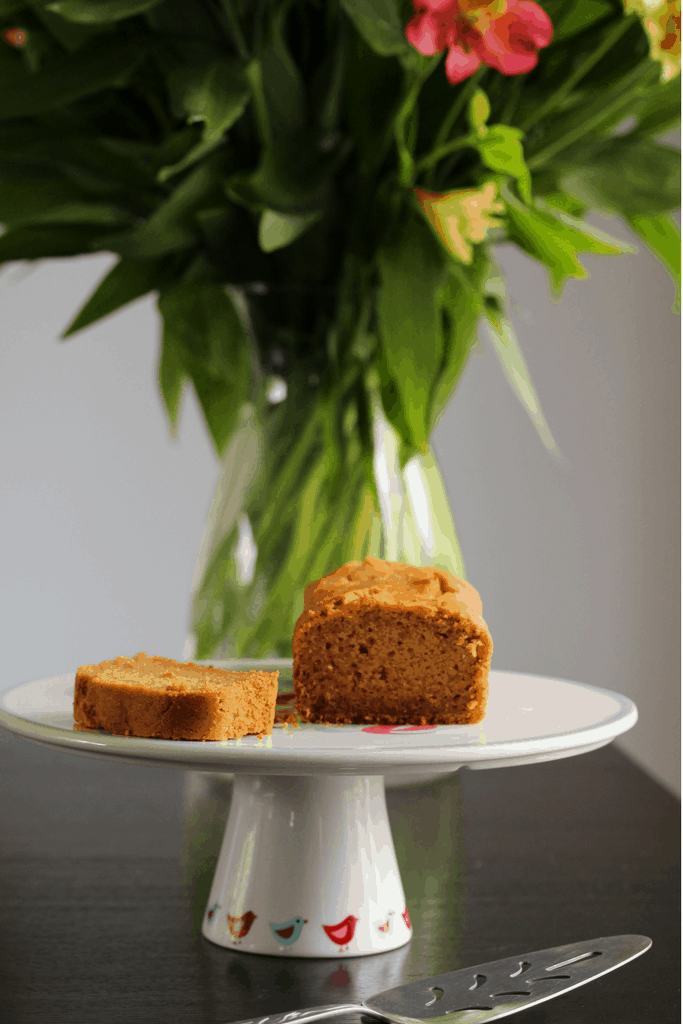 I wanted to create something very simple whilst being relatively healthy too. It is a moist dense cake, rather like a banana bread, but with a beautiful orange flavour.
How do you make a vegan orange cake?
I've used 'flax eggs' in place of eggs.
These are made by grinding flax seeds (also called linseeds) into a powder (I do mine in my coffee grinder or blender but you can buy them ground too) and mixing one tablespoonful to three tablespoons of water per egg you wish to replace.
This is so simple but also super effective for replacing the binding properties of eggs.
Instead of refined white sugar I've used the Coconut Merchant's coconut honey.
You could of course use honey if you weren't vegan, or maple or rice syrup for that matter.
This makes a pretty sweet cake. I would personally use less honey but I wanted to create a cake that suited most sweet-toothed people!
Rather than margarine (which I hate) I've used coconut oil to keep this dairy free. If you tolerate butter you could use that instead.
Finally I've used my wholegrain gluten-free self raising flour blend.
I'm not sure the recipe would work with other gluten free flour blends.
My self-raising flour, for those of you who haven't tried it, is very powerful.
I created it with double acting raising agents, so one alkali and two acids (all other self-raising flour's contain just one acid and alkali), which gives incredible rise and structure in gluten free bakes, without the horrid 'furry' feeling you get on your teeth from some raising agents.
Just look at that crumb…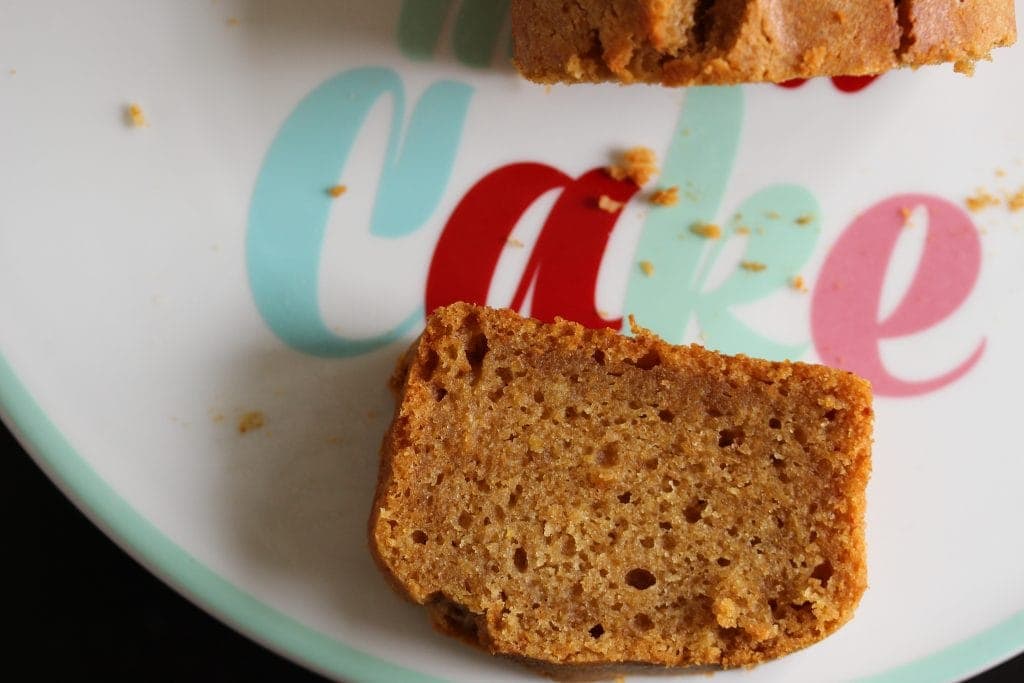 If you don't have my self raising flour blend then use my plain flour blend and add 1 teaspoon of baking powder per 100g plain flour. You'll still get a wonderful cake. It's all in the flour blend.
What is a gluten free flour blend?
If you've ever had gluten free baking disasters then you need to understand more about what gluten free flour is.
There is no such thing as a gluten free flour. There are around 20 different gluten free flours and they need to be blended to use in replacement for wheat flour. Alone, no one flour produces good results.
If you want to know more about what gluten free flour is (and isn't) then read this post. It will hopefully explain why you have had baking disasters in the past.
If you don't have to be gluten free then replace the flour in the recipe with your 'usual' flour.
Back to the reason for this recipe…
Allergy Awareness Week is very close to my heart and this year it focuses on eczema.
I've suffered with eczema on and off for much of my life. Thankfully it was never as bad as my sisters but it is a painful and frustrating condition. Recently I have found that cows milk and cows milk products trigger mine and since avoiding that I now longer have cracked bleeding hands all the time.
'Sunshine' is also an eczema sufferer. His skin flares up with no warning and his legs turn into an itchy, dry, red sore mess.
'Roo' was diagnosed with milk protein and egg allergies at the age of 9 months and the whole family have allergies to pollen, dust and animal hair…
Allergies suck but I also like to see the positive's in things.
If it hadn't been for all these allergies and the coeliac disease I never would be doing what I am doing now and which I love.
Anyway, without further ado here is my simple vegan orange cake; free from gluten, dairy, eggs, nuts, soya and refined sugar.
I hope it helps those of you who have multiple food allergies. It's best eaten on the day you bake it but otherwise it is delicious served warmed in the microwave.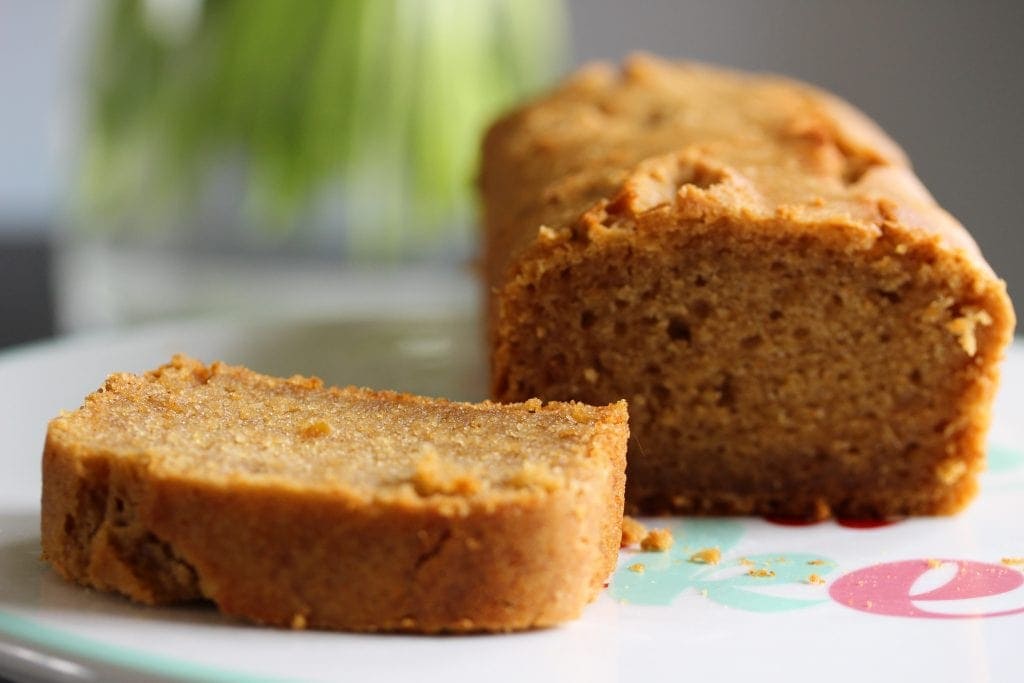 Cooking with essential oils
In this recipe I give the option of using orange essential oil rather than orange extract.
Essential oils are pure volatile organic compounds extracted from plants. They can be used in cooking but also therapeutically to help with a wide range of ailments.
I've been using essential oils as part of a more holistic approach to me and my family's health with huge benefits. The oils work with the body without the side effects of drugs. They are safe and natural for the whole family to use.
If you're interested in finding out more about how I've integrated them into our life then leave me a message.
I am always teaching classes on how to use the oils for better health and would be delighted to help you discover the uses of the oils too.
Pin the recipe for vegan orange cake: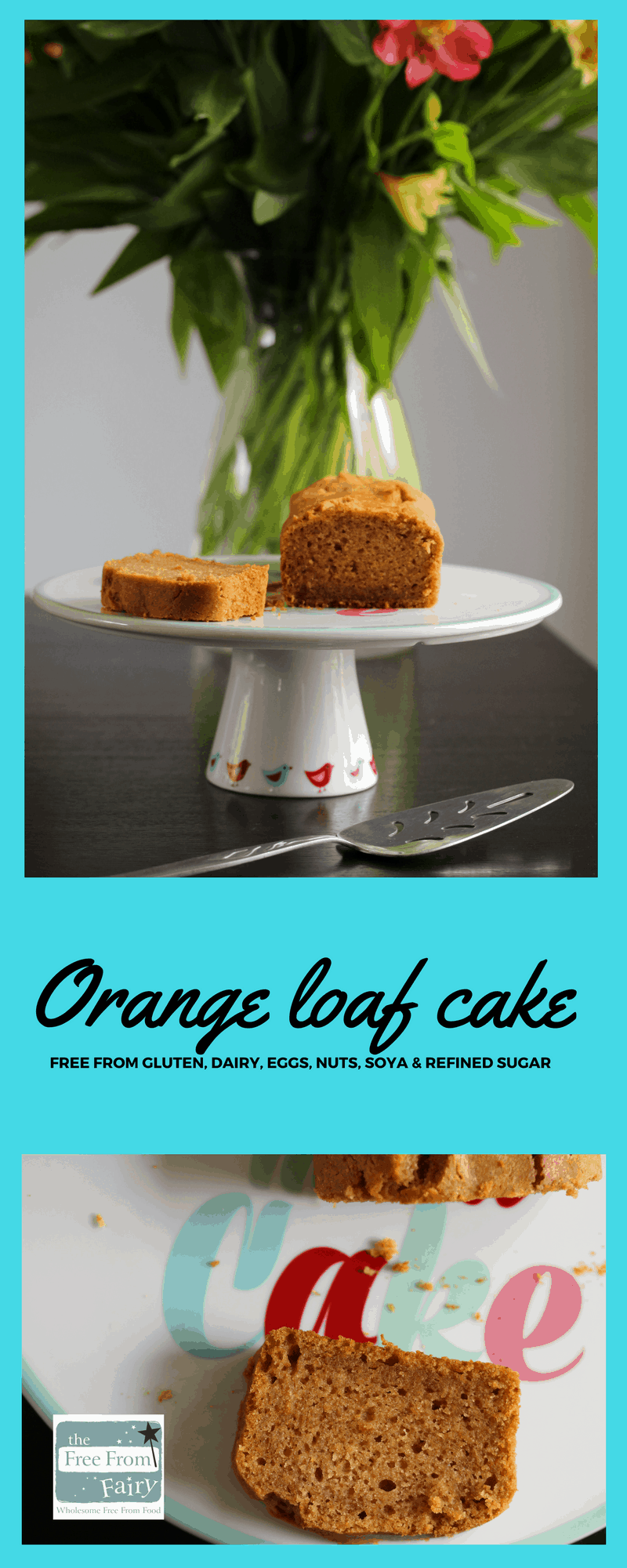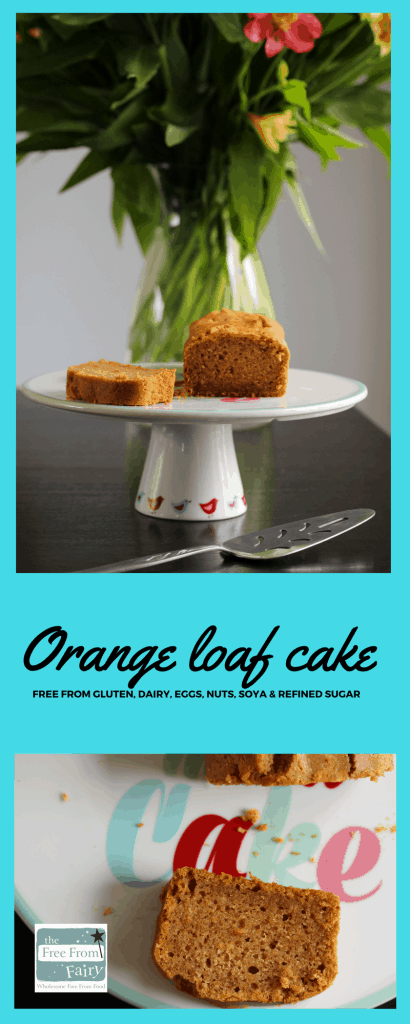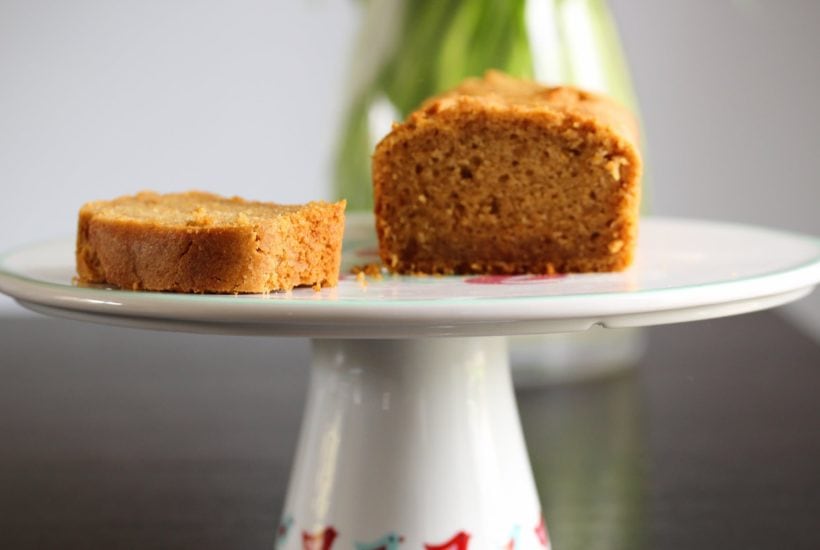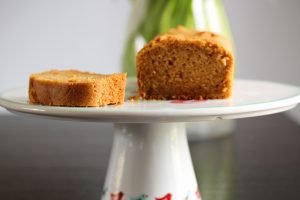 Vegan Orange Cake (Gluten Free, Refined Sugar Free)
Gluten-Free, Dairy-Free, Egg-Free, Nut-Free, Soya-Free, Refined Sugar-Free
Ingredients
100

g

softened coconut oil

-

I use Coconut Merchant's

100

g

coconut honey

-

honey, maple syrup or rice syrup

3

flax eggs

-

3 tbsp ground flax seeds and 9 tbsp water

175

g

Free From Fairy gluten free self raising flour or 175g FFF plain flour plus 1 3/4 tsp baking powder

1

tsp

orange extract

-

or 4 drops doTerra orange essential oil
Instructions
Place the coconut oil into a bowl and beat until soft and fluffy

Add all the other ingredients and beat to combine

Pour the mixture into a lined loaf tin (mine measured 24cm x 10cm at the top)

Place in a pre-heated oven at 180 degrees C/160 degree fan/ gas mark 4 and bake for around 35 - 40 minutes until a skewer inserted into the cake comes out clean

Turn out of the tin and cool on a wire rack