This vegan pesto recipe is very quick to make and can be used in a huge variety of ways which I'll outline here.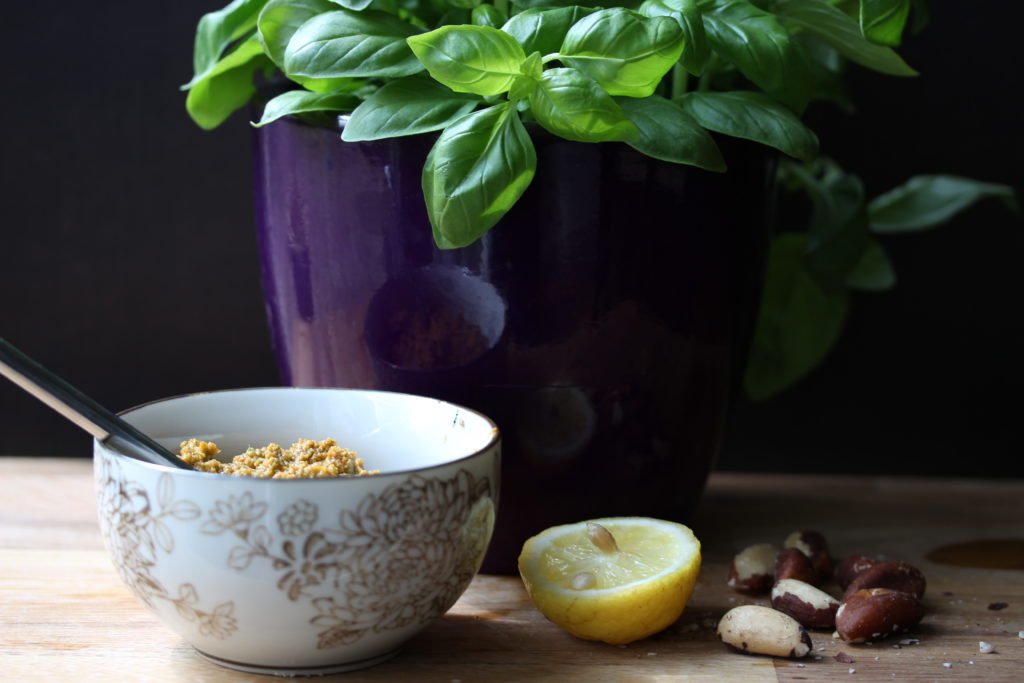 I'm delighted to bring you this recipe for vegan pesto. It is so quick and simple to make yet I use it in all manner of ways.
OK, you might think pesto is a bit 'yesterday' but believe me, with a jar of this in your fridge you'll have a quick meal just around the corner.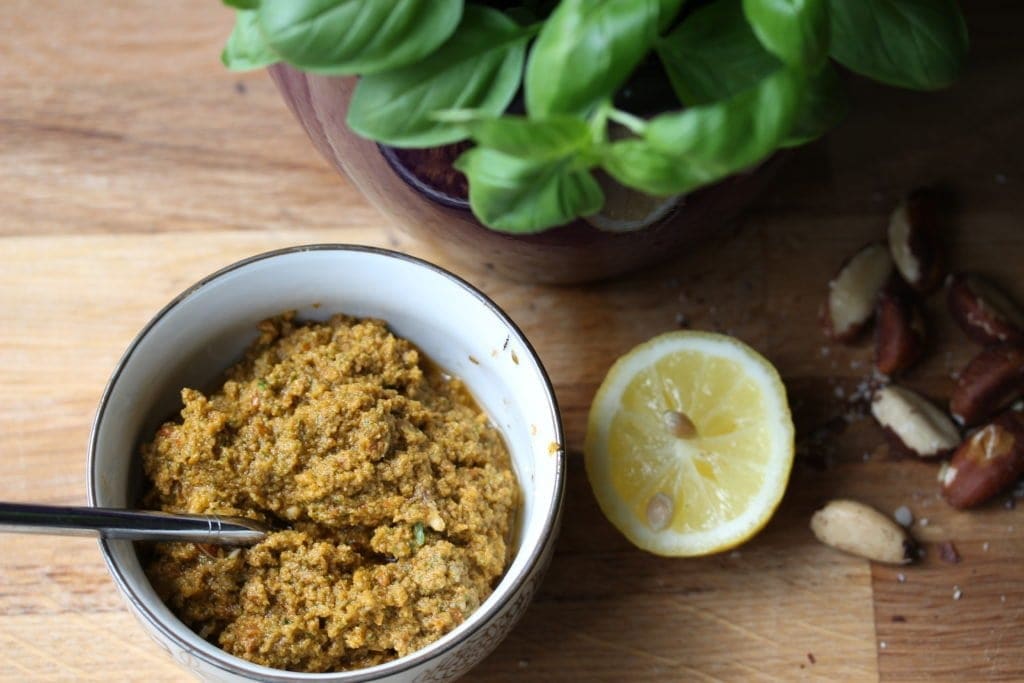 How can you use vegan pesto?
Depending on your diet you can use this vegan pesto in a huge variety of ways:
On it's own with pasta
Mixed through roast vegetables and pasta
Stirred through roast vegetables and quinoa with a few tinned beans for a wholesome salad at lunchtime
Swirled through scrambled eggs (not vegan)
Spread on top of an omelette and then topped with cheese (dairy free or otherwise) for a quick 'pizza' (not vegan!)
Spread on top of a pizza base instead of a tomato sauce
Heated and stirred through a tin of tomatoes as the base for a pasta sauce/bolognese/pizza sauce etc
Spread on top of a fish fillet, sprinkled with bread crumbs and baked (not vegan!)
As the base of chicken nuggets…roll chicken pieces in pesto then bread crumbs and bake (not vegan!)
Thinned with olive oil and used as a salad dressing
The list goes on.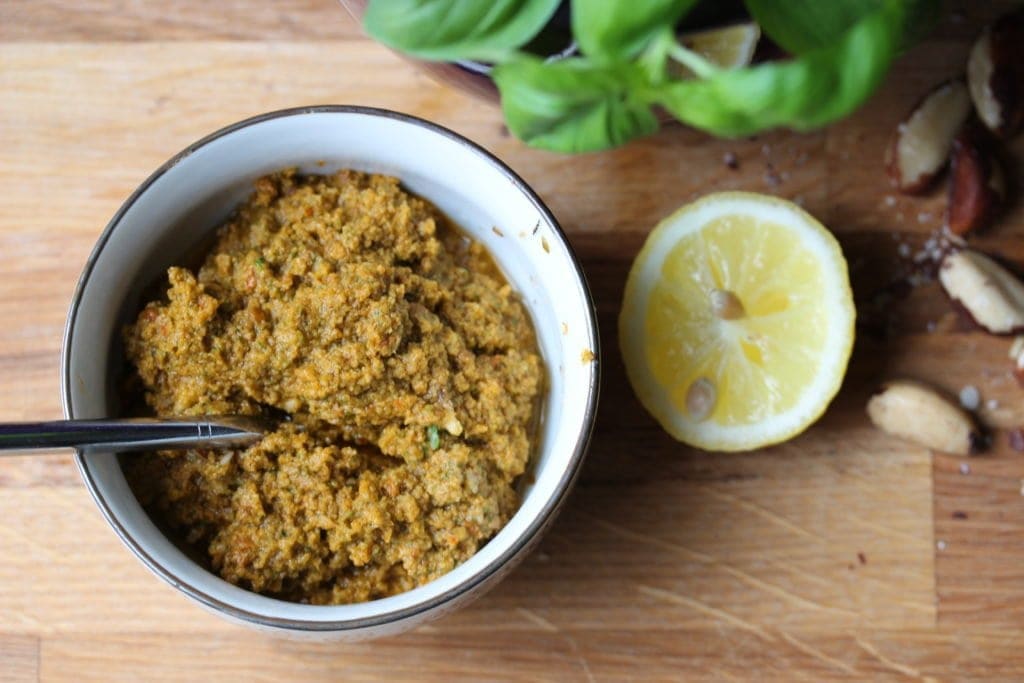 And when you make it yourself you know what you've put in and you can adjust it according to your taste. No preservatives or other undesirable ingredients. Just wholesome goodness.
What are you waiting for? Watch the super quick video and get into the kitchen…
If you like this vegan pesto recipe you might like my sage pesto recipe here too.
Make sure you pin my vegan pesto recipe…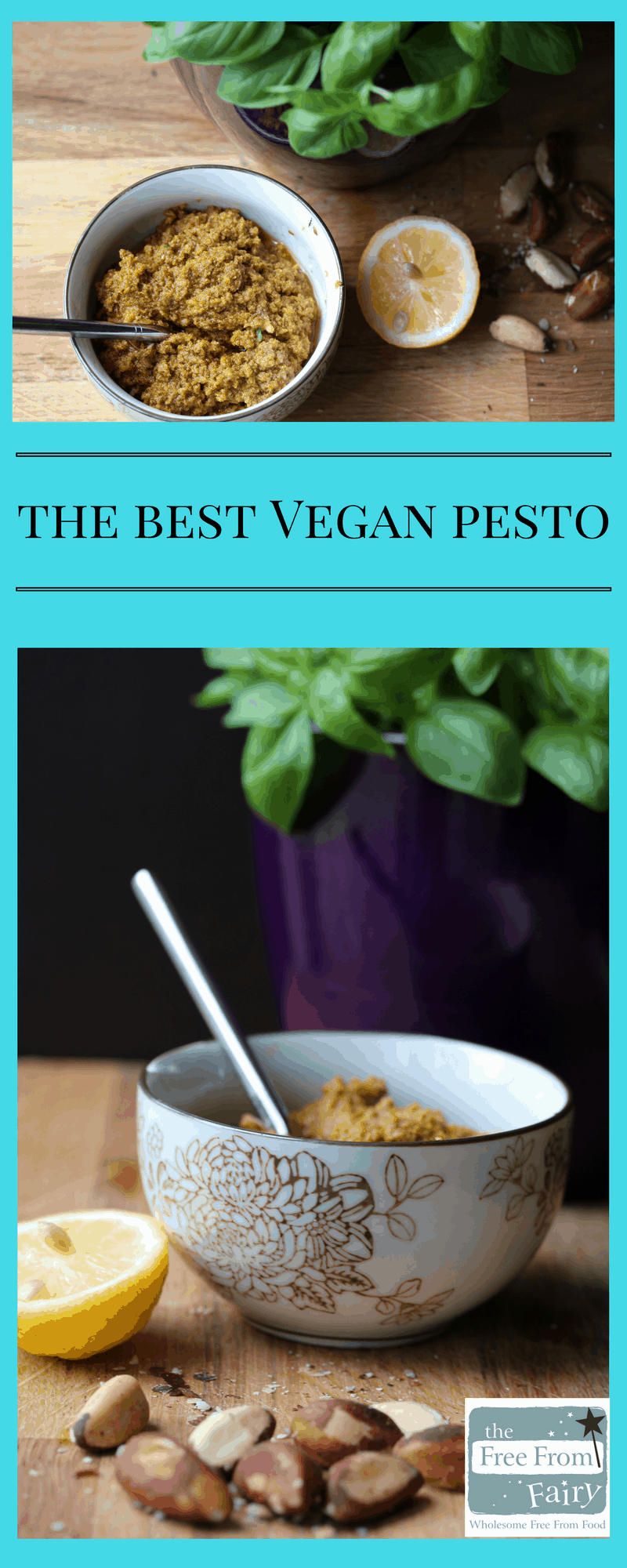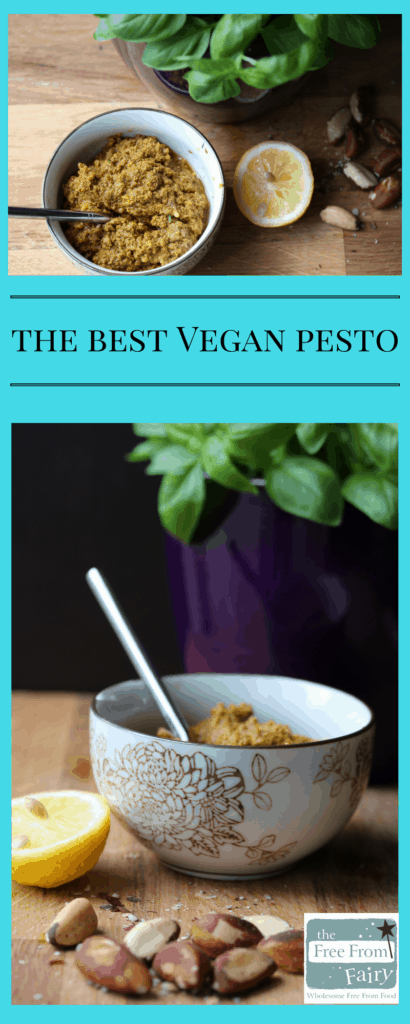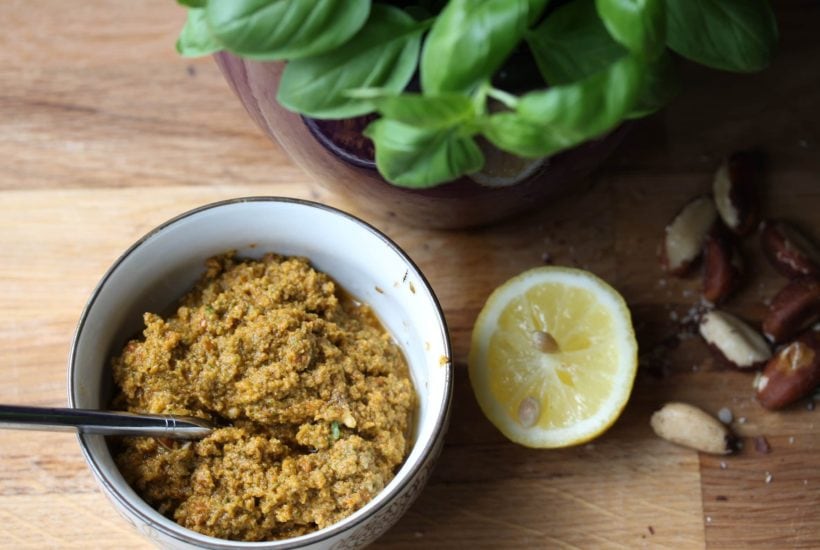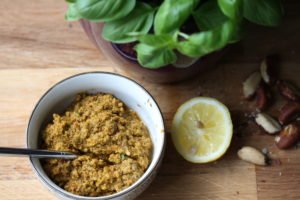 Vegan Pesto: Brazil Nut & Sun-Dried Tomato
Gluten-Free, Dairy-Free, Egg-Free, Soya-Free, Sugar-Free
Ingredients
Large handful brazil nuts

6

sundried tomatoes in approx 3 tbsp olive oil

1

clove

garlic

-

peeled

Large handful of basil leaves

-

washed

Squeeze of lemon juice

Optional additional olive oil to reach desired consistency
Instructions
Place all the ingredients except the additional olive oil into a hand held chopper or blender

Pulse until you reach your desired consistency then add more olive oil if too thick

Store in a clean jam jar in the fridge for a couple of weeks
I've shared this recipe with Free From Farmhouse and FreeFromFridays.