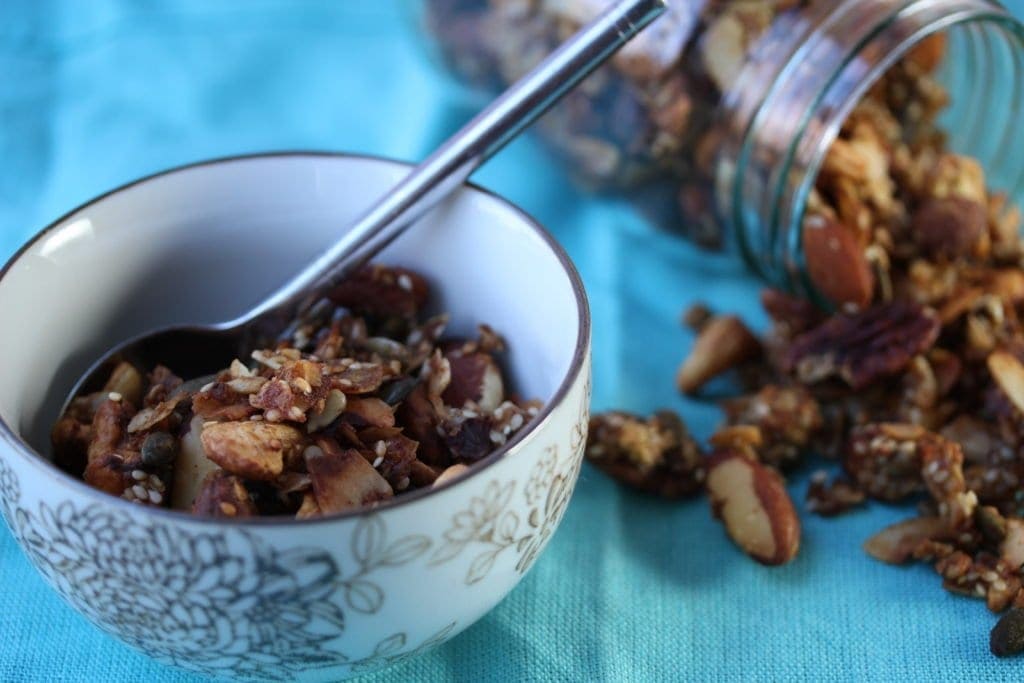 It's that time of year when many people are looking to eat a little healthier.
In my view 'diets' often do not work and I would urge people to eat a little healthier every day.
Shop bought granola is often laden with sugar. Even the 'healthy' varieties are packed with dried fruits and honey. Sugar is sugar, no matter what the source it still impacts on your blood sugar levels and makes your liver work harder than it needs to.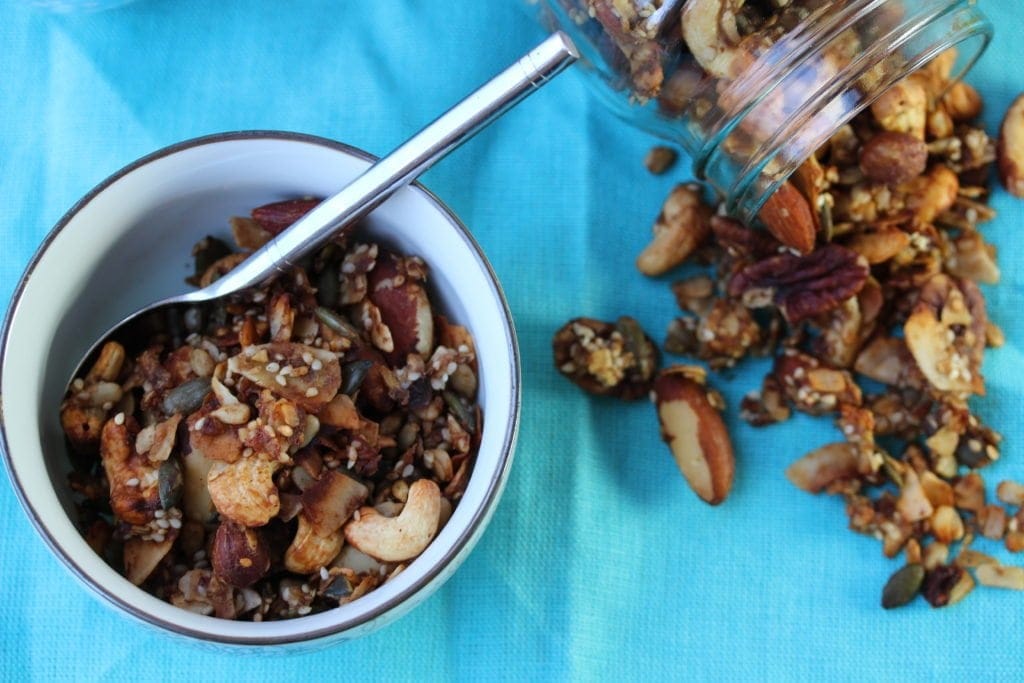 If there is one simple dietary change you make this January, make sure you eat a healthy breakfast.
Eggs are a fabulous source of protein not to mention vitamins, minerals, good fats and antioxidants, but I understand that they are not for everyone, particularly those who follow a vegan diet.
As an alternative, try this granola. It's packed full of nuts and seeds and is lightly sweetened with a banana. I eat mine with some good quality goats yoghurt and frozen blueberries (this time of year) to get some calcium and vitamin c (to help with the absorption of the calcium). You could serve yours any way you like. In fact, it's pretty good straight out of the pot and could be eaten at your desk if you don't have time for breakfast before work.
It's quick and simple to make too. If you don't have time to put it in the oven, toast the mixture in a frying pan, making sure you mix it all the time to prevent anything from burning. If you make it on a Sunday you'll have enough to see you through the week.
As with all my recipes it is calling out to be pimped by you!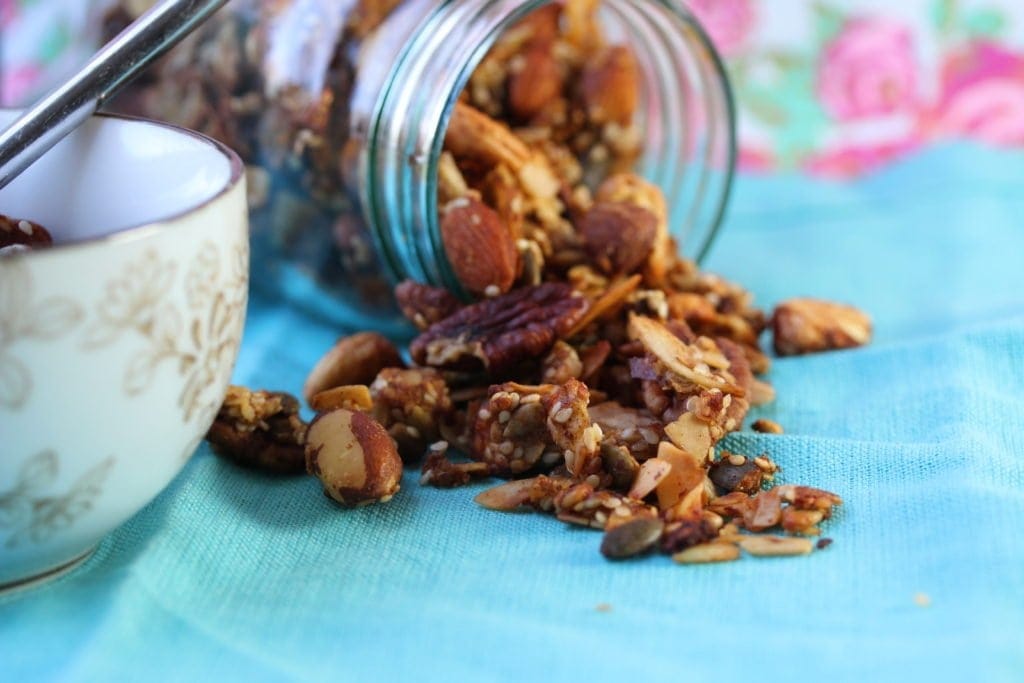 Add whatever nuts and seeds you like; if you don't like coconut then leave out the coconut flakes; if you like a little more sweetness, add a few pieces of dried chopped fruit, but remember that dried fruit contains a lot of sugar! You are much better off chopping up some fresh fruit and mixing it in when you eat it. You could also add a few oats if you need some slow release carbohydrates to see you through an exercise regime.
Try it and see how you feel. I'd love to hear from you…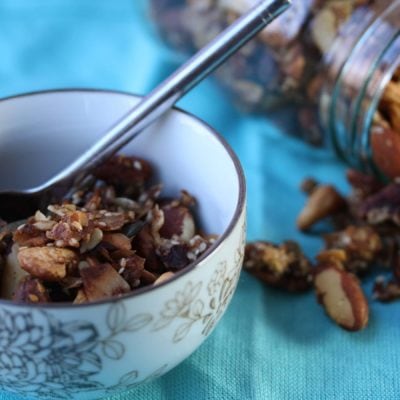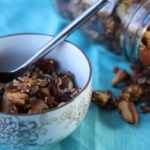 Carb-Free, Sugar-Free, Gluten-Free Granola
Gluten-free, Dairy-free, Egg-free, Soya-free, Sugar-free, GAPS, SCD, Low carb
Ingredients
200

g

mixed nuts of your choice

30

g

sesame seeds

30

g

pumpkin seeds

30

g

sunflower seeds

60

g

coconut flakes

I use Coconut Merchant ones

20

g

coconut oil

I use Coconut Merchant

1

tsp

ground cinnamon

1

tsp

ground ginger

2

mashed ripe bananas
Method
Put the coconut oil into a large baking tray

Turn the oven on to 180 degrees/160 fan/gas 4 and place the baking tray and coconut oil inside while it heats up (to melt the oil)

Meanwhile mix together the nuts, seeds and coconut flakes

Carefully remove the tray from the oven and mix the nut and seed mixture around the tray, coating it in coconut oil

Place back in the oven for 5 minutes

Meanwhile peel and chop the banana, then mash well with a fork until smooth

Remove the nut mixture from the oven and stir the mashed banana in well

Replace in the oven for 10 more minutes before stirring again

Bake for a final 5 - 10 minutes until the mixture is crisp and dry

Finally stir in the ground cinnamon and ginger before allowing to cool completely and storing in an airtight container
Pin the recipe so you don't lose it: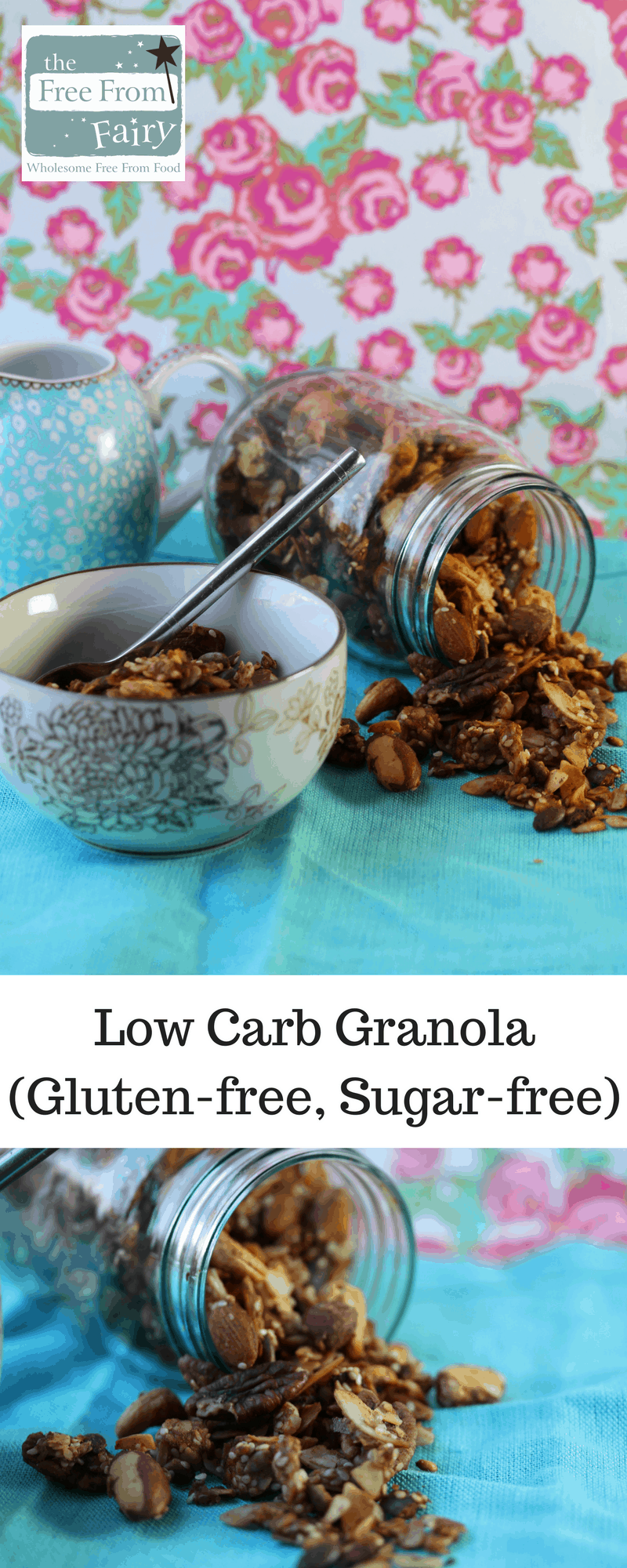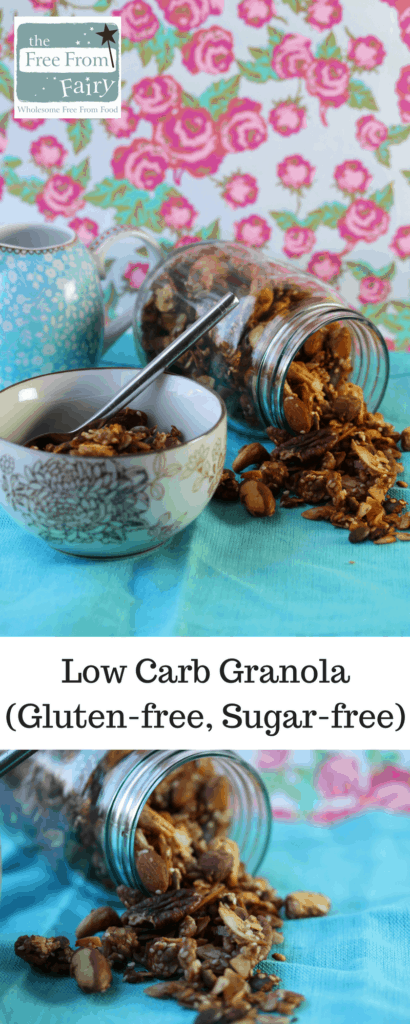 I shared this with: