This recipe for gluten free scones never fails. Just take a look at the size of them.
Not only do they look like 'real' scones but they taste like them too. Delicious with a dollop of clotted cream and jam.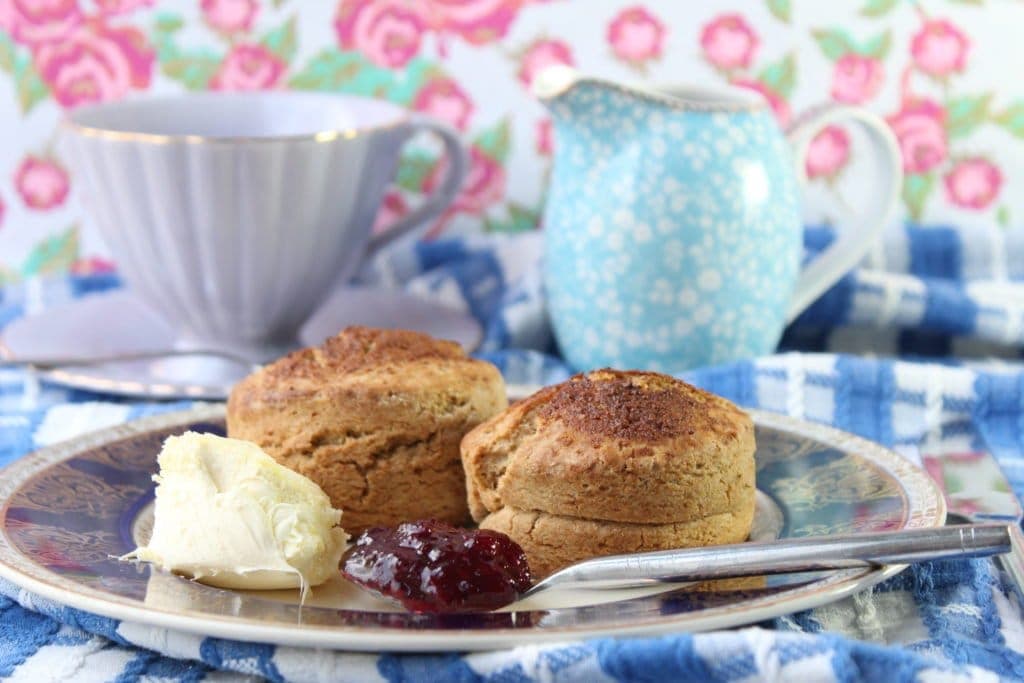 Today I am going to share something that I know is very sought-after.
An incredible recipe for gluten free scones.
Scones are tricky to make gluten-free.
They are generally dry and crumbly and often rather tasteless.
A few years ago I managed to make some gluten free dairy free scones using a readily available gluten-free flour blend.
They are damn good, but I've bettered the recipe using my wholegrain gluten-free flour.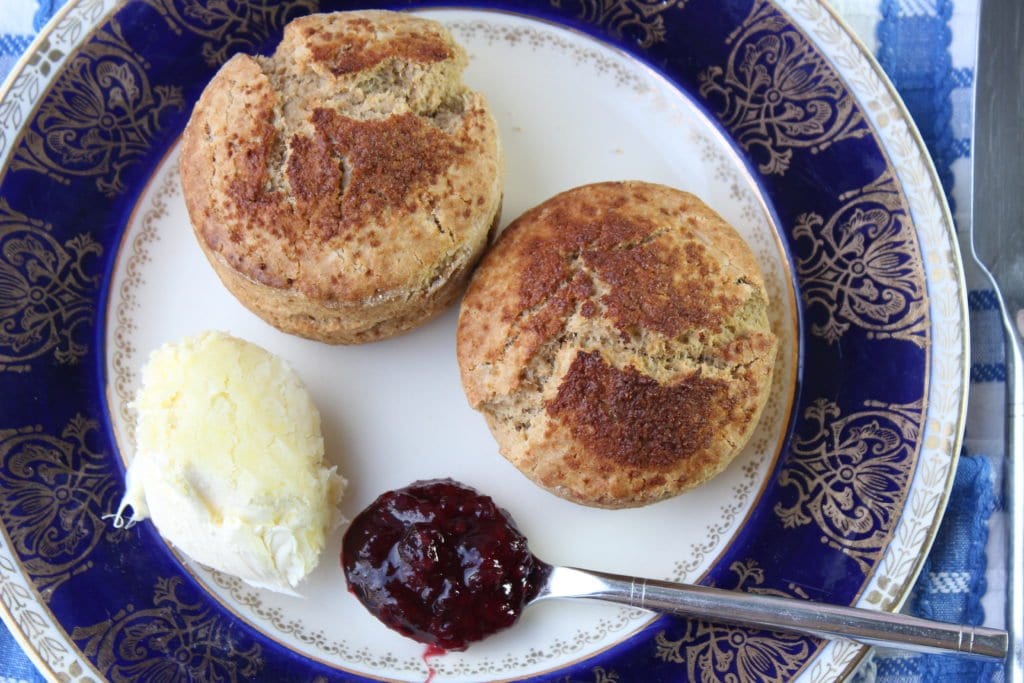 Is the secret to these scones the gluten free flour blend?
Yes!
While I was jogging this morning, an analogy popped into my head about my flour blends.
I often get asked why people should buy my blends when there are cheaper ones on the market that do the job.
Basically it's like comparing the finest Belgian chocolate with a basic cooking chocolate; or a loaf of the finest sourdough with the cheapest white sliced bread.
The latter examples are functional products that provide you with energy and not much else.
The former examples are superior products that provide you with a lot lot more both in taste, and in the bread example, nutrients too.
My flour blends are made using the finest wholegrain UK milled gluten-free flours that are packed full of nutrients.
They contain no gums or preservatives, just 70% wholegrain flours and some starch for binding.
Not only do they provide nutrients and flavour but they actually WORK in all baking, without the need for additional strange ingredients that have no place in a healthy diet.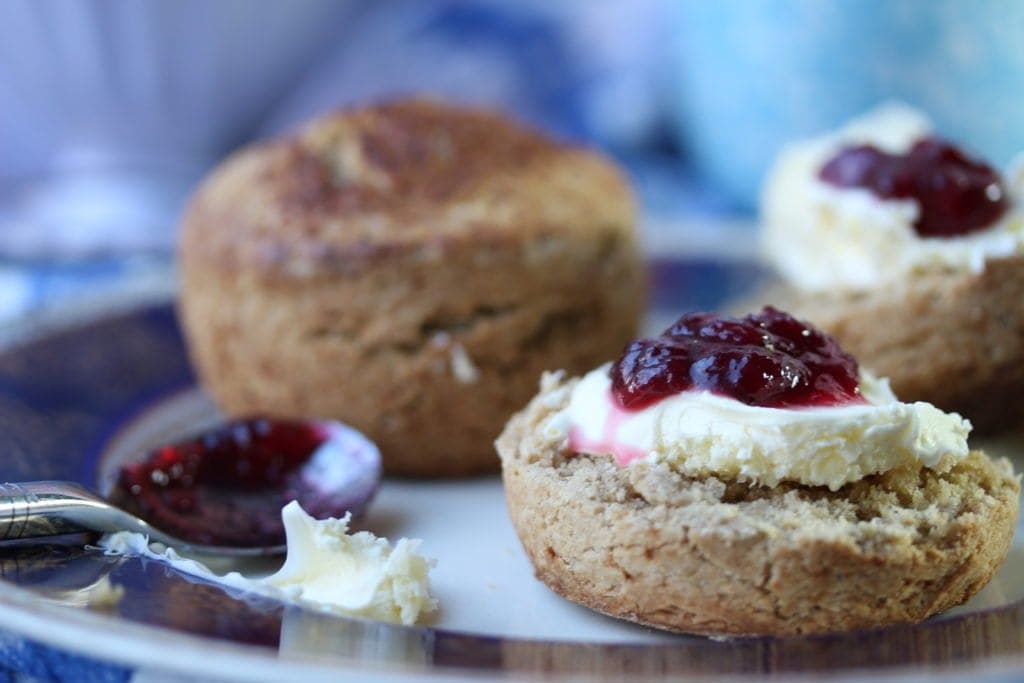 As we become more aware of the impact of our diet on health my flour blends provide choice for those wanting to follow a healthier lifestyle.
Unfortunately they cost most than the standard blends but they also provide you with a lot more.
You can find out where to buy them here.
Or click on the photo below to take you to my shop.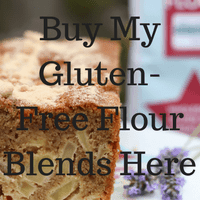 And if you would like to know more about gluten free flour blends and why they are so important to gluten free baking then check out my article here.
This week I read that teff is set to be the 'super grain' of the year.
Of course, I chose teff to be a major player in my flour blends because of its high nutrient content including calcium (especially important to coeliacs), fibre, protein and resistant starch that helps maintain blood sugar levels.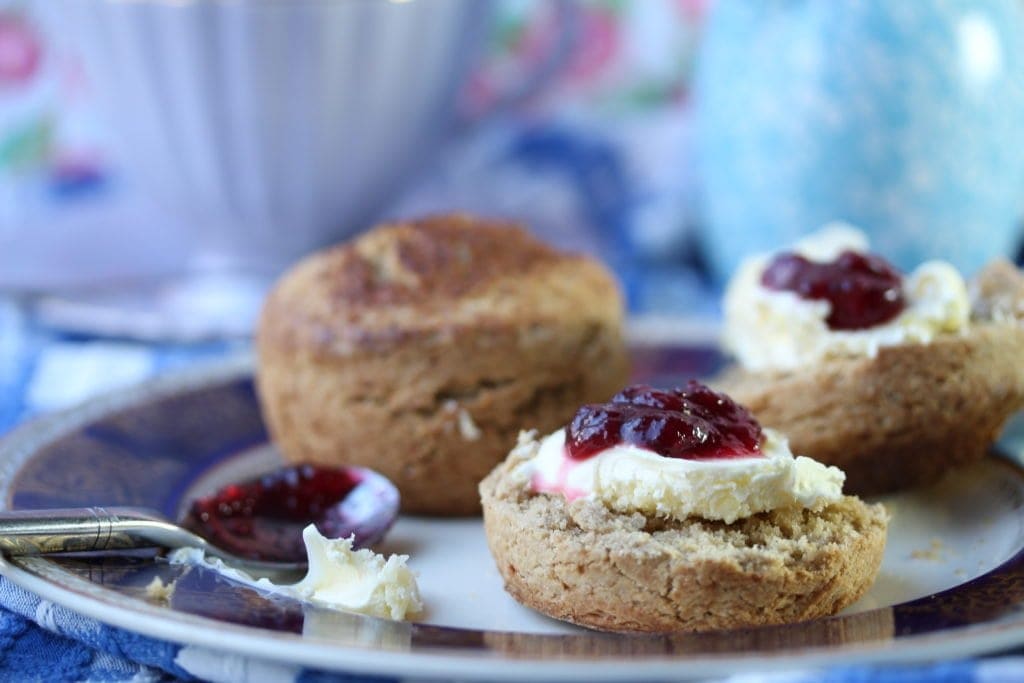 So if you want to bake a superior scone then look no further.
I've kept the sugar to a minimum (most people add jam so there's no need for a sweet scone) and given options for using my plain or self-raising flour blend.
Other gluten free scone recipes
If this recipe isn't what you're looking for then I'm sure I've got one that you'll like.
How about my gluten free cheese scones, healthy vegan scones, gluten free dairy free scones or savoury tomato and herb scones?
Pin my recipe so you don't lose it…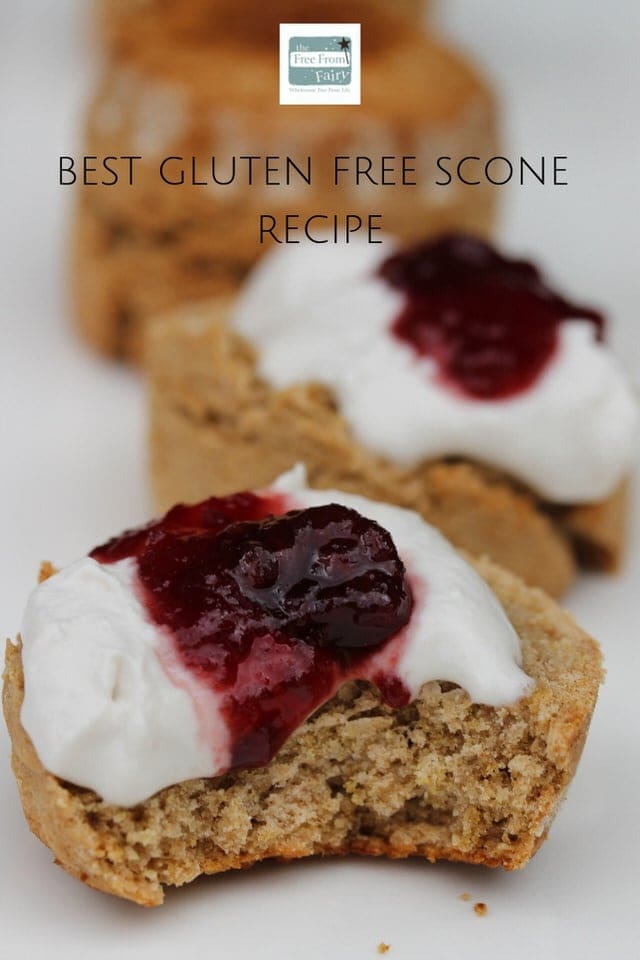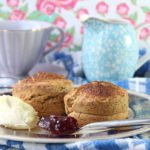 The BEST Gluten Free Scone Recipe
Gluten-free, Egg-free, Nut-free, Soya-free, Refined Sugar Free
Ingredients
230

g

Free From Fairy self-raising flour

OR 230g FFF plain flour plus 2 tsp baking powder

1

tsp

psyllium powder

or xanthan gum

20

g

coconut sugar

I used the ginger one from Coconut Merchant plus extra for sprinkling

75

g

butter

cubed (I used goats)

70

g

plain full fat yoghurt

I used goats

70

g

full fat milk

I used goats plus extra for rubbing on top
Method
Turn your oven on to 220 degrees/200 degree fan/ gas mark 6 and place a large baking tray inside to heat up

Place the dry ingredients into a food processor and blend until well mixed. Alternatively place in a large bowl and mix well by hand

Add the butter into the dry ingredients and either blend until the mixture looks like fine breadcrumbs, or rub the butter into the flour by hand

Add the yoghurt and milk and combine into a dough that just holds together

Flour a clean dry work surface and empty the dough onto it

Knead until you have a rough ball then press out with your hand until around 2cm thick

Using a floured straight edged circular 7cm diameter cutter, cut out your scones. You should get four before bringing the dough back together to make another, then repeating with the final piece of dough

Rub the tops of the scones with milk and sprinkle with a little sugar if you desire

Carefully remove the hot baking tray from the oven and quickly place the scones onto it

Bake the scones for around 15 minutes until golden on top

Allow to cool for around 5 minutes (or fully) before cutting

Eat on the day of baking or freeze and re-heat in the microwave
Recipe Notes
Nutrition information is for guidance only.
Nutrition Facts
The BEST Gluten Free Scone Recipe
Amount Per Serving
Calories 252
Calories from Fat 99
% Daily Value*
Fat 11g17%
Cholesterol 28mg9%
Sodium 100mg4%
Potassium 64mg2%
Carbohydrates 33g11%
Protein 3g6%
Vitamin A 330IU7%
Calcium 21mg2%
Iron 0.7mg4%
* Percent Daily Values are based on a 2000 calorie diet.
Shared with: