This recipe for gluten free scones never fails. Just take a look at the size of them!

Not only do they look like 'real' scones but they taste like them too. Delicious with a dollop of clotted cream and jam.
This post contains Affiliate links. As an Amazon Associate I earn from qualifying purchases.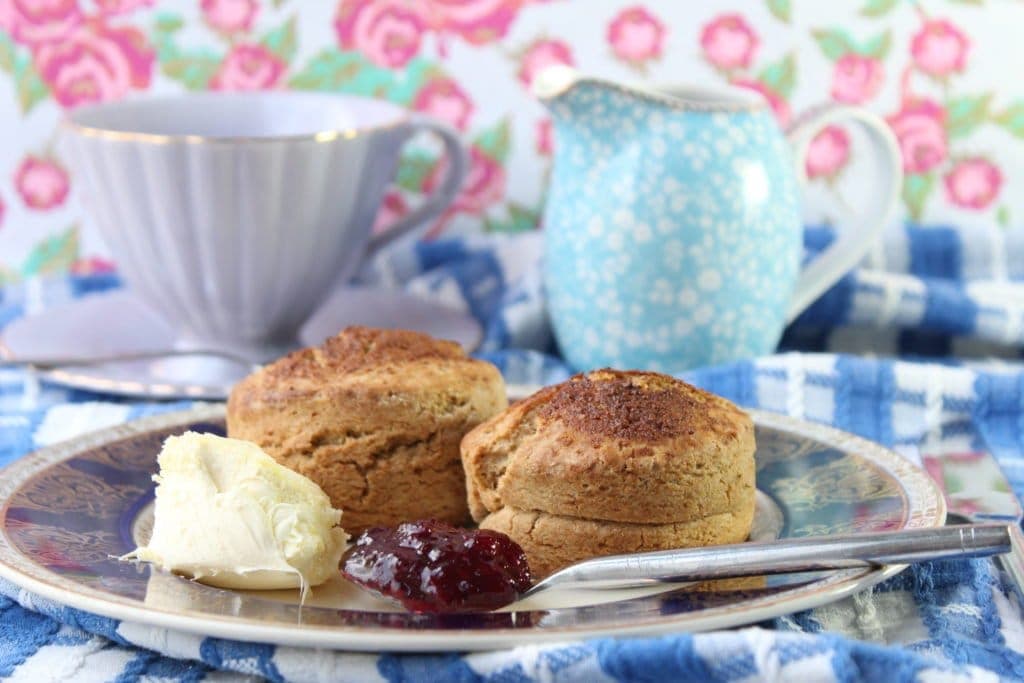 Today I am going to share something that I know is very sought-after. An incredible recipe for gluten free scones.
Scones are tricky to make gluten free.
They are generally dry and crumbly and often rather tasteless.
A few years ago I managed to make some gluten free dairy free scones using a readily available gluten-free flour blend.
They are incredibly delicious, but I've bettered the recipe using my wholegrain gluten-free flour.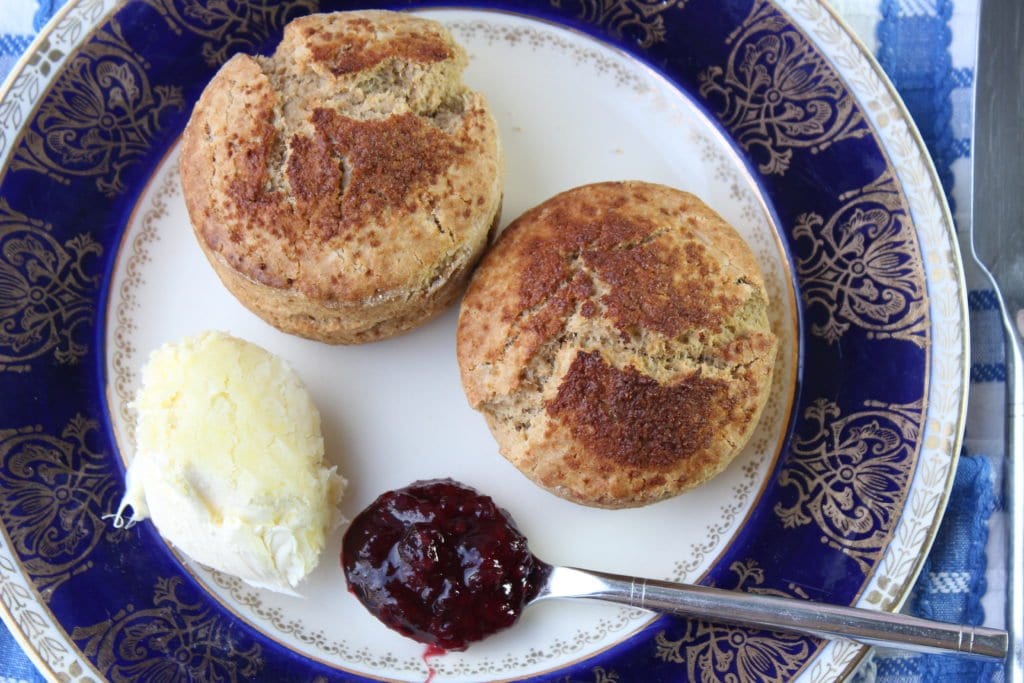 What's the secret to making good gluten free scones?
The key to great gluten free scones is in the flour you use.
Gluten free flour is not as simple to understand as wheat flour. Rather than there being one gluten free flour that can be used to replace wheat flour, there are many different flours; each one providing different properties in the end bake.
The starting point for perfect gluten free scones is finding a gluten free flour blend (made from many different gluten free flours) that mimics wheat flour.
But each flour blend is different depending on the individual flours used. Cheap flour blends are generally made up of gluten free starches (eg. rice, potato, tapioca) while more expensive ones have more nutritious, wholegrain flours (eg. teff, sorghum, buckwheat).
Basically it's like comparing the finest Belgian chocolate with a basic cooking chocolate; or a loaf of the finest wholegrain sourdough with the cheapest white sliced bread.
The white bread is a functional product that provides energy and not much else.
The wholegrain sourdough is a superior product that provides a lot more both in terms of taste and important nutrients your body requires to thrive.
My flour blend is made using the finest wholegrain gluten-free flours that are packed full of nutrients.
It contains no gums or preservatives, just 70% wholegrain flours and some starch for binding.
Not only does it provide nutrients and flavour but it actually WORKS in all baking, without the need for additional strange ingredients that have no place in a healthy diet.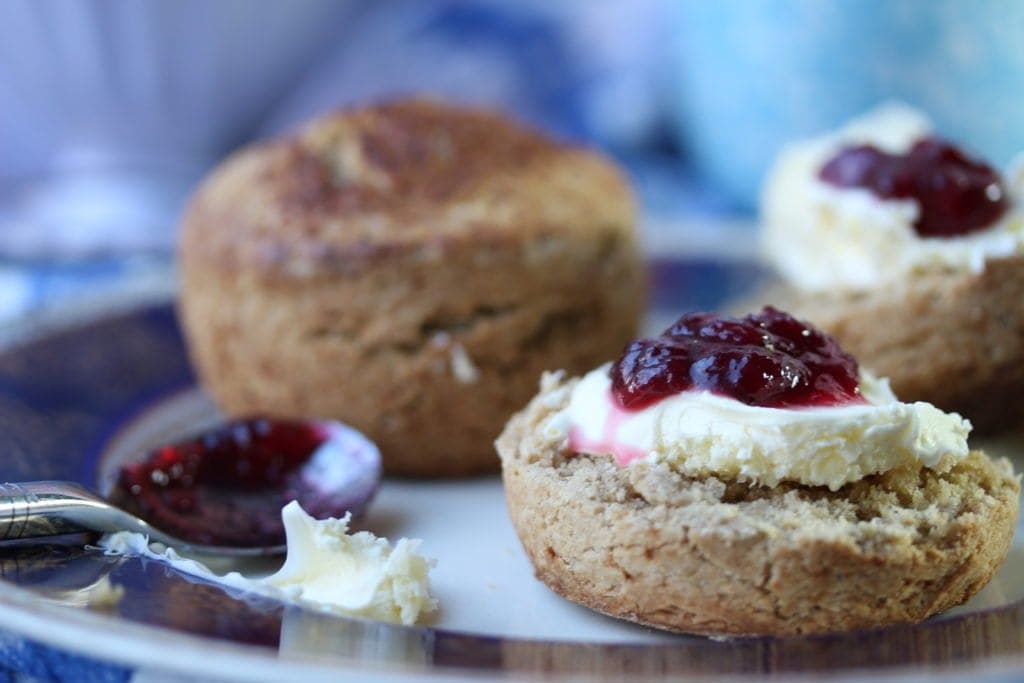 If you would like to know more about gluten free flour blends and why they are so important to gluten free baking then check out my article here.
How do you make gluten free scones?
It's really much easier than you might imagine. If you've made scones before then you'll be glad to hear that it's no different to making gluten free scones.
The flour, sugar (if using) and psyllium husk (and if you don't know what that is read this article) are mixed together before rubbing in the butter. I like to do this in my food processor because it makes it even quicker.
Following that the yoghurt and milk are added and combined to make a dough that can then be rolled out and cut.
There is one further secret that I should let you into when making gluten free scones. You need to roll the dough out to the thickness you want to scones to be when they're cooked. For some reason gluten free scones don't rise as much as ones that contain gluten.
If you roll the dough out too thin, you'll get thin, sad looking scones!
Frequently asked questions about my gluten free scone recipe
Is the recipe suitable for people with coeliac disease?

Yes. The recipe uses my wholegrain gluten free flour blend which I made specifically for people with coeliac (celiac) disease. People who have coeliac disease often lack fibre and require more calcium in their diet. For this reason I developed my flour blend with naturally gluten free wholegrain flours that have calcium in them.

Can I make the recipe with a different flour blend?

I wouldn't recommend it.
I created this recipe specifically with my wholegrain flour. If you use a different flour blend you will get different results. I always recommend using the flour blend recommended in a recipe to get the best results.
If you'd like a recipe that uses Doves farm flour (readily available in the UK) then check out my gluten free dairy free scone recipe.

I don't live in the UK so I can't buy your flour blend. How can I make these scones?

I have a number of online gluten free cookery courses where I share the recipe for my gluten free flour blend in addition to teaching how to make a variety of bakes.

Can I use xanthan gum instead of psyllium husk powder to replace the gluten?

You can use xanthan gum but I personally prefer to use psyllium husk powder because it's great for gut health and a more natural ingredient. Just replace the psyllium in the recipe with xanthan.
If you want to find out more about psyllium husk powder the read this article.
If you'd like to know more about xanthan gum then read this one.

Can I add fruit?

Yes, you can make these fruit scones by adding a handful of your favourite dried fruit to the dough. Just make sure you chop any large fruits into small pieces before adding them.

What other additions would be good in this recipe?

Chocolate chips, chopped nuts or seeds would all add texture to the plain scone mixture. Just add a handful to the dough before rolling out.

Can I add cheese to make gluten free cheese scones?

I wouldn't. The reason being because cheese has fat in it so the amount of butter needs to be reduced. If you want to make cheese scones I recommend using this recipe.

You give an option to make these scones with self raising flour or plain flour – which is best?

Using self raising flour is best but that isn't always available. Therefore you can make these scones with my plain flour blend with the addition of 2 tsp baking powder.
How do I store these scones?

Scones are always best eaten on the day they are made, and ideally while still hot. However if this isn't possible then store them in an airtight container and eat within a day or two. I generally heat the scones through in a microwave for 15-30 seconds each to refresh them.

Can I freeze gluten free scones?

Yes and I highly recommend doing so if you aren't going to eat them the day you bake them.

Freeze them as soon as they have cooled. Then defrost them in a microwave before eating.

If you don't have a microwave then allow them to defrost at room temperature before heating through in the oven for around 10 minutes.

Are these scones suitable for vegans?

No. But I have a recipe that is and you can find that here.

How many scones does this recipe make?

I make six small scones with the quantity of dough listed. However, you can make any amount of scones you like. If you want large scones choose a larger cutter and make less.

Can I double the recipe to make more scones?

Yes, if you'd like to make more just double or even quadruple the recipe.

How do I serve gluten free scones?

The best, and most traditional way to serve scones is with clotted cream and strawberry jam. If you can't get clotted cream try extra thick double cream or whipped up whipping cream.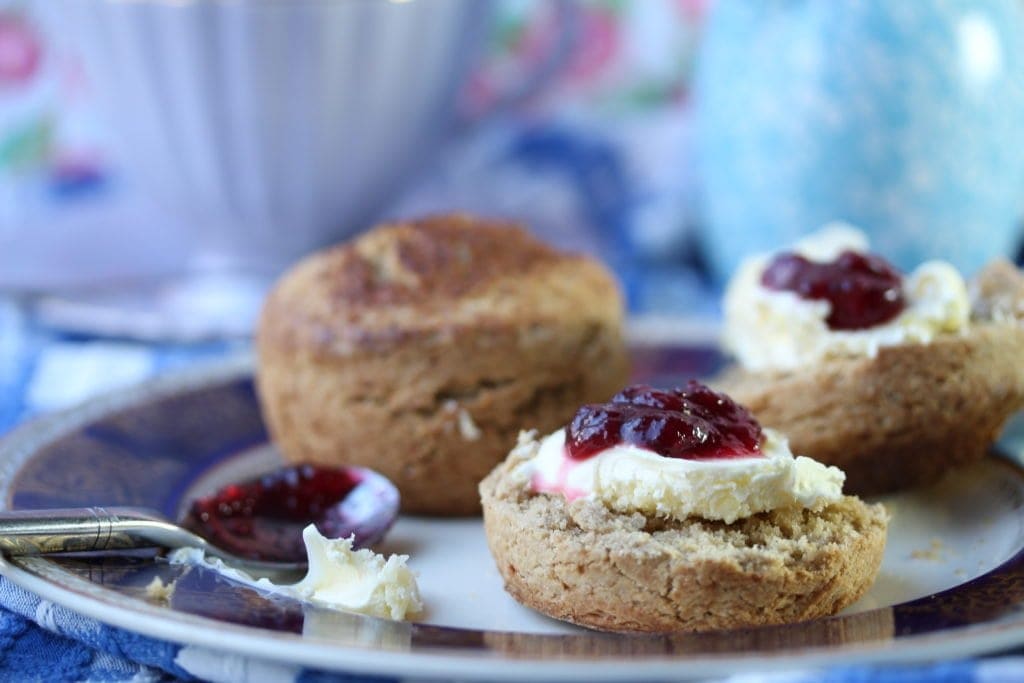 Other gluten free scone recipes
If this recipe isn't what you're looking for then I'm sure I've got one that you'll like.
How about my gluten free cheese scones, healthy vegan scones, gluten free dairy free scones or savoury tomato and herb scones?
Free recipe book
If you like the look of this recipe and would like a copy of my free gluten free recipe e-book then enter your details in the box below.
In addition to getting the e-book you'll receive my weekly newsletter of recipe inspiration. You can of course unsubscribe to this at any time.
Pin my recipe so you don't lose it…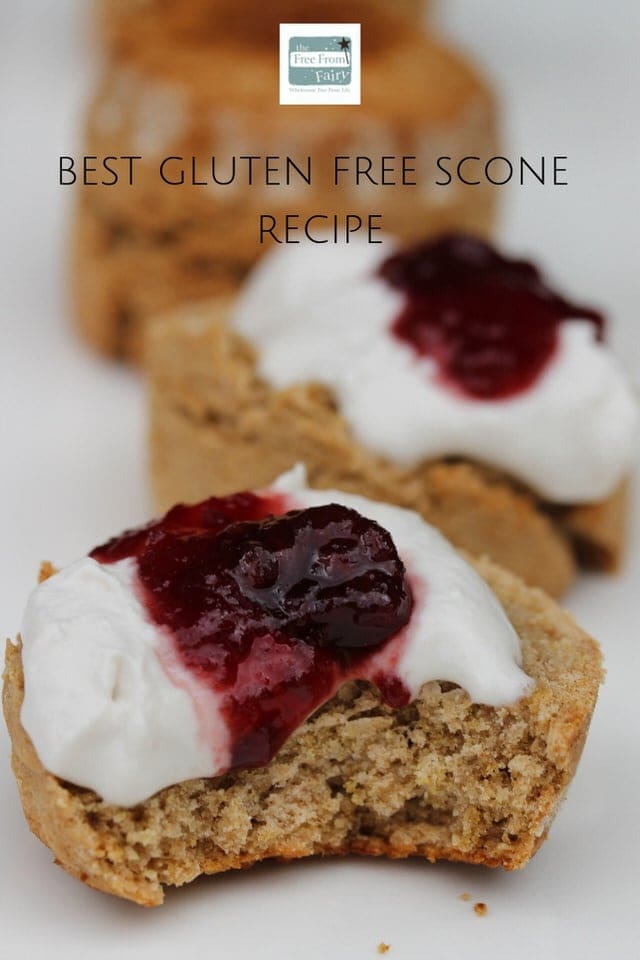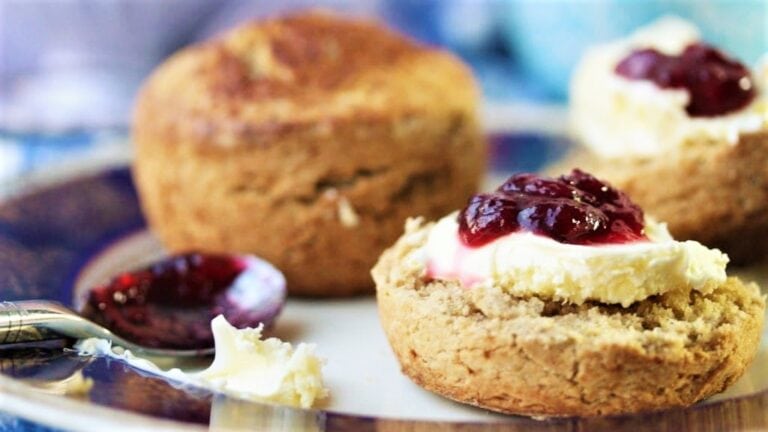 The BEST Gluten Free Scone Recipe
This recipe for gluten free scones never fails. Just take a look at the size of them!Not only do they look like 'real' scones but they taste like them too. Delicious with a dollop of clotted cream and jam.
Ingredients
230

g

Free From Fairy self-raising flour -

OR 230g FFF plain flour plus 2 tsp baking powder

1

tsp

psyllium powder -

or xanthan gum

20

g

coconut sugar -

I used the ginger one from Coconut Merchant plus extra for sprinkling

75

g

butter

-

cubed (I used goats)

70

g

plain full fat yoghurt

-

I used goats

70

g

full fat milk

-

I used goats plus extra for rubbing on top
Instructions
Turn your oven on to 220 degrees/200 degree fan/ gas mark 6 and place a large baking tray inside to heat up

Place the dry ingredients into a food processor and blend until well mixed. Alternatively place in a large bowl and mix well by hand

Add the butter into the dry ingredients and either blend until the mixture looks like fine breadcrumbs, or rub the butter into the flour by hand

Add the yoghurt and milk and combine into a dough that just holds together

Flour a clean dry work surface and empty the dough onto it

Knead until you have a rough ball then press out with your hand until around 2cm thick

Using a floured straight edged circular 7cm diameter cutter, cut out your scones. You should get four before bringing the dough back together to make another, then repeating with the final piece of dough

Rub the tops of the scones with milk and sprinkle with a little sugar if you desire

Carefully remove the hot baking tray from the oven and quickly place the scones onto it

Bake the scones for around 15 minutes until golden on top

Allow to cool for around 5 minutes (or fully) before cutting

Eat on the day of baking or freeze and re-heat in the microwave
Notes
Nutrition information is for guidance only.
Nutrition (Approx)
Calories:
252
kcal
|
Carbohydrates:
33
g
|
Protein:
3
g
|
Fat:
11
g
|
Saturated Fat:
6
g
|
Cholesterol:
28
mg
|
Sodium:
100
mg
|
Potassium:
64
mg
|
Fiber:
2
g
|
Sugar:
3
g
|
Vitamin A:
330
IU
|
Calcium:
21
mg
|
Iron:
0.7
mg