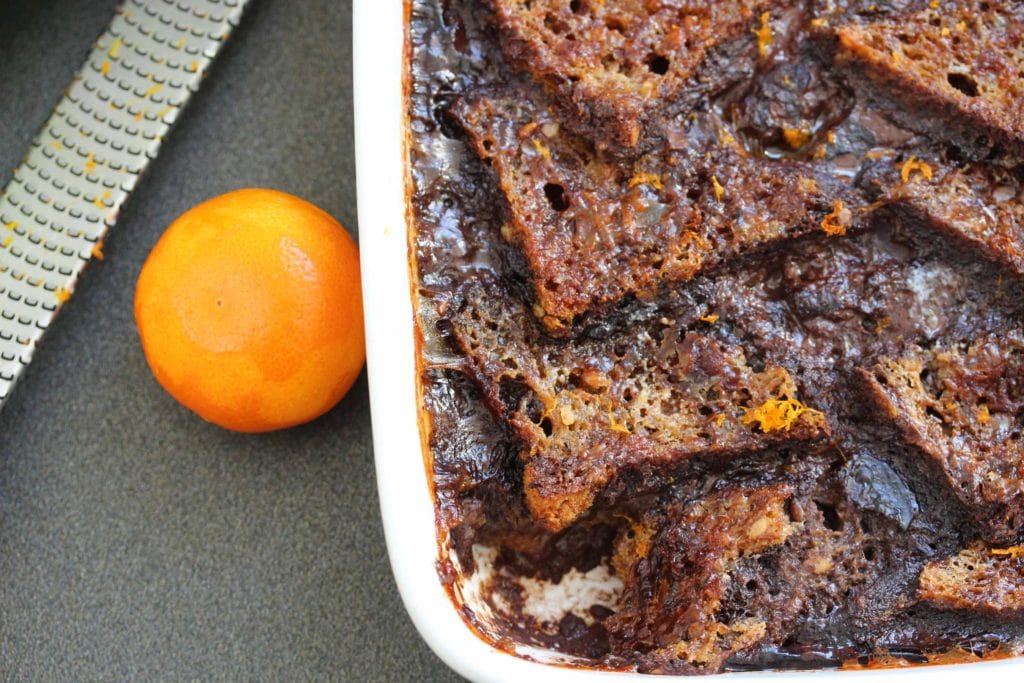 Gluten free bread and butter pudding that's rich with chocolatey orange yumminess? Yes, you read that right. This gluten free bread and butter pudding is also suitable for those on a low FODMAP diet.
For those of you who don't know what the low FODMAP diet is, it's basically a diet that can help to manage symptoms of Irritable Bowel Syndrome (IBS).
It's a complicated diet and one that is not recommended without the help of a dietician.
It entails cutting out foods that contain fodmaps or short chain carbohydrates that are not absorbed well in the small intestine.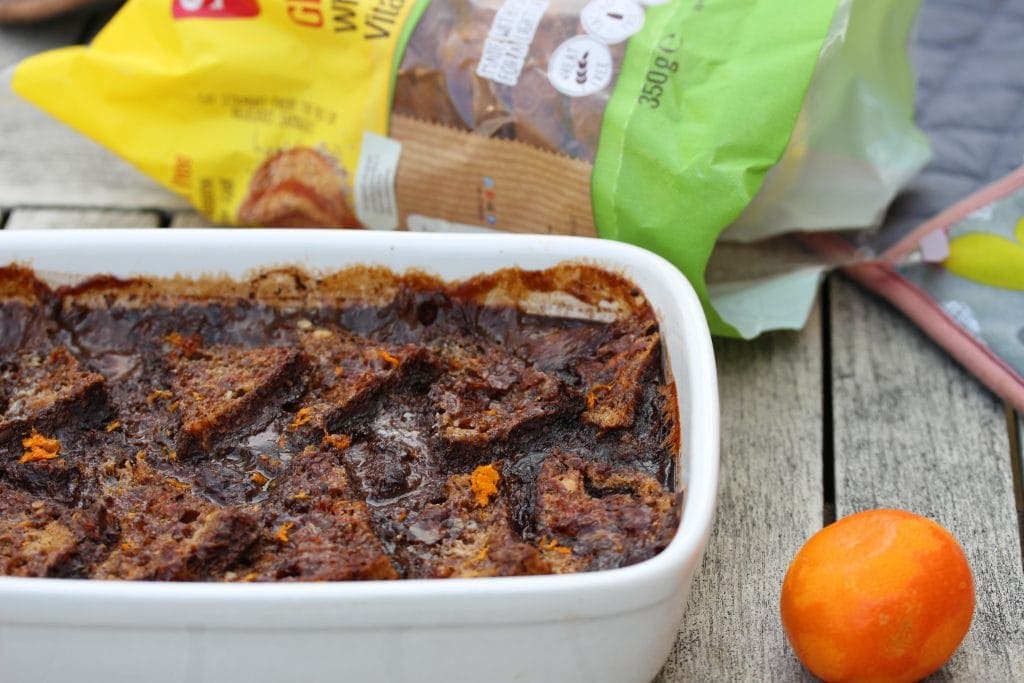 A dietician can help make sure that the strict initial stage of the diet is only followed for a short period of time.
For many people it provides relief from the often-debilitating symptoms of IBS. These include diarrhoea, constipation (or a combination of both), bloating and gas, cramps, fatigue and difficulty sleeping. For me, alas, it didn't bring relief at all; just a feeling of utter misery as I had to avoid some of my favourite foods like avocados and asparagus.
I know how tricky it is to follow the diet so when Schar approached me asking if I'd try out their new range of low FODMAP products I was delighted.
They have worked with Monash University in Australia, who devised the low FODMAP diet, to get the range certified.
They are the first company in the UK to launch such a range into supermarkets and I think it's a great step forward for the estimated 20% of the UK population who suffer with IBS.
For this recipe I've used their Vitality loaf with the lovely flavour of sunflower seeds, sorghum, quinoa and chestnut flours. It complements the chocolate and orange flavour beautifully. Of course, you could use any of their low FODMAP breads for this recipe.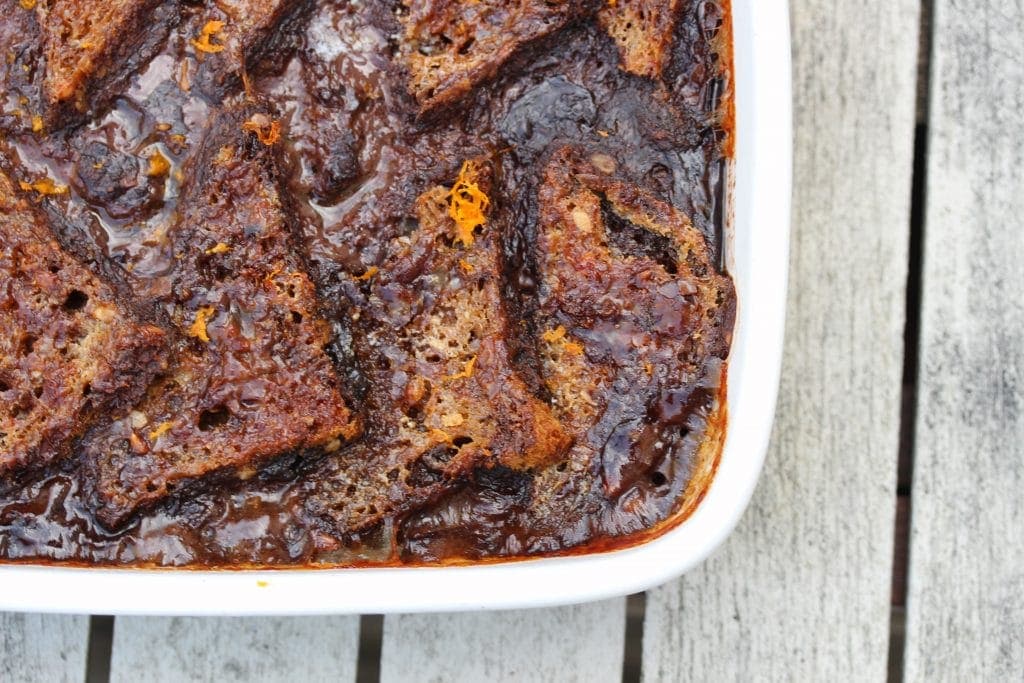 However, I was delighted to see that the last ingredient in the Vitality loaf was sugar and that the total sugar content was only 0.9g in 100g…a significant reduction to most gluten free bought bread. It also tastes really lovely.
As with all my recipes I've tried to keep the sugar content as low as possible. That's because sugar has a negative impact on the gut microbiome which is an issue for anyone with gut issues.
Anyway, 'Roo' had the task of cutting off the crusts and buttering the bread for the pudding. She did a great job and actually enjoyed eating some of the crusts despite normally hating them.
If you don't eat the crusts, store them in the freezer for the next time you need breadcrumbs in a recipe. Just remove from the freezer, defrost and finely chop, or place in a food processor. Nothing goes to waste here!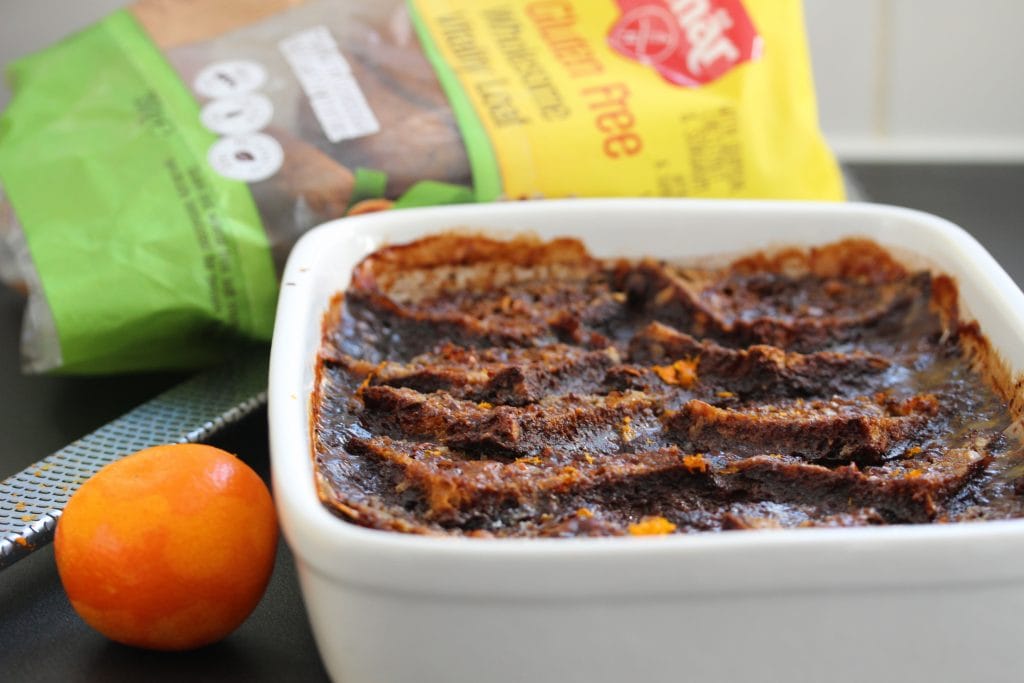 So without further ado, I present my chocolate orange gluten free bread and butter pudding recipe…
Please note that if you're following the low FODMAP diet portion size is very important. Please don't eat more than an 1/8 of this pudding in one day or you will be having too many FODMAPs.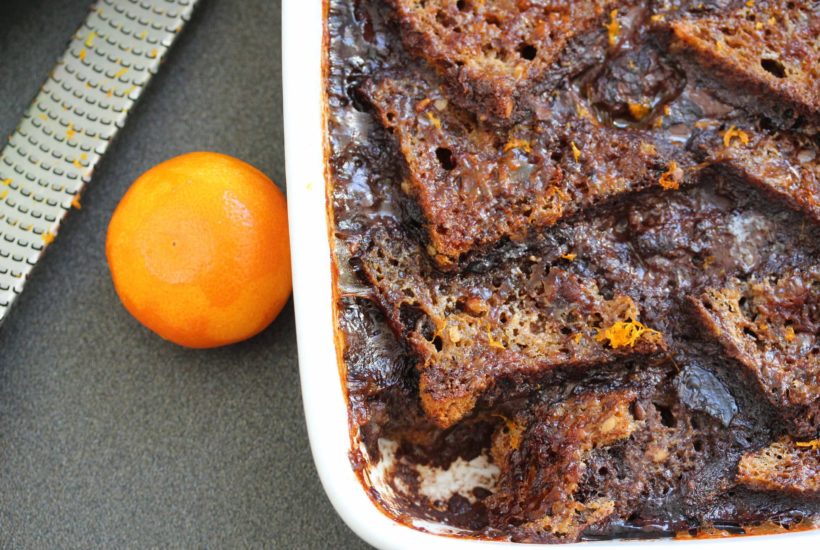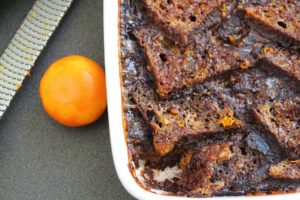 Chocolate Orange Gluten Free Bread and Butter Pudding (Low FODMAP)
A gluten-free, low FODMAP, lower sugar pudding that can be made dairy-free too
Ingredients
12

slices

Schar Vitality loaf

-

crusts removed

100

g

butter or coconut oil

-

softened

50

g

brown sugar

-

plus 1-2 tbsp for sprinkling on top (optional)

30

g

cocoa powder

550

ml

unsweetened almond milk

2

medium (organic if possible)

-

beaten

3

drops therapeutic grade orange essential oil or zest 1 large orange

-

I use doTerra oil because it is pure enough to consume
Instructions
Spread the butter or oil onto the bread, then cut each piece into two triangles

Prepare the chocolate custard by placing the cocoa powder and sugar into a large jug with approx. 100ml almond milk.

Stir to combine the ingredients until smooth, then add the remaining milk, the orange oil or zest and beaten eggs

Place half the bread triangles butter-side down in a dish measuring approx. 20cm x 15cm and 10cm deep

Cover the first layer of bread triangles with the remaining triangles, this time butter side facing up

Pour over the chocolate custard mixture, sprinkle with a little more brown sugar if you desire and bake in a pre-heated oven at 180 degrees C/160 degree C fan/ Gas Mark 4 for around 40 minutes or until the custard is set and the top is golden
Pin the recipe so you don't lose it!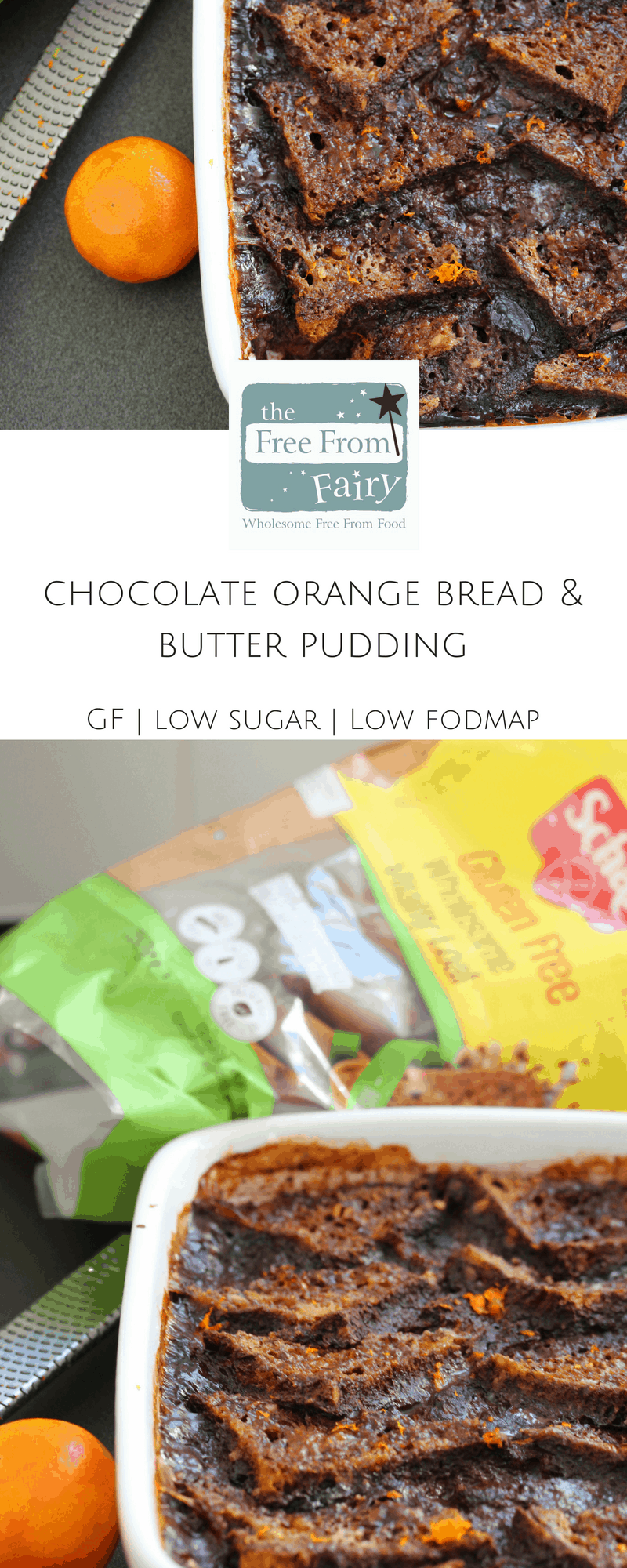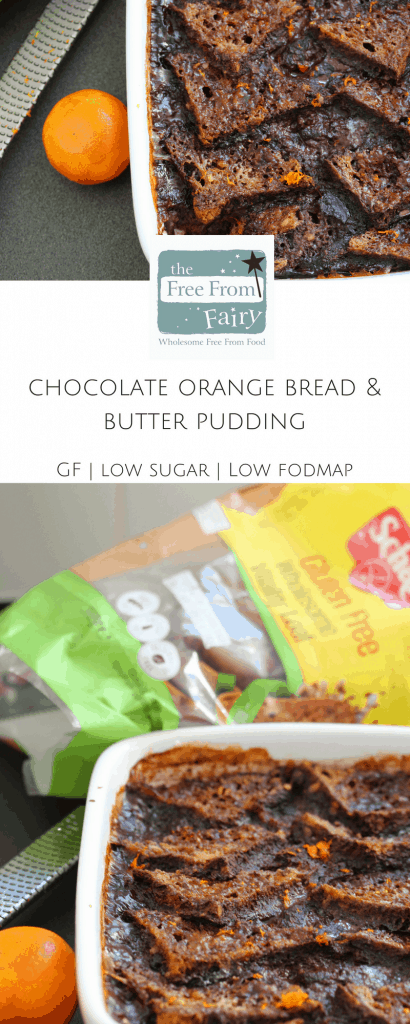 I've shared this with:
This recipe was created in collaboration with Schar.