This 3 ingredient fudge is very simple to make, with store cupboard ingredients. It makes the perfect homemade edible gift for Christmas, birthdays and other special occasions.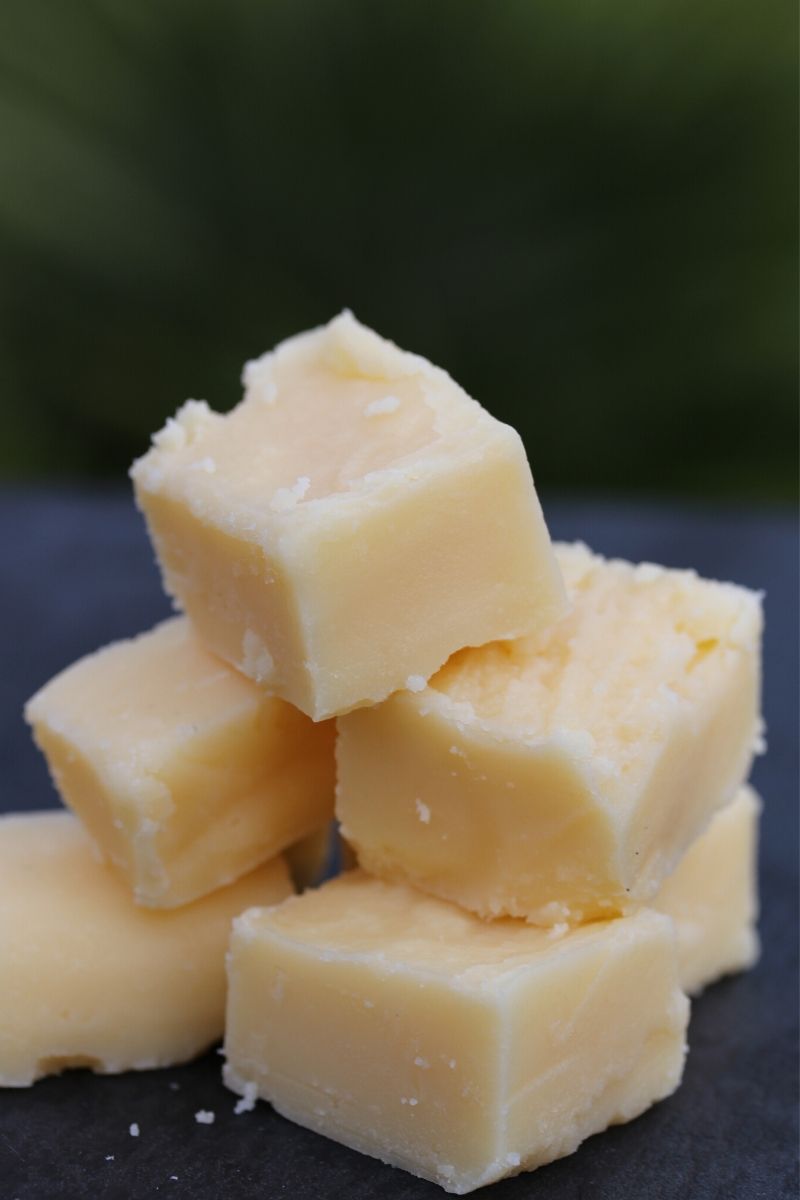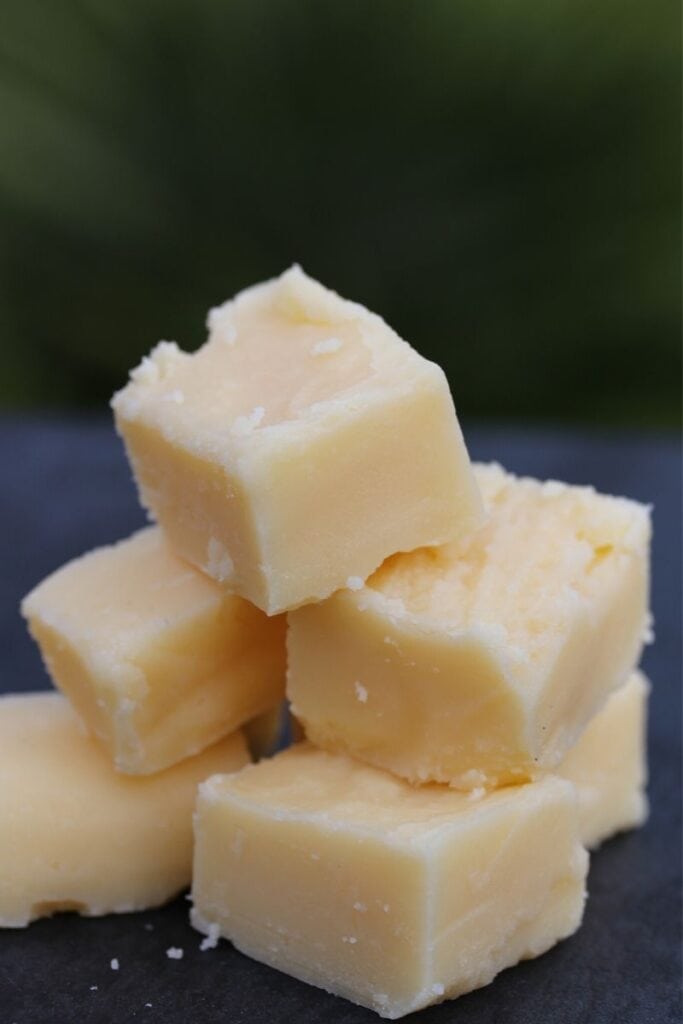 How do you make 3 ingredient fudge?
I know! It seems like it can't be possible. I mean, after all, it's really expensive to buy fudge and it tastes so amazing that it seems impossible that it can be made with 3 ingredients. But it's true.
This recipe is on that my mum used to make when I was little and it never fails to please.
All you need is milk, sugar and butter. Three things that almost everyone (except vegans) are likely to have in their house.
Fudge is very simple to make. It involves heating the 3 ingredients in a large saucepan until they thicken and then beating the mixture to form little sugar crystals that give traditional fudge it's special texture.
For this recipe there is no need for any special equipment. If you want to check whether the fudge is ready just drop a tiny bit of mixture into a glass of cold water. If it forms a soft ball then it's ready to remove from the heat.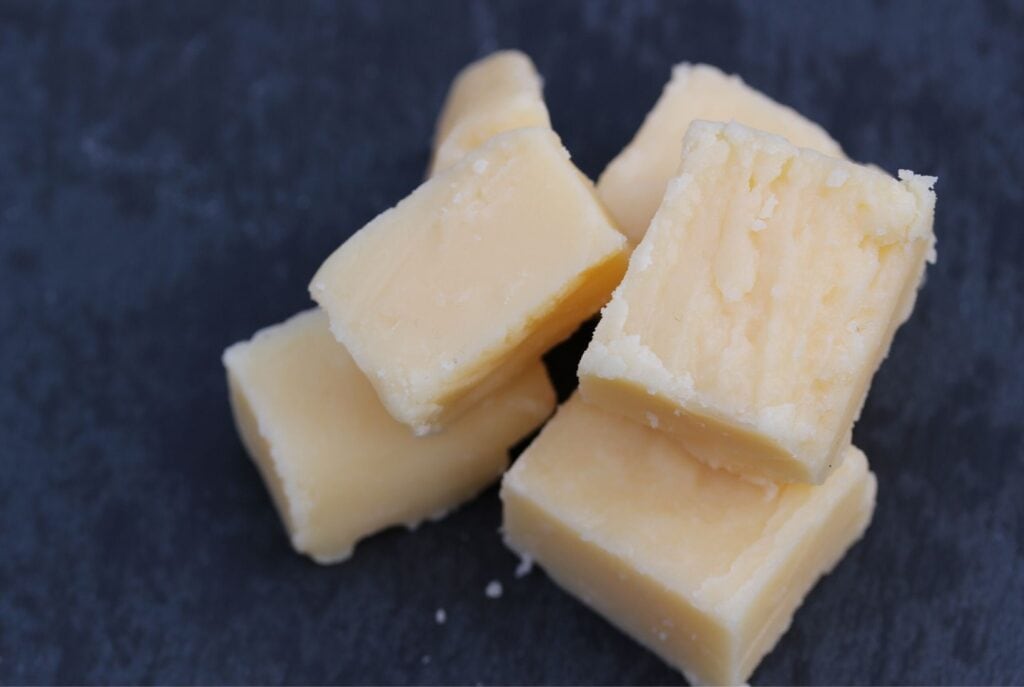 What flavour fudge can I make?
The world is your oyster.
This recipe is a base recipe into which you can add whatever flavour takes your fancy.
At Christmas I like to add spices, clementine zest and alcohol. In fact I share that in the recipe below.
The only thing to note about adding flavours is that they shouldn't alter the base ingredient proportions significantly. So, for example, if you wanted to make chocolate fudge, add a little cocoa rather than chocolate. The chocolate contains sugar and fat and will mess up the proportions.
Also make sure you add the flavours when you remove the fudge from the heat, before beating the ingredients together. If you add them at the beginning you'll lose most of the flavour (except cocoa which you could add at the beginning of the process).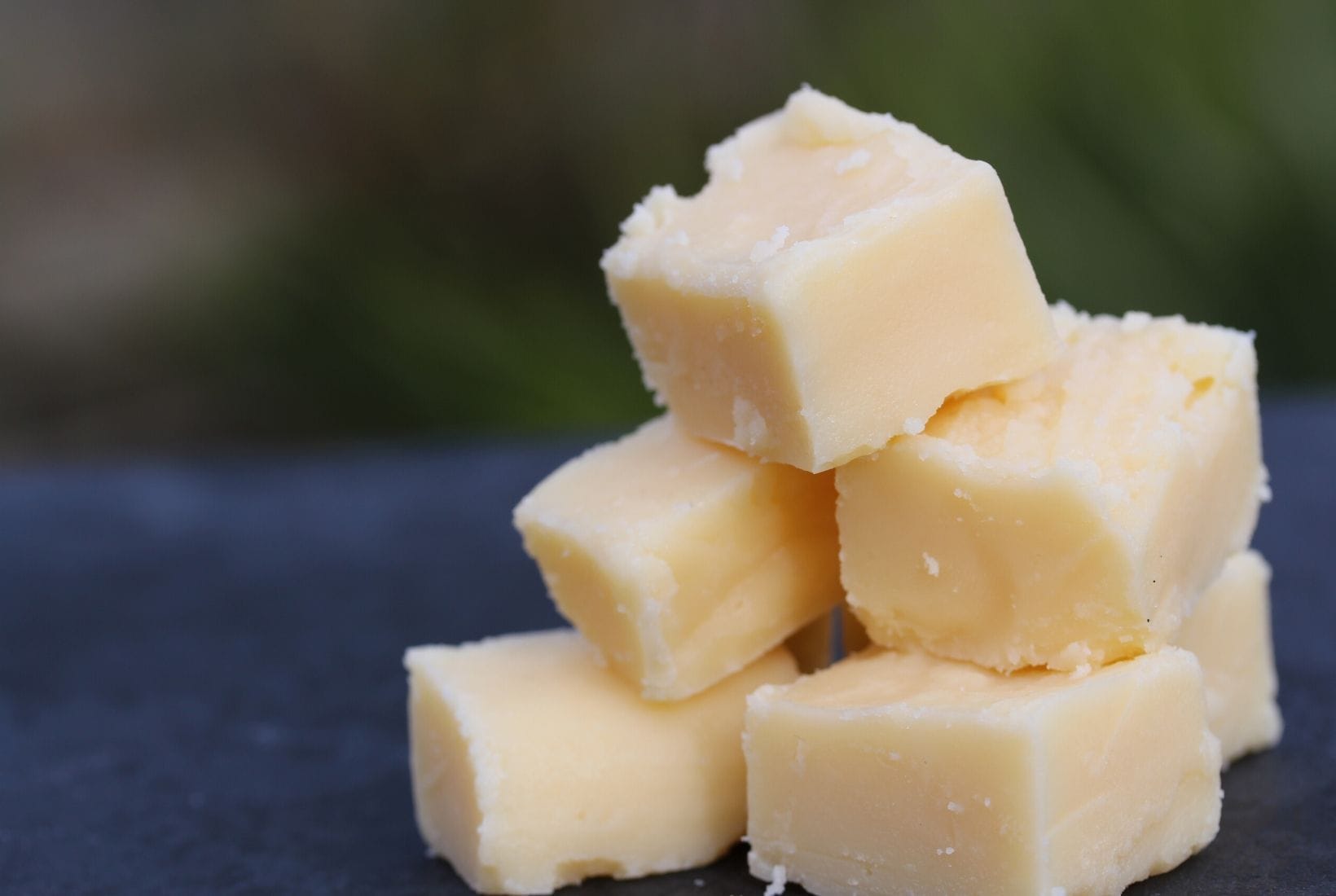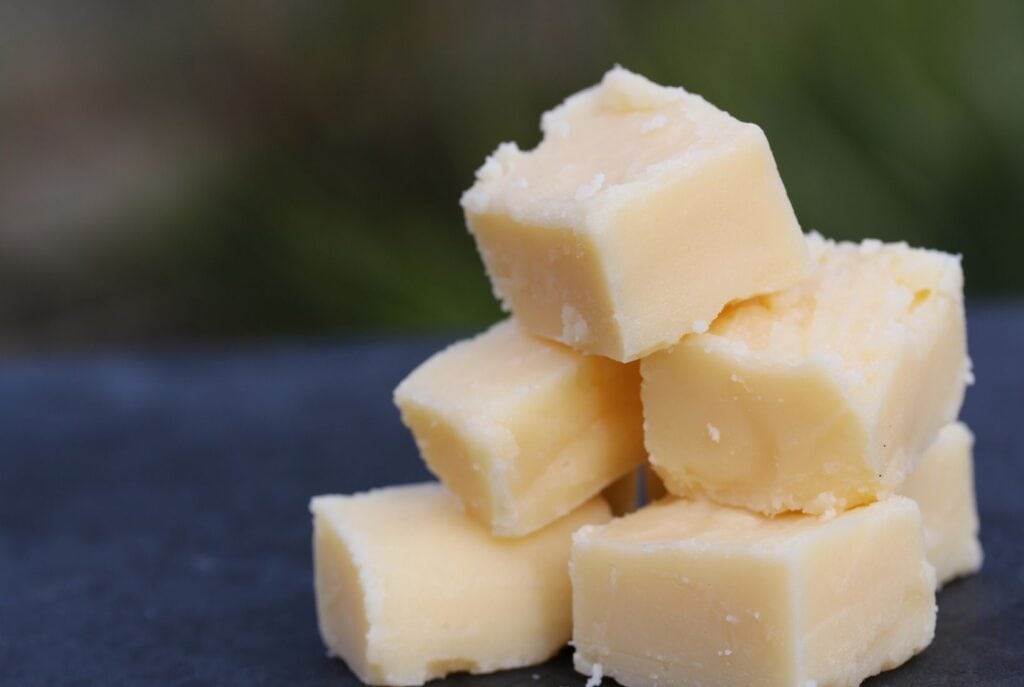 Here are a few flavour ideas:
Orange fudge – add the zest of an orange of two
Lemon fudge – as above
Ginger fudge – add chopped crystallised ginger
Nutty fudge – add roasted, chopped nuts along with 2 tsp vanilla extract
Vanilla fudge – add 2 tsp vanilla extract
Cherry fudge – add chopped glace cherries
Strawberry or raspberry fudge – add freeze dried fruit pieces plus 2 tsp vanilla extract
Rum and raisin fudge – add 2 tsp rum plus a handful of raisins
When do you make fudge?
Fudge is easy to make any time of the year. I particularly like making it as edible gifts. Last year I also included fudge in my kids re-usable advent calendars.
Pin the recipe for 3 ingredient fudge so you don't lose it: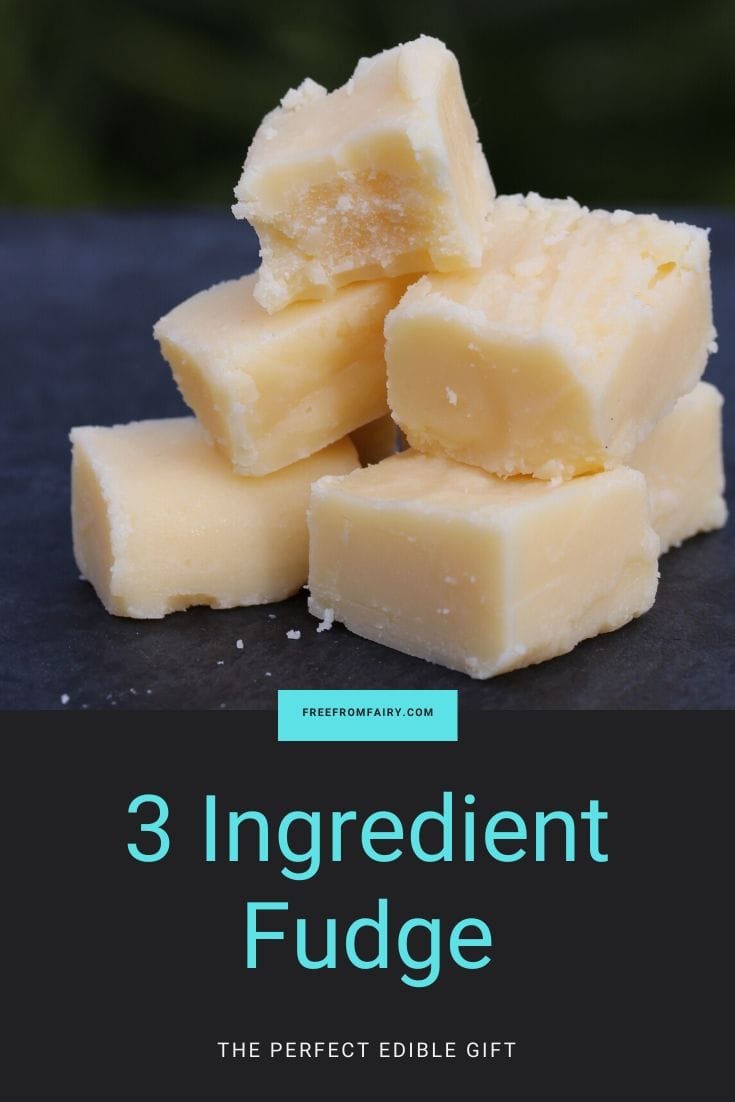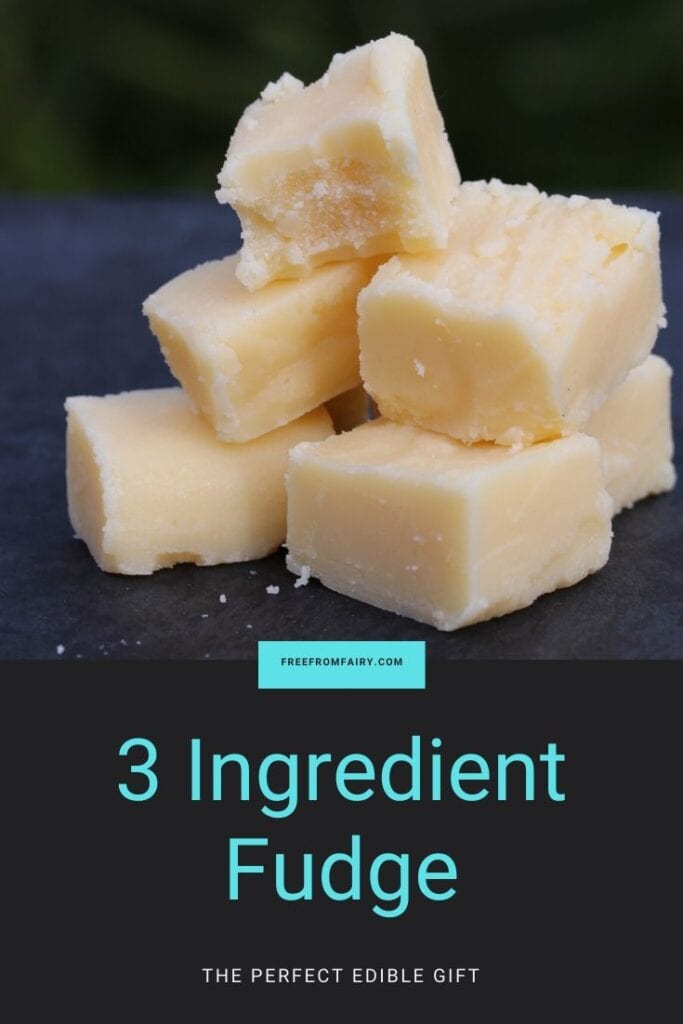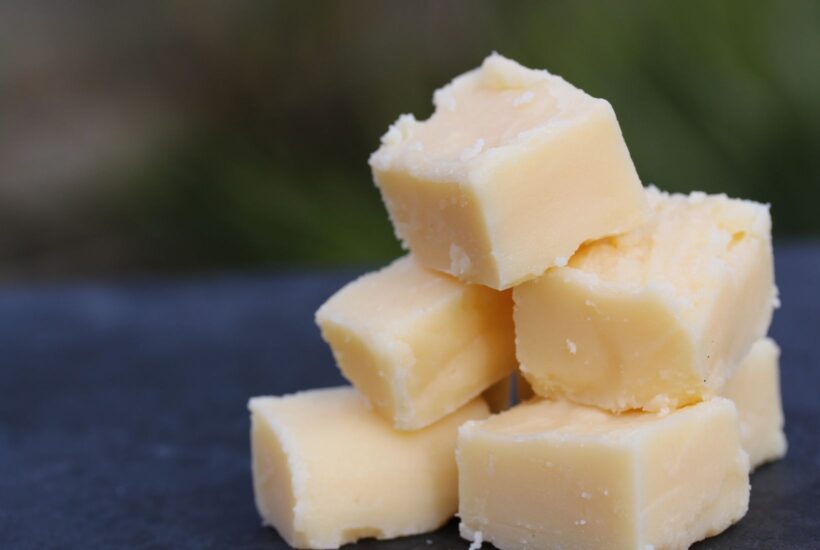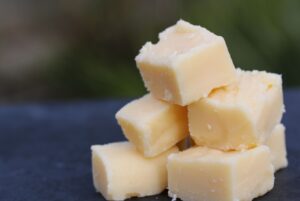 3 Ingredient Fudge (Traditional Fudge Recipe)
Make this 3 ingredient fudge as the perfect gift or treat. It's Gluten-free, Egg-free, Nut-free and Soya-free
Ingredients
300

ml

full fat milk

350

g

sugar

100

g

unsalted butter

Zest 2 clementines

-

optional - (for Christmas fudge)

Half tsp ground ginger

-

optional - (for Christmas fudge)

Half tsp ground cinnamon

-

optional - (for Christmas fudge)

2

tsp

amaretto or brandy

-

optional - (for Christmas fudge)
Instructions
Add the first three ingredients to a large pan (when hot it will boil up and it is therefore important to choose a large pan with plenty of room) and heat over a low to medium heat until the sugar has dissolved and the butter has melted.  Stir every minute or so to make sure everything is mixed.

Once the sugar has dissolved, turn the heat up and boil the mixture, stirring continually to make sure it doesn't stick on the bottom.

Keep boiling until the mixture thickens and darkens...when it is ready the mixture will pull away from the bottom of the pan as you stir. It will also form a soft ball when dropped into a glass of cold water.

Take off the heat and stir in the remaining ingredients, then leave the mixture to cool for 5 minutes.

Beat the mixture with a spoon for approx. 10 minutes until the mixture looses its sheen and starts to thicken.

Quickly pour the mixture into a lined tin approx. 20cm by 20cm although if you don't have one you can just pour it out onto a lined baking tray.  Smooth the surface and leave to cool.

Cut into pieces once cooled.
Nutrition (Approx)
Calories:
225
kcal
|
Carbohydrates:
36
g
|
Protein:
1
g
|
Fat:
9
g
|
Saturated Fat:
6
g
|
Cholesterol:
25
mg
|
Sodium:
14
mg
|
Potassium:
40
mg
|
Sugar:
36
g
|
Vitamin A:
299
IU
|
Calcium:
36
mg