I can safely say that I have found the best place in the world to eat gluten-free fish and chips…
Sitting on the beach, overlooking the dazzling lake Wakatipu in Queenstown New Zealand, our search was over.
Eriks is a fish and chip shop in Queenstown and Wanaka that is certified by Coeliac NZ and where everything on the menu can be created gluten-free.
In reality I think the whole menu was gluten-free. (We noticed that in New Zealand restaurants and cafes tended to advertise gluten-free options when the whole menu was actually gluten-free).
I've never seen Roo so excited when she spotted that doughnuts were on the menu.
The moment she bit into her first 'proper' deep fried fresh doughnut is one I will treasure forever.
Although for most of our trip we catered for ourselves or were catered for at my Dad's, there were other occasions when we ate out.
Then, we found that Trip Advisor was an invaluable tool in locating potential places.
It has a brilliant search function where you can specify 'gluten-free' which will then bring up all reviews that contain those words. Of course it is always advisable to contact the business directly to make absolutely sure they can cater safely for your needs.
We discovered Be Rude Not to, a wonderful cafe in Rotorura, The Factory Smokehouse & Grill also in Rotorura and The Chippery in Wellington.
All of them catered admirably for coeliacs; The Factory Smokehouse & Grill being a firm favourite with Roo having deep fried doughnuts and waffle pops on the menu. It was gluten-free heaven for her.
As I mentioned before, most of our time in New Zealand was spent catering for ourselves in our little van.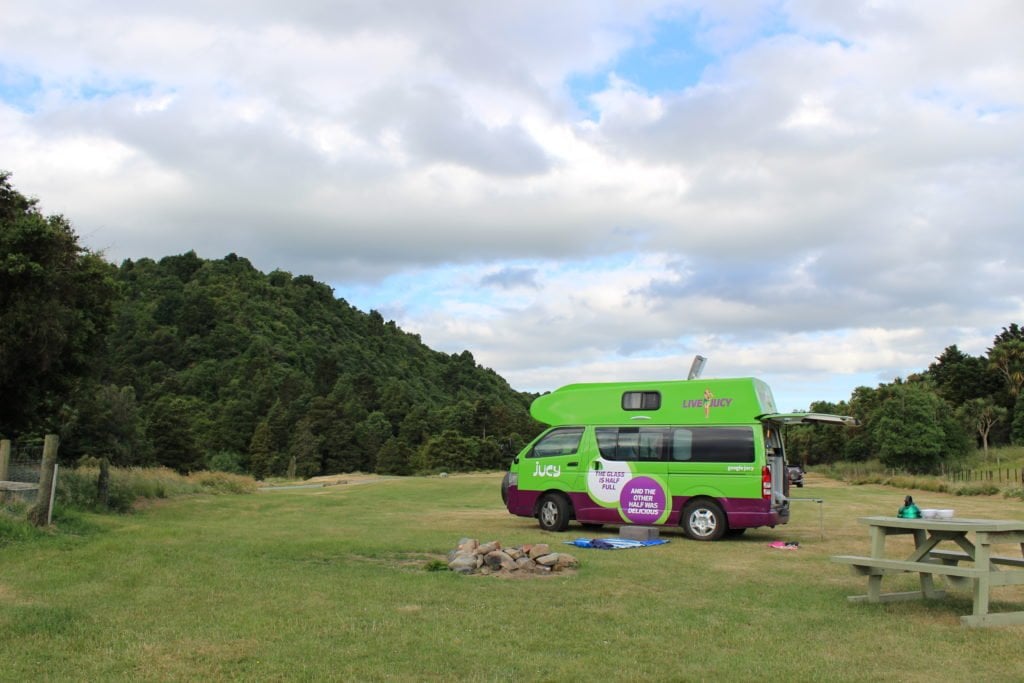 All the supermarkets had a gluten-free section with all the basics you could ever need. Apart from being expensive, there is no shortage of naturally gluten-free food either.
One thing that I found particularly interesting was the abundance of paleo foods and lack of gluten-free oats and gluten-free oat products.
Products manufactured in Australia and New Zealand can only declare they are gluten-free if they contain 'no detectable gluten'. They must also contain no oats and no malted gluten containing cereals (like barley malt extract which here is considered suitable for coeliacs if in low enough quantities).
However, they do allow imported goods that follow the CODEX international standards. These standards are the ones we follow that allow foods containing up to 20ppm gluten to be labelled gluten-free.
Interestingly Coeliac New Zealand say that their consultant gastroenterologists consider less than 20ppm gluten to be safe for coeliacs.
The lack of oats in New Zealand is explained by this information from Coeliac New Zealand :
"Gluten is the name given to the protein in wheat, rye, barley and oats. It is a composite name representing –
gliadin in wheat
hordein in barley
secalin in rye
avenin in oats
The current laboratory tests can only measure gliadin, hordein and secalin – not avenin as it is a slightly different protein.
When gluten free oats are discussed, it means they are free from wheat contamination (gliadin, hordein and secalin).
"Avenin is an essential part of oats and will never be truly gluten free even if they are described as being gluten free.
Research by our patron Dr Robert Anderson has shown that approximately one in five people with coeliac disease react to pure, uncontaminated oats.
Since we cannot determine who the one in five is who react to pure oats and we know that gut damage can occur even without symptoms, the advice of both Dr Anderson and Coeliac New Zealand is that oats should not be consumed. 
The only exception is if you receive a gastroscopy/biopsy before commencing eating oats, and after you have been consuming them for a time. This is currently the only test that can say whether it is safe for you to consume oats on a gluten free diet."
I guess this explains the lack of gluten-free oats!
Interestingly last year in the UK, the National Institute for Health and Care Excellence (NICE) updated their guidance about coeliac disease and oats.
In the past, newly diagnosed coeliacs have been advised to avoid gluten-free oats for 6 months. Now coeliacs are advised to introduce gluten-free oats at any time with their continued consumption depending upon their immunological, clinical or histological response.
All of this leaves me feeling very confused.
If we follow UK guidance then we should be giving gluten-free oats to coeliacs provided they have no symptoms. If we follow NZ guidance then we should be avoiding gluten-free oats like the plague.
What are you thoughts about oats? And if you've travelled to New Zealand where was your favourite spot to eat out?