Gluten free apple crumble doesn't need much introduction. A classic dessert with a healthier twist. I cook my crumble topping separately from the fruit making it quicker to create than a traditional crumble recipe. It also means you need less of it to top the fruit. If you want a Christmas crumble just add a couple of tablespoonfuls of mincemeat.
This post contains Affiliate links. As an Amazon Associate I earn from qualifying purchases.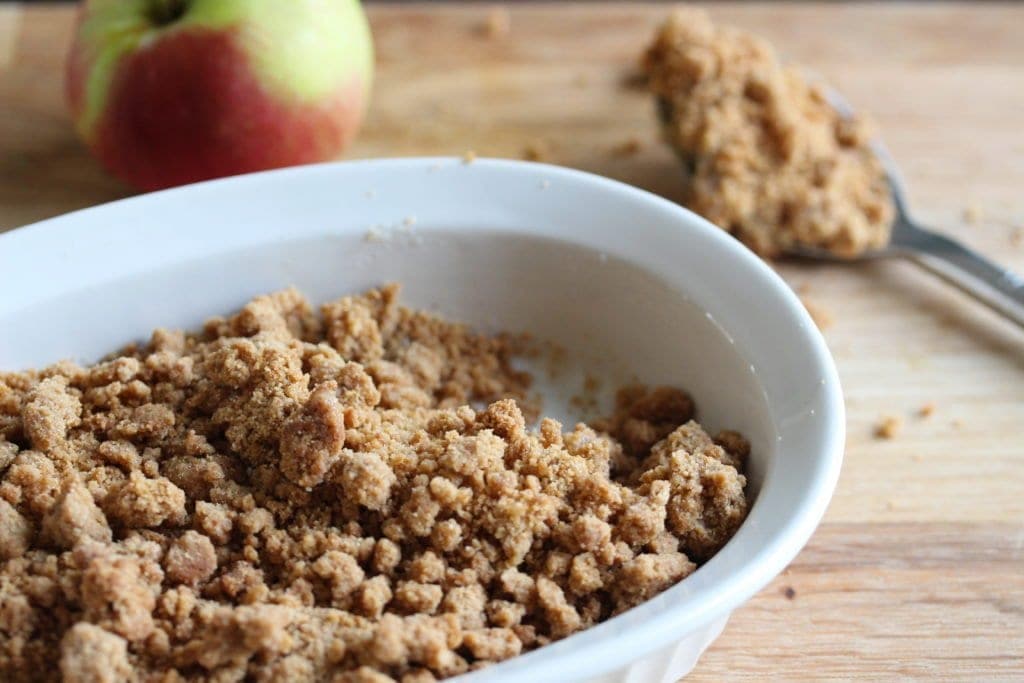 The story behind my gluten free apple crumble
A good crumble is a thing of glory and this recipe is something that my mum always used to make when I was a kid. However, it takes quite a long time to cook and if you're entertaining and your oven is full, that can be a problem.
Enter my solution.
It's so simple and yet delightfully satisfying.
I make my crumble topping separately from the fruit cutting down a huge chunk of time.
Once I've made the crumble mixture I just grill it until crispy and golden and use it to top off my cooked fruit.
That means it's perfect if you suddenly find yourself with visitors and no time. I'm really not one for cooking for hours and that's how this recipe was born.
Something that mum always used to do at Christmas was make a Christmas crumble. Essentially an apple crumble with mincemeat stirred through the apple. It's a wonderful twist to the traditional recipe and something I still enjoy to this day.
With my recipe you can make the crumble topping ahead of time and keep it in a clip lock box. You can also cook the apples and store them in the fridge.
Then when it comes to entertaining all you have to do is warm up the fruit and scatter the crumble topping over it.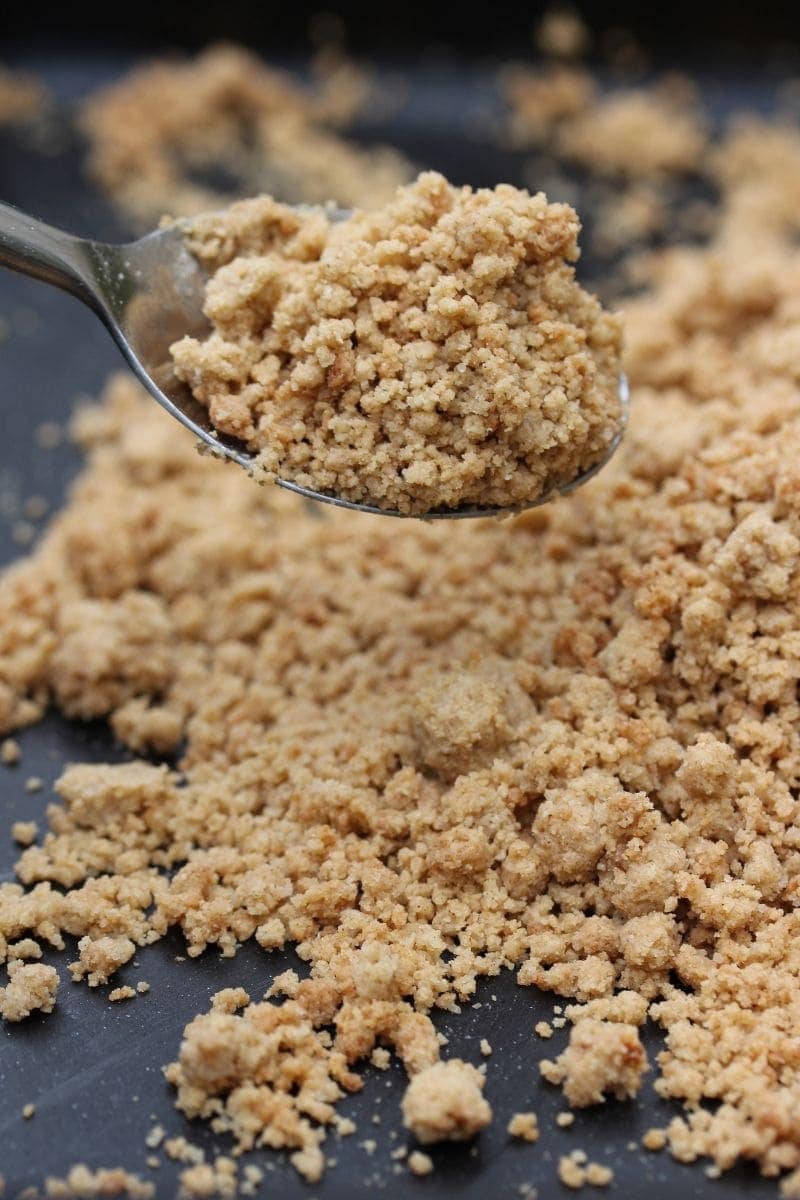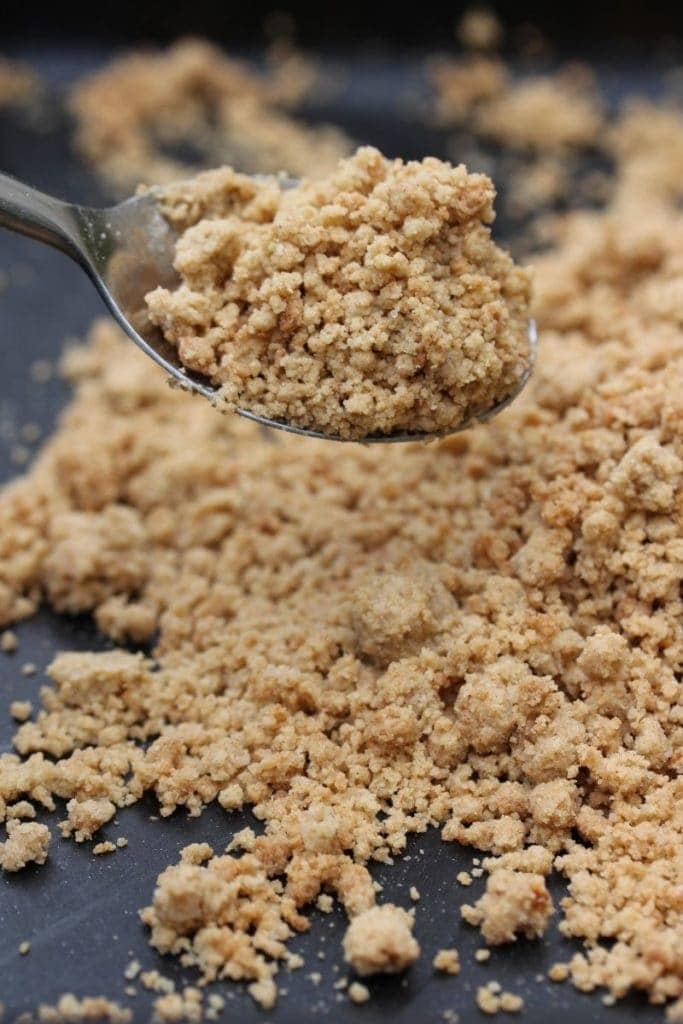 What do you need to make this apple crumble?
Gluten free apple crumble my way is delightfully easy. Throw aside any misgivings you might have about making a crumble. Roll your sleeves up and head into the kitchen.
All you're going to need is some of my wholegrain gluten free flour blend, butter and sugar of your choice. I personally like to make this with coconut sugar but if you don't have that then use brown sugar. It adds a lovely flavour and is how the American's make their apple crisp.
Then you'll need some good cooking apples, a bit more sugar if you want to sweeten them and any 'extras' like spices or mincemeat.
Why is the gluten free flour important?
What gluten free flour you use in the recipe will influence the flavour, and nutritional status of the final crumble.
When I got fed up with the gluten free flour blends on the market, I decided to create my own. I found that almost all of the blends contained rice flour.
Firstly, it's what makes them have a funny grainy texture. And secondly, rice contains arsenic and so I didn't want a blend with rice in it. Especially as I am bringing up a daughter with coeliac disease.
I found that most of the gluten free products that she was eating contained rice or rice flour. Far from ideal.
Anyway, you can read more about why I created the flour blend here. It can be used in all your baking from making gluten free bread to biscuits, cakes, pastry, pasta and more.
If you want to try out my flour blend then head over to my gluten free flour shop where you can buy it.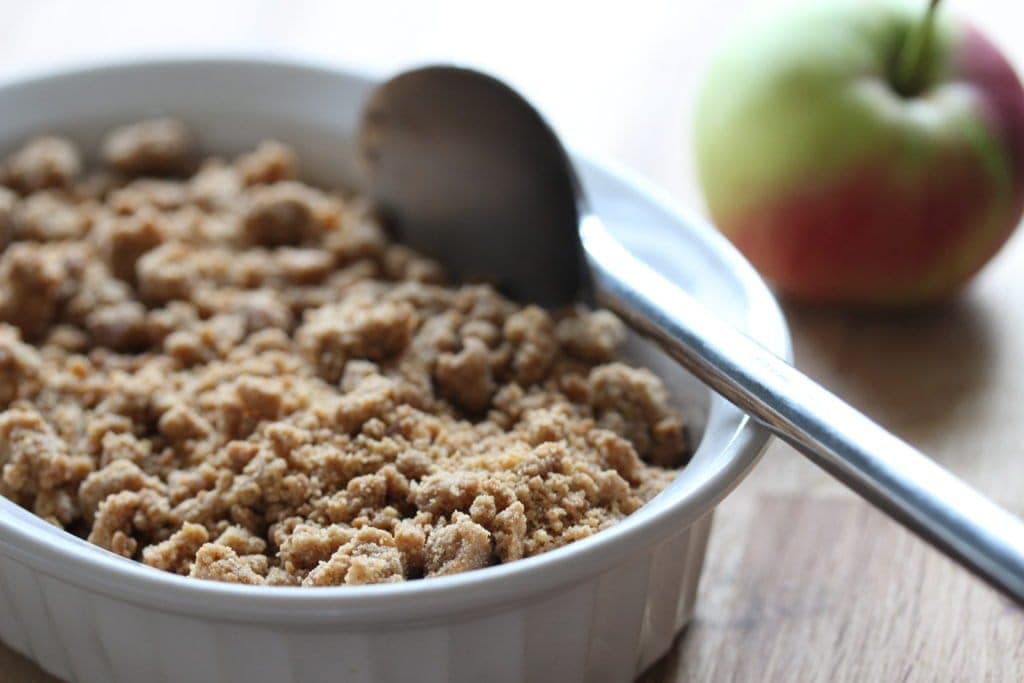 How do you make the crumble topping?
Making the crumble topping is simple.
Add all the ingredients to a good food processor, switch it on and allow it to do its thing until you have a breadcrumb like texture.
Then transfer the mixture to a large baking tray and place it under a hot pre heated grill.
The next step is important. Every minute, remove the tray from the grill and stir the mixture. As the butter melts it will combine with the dry ingredients to form little clusters. Continue to cook in this way, removing and mixing every minute until your crumble is golden and crisp.
To cook your apples you'll need to peel and core them. Then chop them into small pieces and cook them in a saucepan, lid on, with a little water for around 15 minutes or until smooth.
Once your crumble is cooked remove it from the heat. Transfer your cooked apple to a dish or several small dishes and sprinkle with your crumble topping.
Pin my gluten free apple crumble recipe so you don't lose it: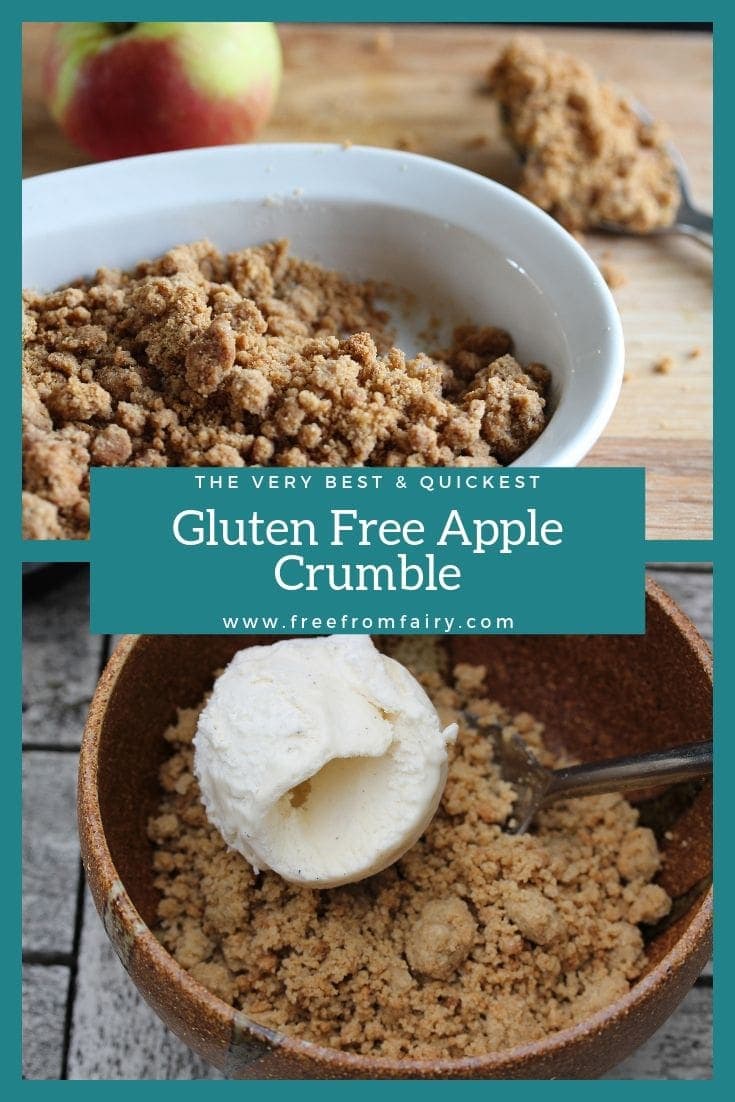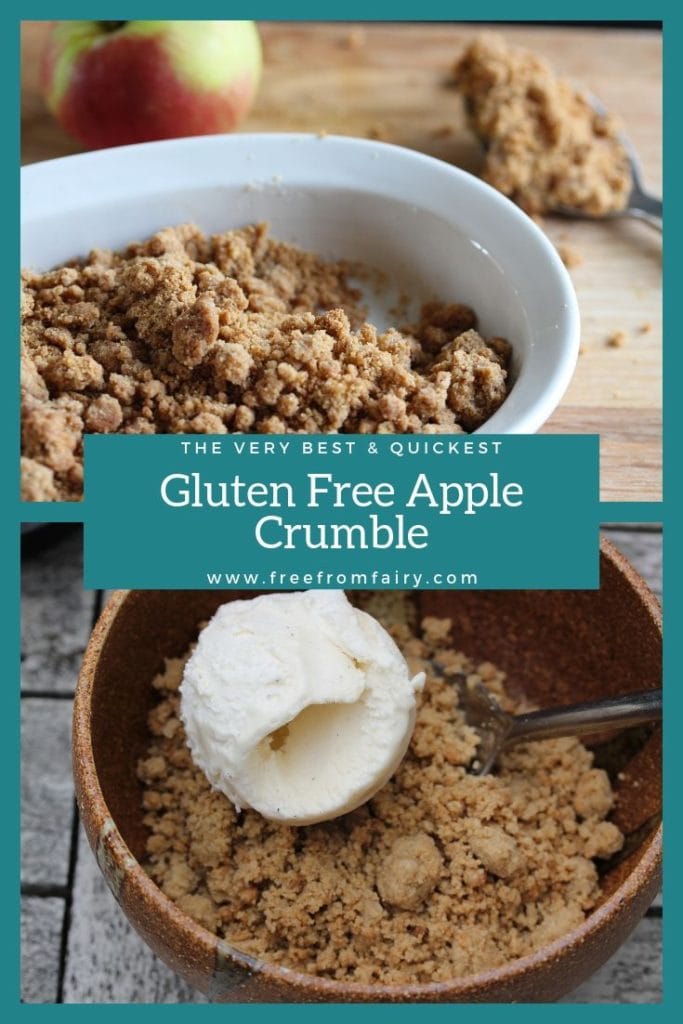 And if you like this recipe sign up for my free recipe booklet. In it I share how to make gluten free favourites like Yorkshire puddings, scones, Victoria sponge cake, pancakes and more.
You'll also get my weekly newsletter of recipe inspiration, tips and news.
Just enter your details in the box below to receive your copy straight to your inbox. If it doesn't arrive please check your junk box…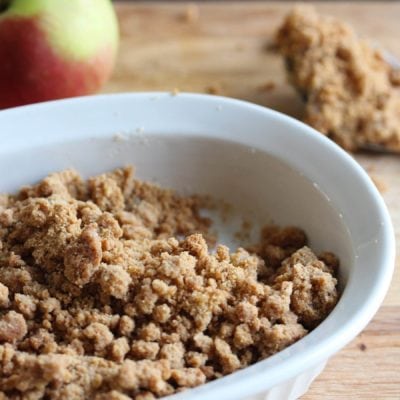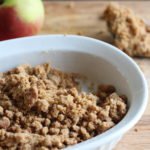 Gluten Free Apple Crumble
Gluten-Free, Dairy-Free, Egg-Free, Soya-Free, Nut-Free
Ingredients
FOR THE CRUMBLE:

115

g

Butter

or dairy free alternative

85

g

Coconut sugar

I use Coconut Merchant

FOR THE FILLING:

450

g

cooking apples

peeled and cored

3

tbsp

mincemeat

or a handful of raisins, 1tsp mixed spice and sugar to taste - optional
Method
Make the crumble by placing all the ingredients into a food processor. Alternatively, rub the butter into the flour until they resemble breadcrumbs then add the sugar.

Spread the mixture onto a lined baking tray and cook under a grill on high heat for around 7 minutes, stirring every minute.

Alternatively cook at 180 degrees C (160 degree fan) for 10 minutes. Remove from the oven, stir and replace for a further 5 minutes until golden and crisp

While the crumble is cooking peel, core and cut the apples into chunks and cook in a saucepan on a low heat with around 1 cup of water

Stir regularly and add more water if needed

Cook until the apple is smooth with no lumps then add the mincemeat, spices or dried fruit if using and taste for sweetness. Add sugar if you think it's necessary

Finally, place the apple mixture into a deep dish (around 24cm diameter) and scatter over the crumble topping

Alternatively keep the crumble mixture in an airtight container for up to a week at room temperature (or freeze for a longer life) and the apple mixture in the fridge for up to a week (or freeze for a longer life)
Recipe Notes
Nutrition data includes the mincemeat and is for guidance only
Nutrition Facts
Gluten Free Apple Crumble
Amount Per Serving
Calories 393
Calories from Fat 153
% Daily Value*
Fat 17g26%
Cholesterol 41mg14%
Sodium 221mg10%
Potassium 128mg4%
Carbohydrates 59g20%
Protein 4g8%
Vitamin A 520IU10%
Vitamin C 3.5mg4%
Calcium 14mg1%
Iron 0.8mg4%
* Percent Daily Values are based on a 2000 calorie diet.
Buy my wholegrain gluten-free flour blends by clicking on the picture below: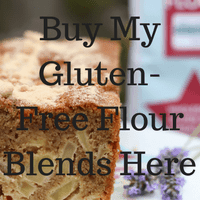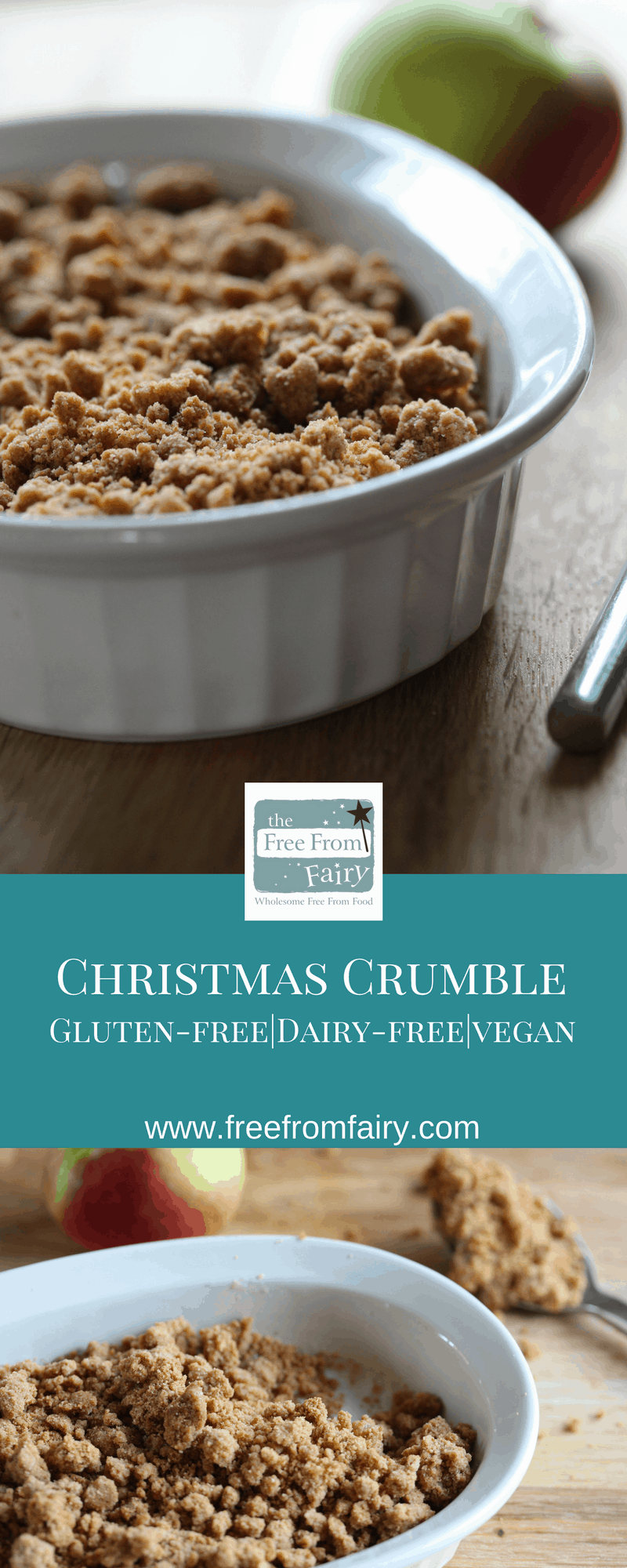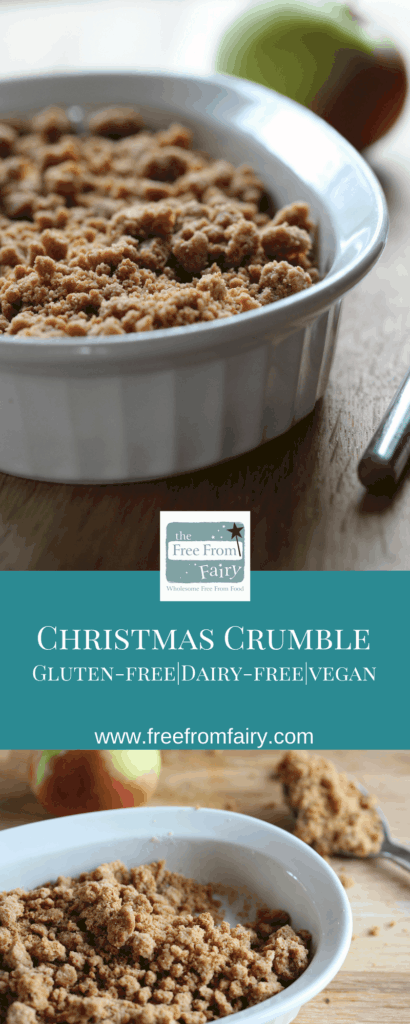 I've shared this recipe with: