For years I found it hard to make popcorn. I'd either end up with kernels that didn't pop or that had burnt. In this blog I teach you how to make popcorn and I've even created a video to show how easy it is.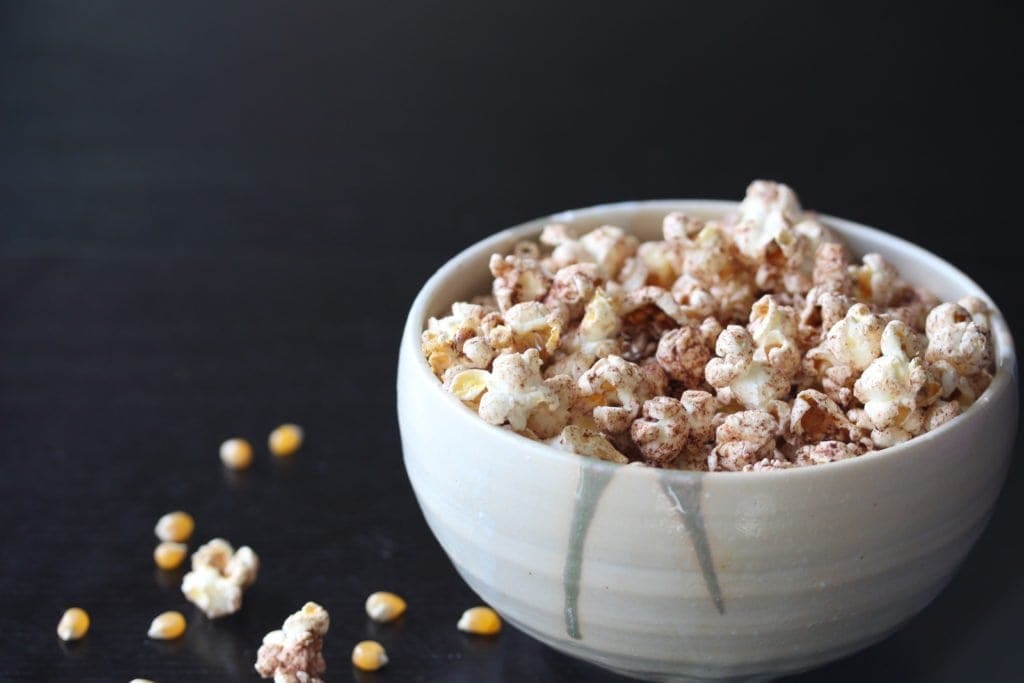 Popcorn is such a simple and easy snack. Something that I have taken to making for the kids to avoid them searching for sugary treats.
It's made from kernels of corn and dates back thousands of years. In fact remnants of popcorn have been found in Mexico that date back to around 3600BC.
In the past I've not always been successful at making it.
The kernels haven't popped or they've burnt.
So with lots of trial and error, I've found a foul proof way of making it.
Once cooked, I coat mine in goats butter or coconut oil mixed with cinnamon. It give it a delicious flavour while at the same time delivering some natural fats and anti-inflammatory spice.
Cinnamon is my go to spice. I love the flavour of it and I also love the fact that it has a number of proven health benefits.
Of course you can choose what to cover your popcorn in. It is incredibly delicious with no topping at all.
How to make popcorn in 9 easy steps
Place 1 teaspoon of oil into a large pan (I suggest coconut oil)
Place over a medium heat and allow to get hot
Test the heat of the oil by placing 3 kernels of popcorn into the pan. Once they have all popped the pan is ready
Add enough kernels of popcorn to the pan to cover 3/4 of the base
Cover the pan (ideally with a lid that has air holes in)
Shake every so often until the popping slows down
Turn the heat off and continue to shake the pan until the popping stops
Let some steam out
Serve immediately
To show you how simple it is to make popcorn I've created a video…
I'd love to hear how you get on. Do leave a comment below.
Make sure you Pin the recipe for wholesome cinnamon popcorn: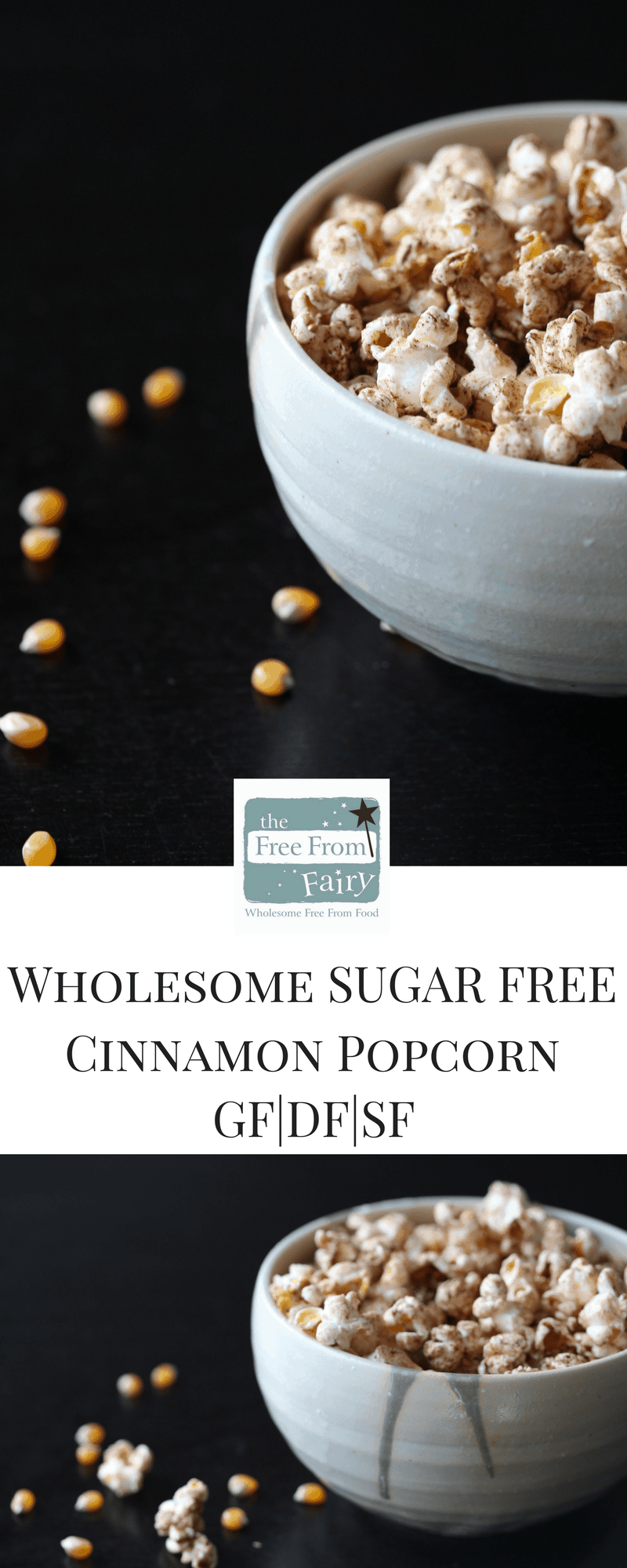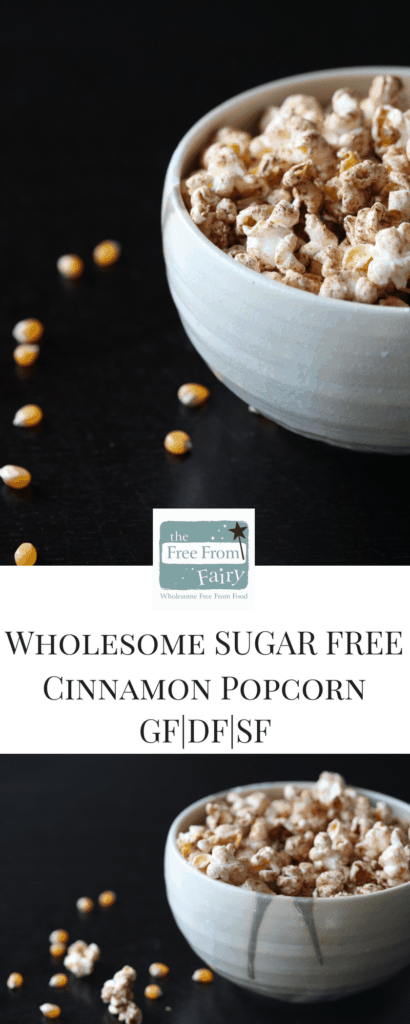 If you'd like help adapting to a gluten free diet then check out my online gluten free diet programme. There I teach everything I've learnt about bringing up a child with coeliac disease. I learnt the hard way so I created the programme to make sure you don't have to.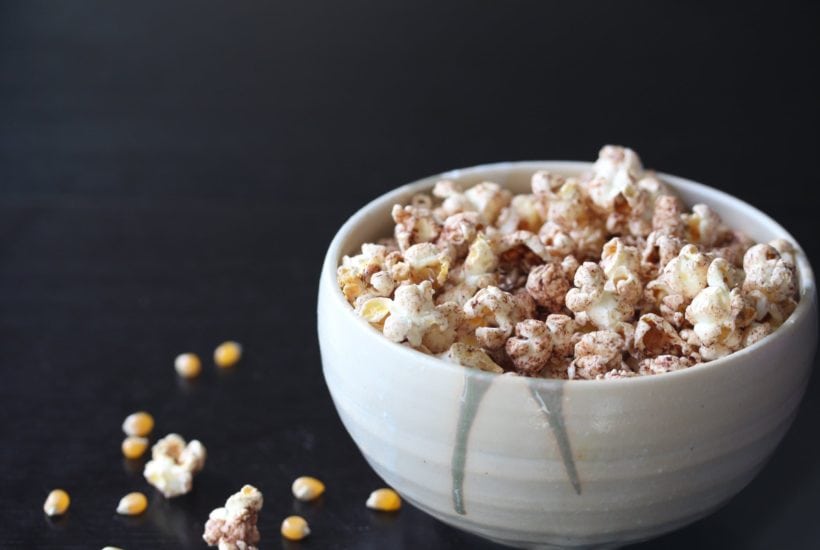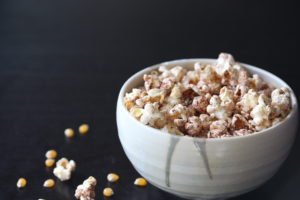 Cinnamon Popcorn
Gluten-Free, Dairy-Free, Egg-Free, Nut-Free, Soya-Free, Sugar-Free
Ingredients
1

tsp

coconut oil

1

or 2 handfuls of popping corn

-

check gluten-free

FOR THE COATING

1

tbsp

coconut oil or butter

1

tsp

cinnamon or other spices of choice
Instructions
Melt 1 tsp of coconut oil in a large saucepan over a medium heat

Add three kernels of popping corn to the pan and put the lid on

Once those three kernels have popped add the rest of the corn and shake regularly while they pop

Once the popping slows down, remove from the heat and let some steam out by lifting the lid a little

To make the topping melt the coconut oil/butter then add the cinnamon or other spices

Pour over the hot popcorn, shake vigorously with the lid on and serve