If you've never made elderflower cordial, or elderflower syrup before then you're in for a treat.
I will explain exactly how to make it right here.
The perfect summertime drink with still or sparkling water (the latter for elderflower pressé) and/or a dash of gin. Alternatively, added to wine or champagne. This recipe doesn't require citric acid.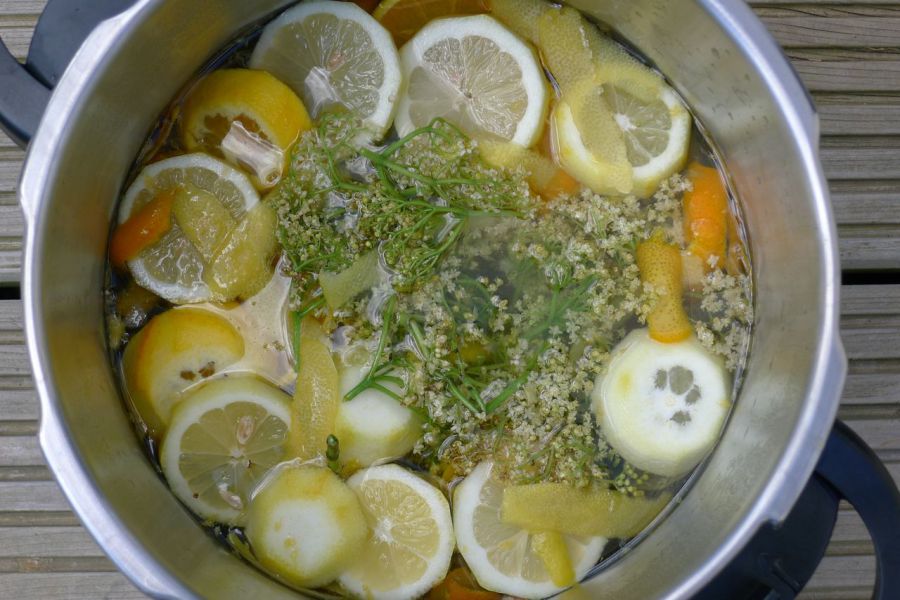 The story behind the recipe
I have just come back from running a few errands on my bike and have the biggest 'Cheshire Cat' smile on my face…
I am certain that people think I am crazy since I spent my whole bike ride through the lanes of Devon to take a prescription into the pharmacy, with said big grin.
Well, who couldn't grin on a day like today?! The sun is shining, there is a gentle breeze, the sky defies beauty in its brilliant blueness and I spotted the first elderflowers of the season.
To me elderflowers mean summer.
They remind me of last year, picking the flowers with my daughter whilst away in a shabby 'hut' for a weekend; they remind me of summer evenings, sipping elderflower cordial and sparkling water in the garden. The very smell of them evokes beautiful memories.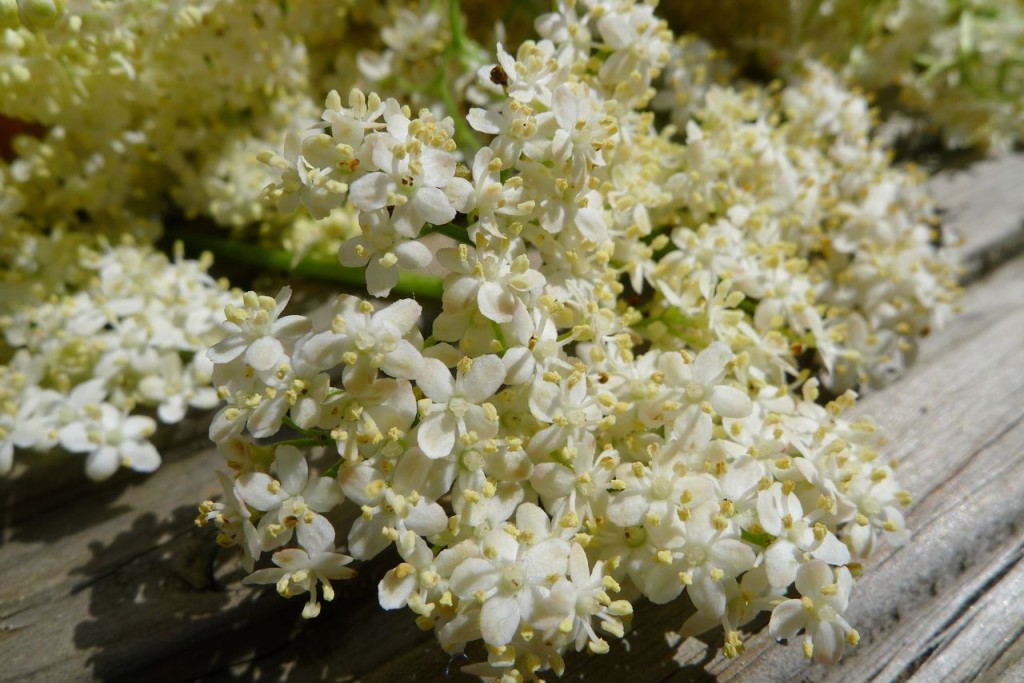 What is elderflower cordial?
It's a wonderful syrup that can easily be made with a handful of ingredients. Much like a squash, it has to be diluted before it's drunk.
It can be diluted with still or sparkling water (the latter makes elderflower presse) or even added to wine or champagne. Alternatively it can be mixed with sparkling water and gin for elderflower gin.
Versions of elderflower cordial can be dated back to Roman times but it's particularly popular in North Western Europe.
It is made by combining the flowers of the European elder with sugar, water, lemons and oranges.
Where do you find elderflowers?
During May and early June you'll find elderflowers growing across the UK. They grow on trees, generally in hedgerows and are a beautiful white flower with a strong perfume.
Ideally you'll want to pick the flowers from somewhere away from traffic to reduce the chance of pollution being present in your cordial.
You'll see what the flowers look like from the photograph above.
This year I found purple elderflower and the batch of cordial I made with that is a beautiful pink/purple. I highly recommend finding these because the colour is amazing!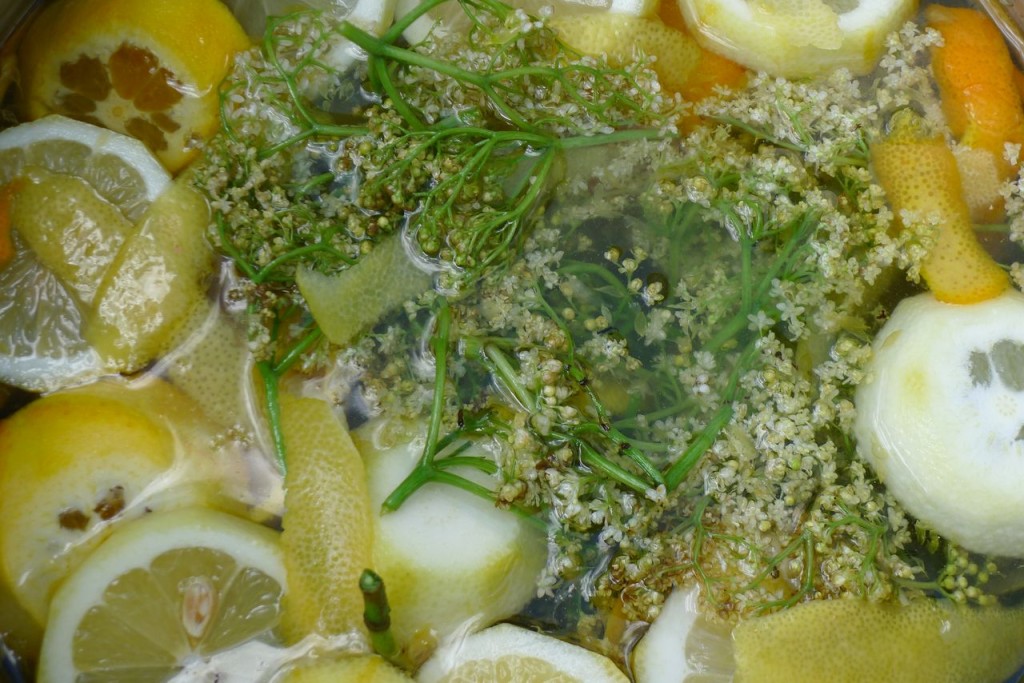 How do you make elderflower cordial without citric acid?
It is really simple to make elderflower cordial but if you've been looking around for recipes you might have found that most contain citric acid?
Citric acid is added to recipes to help preserve the cordial. It is not essential, particularly if you're not going to be keeping your cordial for long.
In terms of making the cordial all you need to do is dissolve the sugar into boiling water and then add the remaining ingredients and allow them to sit for 24 – 48 hours. This develops the flavour of the cordial (and colour if you're using purple elderflowers).
How do you store the cordial or syrup?
The cordial without citric acid will be ok in the fridge for around 6 weeks. If you're not going to drink the cordial within that time I highly recommend freezing it.
I suggest pouring it into ice cube trays and then when they have frozen transferring them into a bag to store in the freezer.
That way when you want a drink you place one cube in a glass with your preferred mixer and you have a cold drink.
You can use the cordial in my lemon and elderflower cupcake recipe too.
Pin the recipe so you don't lose it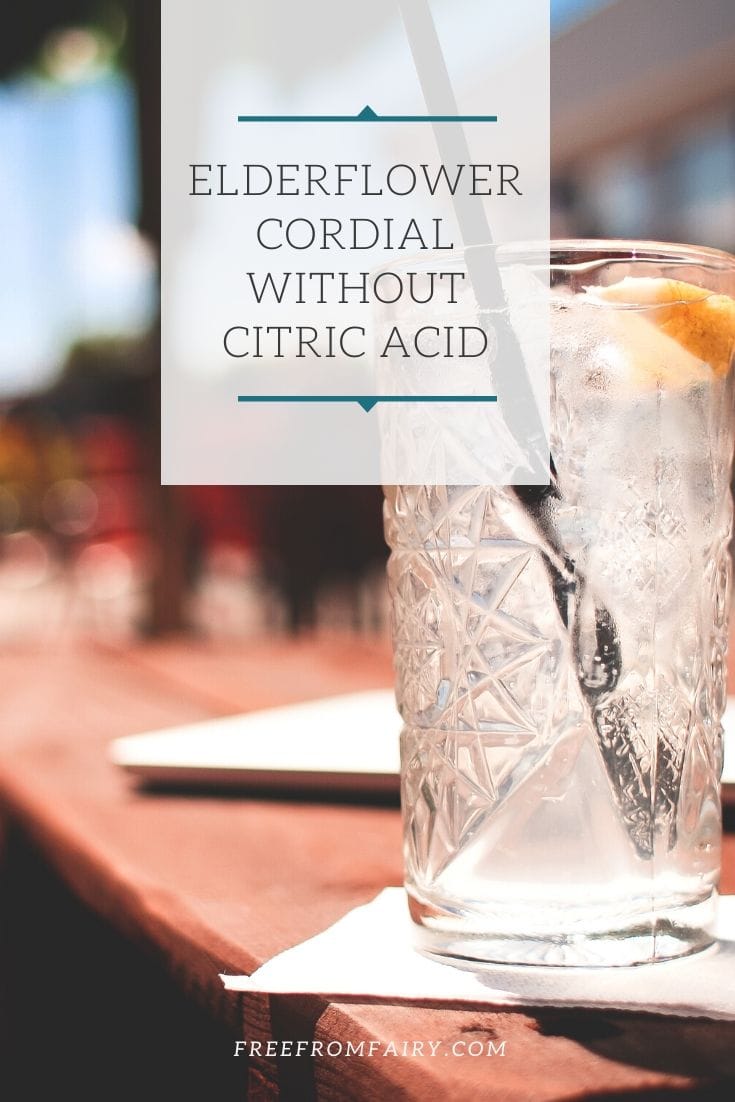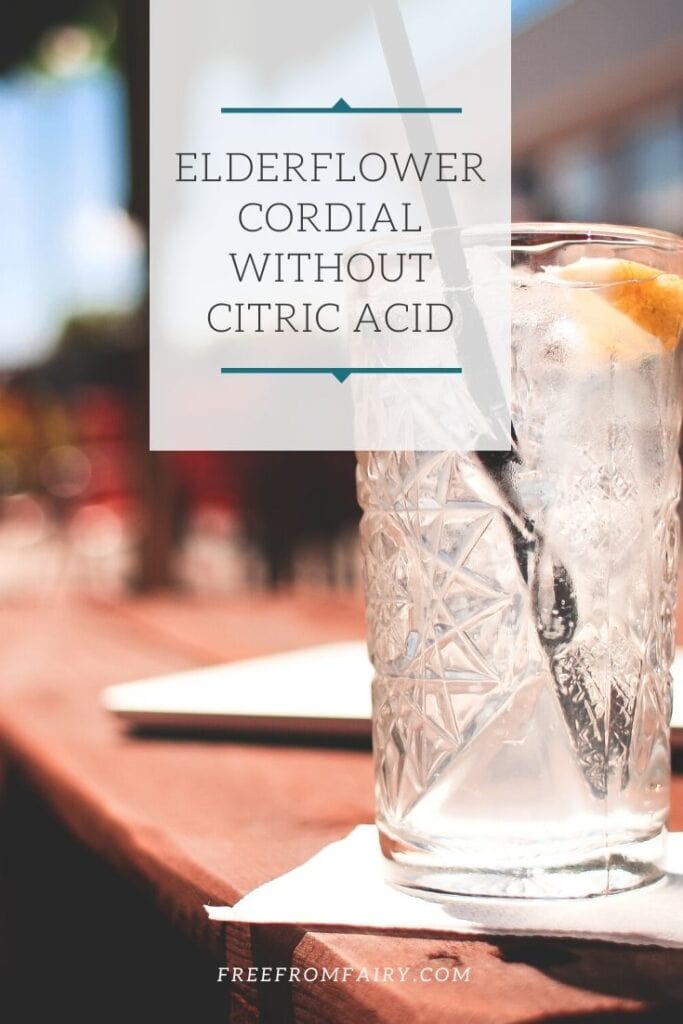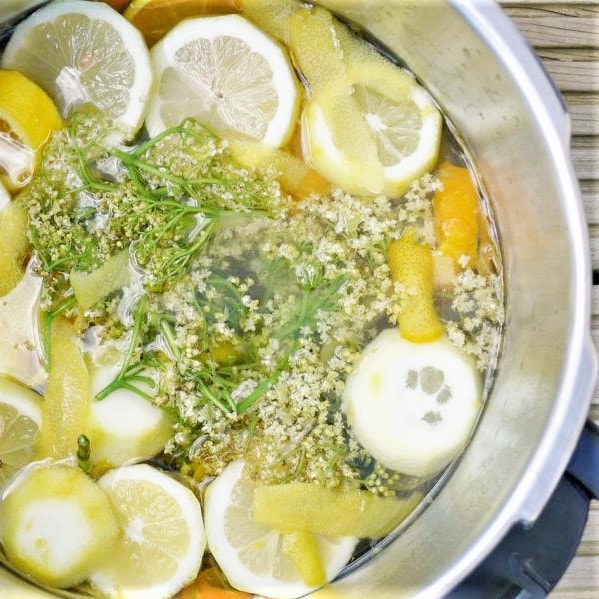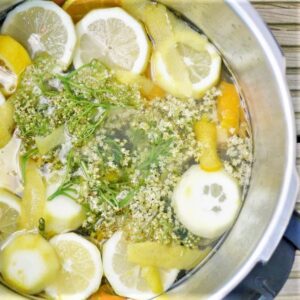 Elderflower Cordial (Without Citric Acid)
This elderflower cordial is made without citric acid. It is free from all allergens but does contain a lot of sugar.
Ingredients
30

elderflower heads

-

in full flower

900

g

white sugar

1.7

litres

boiling water

3

lemons

2

oranges
Instructions
Place the sugar in a large pan or bowl.

Add the boiling water and give a good stir.

Gently wash the elderflowers then place in the pan.

Using a peeler, remove the zest from the oranges and lemons and place in the pan along with the juice of one orange and one lemon.

Finally slice the remaining oranges and lemons and place in the pan, giving everything a good stir.

Leave covered for 24-48 hours before straining through a clean muslin cloth or tea towel (lining a colander over a big bowl and gently pouring the liquid in is the easiest way to do this).

Using a jug and funnel, pour the liquid into sterilised bottles (running them through the dishwasher should be enough but to be extra sure, leave them to dry in a low oven).

Keep in the fridge until you want to drink it.

Use within about 6 weeks, or freeze some and defrost it when you want it (you could do this in ice cube trays, in which case you would have a ready-made ice cold drink when popped into water!)
Nutrition (Approx)
Calories:
93
kcal
|
Carbohydrates:
24
g
|
Protein:
1
g
|
Fat:
1
g
|
Saturated Fat:
1
g
|
Sodium:
1
mg
|
Potassium:
23
mg
|
Fiber:
1
g
|
Sugar:
23
g
|
Vitamin A:
17
IU
|
Vitamin C:
8
mg
|
Calcium:
5
mg
|
Iron:
1
mg