This frying pan pizza is so easy to make, and being gluten free it's suitable for people with coeliac disease or having to avoid gluten. I created the recipe to enjoy when we're camping and without an oven. Of course, it's perfect when you're at home too!
This post contains Affiliate links. As an Amazon Associate I earn from qualifying purchases.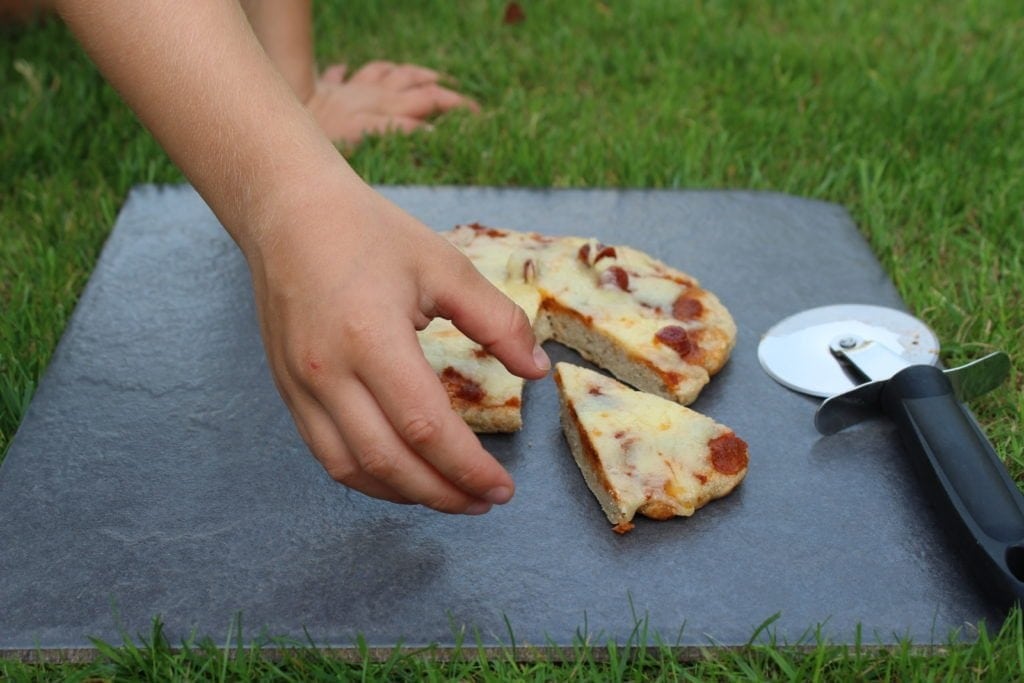 The story behind my frying pan pizza
I'm back…
Where did the summer go? I'm feeling rather sad and desperately clinging on to the wonderful memories I have of another school summer holiday with my kids.
Don't get me wrong here. Not all of it was wonderful.
There have been fights and arguments galore and there were times when I wished that they were at school, but luckily I have a sunny outlook on life and remember mostly the good things.
I was going to write about our experiences of being gluten-free and dairy-free in France but I'm not quite up to that today.
Having had two whole weeks away from it all (no social media, no emails, no access to my website) I have a lot to catch up on and quite frankly my motivation isn't quite up to its usual standard (oh the joys of working for yourself)…
So rather than write about our French adventure in Rosie (our camper van for those of you who don't know), I thought I would share a recipe that I developed especially for the holiday.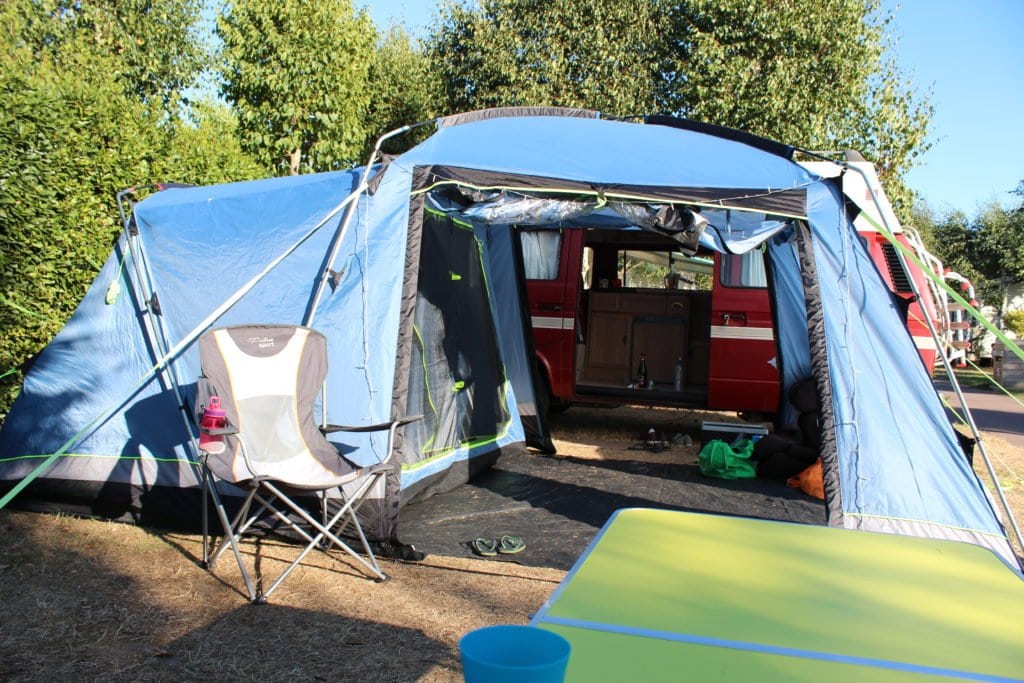 Luckily I did, since nearly everyone on our last campsite seemed to have a takeaway pizza at some point on the holiday…leaving me (regardless of the kids), longing for one too.
And would you believe how easy it is to knock up a pizza when camping?!
I've proved to myself that it is and now it's time to prove it to you (no pun intended).
How do you make gluten free pizza dough?
The dough is ridiculously easy to make. It is an adaption of a Dan Leopard recipe.
It has to be left to sit for around an hour to rise but believe me, that makes the perfect excuse to sit down and read a book in the sun.
If it isn't all that warm, then sit down and 'incubate' the dough on your lap (in a bowl I hasten to add). By that I mean, put the bowl on your lap. Don't sit on it!
Roo did a fabulous job of that one day whilst reading, and very proudly approached me an hour later with her risen dough.
How do you cook a frying pan pizza?
Once the dough has risen it is a simple case of dividing it into four balls.
Each ball needs patting out on its own bit of tin foil into a circle around 15cm in diameter.
Then, using the foil to help, flip the pizza crust into the hot frying pan and cook over a low-medium heat for around 3 minutes.
Then flip the dough over, add your toppings and fry for a further 3 minutes or so.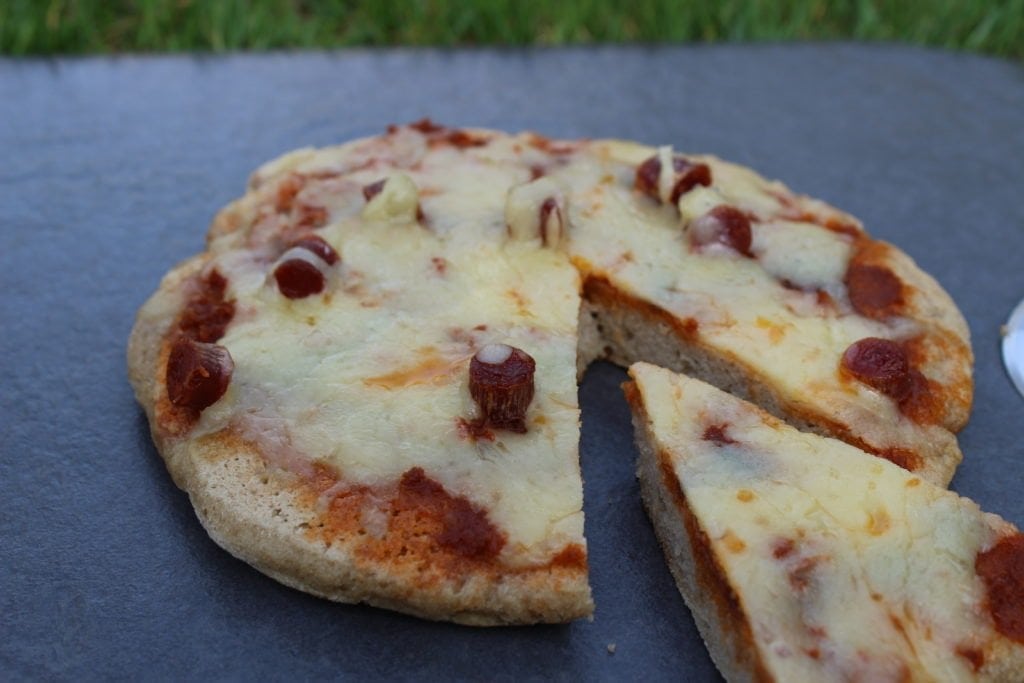 The final trick comes if you are adding cheese.
Once you've added finely grated cheese to the top, cover the frying pan with the lid of a large saucepan and leave to cook.
This allows the cheese to melt a la any respecting pizza from an oven!
Hey presto…super easy frying pan pizza that any camper would happily eat.
And the best bit is that this recipe uses my wholegrain rice and gluten-free flour blend so even if you are having a vegan pizza with no cheese, you still get some protein (and fibre of course).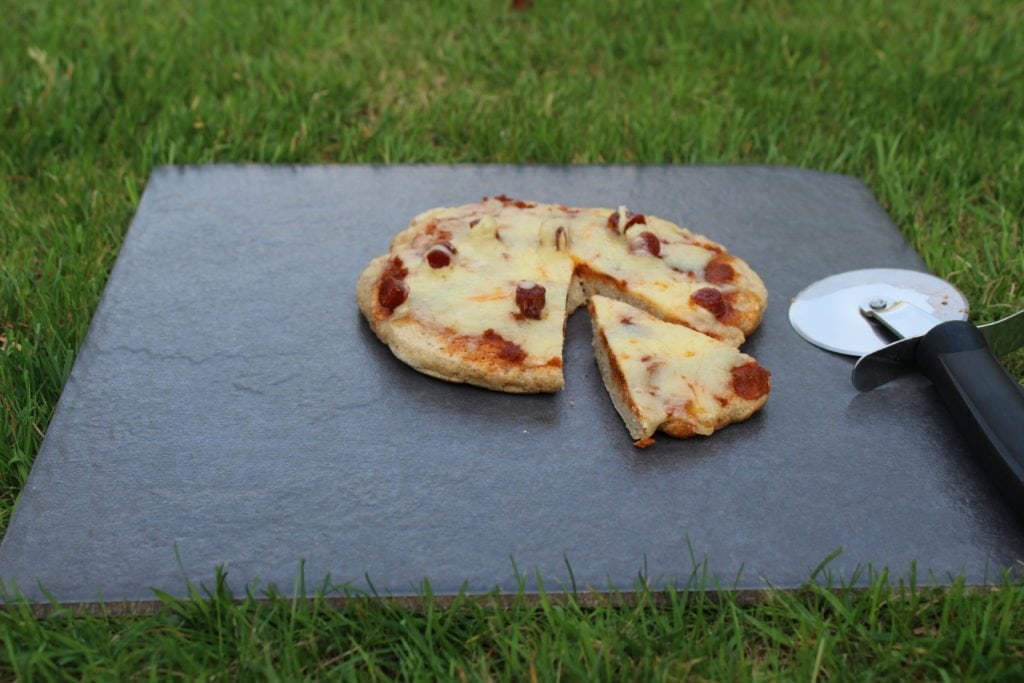 BOOM as Roo would say…
Pin the recipe so you don't lose it!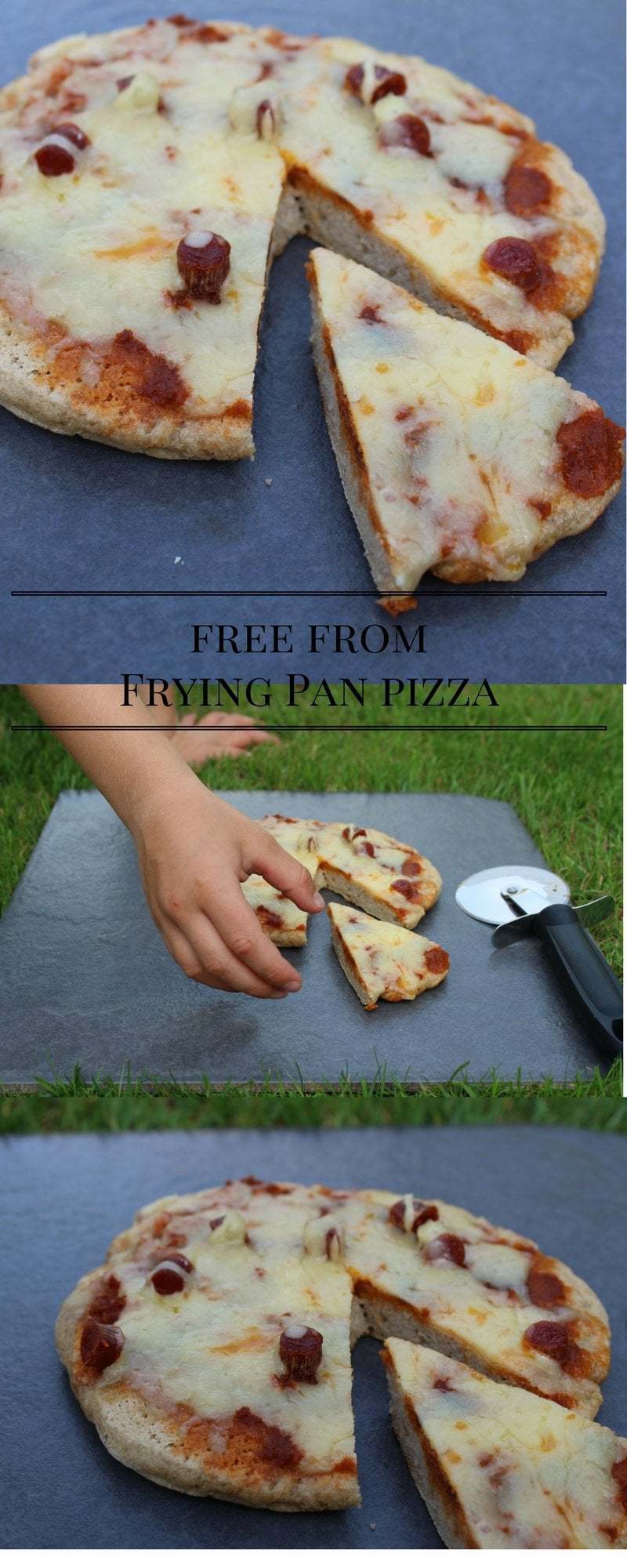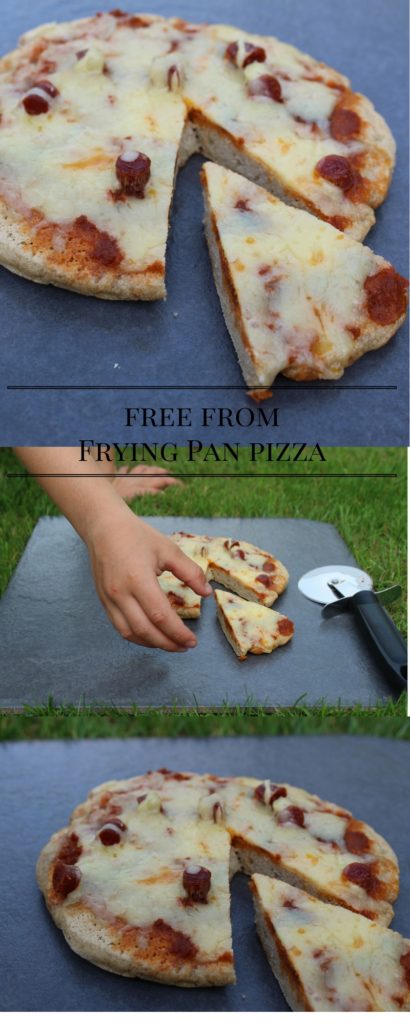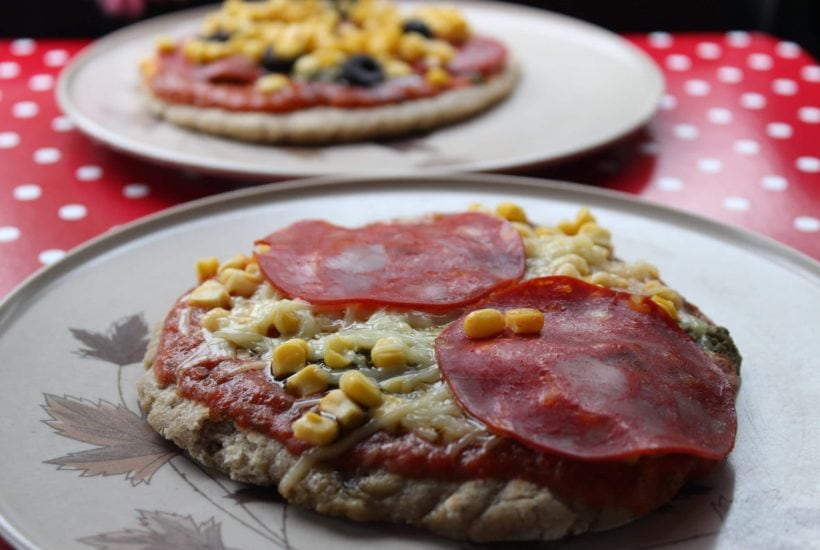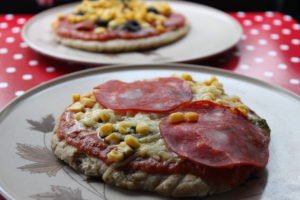 Frying Pan Pizza Recipe (Gluten Free)
Gluten-free, Egg-free, Nut-free, Soya-free, Sugar-free, Can be Dairy-free (omit the cheese)
Ingredients
FOR THE BASE:

350

g

plain Free From Fairy flour

1 1/2

tsp

psyllium husk powder -

or 2 tsp xanthan gum

1

tsp

fast acting dried yeast

1/2

tsp

sea salt

1

tbsp

virgin olive oil

270

ml

warm

-

filtered or bottled water

FOR THE TOPPING

Your choice from pesto

-

tomato sauce, vegetables, ham, chorizo, cheese etc etc!
Instructions
Place the dry ingredients into a large bowl and stir to combine

Add the wet ingredients then with a clean hand bring the ingredients together until a soft dough forms. Keep kneading until smooth and no longer sticky

Cover the bowl with clingfilm and put in a warm place for around 1 hour

Cut the dough into four pieces

Remove one piece, roll into a ball, then flatten into a circle on a piece of tin foil until around 15cm in diameter. Repeat with all other pieces of dough

Pre-heat a small frying pan on a medium heat

Turn one of the pizza bases onto the palm of your hand then peel the foil off and place it into the pre-heated frying pan

Cook for around 3 minutes then flip over

Top with your choice of toppings (if using cheese, cover with a saucepan lid) and cook for a further 2 - 3 minutes

If the cheese hasn't melted, remove from the heat but leave covered to allow the cheese to melt fully

Repeat with the other three pizza bases and serve
Notes
Nutrition data is for the base only.
Nutrition (Approx)
Calories:
362
kcal
|
Carbohydrates:
68
g
|
Protein:
7
g
|
Fat:
6
g
|
Saturated Fat:
1
g
|
Sodium:
291
mg
|
Potassium:
111
mg
|
Fiber:
5
g
|
Sugar:
1
g
|
Calcium:
1
mg
|
Iron:
9
mg
I shared this recipe with: