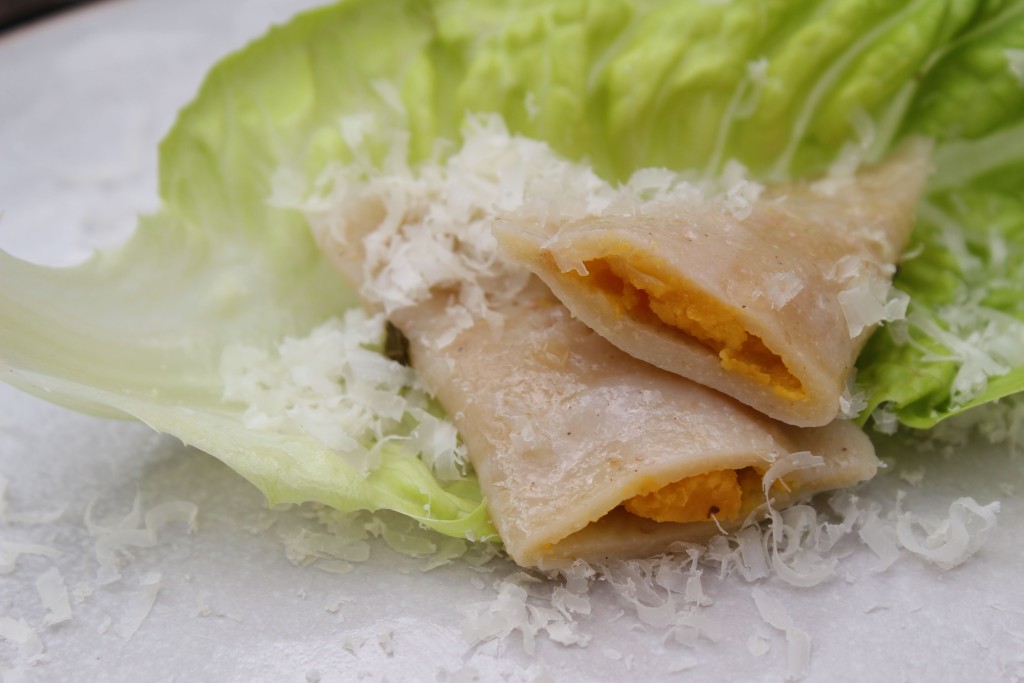 If you read my last post on Tuesday then you will know that I was set a challenge by Francesco Mazzei to create an authentic Italian two course meal using Grana Padano cheese. Well, I figured that it was pretty tough to include Grana Padano in a pudding so I created a very freefrom plum frangipane tart that was incredibly delicious!
Today I am going to share with you my recipe for fresh gluten-free pasta filled with pancetta, butternut squash and Grana Padano cheese. I hope it is good enough to get me through to the next round of the challenge where I will get to cook for the man himself!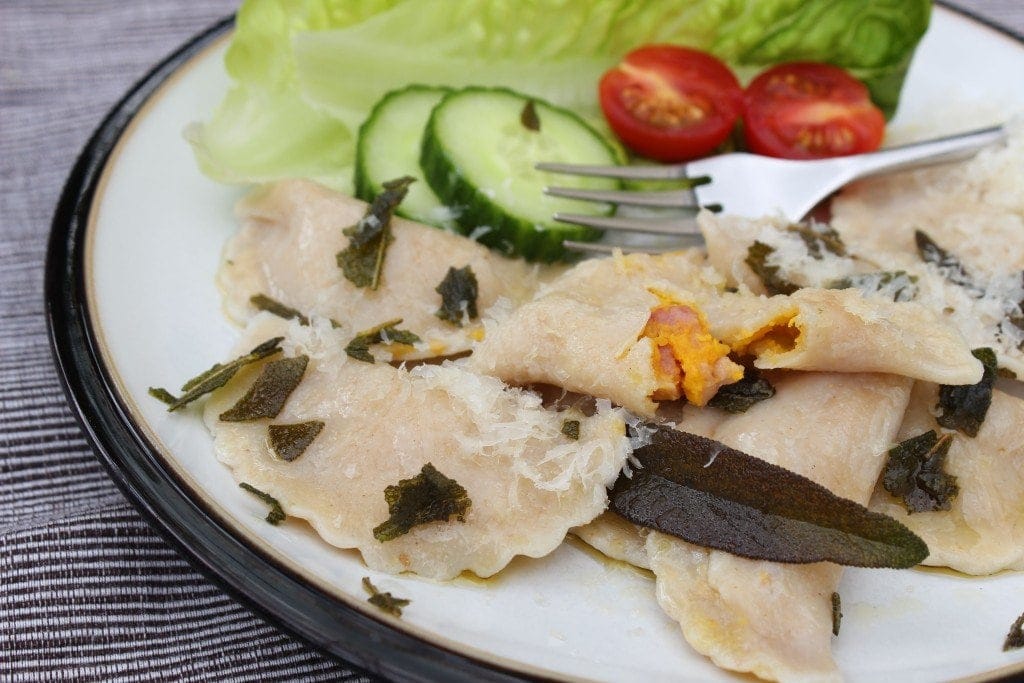 As always, do let me know if you make this. It is fiddly, I am not going to lie…but the end result is well worth the effort. Just don't try to make it when you have an hour until 'feeding time' (AKA kids tea time) because you will find it very stressful…I learnt the hard way so you don't have to!
I would say that a pasta machine is probably vital for this recipe.  I don't usually share recipes that require special machines or ingredients, but I know that there will be some of you out there who will be keen to try making their own pasta so I share this for you!
With thanks to my lovely big sister who bought me the machine for Christmas! Get one on your Christmas list…there's nothing like fresh pasta and nobody would ever know that this is gluten-free!!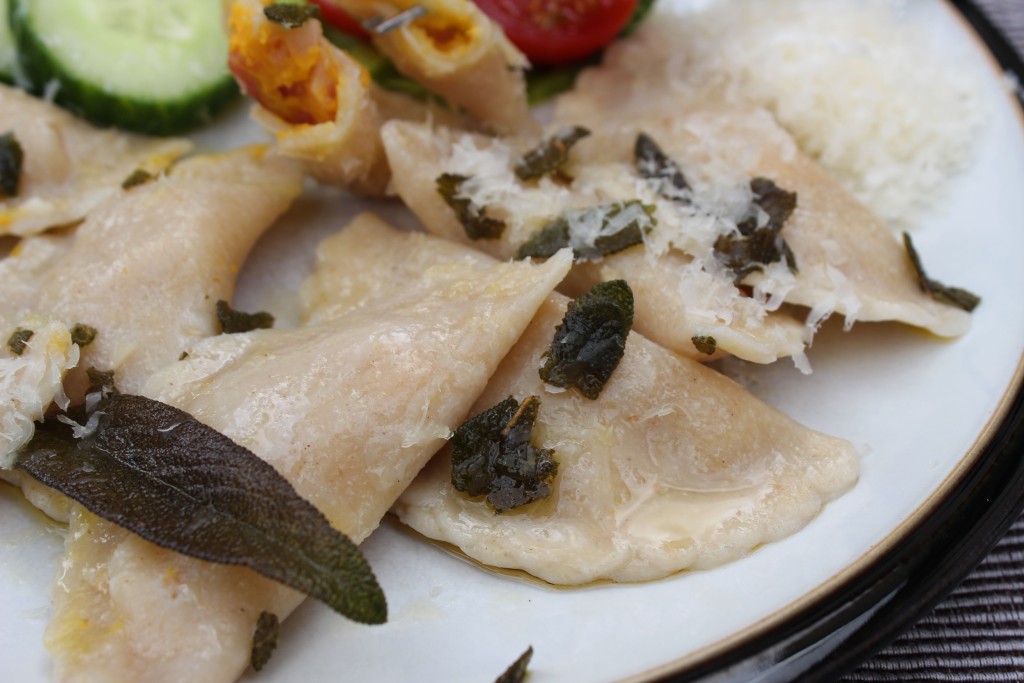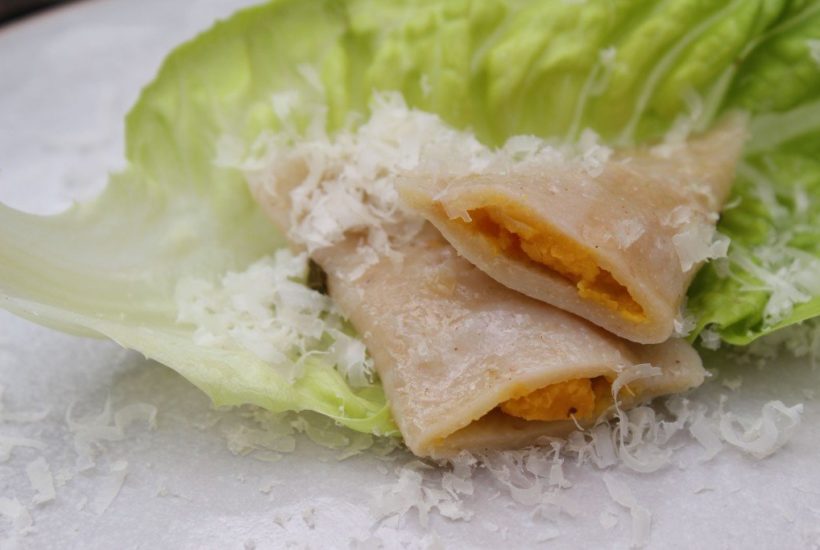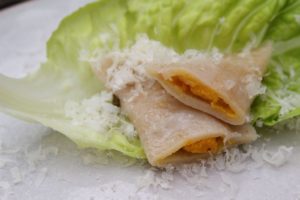 Fresh Gluten-free Filled Pasta with Grana Padano Crisps
Gluten-free, Nut-free, Soya-free
Ingredients
For the pasta:

180

g

Bobs Red Mill glutenfree flour

20

g

tapioca starch

-

plus extra for rolling

1

tbsp

ground flax seeds

2

tsp

xanthan gum

3

large eggs beaten

For the filling:

1

shallot

-

finely chopped

50

g

pancetta

200

g

squash or pumpkin cooked

-

steam for 30 minutes and pureed (or bought pumpkin puree)

50

g

grana padano cheese

-

grated

Pinch

nutmeg

Black pepper to taste

For the topping:

4

tbsp

olive oil

20

sage leaves

For the Grana Padano crisps

-

optional:

80

g

Grana Padano cheese

-

finely grated
Instructions
Make the filling for the pasta first

Cook the chopped shallot with the pancetta over a low heat until the shallot is soft and pancetta cooked through

Add the pumpkin or squash puree, cheese, nutmeg and a grind of black pepper. Set aside until the pasta is ready

To make the pasta combine the dry ingredients in a large bowl, then add the beaten egg and bring the mixture together into a dough

Empty the dough onto a clean well floured surface (I use tapioca starch for this)

Knead the dough well, adding extra tapioca starch if required, until smooth

Divide the dough into four pieces and place three pieces back into the bowl

Cover the bowl with a damp tea towel while you work with the quarter left out

Flatten the dough a little, then pass through a pasta machine on the thickest setting. Bring the dough back together after the pass and add more tapioca starch if needed. Pass through the pasta machine again. Don't worry if it fall apart as it goes through...the more you pass it through the smoother it gets!

Pass the pasta through the machine approx. 10 times. Towards the end of those 10 times the pasta should be coming through as a sheet which you can fold in half and pass through again

Once you have the pasta coming through as a smooth piece, reduce the thickness setting on the machine and pass it through again. Continue until you have got to the second from thinest setting on the machine

At this point take a round cutter (whatever size you like, but I used one with an approx. 8cm diameter) and cut circles from the dough - you could cut square and make ravioli

Place 1tsp of your filling in the centre of each circle and fold the circle over to form a semi-circle. Press the edges of the pasta together well to ensure no filling leaks out. Place to one side until you have repeated the process with all the pasta dough

Once you have all your little parcels, cook them in boiling water with a little salt and olive oil for approx. 4-5 minutes until al-dente (with a bite)

While they are cooking place your sage leaves in a frying pan over a medium-high heat with the olive oil and cook until the leaves are crisp (approx. 5 minutes)

Once the pasta is ready, place it in a large serving dish and drizzle with the sage oil. Crumble the sage leaves over the top and scatter with extra Grana Padano cheese and or/Grana Padano crisps

To make the crisps line a baking tray with baking paper and sprinkle the grated cheese in 8 small circles, approx. 5cm in diameter. Bake in a pre-heated oven at 200 degrees (180 degree fan) for 8-10 minutes until crisp and golden. Leave to cool before removing from the tray
 This is part of my entry into the Francesco Mazzei – 'Top Chef' Blogger Competition.  I was provided with some ingredients and a Supermarket voucher to undertake the challenge.
I shared this recipe with: