A few weeks ago I was sent a wonderful selection of products from Indigo Herbs of Glastonbury, a small family owned business that I had been unaware of until now.  They specialise in health and nutrition products so are right up my street!
I love it when I have a selection of ingredients to choose from with which to develop some new recipes! As you can see from the photo I had a great selection to choose from!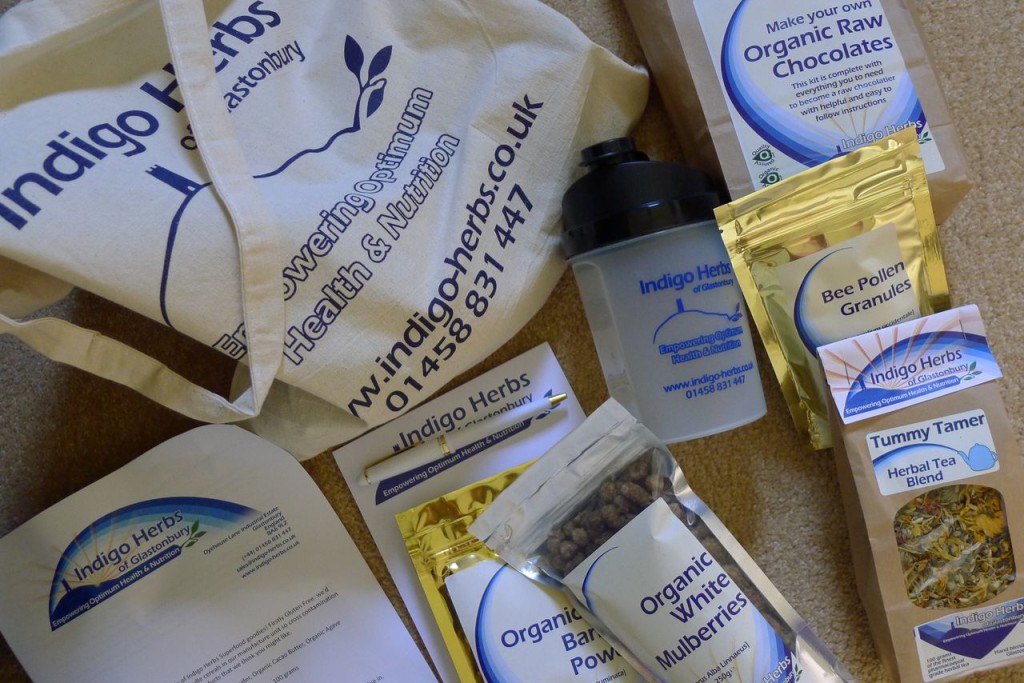 Some of the products I had never heard of, let alone knew what their health benefits were, so I set about doing some research!
First up, bee pollen.  First of all I wasn't sure how I felt about eating something that took bees so long to make.  One website quotes that to make 1 teaspoon of bee pollen one bee has to work for 8 hours a day for a month!
Since I had been given it, I decided that I should make the best use of it so I set about creating a recipe that would combine it with fruit; it is said that eating it with fruit ensures that it acts faster and is more effective.  The benefits are said to range from boosting the immune system to treating allergies to aiding digestion.  To find out more check out this article.
Secondly, I had never heard of white mulberries!  I found out that they are often used to treat diabetes (they slow the breakdown of sugars in the gut so that they are absorbed more slowly into the blood stream), high cholestorol, high blood pressure and muscle and joint pain!
My daughter absolutely loves them, needless to say there were not many left for me to make something with!  Little pots full of mulberries were snuck off into various parts of the house to be enjoyed on their own!  She is crazy about them but I can think of far worse things to be crazy about!
Making the raw organic chocolates was great fun!  It was so simple with the kit that Indigo Herbs had sent…everything I needed was in there including great instructions and the correct measurements.
Once the kids had gone to bed I had a lovely relaxing time melting the ingredients together and creating the most amazing smell in the house (I am surprised it didn't wake the kids up!)…
They are DELICIOUS!
For my non-banana loving children I snuck some banana powder into their daily breakfast pancakes.  They loved the flavour and particularly liked the fact that there were no lumps of banana (which is what they hate)!  I liked the fact that they were getting the goodness of banana in a form that they accepted!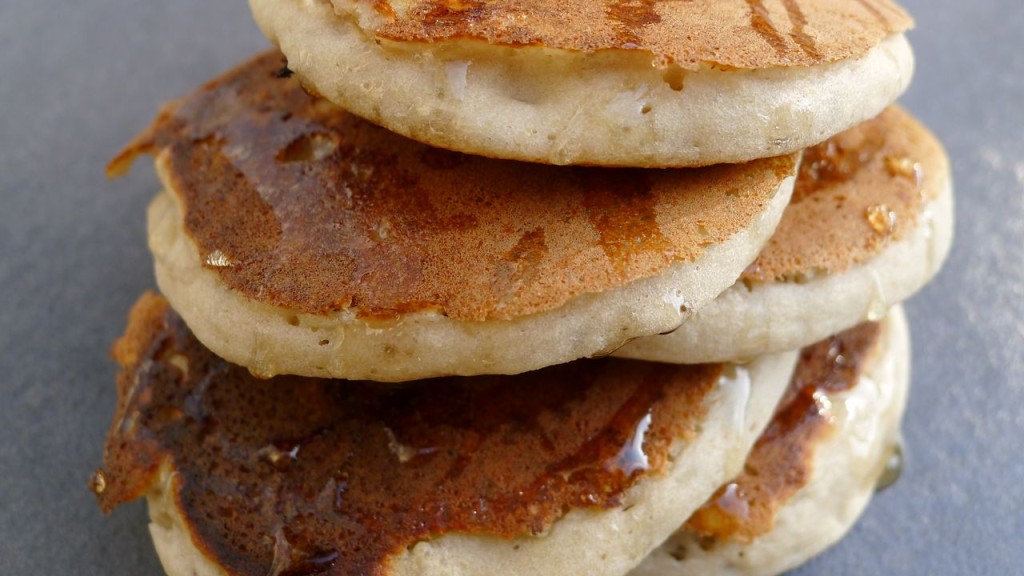 The Tummy Tamer tea is described on their website as a settling, calming blend of all things good and herbal for the digestive system. This tea is for relieving digestive discomfort, stimulating the digestive process and refreshing the palate. Its a cooling, calming mix of Peppermint and Catnip, with a twist of fennel, and the mellow, mild tastes of Chamomile and Marigold.  I have to say that tummy problems or not, this is a delicious tea and one that I would imagine could become a store cupboard essential for those of you with coeliac disease or other digestive issues. It is certainly calming.
Finally, here is the recipe for my healthy snack bars that include the wonderful bee pollen.  They are great after exercise or to give the kids an energy boost after school.  I have to say that since eating one of these each day my hayfever symptoms have diminished to the point of stopping my antihisamines.  Whether that is coincidence or the bee pollen doing its thing, who knows!
The addition of chocolate on top makes them more luxurious but they are equally nice without it.  In fact my daughter prefers the non-chocolate version!  Let me know what you think…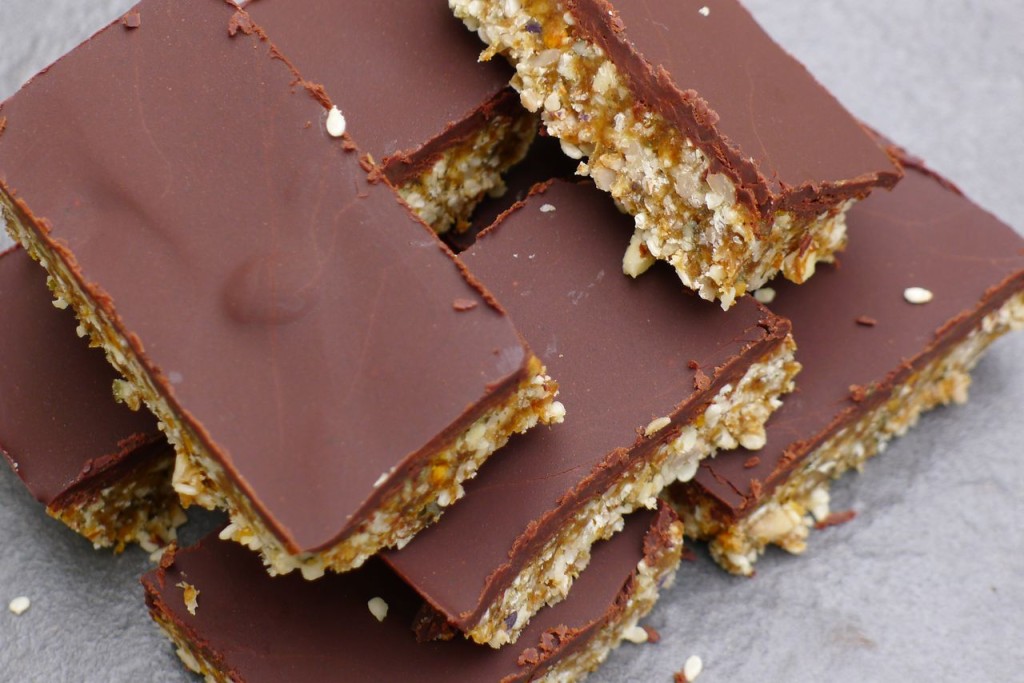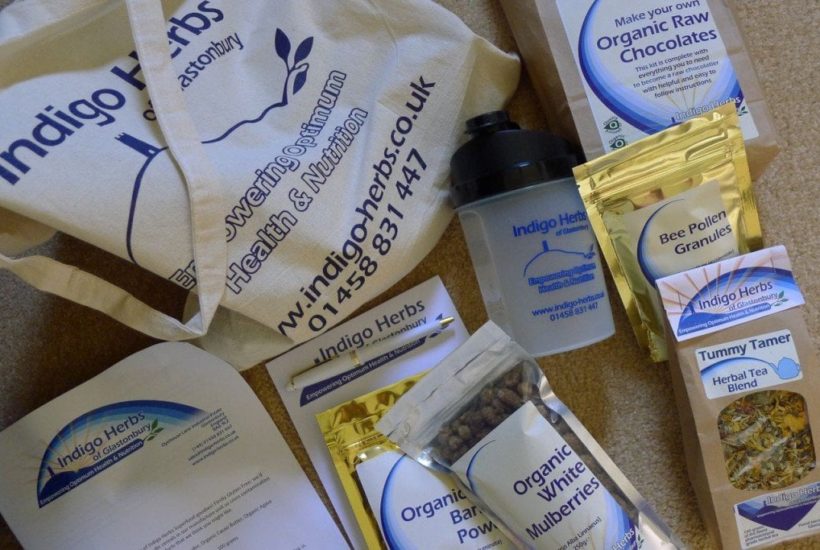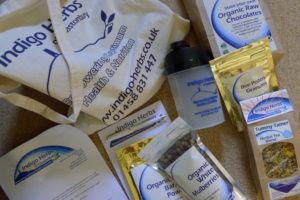 Healthy Seedy Snack Bars (Gluten-free, Dairy-free, Nut-free, Egg-free, Sugar-free )
Gluten-free, Dairy-free, Egg-free, Soya-free, Refined Sugar-free
Ingredients
100

g

dried dates

-

pitted

50

g

dried apricots

60

g

virgin coconut oil

-

melted

1/2 - 1

tsp

vanilla extract

1

tsp

almond butter

-

optional

50

g

almonds

50

g

pumpkin seeds

50

g

sesame seeds

50

g

sunflower seeds

1

tbsp

banana powder

-

optional

2

tbsp

bee pollen

-

if you don't have it, leave it out
Instructions
Place all the ingredients into a food processor and blend until they stick together. You will need to scrape the sides down a couple of times to get to this point. If you don't have a food processor make it with whole seeds, and chop the nuts into small pieces. My kids won't eat seeds but will eat them chopped up like this!

Find an appropriately sized dish (depending on how deep you want your bars to be) and press the mixture firmly in.

Place in the fridge for a few hours to set.

If you want to add a chocolate top, melt some good quality dark chocolate (check ingredients) and pour over the top. Alternatively, buy the raw chocolate kit from Indigo Herbs or use my recipe for raw mint chocolate, leaving out the mint if you just want plain chocolate.

Place back in the fridge before cutting into bars and storing in the fridge.