This gluten free vegan treacle tart is not something I would usually share on here. It is not in the slightest bit healthy but as an occasional treat is quite amazing. It uses my gluten free shortcrust pastry recipe which has an option for making it vegan as you'll see below.
This post contains Affiliate links. As an Amazon Associate I earn from qualifying purchases.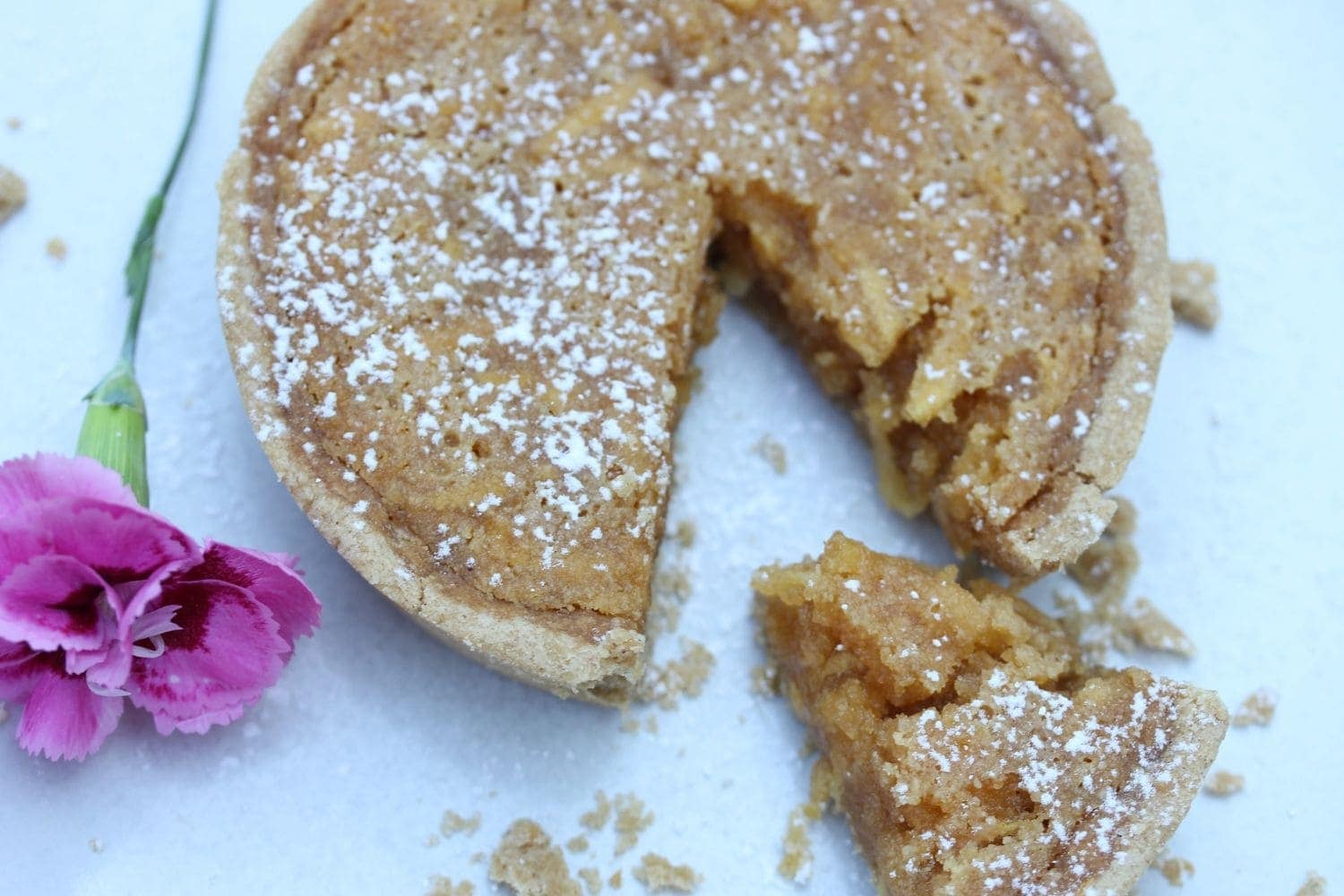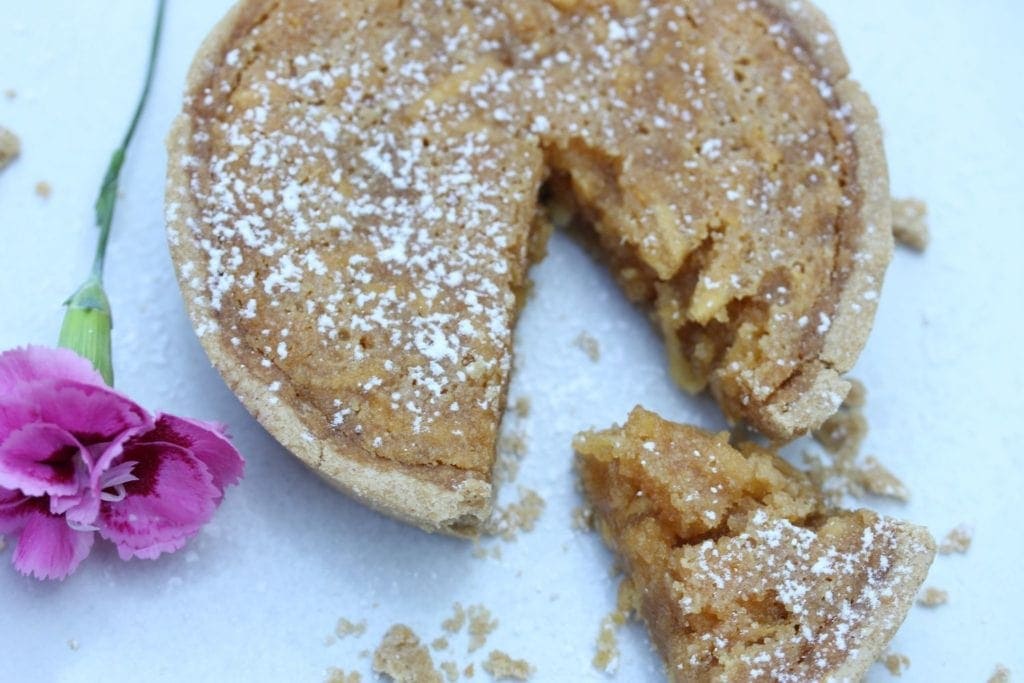 The story behind the recipe
Treacle tart was a firm favourite of mine as a child. I can still remember exactly where I used to have it. It certainly wasn't something that my mum would ever have made or given me. It's far too unhealthy.
No, instead I used to have it at my Uncle Ken's house. I seem to remember that he was rather a fan of it too and I have fond memories or demolishing large slices of it.
For this recipe I have added some grated apple and lemon to cut through the sweetness of the dessert. It makes it a teeny bit healthier?!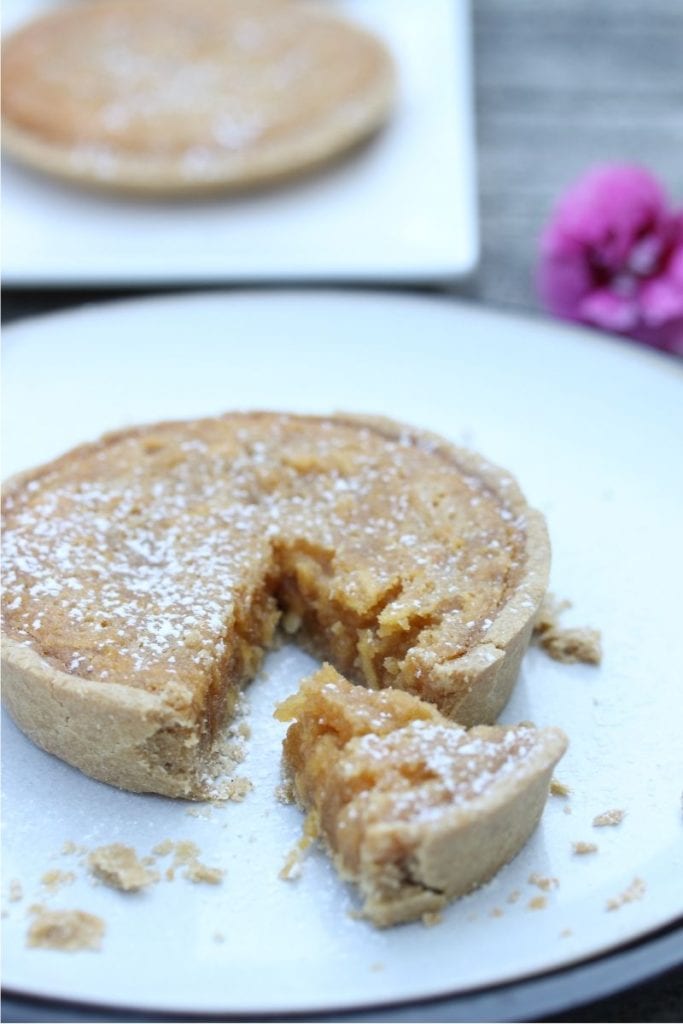 Variations to the recipe
There are several options for this gluten free tart:
Make it vegan
The first is that you can make it a vegan treacle tart by making my gluten free shortcrust pastry with a flax egg, rather than a 'normal' egg.
For those of you who don't know what a flax egg is, it is basically 1 tbsp ground flax seeds mixed with 3 tbsp water. This does a brilliant job of replacing egg where it is used in a recipe for binding purposes.
Make it with unrefined sugar
The second option is that you can make it with unrefined sugar. Rather than using golden syrup in the topping you can use Coconut Merchant coconut honey. This alters the taste slightly so you might want to go with half coconut honey and half golden syrup.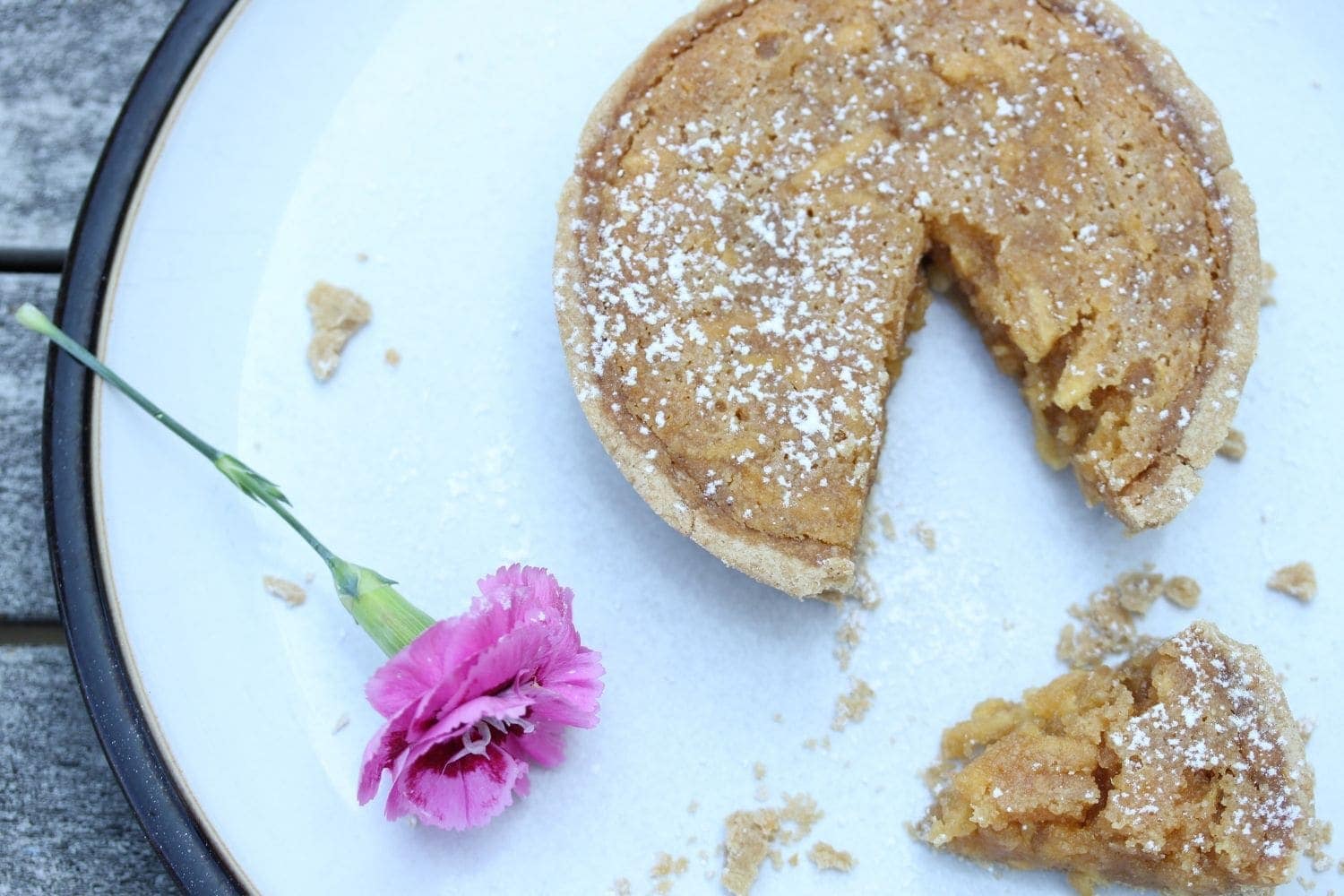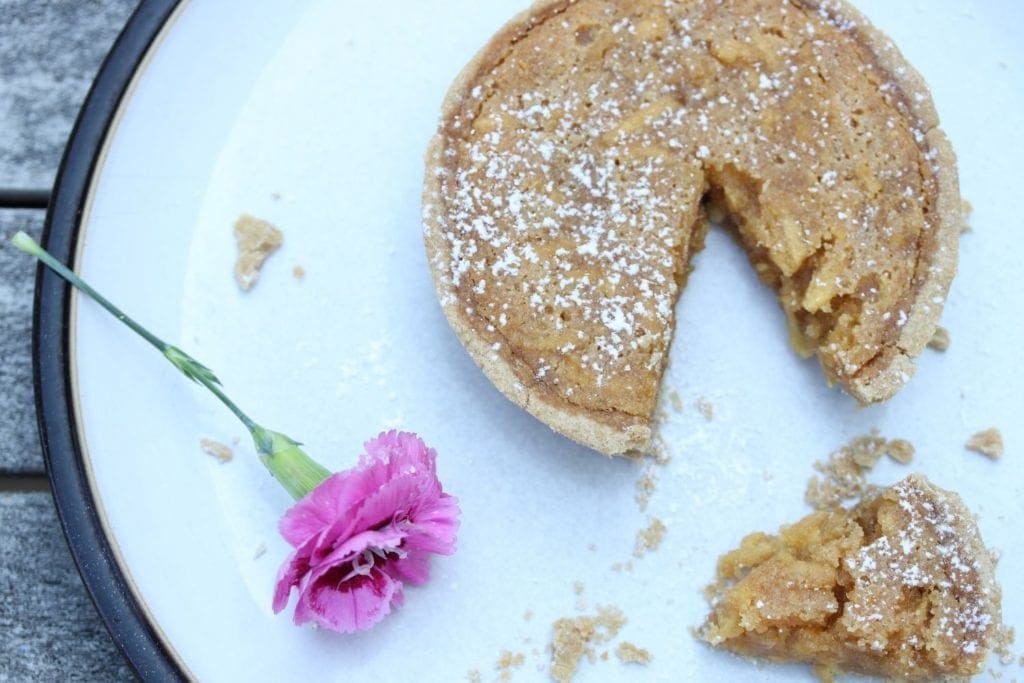 Make it nut free
The third option, if you are allergic to nuts, is to replace the ground almonds with gluten free breadcrumbs. I make mine by putting gluten free bread in my high power blender.
You can create a whole bagful and then freeze them for when you need them for recipes like my gluten free chicken nuggets.
How do you make gluten free pastry?
Here is my recipe for gluten free pastry. It is so simple you'll wonder why you ever made it. Not only that, it is so much tastier and softer than the bought varieties. They are often much like eating cardboard.
Now I cringe every time I watch this video but for the purposes of helping you, I show you exactly how to make gluten free pastry… It was made a long time ago (before my wholegrain flour blend was born).
The key to a good, tasty pastry is using some wholegrain gluten free flours.
If you know nothing about gluten free flour then I suggest you head over to this article: What on Earth is…A Gluten Free Flour Blend?
You can blend your own gluten free flours or you can buy a commercial blend.
I created my own wholegrain gluten free flour blend when I got fed up with what was on the market. It is different from other blends because it contains 70% wholegrain flours with their associated flavour, protein and fibre content. It also works in all recipes, often as a direct replacement for wheat flour.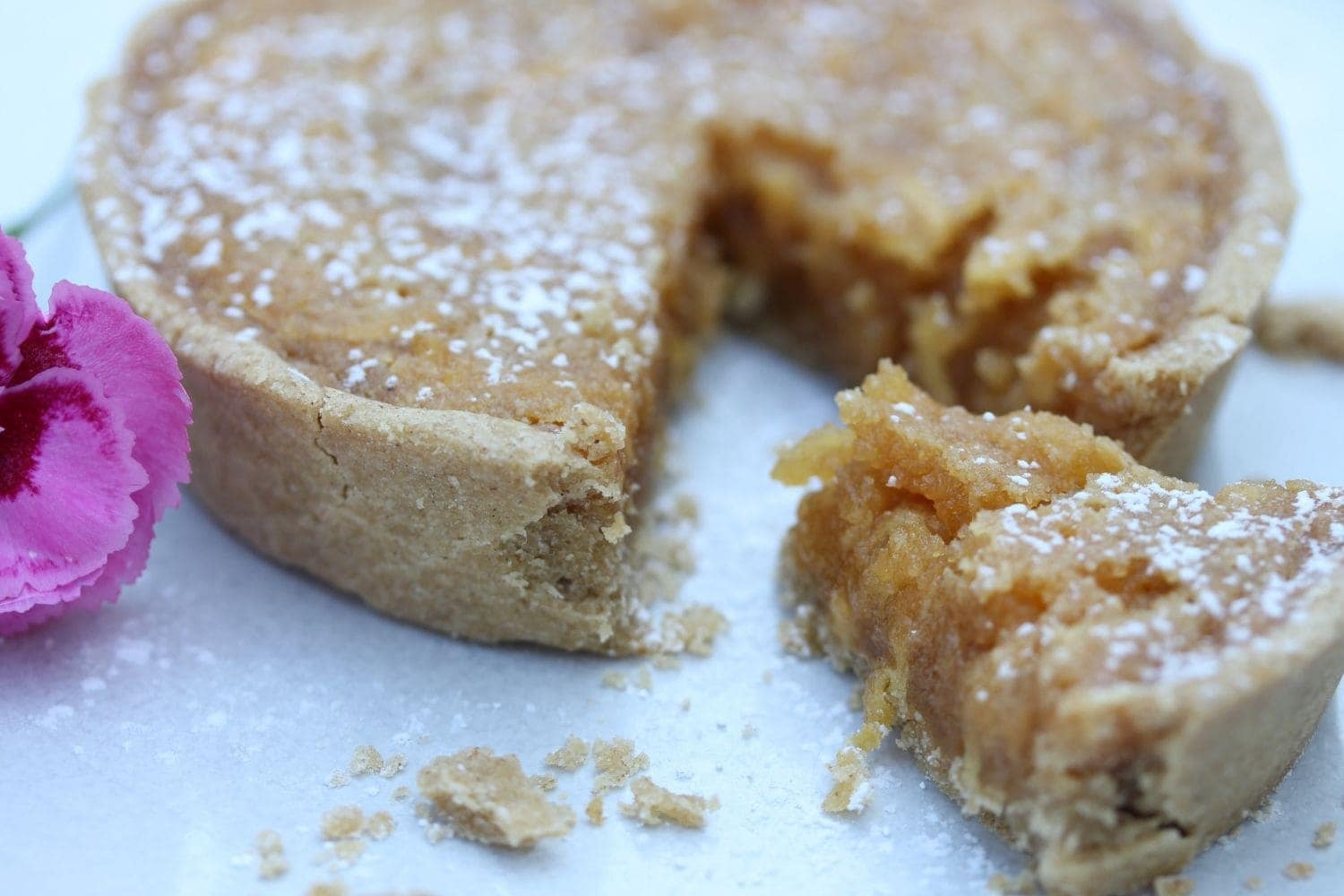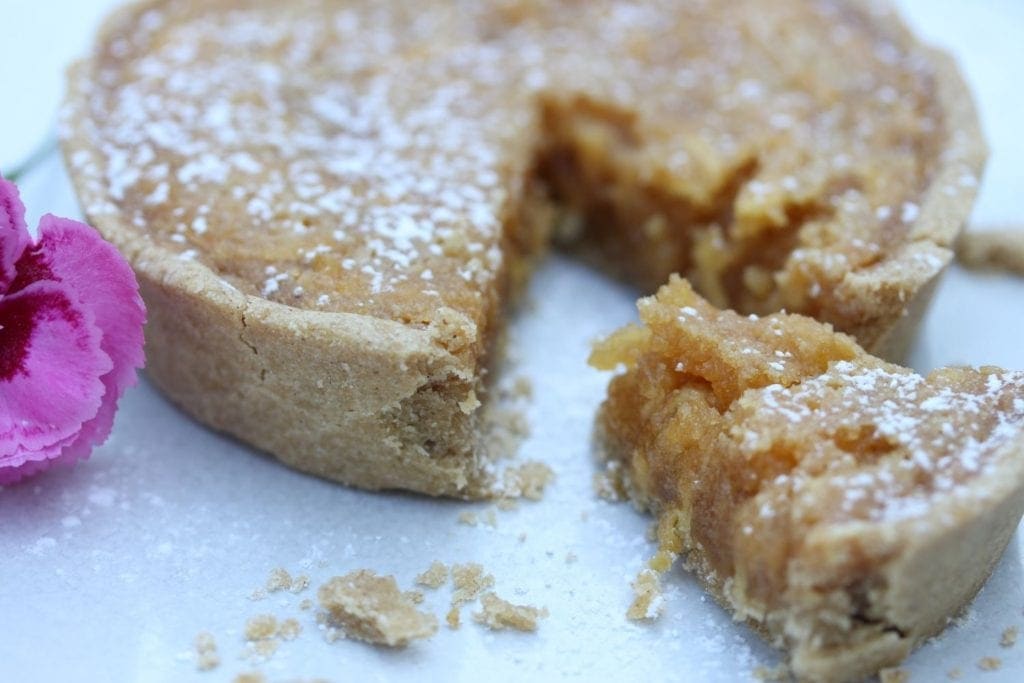 How do you make a gluten free vegan treacle tart?
Firstly, make the pastry. If you're going for the dairy free or vegan option then I recommend just pressing the pastry dough into the dish you are using rather than trying to roll it out.
If you're going for the butter and egg option then you can easily roll and move the pastry.
Once you've lined your dish (or dishes) you'll need to bake the pastry case blind. This means without the filling. This ensures a crispy end result (no soggy bottoms).
Cover the pastry with tin foil and baking beans (or uncooked rice) while it bakes. This prevents the pastry from puffing up, leaving no room for the filling.
While you wait for the pastry to partly cook, make the filling. It's so simple. Just combine all the ingredients together in a large bowl.
Then when the pastry has been baked blind remove it from the oven and pour in the filling. Bake until the filling is set and the pastry is golden.
Serve with coconut cream, dairy free custard or ice cream.
Pin my gluten free vegan treacle tart recipe on Pinterest: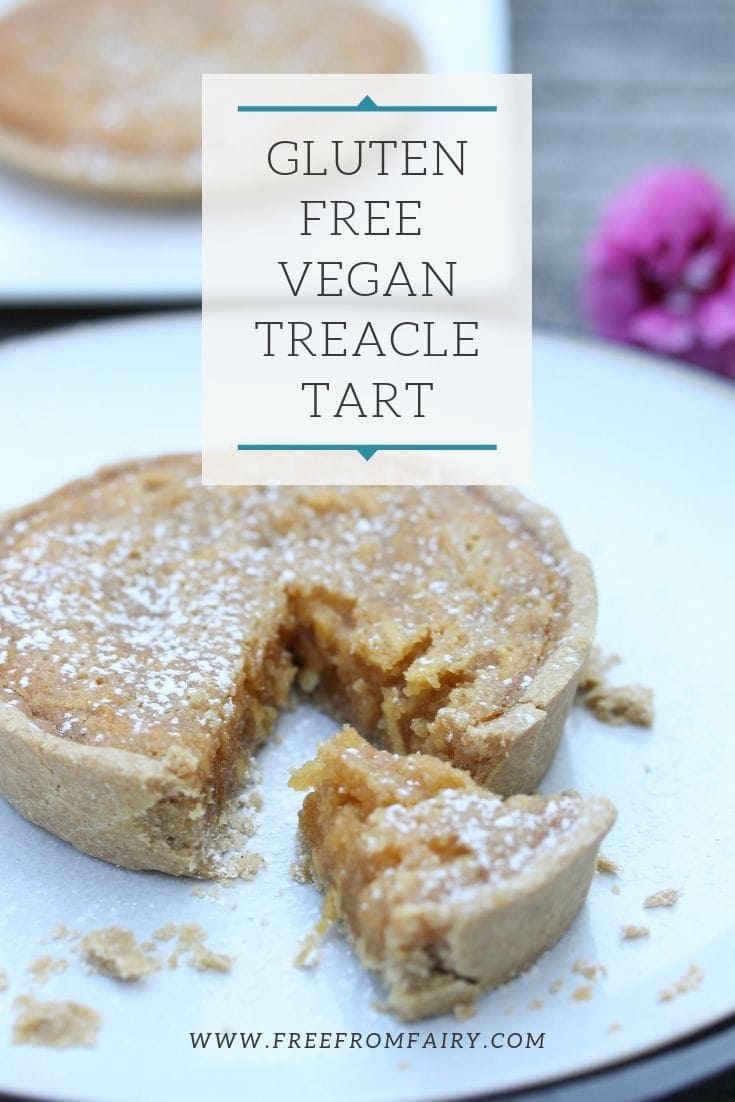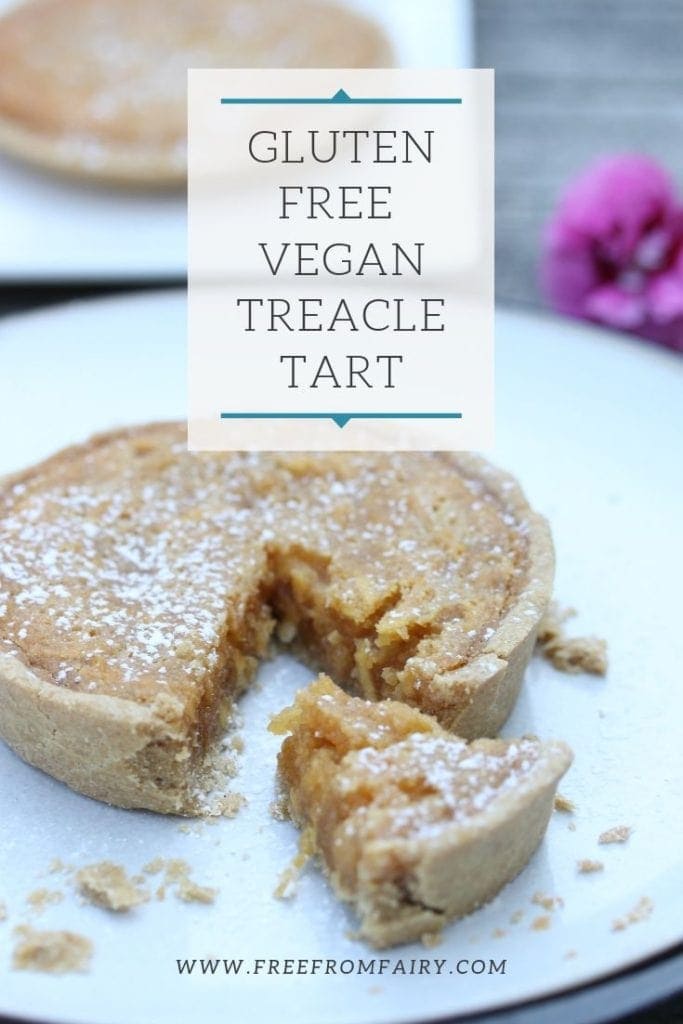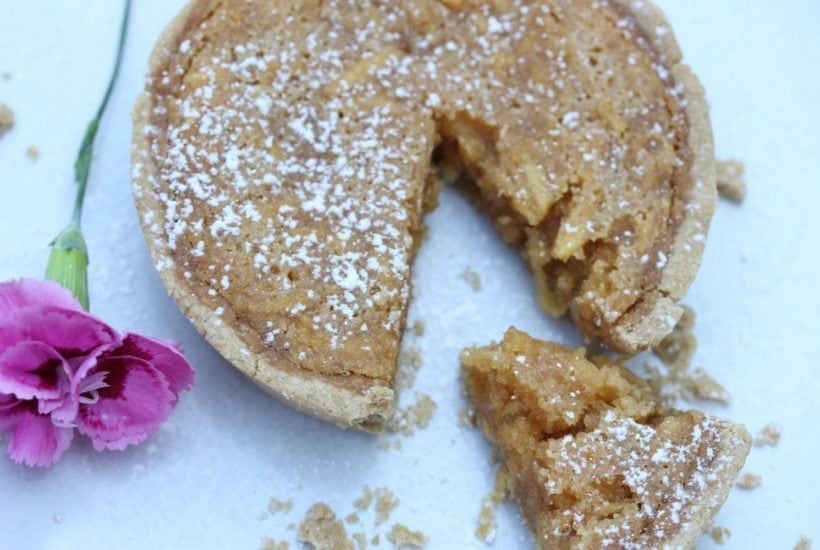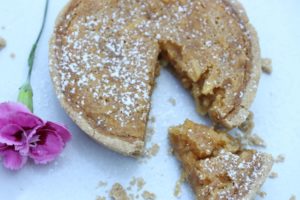 Gluten Free Vegan Treacle Tart
Gluten-free, Dairy-free, Soya-free, can be egg free, nut free, refined sugar free
Ingredients
For the pastry
200

g

plain Free From Fairy gluten free flour blend

50

g

hard margarine

-

(I use Trex)

50

g

soft margarine

-

OR replace all margarine with 100g butter if not dairy free or vegan

1

tbsp

ground flax seeds

-

mixed with 3 tbsp water (or 1 egg if not vegan)
For the filling
400

g

golden syrup

-

or coconut honey for refined sugar free version

75

g

gluten-free bread

-

made into breadcrumbs

75

g

ground almonds -

or replace with more breadcrumbs if nut free

1

apple

-

peeled and grated

1

lemon

-

zest and juice
Instructions
Make the flax egg by combining the ground flax seed with water and setting aside while you gather the other ingredients for the pastry

Add all the pastry ingredients, along with the flax egg into a food processor. Switch it on and process until it comes together into a dough. Add extra water or flour if required.

Press the pastry dough into your chosen dish. My dish is approx. 23cm or 9inches in diameter.

Bake the pastry case blind (ie line it with foil and add baking beans or dried rice) in a pre-heated oven at 200 degrees (180 fan) for 10 minutes. Remove the foil and beans and cook for a further 5-10 minutes until the pastry starts to colour.

In the meantime, combine all the ingredients for the filling in a large bowl.

Place the filling ingredients into the partly cooked pastry case and reduce the oven temperature to 180 degrees (160 degree fan).

Bake for a further 25-30 minutes until the treacle filling is set and the pastry is nice and crisp.

Enjoy with some dairy-free icecream or custard.
Notes
Nutrition data for information only
Nutrition (Approx)
Calories:
450
kcal
|
Carbohydrates:
71
g
|
Protein:
5
g
|
Fat:
17
g
|
Saturated Fat:
2
g
|
Cholesterol:
2
mg
|
Sodium:
158
mg
|
Potassium:
85
mg
|
Fiber:
4
g
|
Sugar:
44
g
|
Vitamin A:
485
IU
|
Vitamin C:
8.2
mg
|
Calcium:
47
mg
|
Iron:
1.1
mg
I have shared this recipe with: