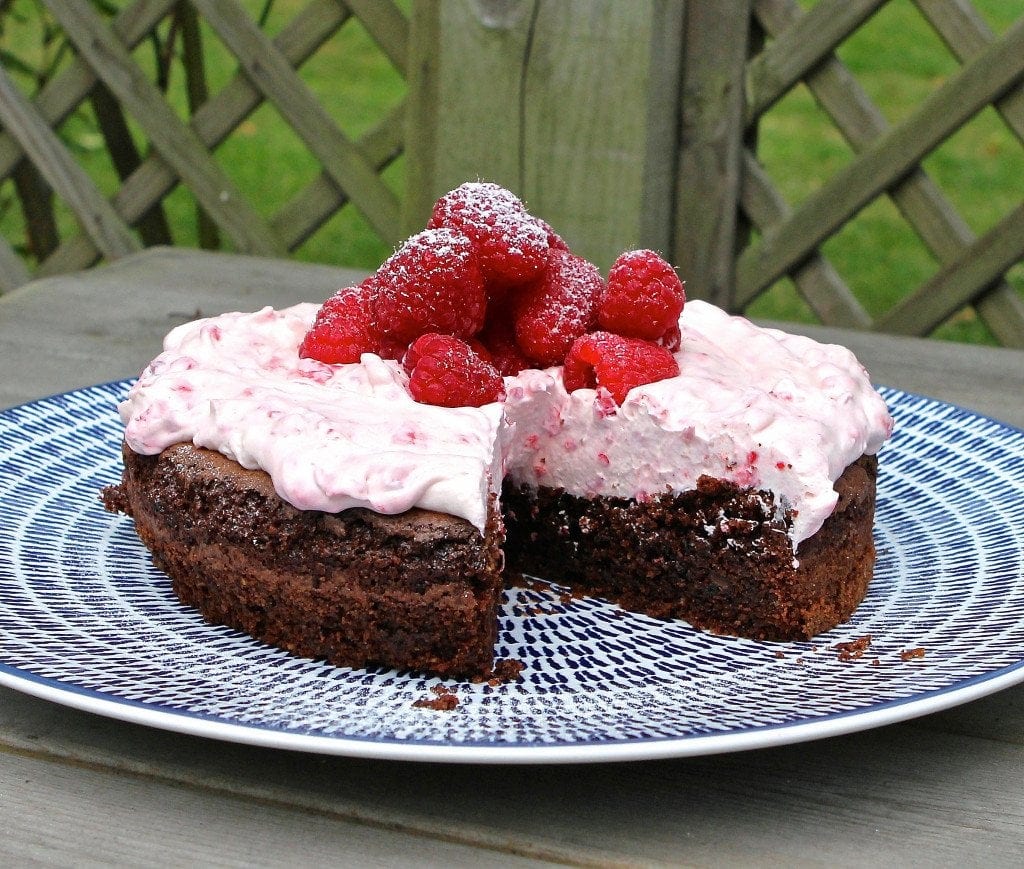 I am delighted to introduce Kate from The Gluten Free Alchemist and her fudgy chocolate birthday cake mix.
She inspires me every time she posts on her blog. Her recipes are innovative and her story is very similar to mine.
Without further ado I'll hand you over to find out more…
Vicki's having a well-deserved break to spend some important family time!
It's so important for bloggers to make time for family.
Blogging is one of those activities which can really eat into your evenings and weekends whether photographing, writing, editing or social networking for posts, or just catching up with everyone else's hard work.
I know I have a long-suffering family who sometimes just want to eat without having to wait for the pies, cookies, cakes or whatever else has been made to take its place in front of the camera lens first.
I am sure they are not alone in blogging world…..
Whilst Vicki is off enjoying her family summer, she has asked a few of us to guest post on her behalf.
I am thrilled to have been asked.
Vicki is a very talented, innovative and creative individual who I have much admired…….. so to take a small space on her blog is more than a privilege.
My own motivation to blog over at the Gluten Free Alchemist, also stems from a need to learn a whole new way of cooking, eating and living due to the diagnosis of my daughter with Coeliac Disease (at age 6) and my own subsequent discovery that I too am gluten-intolerant.
In the grand scheme of things, we think we are pretty lucky!
Coeliac Disease is managed by diet alone….. No drugs.
No lengthy hospital stays.
Just a simple process of avoiding gluten….. ALL gluten in the diet.
Sure we have to be careful of the risk from accidental cross-contamination….. Occasional mistakes can (and do) happen, but for the most part we do fine.
Like Vicki, we live in a completely gluten-free household which not only limits risk, but makes sure our daughter does not feel restricted or different in any way when at home…… We cook and bake and invent and create!
The Gluten Free Alchemist blog is our record of what we make.
It is a record for my daughter….. A recipe book for her future.
Gluten free family recipes and food she is growing up with, so that she can look back and recreate what she loves when she is older.
Being gluten free is her future (there is currently no cure for Coeliac Disease) and I want to make sure that she has every opportunity to enjoy food as much as everyone else.
We share our record with the world in the hope that other people may also benefit from our attempts to create gluten free happiness!
One of the things that has always been really important for us, is making sure we cater for birthdays in a special gluten free way.
Our daughter's birthday parties are always totally gluten free and when she attends others, we send a comparable 'party pack', de-glutened and with her own special GF decorated birthday cupcake…… With lots of sparkles (of course!)
For her big cake, we have an absolute favourite recipe which has never let us down yet.
It is so popular that we have even had requests to make it for the birthdays of friends.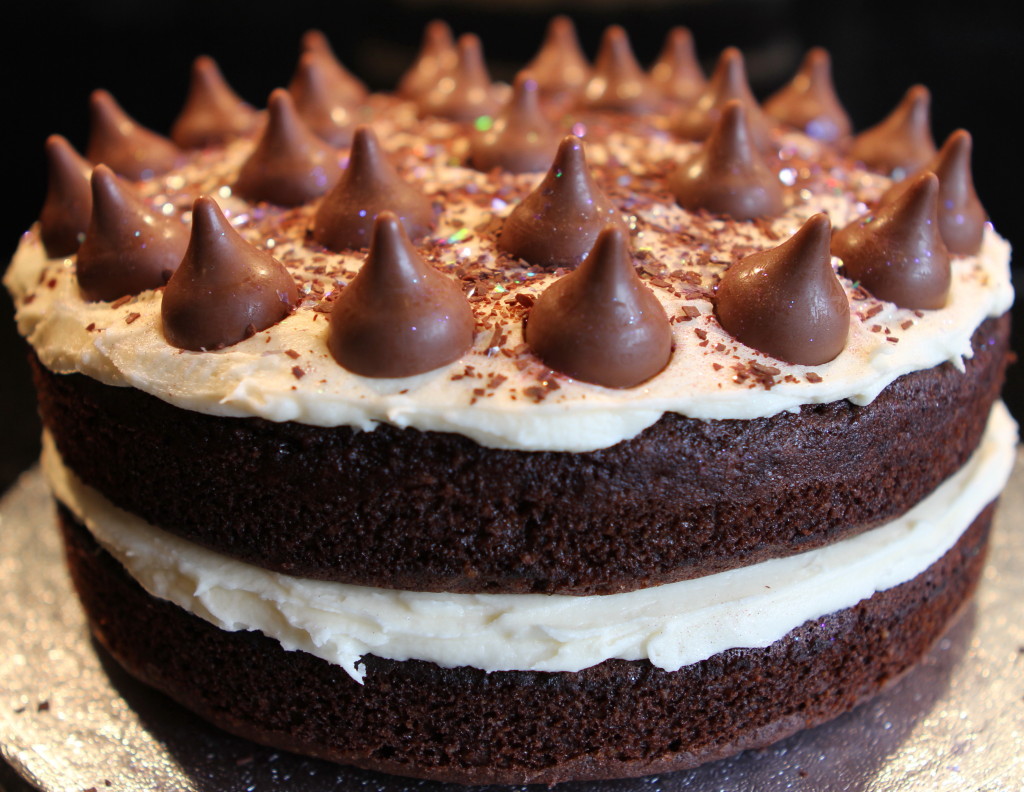 The same recipe was used to make the sponge for another one of my daughter's birthday cakes…Yes…that was her decoration choice too!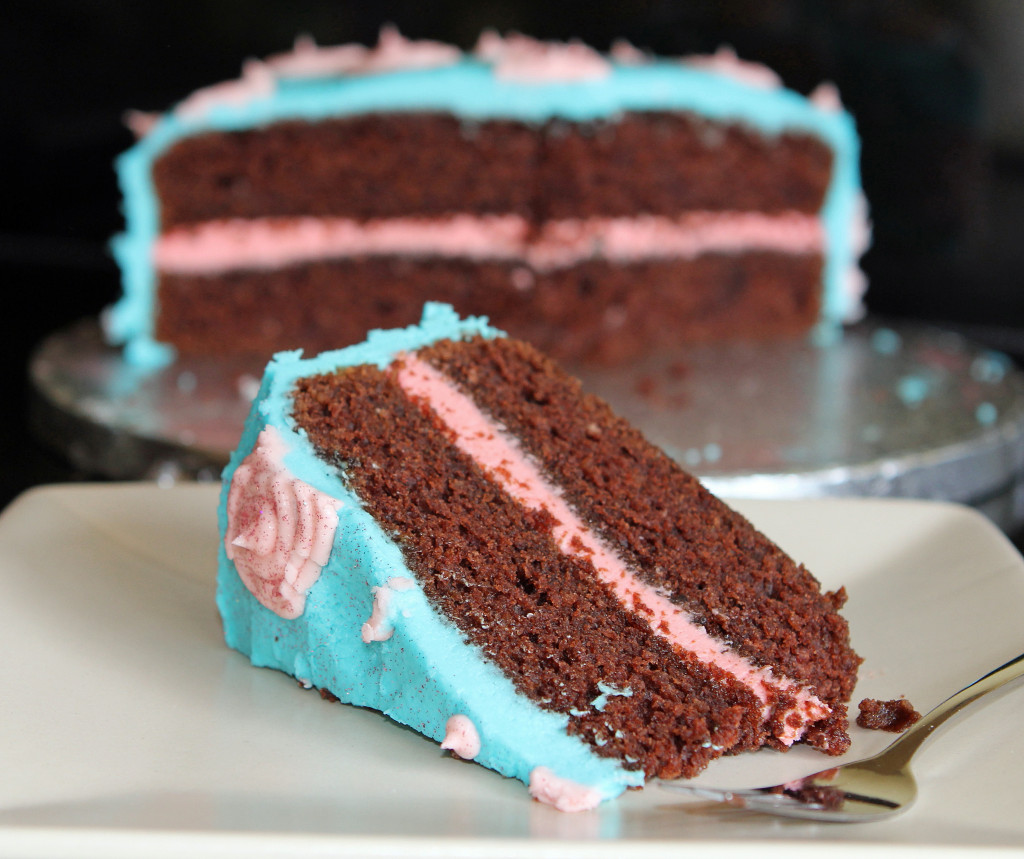 This year (in addition to the prospect of 2 sleepover parties….. well she will be 10!), my daughter's actual birthday will be celebrated abroad.
This means we will need to be able to prepare a cake when we are away.
Knowing that I definitely won't be able to access a ready-made GF cake, I have decided to plan ahead and develop a cake mix which can be prepared without the need for a whisk and that will only require the addition of simple ingredients that I can source locally when away.
This is cake test number 4!
I think we are finally there…A delicious cross between a brownie and a chocolate sponge cake.
It's definitely going to be a keeper for future trips away.
The full recipe over at the Gluten Free Alchemist will make an 8 inch sandwich cake, not just a single layer.
It is wonderfully chocolatey…fudgy and chewy…yet spongy and cakey.
And it is dangerously moreish…… I have not been able to walk past it without sneaking a slice.
I reckon it will be perfect layered with anything from cherry jam to cream to frosting.
This one has been layered with gently whipped cream, folded through with crushed raspberries….. Delicious!
Hope you like it!