Today I'm going to tell you about the brilliant new Living With Allergies book by Emma Amoscato. I received a free copy of the book for the purposes of writing this review. All words are my own.
This post contains Affiliate links. As an Amazon Associate I earn from qualifying purchases.
All photographs by Mel Knibb at Le Coin De Mel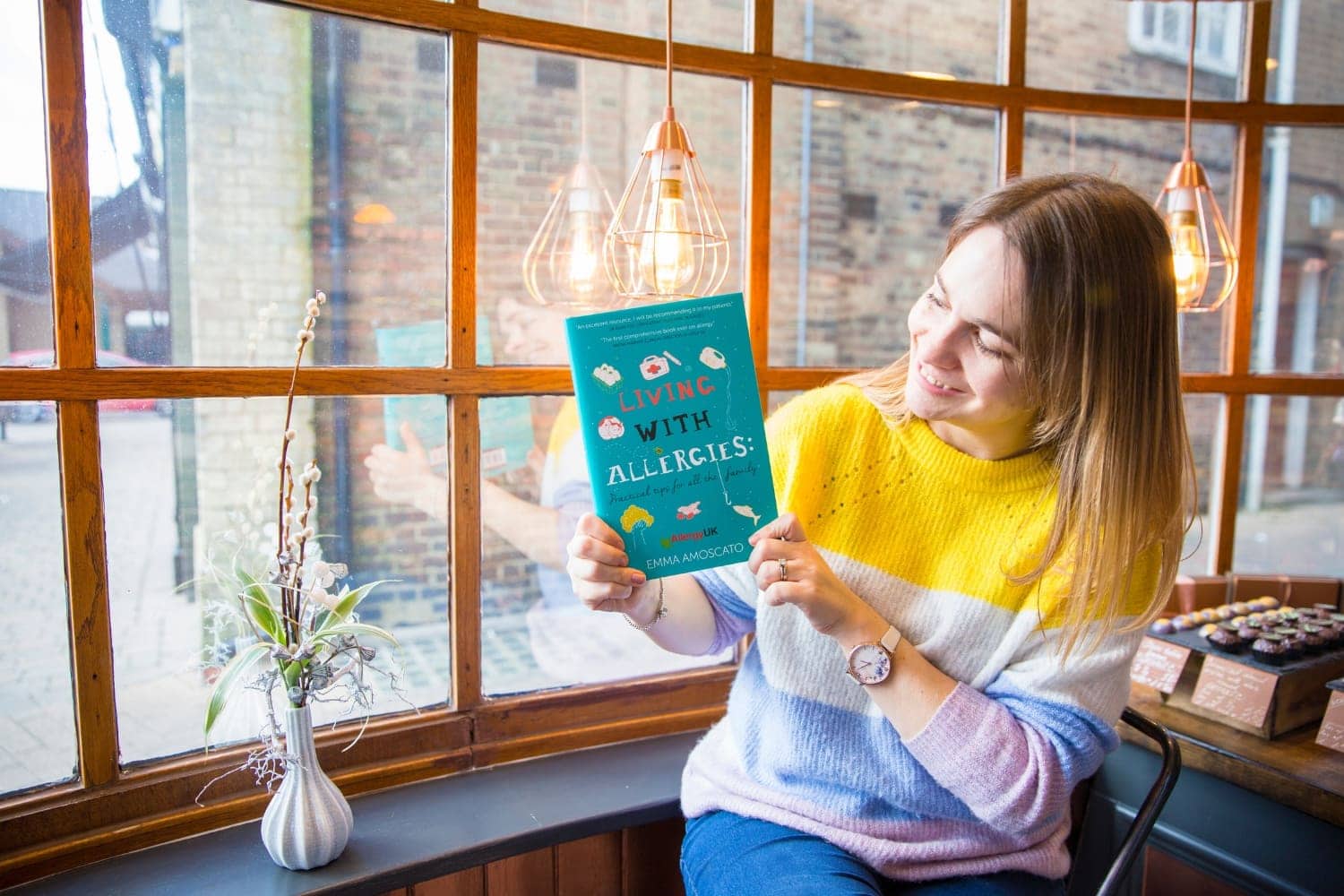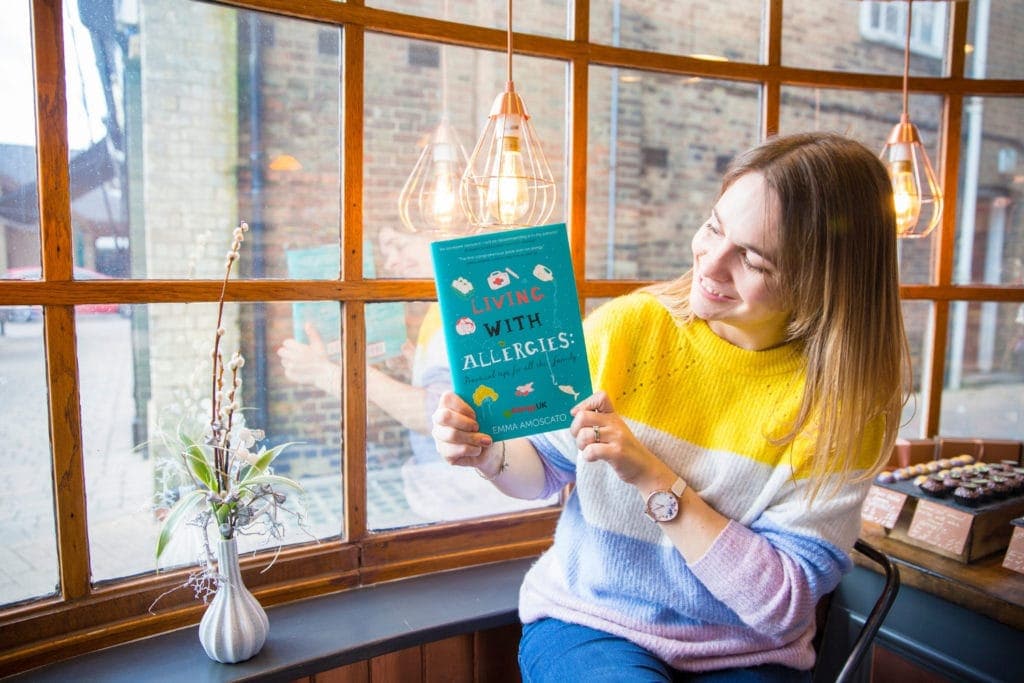 It isn't often that I read a book and feel I have to recommend it everywhere I go. There have been a handful that I can think of:
The Inside Out Revolution by Michael Neil.
Gluten Attack by Professor David Sanders.
A Little Peace of Mind by Nicola Bird.
They all have the same qualities. The ability to expand your mind and change your life.
And Emma's Living With Allergies book is no exception.
You may have seen or heard Emma in the last few weeks. She's appeared on This Morning; her story has been covered in The Sun and she's been on various radio shows.
All to tell her personal story of how she has been positively bringing up two children with life-threatening allergies.
And it is that story that prompted her to write the book. I won't go into the story because you can read that or listen to that by following the links above. What I want to tell you about is the book.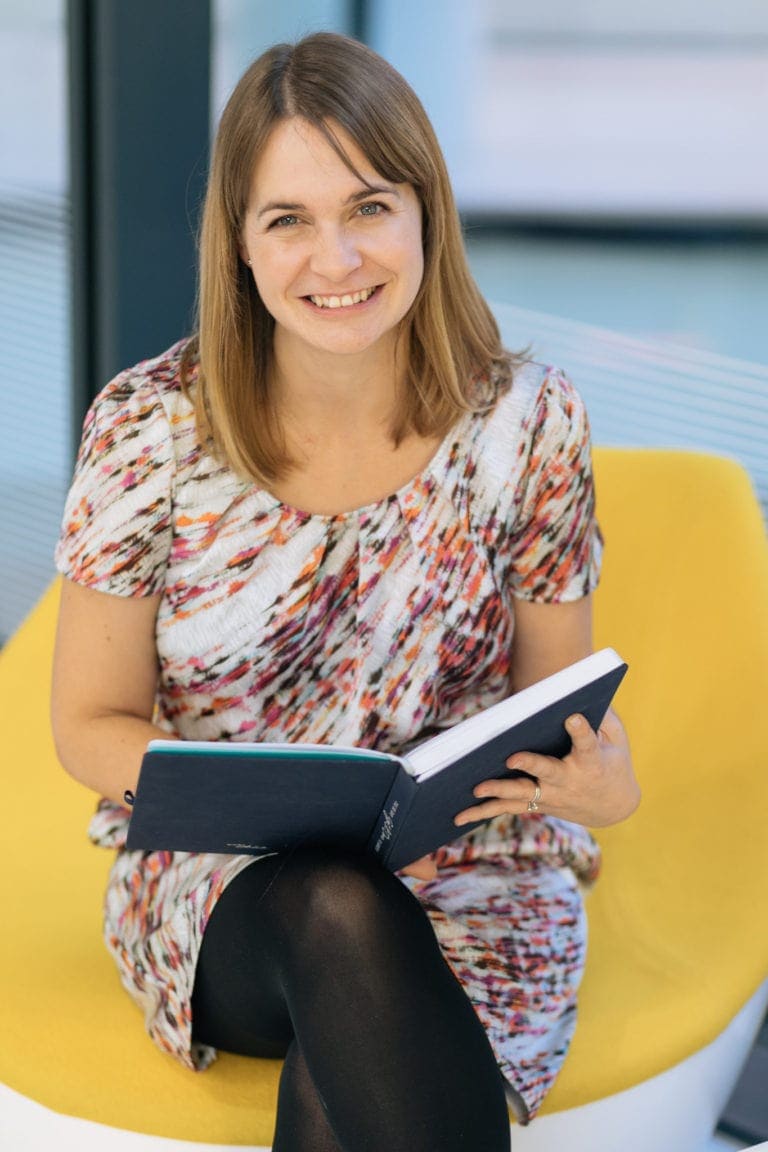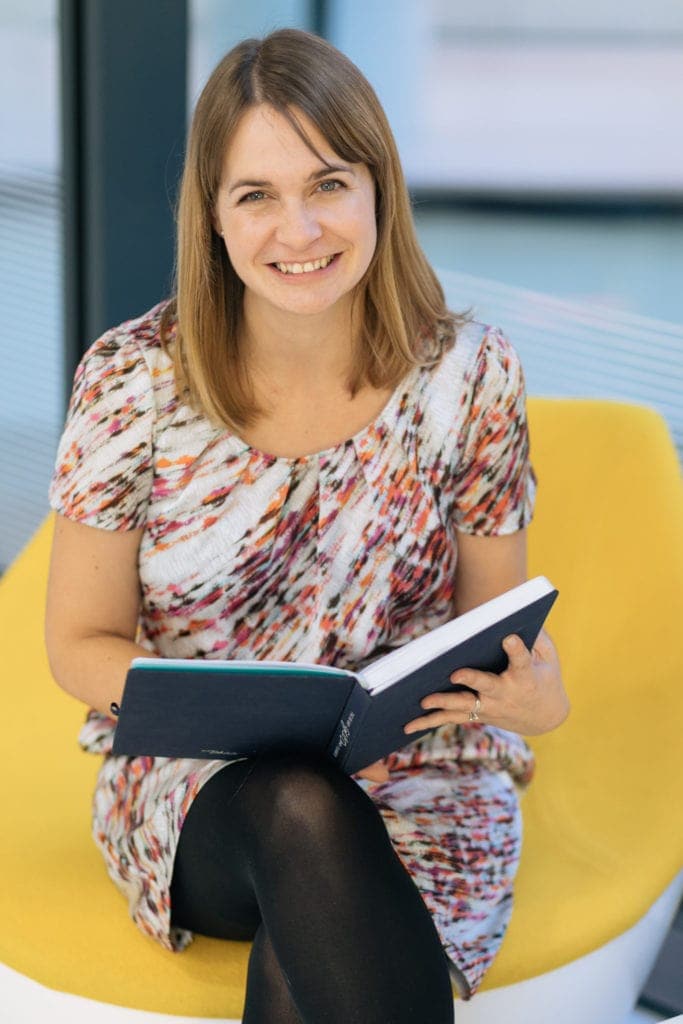 What is covered in the book?
As the mum of a child who had cows milk protein and egg allergies diagnosed at the age of 9 months I just wish it had existed back then.
The book covers everything from food allergies to environmental allergies, eczema, skin allergies and respiratory allergies. It talks about how allergies are diagnosed along with medication options. In addition, Emma covers issues such as how allergies can be managed at home, nursery and school as well as on holiday, on aeroplanes and when eating out.
There is a whole chapter that focusses on allergies in infants and others that focus on allergies in adults, young adults and teenagers. There is also, importantly, a chapter dedicated to the psychological effect of allergies and another about preventing allergies.
The most exciting thing about the book is that Emma covers all of this in language that everyone can understand. And in bite-sized chunks which makes it possible to read the book around other commitments without feeling overwhelmed.
The practical information is interspersed with both interviews from top allergy experts and quotes from others living with allergies.
This helps you to know you're not on your own and that your concerns are to be taken seriously.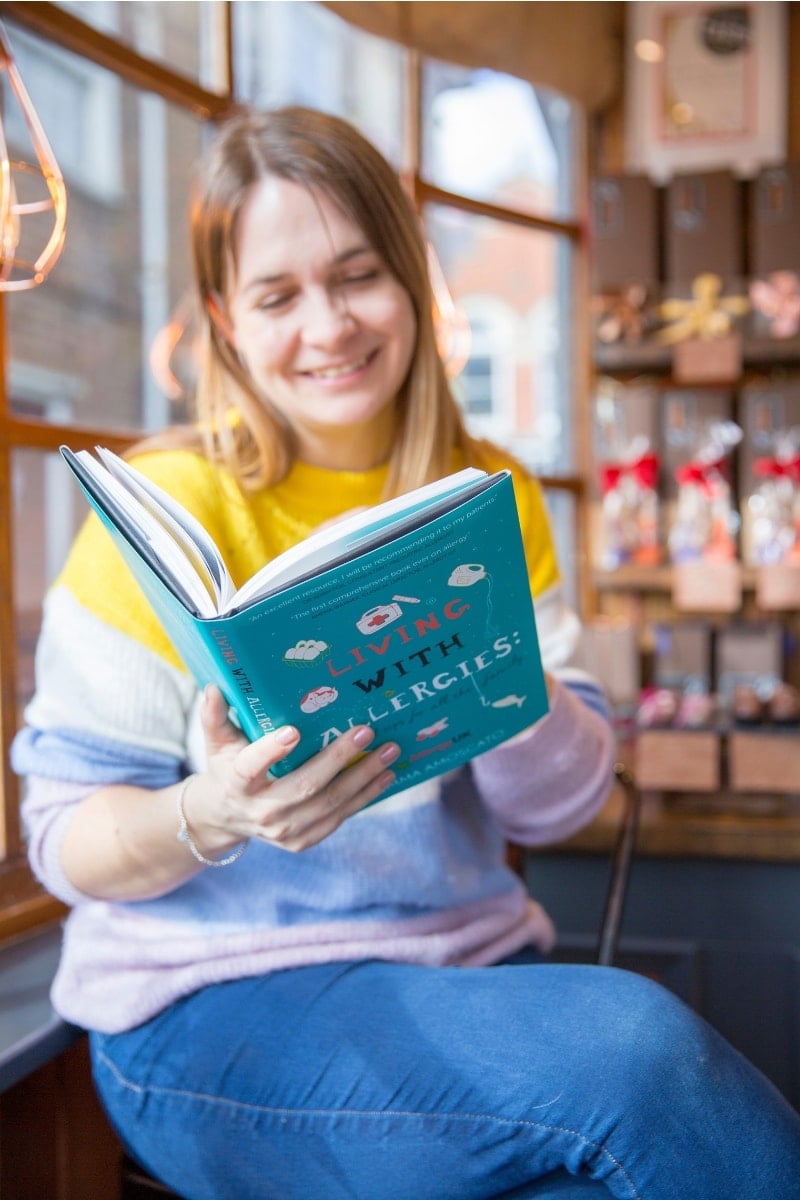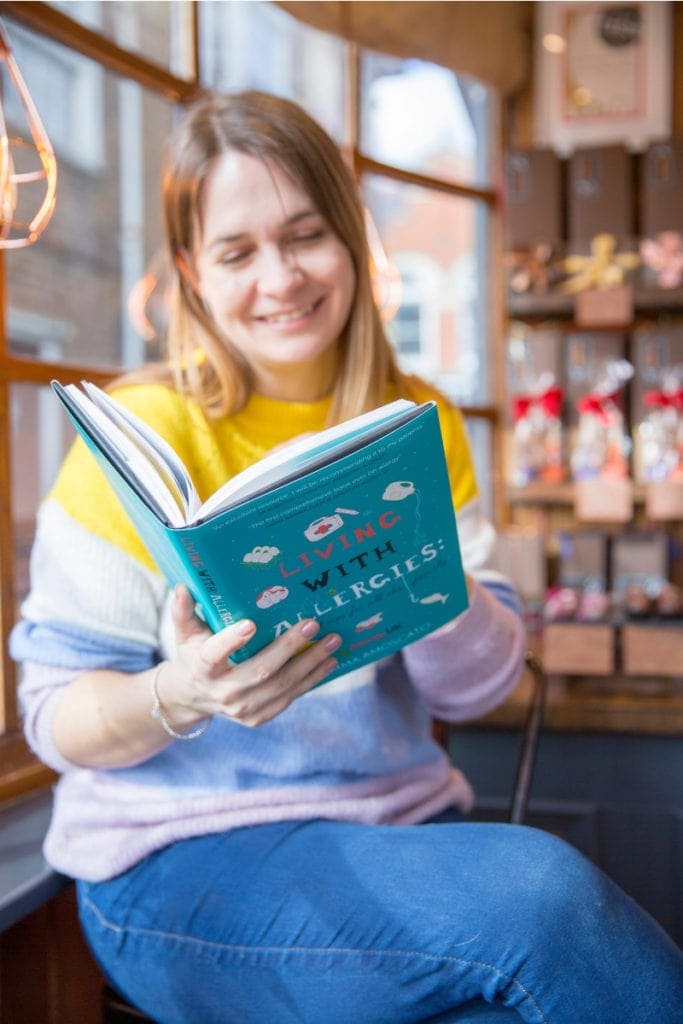 What are others saying about the Living With Allergies book?
The book has been endorsed by Allergy UK. The leading charity in the UK working alongside those with allergies.
Amena Warner, the Clinical Director said: "It was a real honour to clinically review this book as it is the first comprehensive book ever on allergy, written by someone who has been on that 'allergic journey' searching for information. This is a really brilliant piece of work for people looking for information on allergy in simple terms and in one place."
Dr Adam Fox, a UK-based consultant paediatric allergist said "This is an excellent resource to help people understand and manage their allergies effectively – I will certainly be recommending it to my patients. It draws together the latest research, expert insight and practical tips and is the book you need when you leave the doctor's office and have to navigate every day life."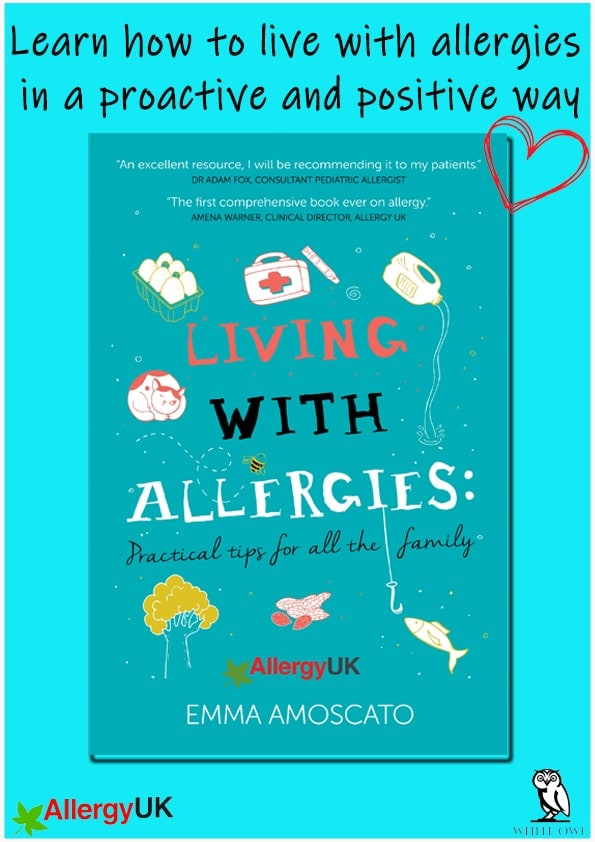 Where can I get a copy?
The book is available from all good book shops and from Amazon. The RRP is £19.99 although on Amazon it's currently only £11.91.
If you're quick you could enter a giveaway that Rebecca at Glutarama is running where you can win yourself a copy. Head over to Glutarama now to enter. You have until 12th May 2019 to do so.
If you've read the book I'd love to hear your views. If you haven't read it yet then you really need to!
And if you have allergies and you need recipes that are gluten free, almost all dairy free and with lots that are egg free, soya free and nut free then you're in the right place. Check out my recipes here.