My simple recipe for gluten free roti, or chapati, is made with my wholegrain gluten free atta (or flour blend). They are made with just five ingredients.
This post contains Affiliate links. As an Amazon Associate I earn from qualifying purchases.
I've been making these gluten free roti for many years and for some reason have never shared the recipe. I guess I thought it was so simple I didn't need to.
It was only when I was talking to Punam, the lovely owner of My Free From Kitchen, that I realised what a big deal this was for people of Asian origin who had to avoid gluten.
What is a roti or chapati?
I first discovered roti's when I was in India with my sixth form college. We went over to an orphanage in Goa just after Christmas when I was 16. It blew my mind and I was smitten with Asia from that point onwards.
In addition to taking gifts to the orphans, we used public transport to travel around south India. It was an experience I will never forget and opened my eyes to the culinary delights of real Indian food.
I don't think I'd ever had a roti or chapati before then. I think naan's were more common in the UK.
But I fell in love with them.
The traditional version of this bread would be made with Indian atta. However, for my gluten free version I use my rice free, wholegrain gluten free flour blend.
The dough is rolled very thinly (unlike a naan bread) and then either grilled or cooked in tandoor. These traditional Indian breads are so popular that they are generally eaten with every meal.
I personally rather like them as a flatbread filled with grated cheese and avocado. You can see how flexible they are…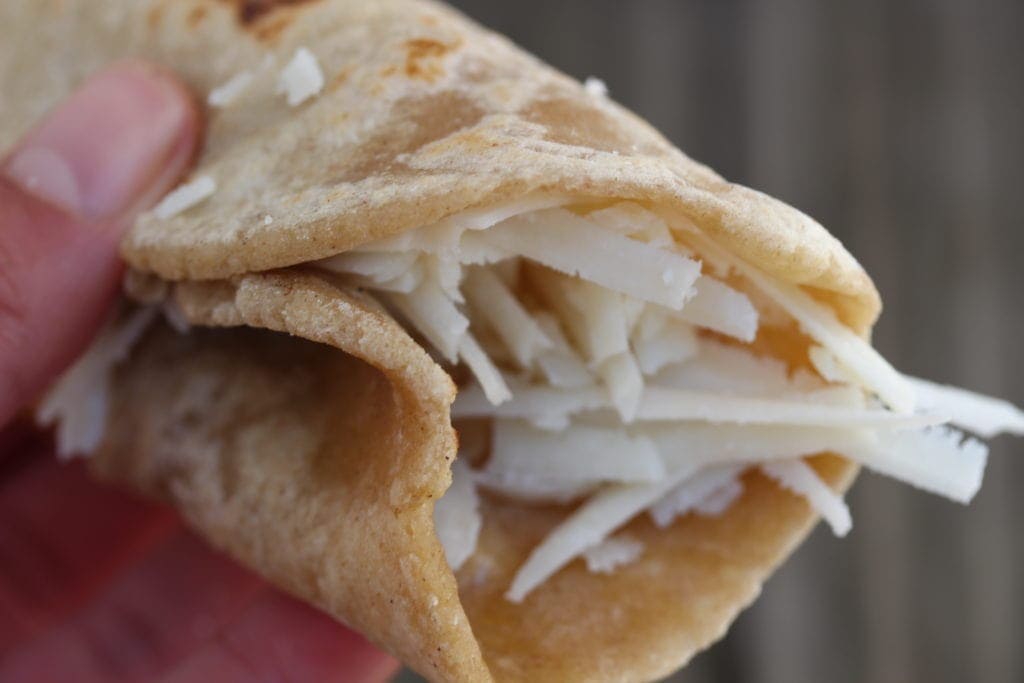 What is atta?
For those of you who don't know, atta is wholegrain wheat flour that originates in India. Atta is used to make traditional Indian flatbreads such as roti/chapati, puri, naan and paratha.
From talking to Punam I realised that my wholegrain gluten free flour blend solved a problem. She told me that she hadn't been able to find a certified gluten free atta that could be used to make these delicious breads.
I immediately realised that I needed to share my recipe!
What's more, I still need to educate people about gluten free flour and flour blends. If you don't know why they are so important to successful gluten free cooking and baking then read this article: What on Earth is…A Gluten Free Flour Blend?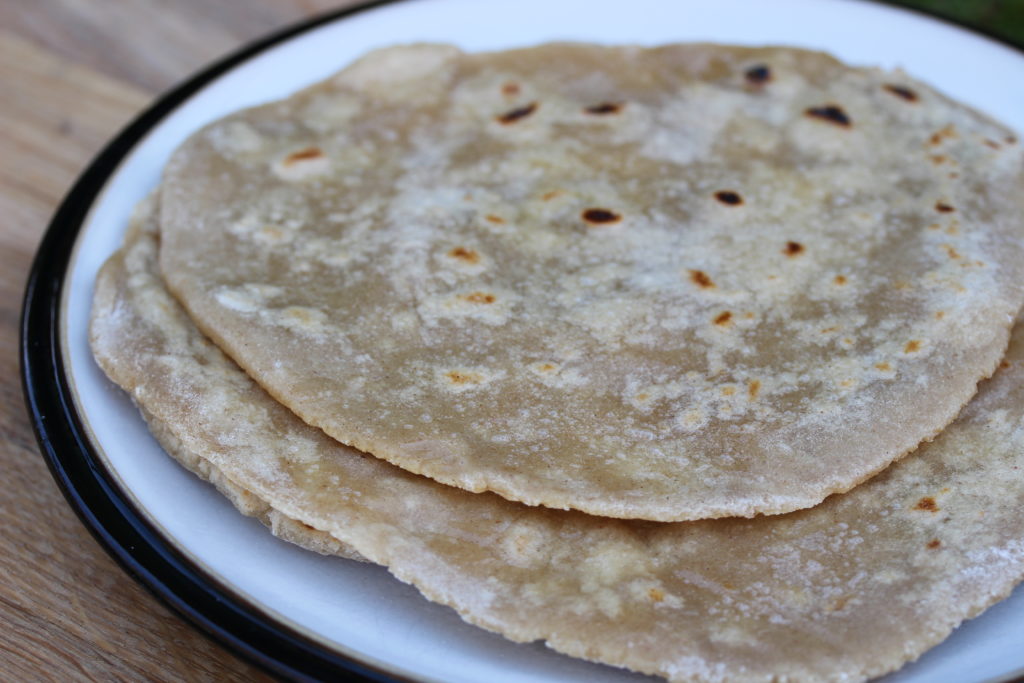 How do you make gluten free roti or chapati?
Roti's and chapati's are so similar that their names are often used interchangeably.
A roti would traditionally be cooked in a tandoor and a chapati on a tawa (flat griddle).
To make my gluten free roti's I used a cast iron flat griddle pan so I've no idea if you could cook them in a tandoor oven. If anyone tries please do let me know the result.
Roti's are so simple to make.
First, the flour and psyllium husk powder need to be combined. This ensures that the breads are lovely and soft and flexible. Without the psyllium husk powder the breads would be dry and brittle.
If you don't know what psyllium husk powder is then read this article: Psyllium: What on Earth is it?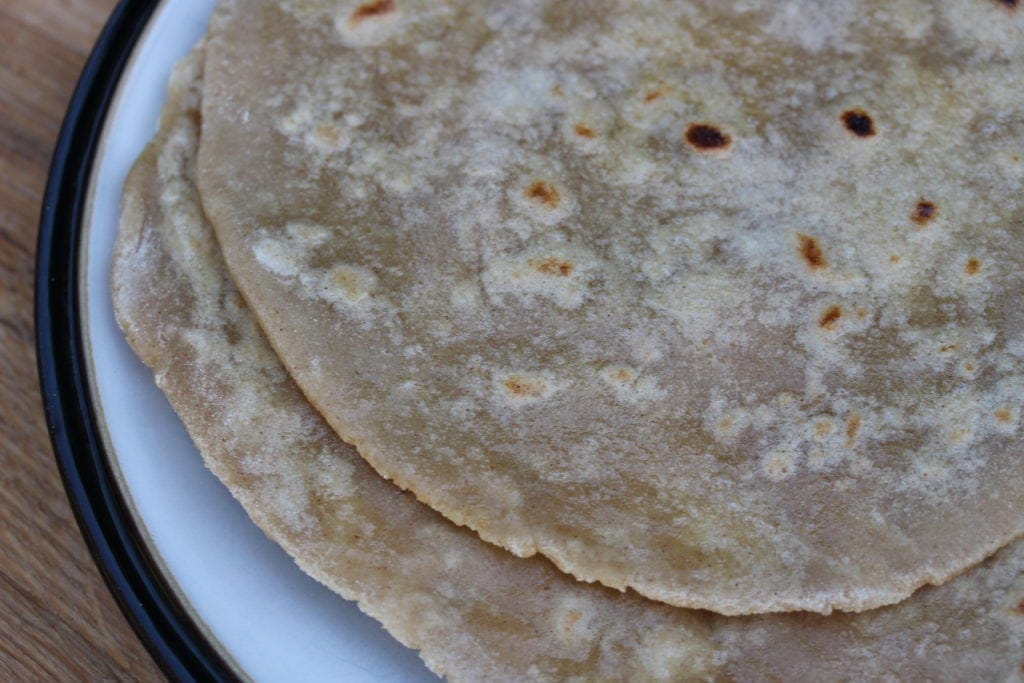 Once the psyllium husk powder has been mixed with the flour the salt is added (if using) along with the oil and water.
I haven't specified the exact amount of water. Instead I urge you to add the amount required to form a dough. If you add too much don't worry, you just need to add a little more flour. I don't want to mother you here. I want you to get a feel for working with gluten free flours yourself.
The ideal is to have a sticky dough to begin with. Once you knead it for a minute or so you should end up with a nice smooth (no cracks) dough. The psyllium husk powder will absorb some of the liquid as you knead the dough.
Free recipe booklet
If you like this recipe and are interested in baking more successful gluten free delights then sign up for my free recipe booklet. In it there are recipes for scones, pancakes, cake, Yorkshire puddings and more. You'll also get my weekly newsletter of recipe inspiration, tips and news…
Where can I buy your gluten free atta?
If you're interested in finding out more about how to use my gluten free flour blend for your Indian cooking then head to my page Gluten Free Atta.
Alternatively, if you want to buy the flour blend then head over to my gluten free flour shop.
Save the recipe on Pinterest: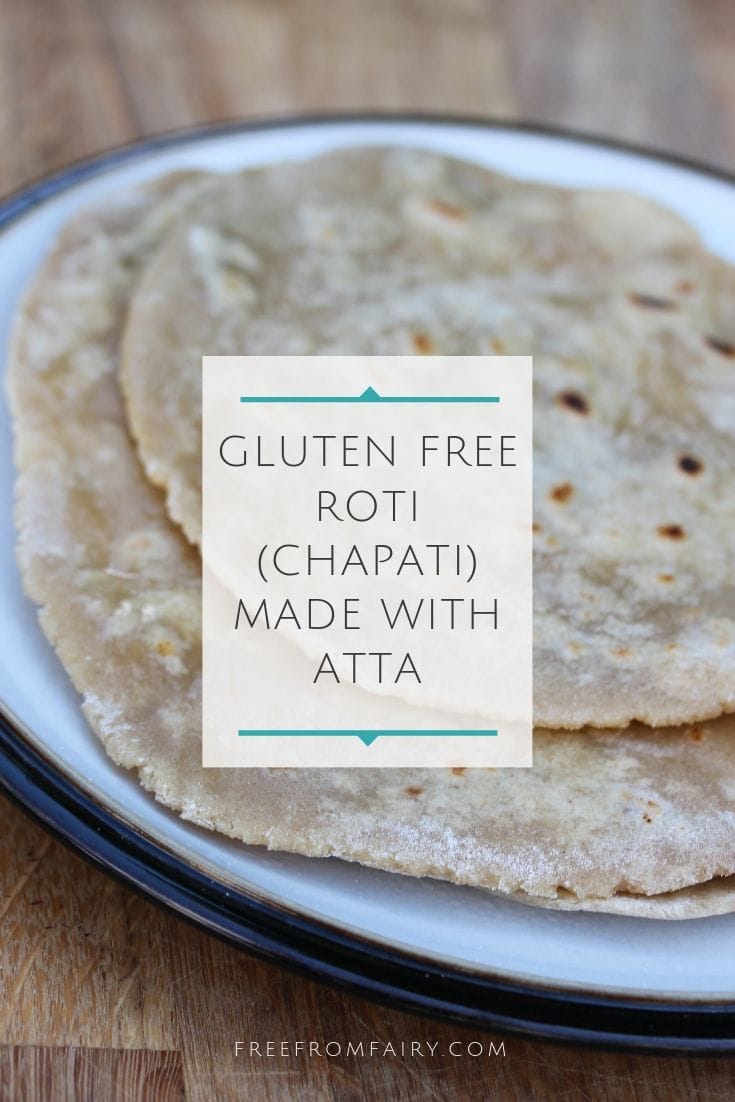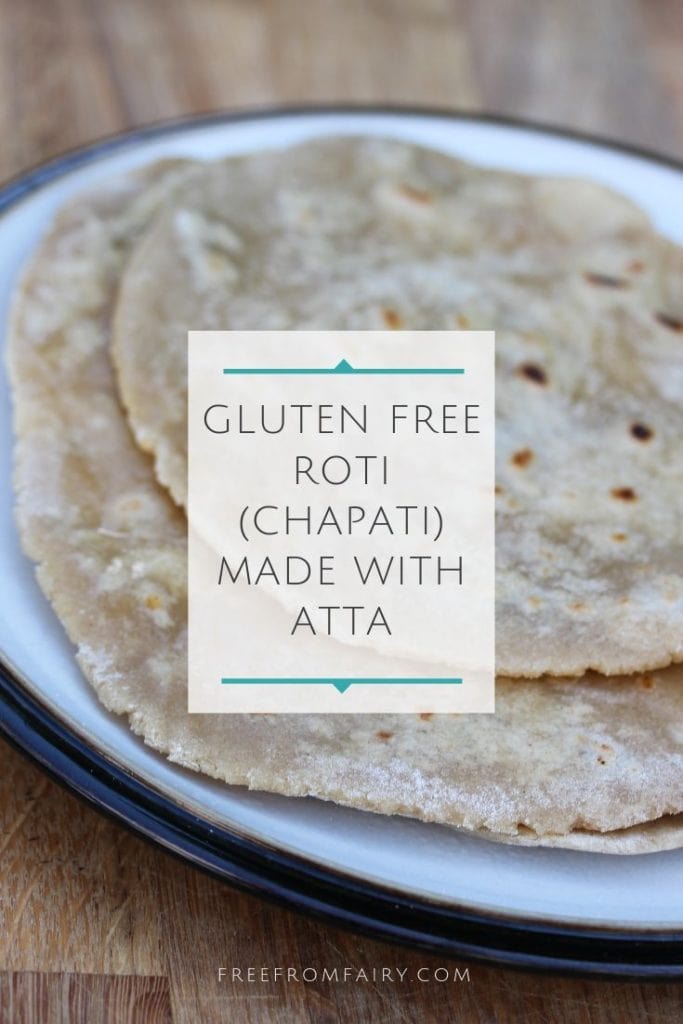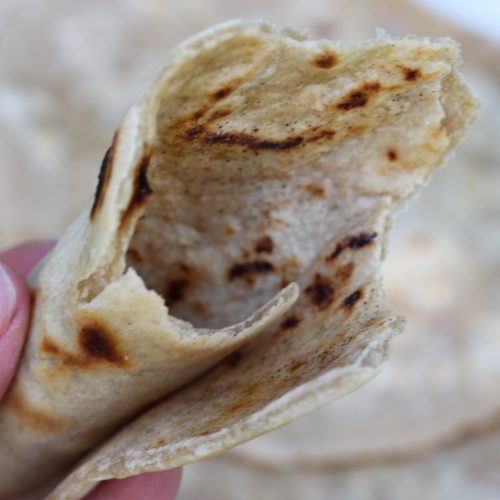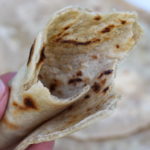 Gluten Free Roti/Chapati
Gluten Free, Dairy Free, Egg Free, Nut Free, Soya Free, Vegan, Low FODMAP
Method
Place a frying pan over a medium high heat

Combine the flour and psyllium husk powder in a large mixing bowl

Add the salt and mix to combine again

Add the oil and enough water to form a sticky dough

Knead the dough until it becomes smooth and no longer sticky. If you add too much water, add more flour. If the dough doesn't roll easily add more water and knead again

Divide the dough into 6 balls. Remove one ball from the bowl and cover the others with a damp tea towel

Roll the ball of dough in a little flour

Sprinkle a clean work surface with more flour then roll the dough out into a circle, approx. 15cm in diameter

Carefully pick up the roti and place it into the hot frying pan

Cook on the first side until little bubbles appear on the top

Flip over and cook again until the underside is just turning colour

Flip one more time. This time brush with a little melted coconut oil (or butter or ghee if you aren't dairy free) and press the edges down onto the pan with the back of a spoon. You should get little pockets of air bubbling up inside the roti making it rise in places (don't worry if you don't...it will still taste good)

Remove from the pan and repeat with the rest of the dough. Keep the cooked roti's warm by wrapping them in foil or in a tea towel
Recipe Notes
Nutrition data is for guidance only and doesn't include the oil you use while cooking the flatbreads.
Nutrition Facts
Gluten Free Roti/Chapati
Amount Per Serving
Calories 146
Calories from Fat 27
% Daily Value*
Fat 3g5%
Sodium 97mg4%
Potassium 42mg1%
Carbohydrates 26g9%
Protein 3g6%
Calcium 4mg0%
Iron 0.6mg3%
* Percent Daily Values are based on a 2000 calorie diet.