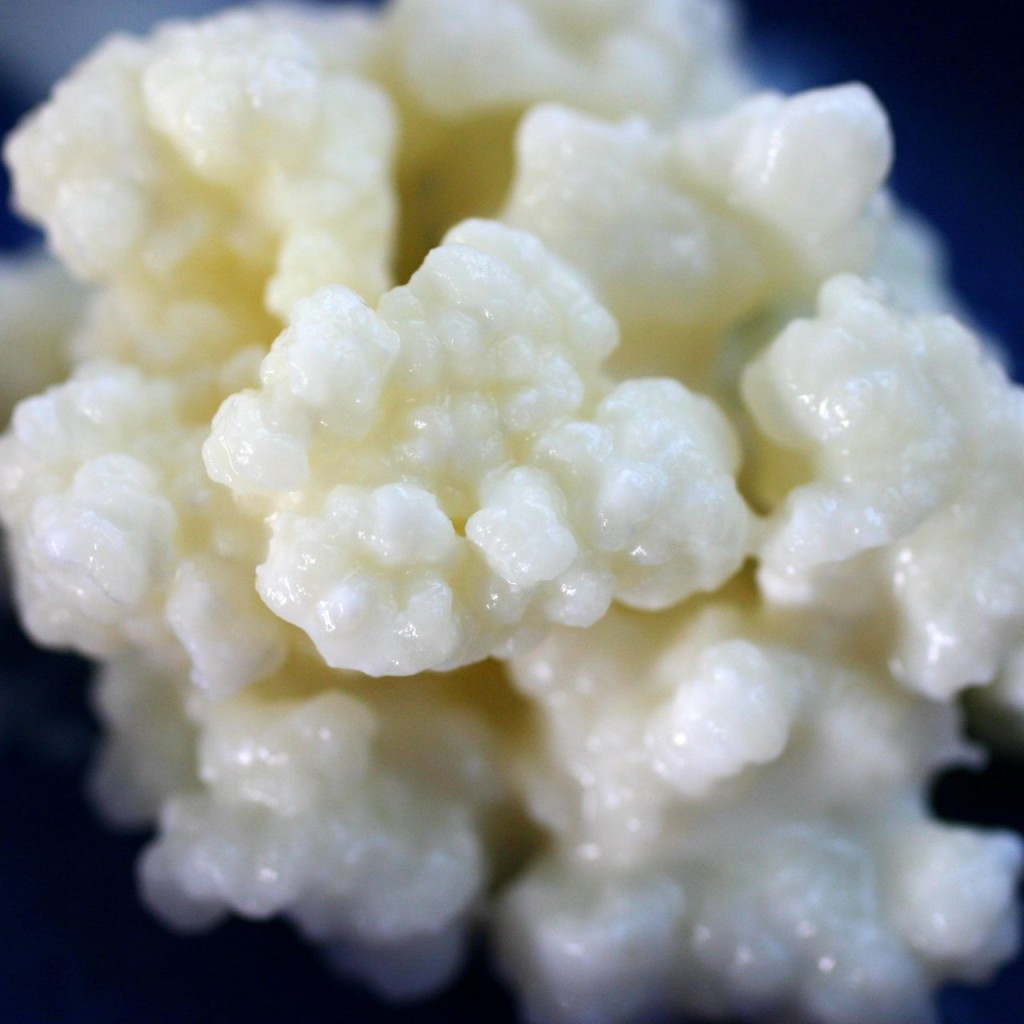 I have been using probiotics (beneficial bacteria) for a long time to try and sort out my tummy problems.
When I first started to use them I found that my symptoms just got worse. My bloating was so bad that I had to stop taking them.  That was before I gave up eating wheat.
Nowadays my tummy is perfectly happy having probiotics and I take them because I believe firmly that they can help keep me fit and healthy (as you may have read in my post about gut microbiota here).
Anyway, last week I was offered some kefir grains to make my own milk kefir.  Having done many experiments with sourdough last year I realised that making gluten-free sourdough was pretty hard without some sort of help from a starter like kefir.
For those of you who don't know, kefir contains a mix of beneficial yeast as well as friendly probiotic bacteria. The naturally occurring bacteria and yeast in kefir combine symbiotically to give superior health benefits when consumed regularly.
As well as using the kefir in sourdough, I plan to drink the stuff and cut back on the expense of probiotics.  Along with its beneficial bacteria and yeasts, it is high in protein and also contains a number of B vitamins including thiamine, that helps you withstand stress…so just watch this space.  You might just get a surprise about how relaxed I become over the coming weeks!!!
Interestingly, those who are lactose intolerant can normally tolerate milk kefir because the lactose is broken down by the bacteria.  There are also some studies that suggest that drinking it can help people to become less intolerant.  You can read more about that here. I shall be experimenting with Roo to see how she tolerates it and will let you know!
The best thing of all is that once you have the kefir starter you can make infinite amounts of milk kefir, so it is super cheap!
If you want to find out more about kefir, including how to make it, then take a look at this article.
And, if after reading this, and the articles I link to, you want to have a go yourself then you either need to become friendly with me (at some point my starter will multiply and I will have some to give away) or Google where you can buy kefir grains.  I can't recommend anywhere because I was given mine!
Have you tried kefir? If so, can you give me any tips on the best way to consume it?  I was planning to put it on my porridge in the morning or in a smoothie….
I shared this post with: