I was inspired to create this recipe for raisin Bakewell slice after eating a cranberry Bakewell slice at Leon. My version is gluten free, dairy free, egg free (therefore vegan), soya free and refined sugar free.
A few weeks ago I met up with my lovely blogging friends, Renee from Mummy Tries, and Mel from Le Coin De Mel, to try out the new menu at Leon.
If you don't know about LEON then I'm about to tell you more, along with sharing my version of the pudding that I ate there!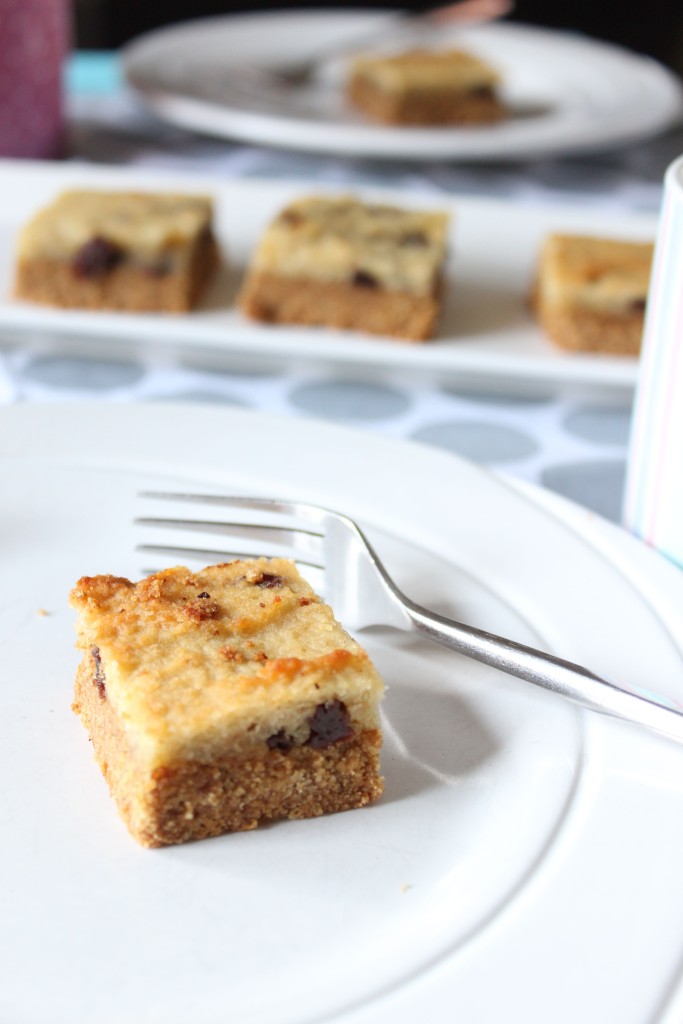 LEON are a small chain of restaurants set up in 2004 by John Vincent and Henry Dimbleby with the aim of making it easy for everyone to eat well.  If I'm honest, these guys are hero's of mine, along with Jamie Oliver.  They don't just talk about change, they help to create it.
John and Henry were the authors of The School Food Plan which ensured cooking became a part of the curriculum for primary age children and that all key stage one children got a free school meal.  The basis behind it was to educate children from a young age about healthy eating and to ensure that young children ate a healthy meal every lunchtime (unfortunately the reality of this is rather different if my experience of school meals at my children's school is anything to go by).
At LEON you will find healthy, responsibly sourced and often organic delicious meals as an alternative to fast food chains.  You will also find the sugar tax being applied to all drinks with added sugar.  This is where an additional 10p is added to such drinks to help people make healthier choices whilst also helping to repair some of the damage that sugar has done, and is doing, to people's lives.  They estimate that they will raise £50,000 over the next year through this tax and all the money raised will be donated to The Children's Health Fund, set up by Jamie Oliver and Sustain to improve the health and food education of children in the UK.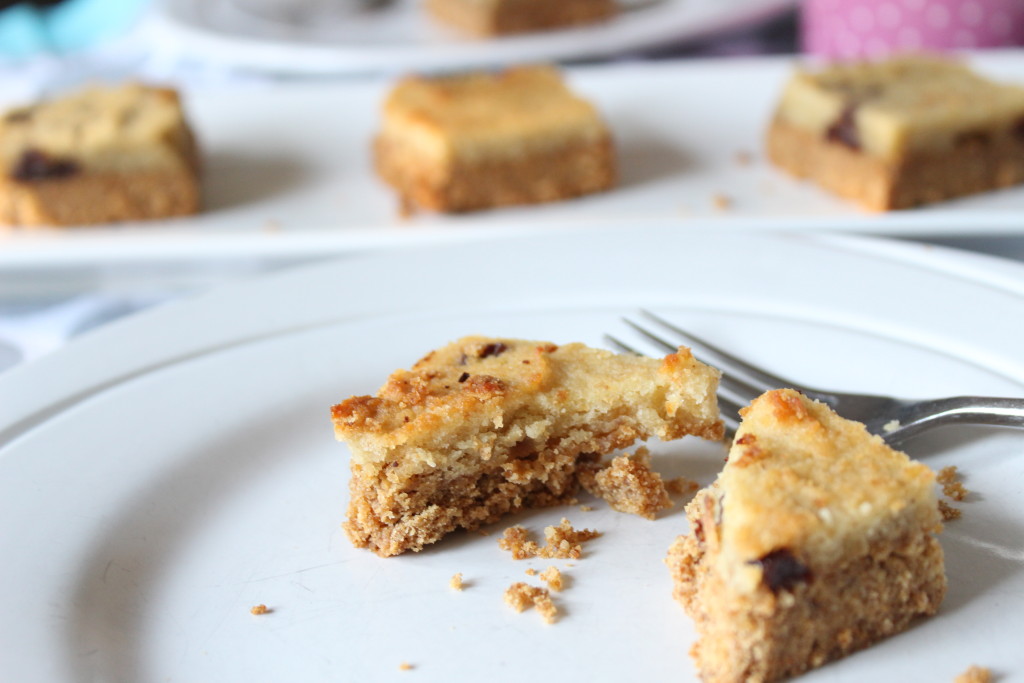 I can go on singing the praises of these restaurants.  They cater for those on restricted diets…whether that be vegans, vegetarians, gluten-free, dairy-free…they publish wonderful cook books with the recipes for their fabulous food…they provide fast food that is good food and they want to help people to eat well.
In short they are just fabulous…and no I haven't been paid to say that! I simply love their ethos and their food…and even Rennee (who follows the GAPS diet) and I (who follows a mainly grain-free, dairy-free diet) were able to find something to eat!
Anyway, when I was there I decided to treat myself to one of their cranberry Bakewell slices.  I decided to allow myself a bit of dairy, grains and sugar and I was not disappointed!  The treat was simply delicious and  as will all their cakes, was gluten-free.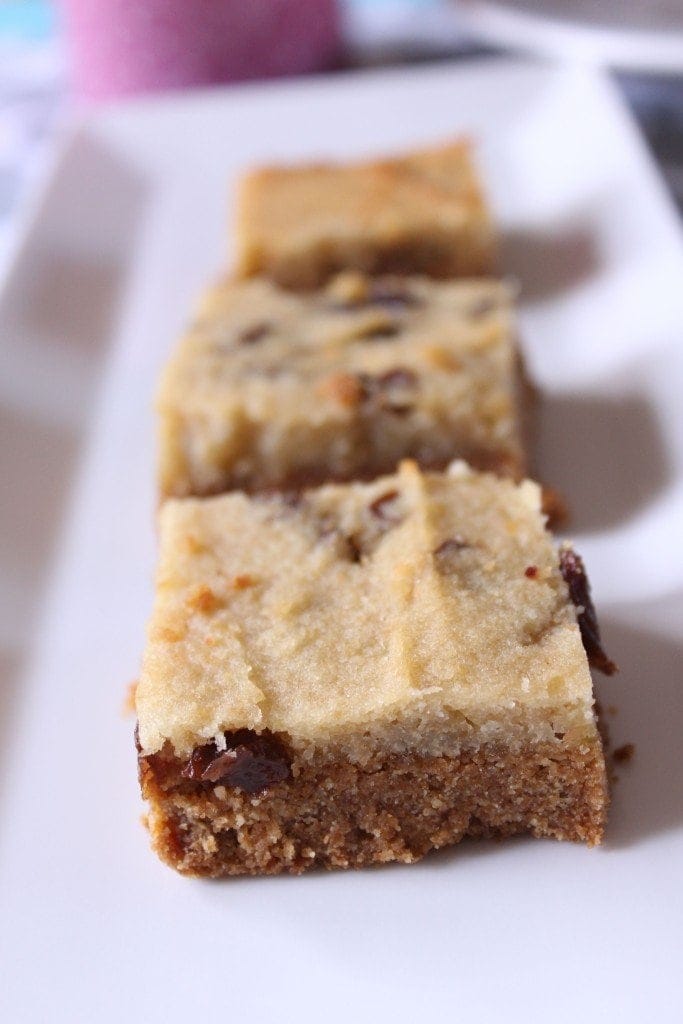 I wanted to recreate this wonderful treat, but make it more suitable for my diet (and tummy).  My version, a raisin bakewell slice, is therefore gluten-free, dairy-free and refined sugar-free.  It does, however, contain grains. I need to keep working on a grain-free version!  It is delightfully crumbly on the bottom and satisfyingly dense on the top…
I hope you enjoy it as much as we have. Please let me know if you make it…and do share a photo on your favourite social media channel making sure you tag me!
Why not pin the recipe for another day?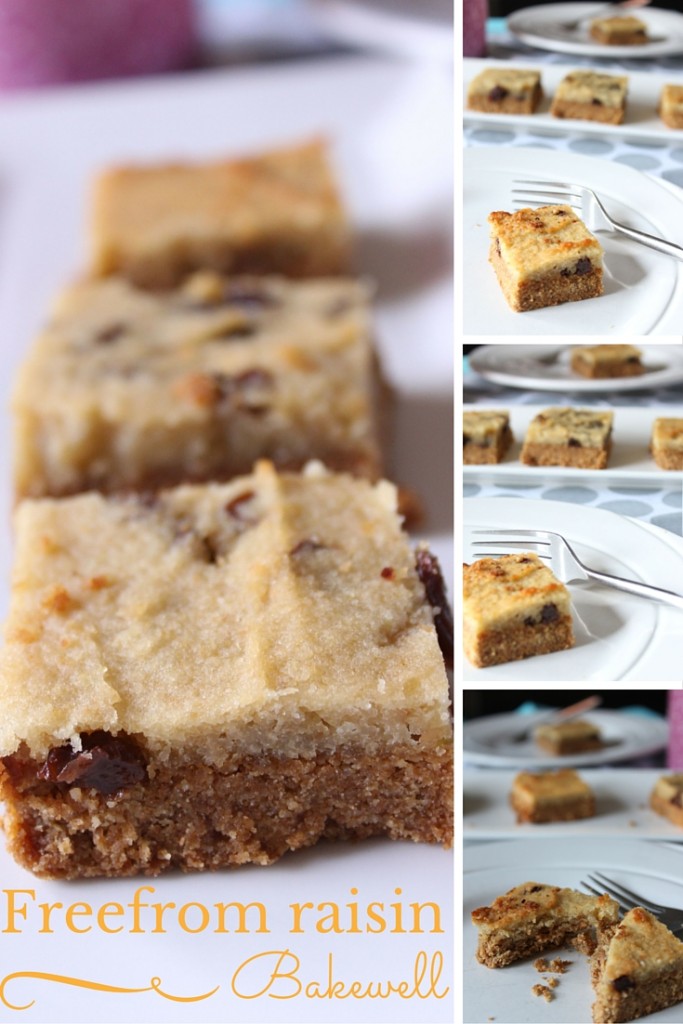 Raisin Bakewell Slice Recipe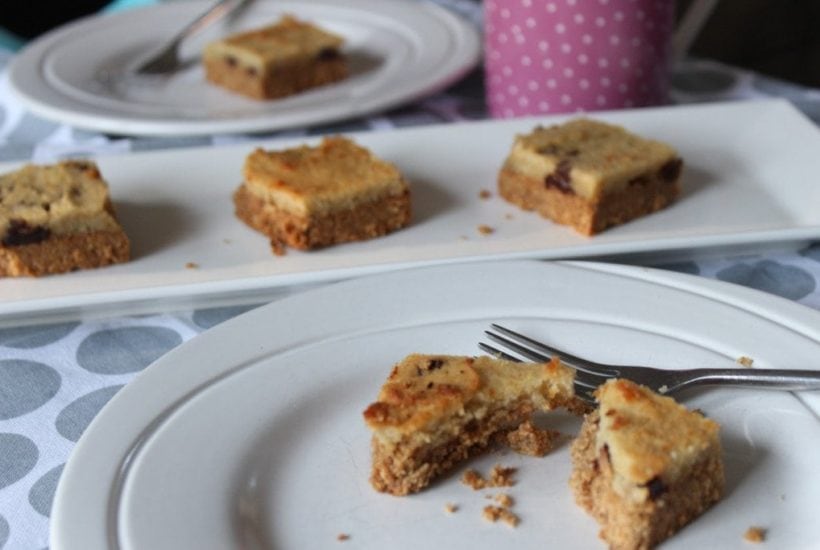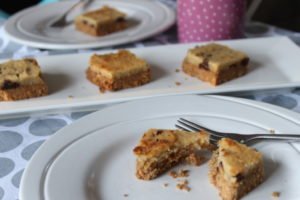 Raisin Bakewell Slice (Gluten, dairy, egg, soya & refined sugar-free)
Gluten-free, Dairy-free, Egg-free, Soya-free, Refined Sugar-free
Ingredients
FOR THE BASE:

100

g

ground almonds

125

g

maize flour/cornmeal/fine polenta

-

not quick cook

100

g

virgin organic coconut oil

-

I use Coconut Merchant

100

g

coconut sugar -

I use Coconut Merchant

1

tbsp

ground flax seeds

FOR THE TOP:

50

g

raisins

-

or other dried fruit of choice - you could go for Cranberries like Leon but they are generally sweetened

100

g

unsweetened apple puree

-

bought or homemade

50

g

runny honey

1

tbsp

ground flax seeds

3

tbsp

water

100

g

ground almonds

1/4 - 1/2

tsp

good quality almond extract

-

no added sugar
Instructions
Make the base by placing all the ingredients into a food processor and blending until you have a crumbly mixture. You may need to soften your coconut oil if it is very hard

Meanwhile turn your oven on to 160 degrees, 140 degree fan, gas mark 3, and grease a dish measuring approx. 25cm x 18cm

Tip the crumbly mixture into the dish and press down very firmly. Place in the pre-heated oven and cook for 25 - 30 minutes until firm to touch and lightly browned

While the base is cooking, prepare the topping.

Mix the ground flax with the water in a large bowl until a gelatinous mixture is formed. You may need to leave this in the bowl for 5 minutes to thicken

Once the flax 'egg' is thick add the apple puree, honey, ground almonds and almond extract and stir well to combine

Once the base is cooked remove it from the oven and turn the temperature up to 180 degree, 160 degree fan, gas mark 4.

Scatter the dried fruit over the base then dollop spoonfuls of the topping mixture evenly over the base

Gently spread it out so that it covers the base. Don't worry if some of the fruit jumps into it! It is quite a thick mixture to spread

Return to the oven for a further 25-30 minutes or until golden on top

Allow to cool completely in the dish before attempting to cut it into slices. If you cut it while still warm the base will crumble.
We were provided with a free meal but not asked to review the food. I loved it so much I wanted to tell you all about it!