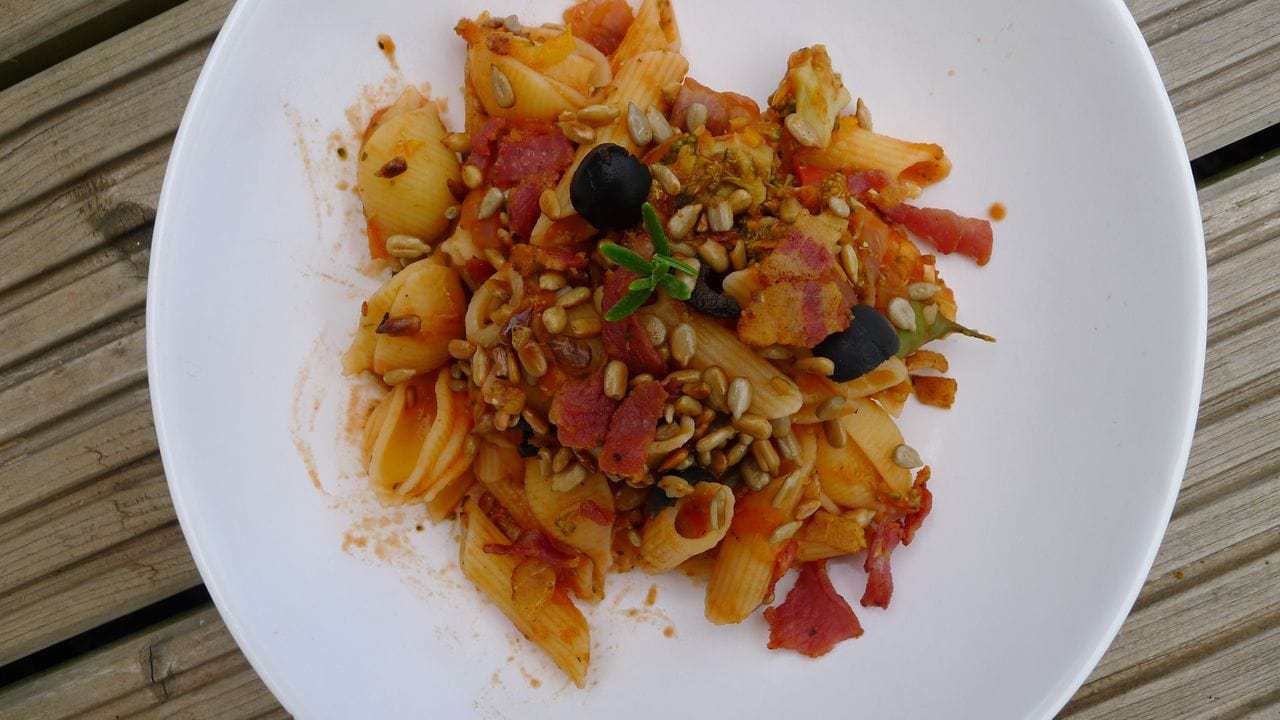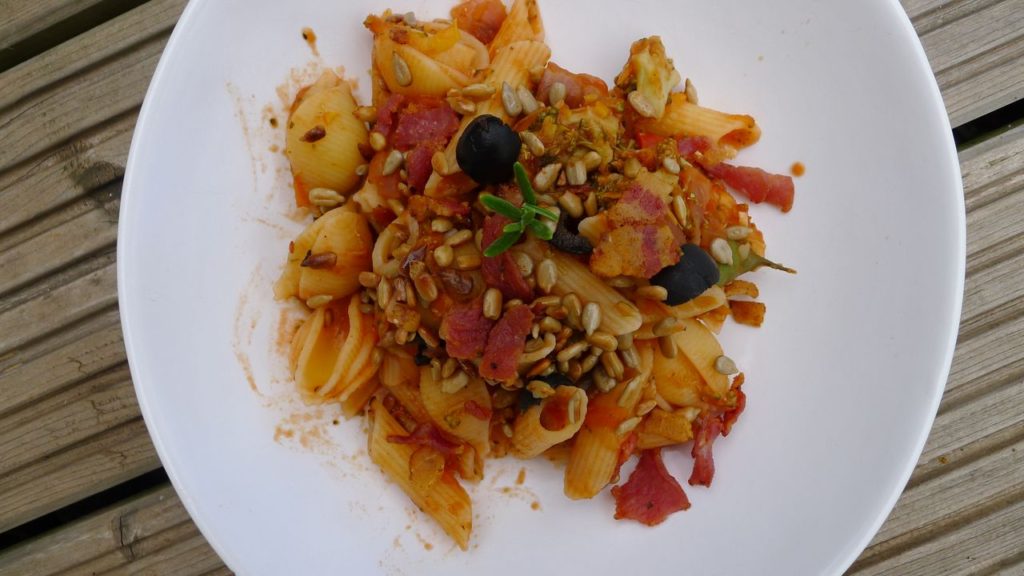 A few nights ago we were treated to a meal cooked mainly by Roo, my seven year old daughter.
The night before she had announced that she wanted to cook tea the following night (no complaints from me!!), so when it came to the following morning I quizzed her as to what ingredients she needed for her meal (assuming that she would laugh and tell me she was joking!).  Instead she said "do we have a selection of vegetables, a tin of tomatoes, some herbs and some pasta?"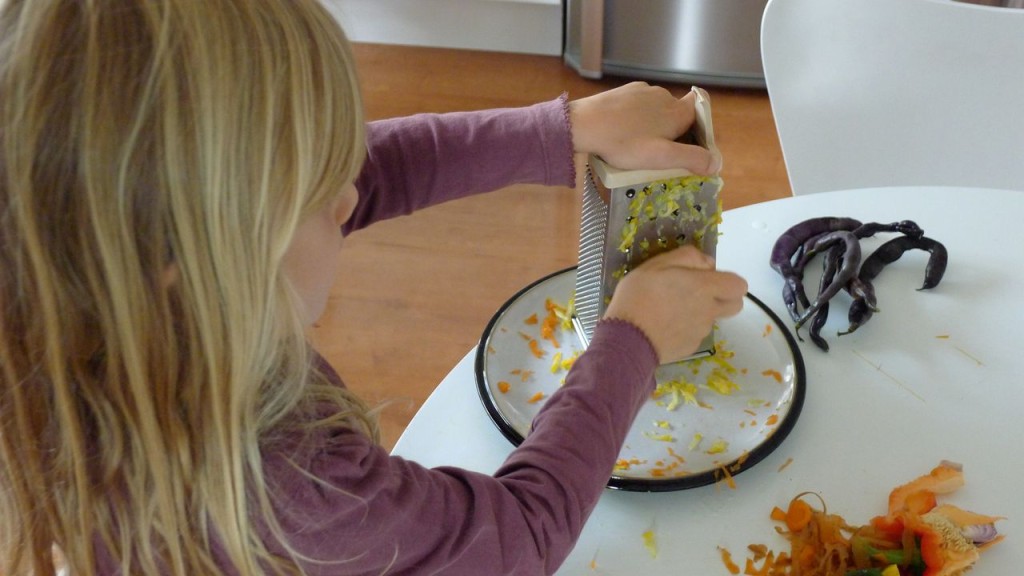 I have to say, I was quite taken aback, but knowing that towards the end of the school term she had designed and made a pasta sauce, I felt quite confident that she could do it.
She was completely in control of the whole process.  She told me what vegetables she wanted; asked me to chop some while she did others; decided how she wanted to cook them; stirred the sauce and busily grated those vegetables that she wanted small.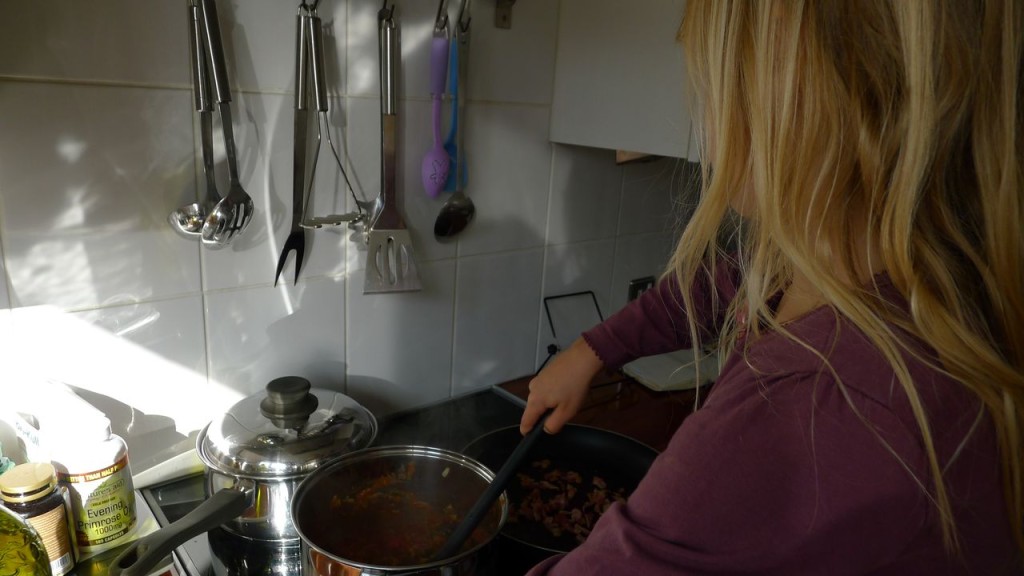 I prompted her to find out what protein she was going to add and she decided on crispy bits of bacon scattered on top with toasted sunflower seeds.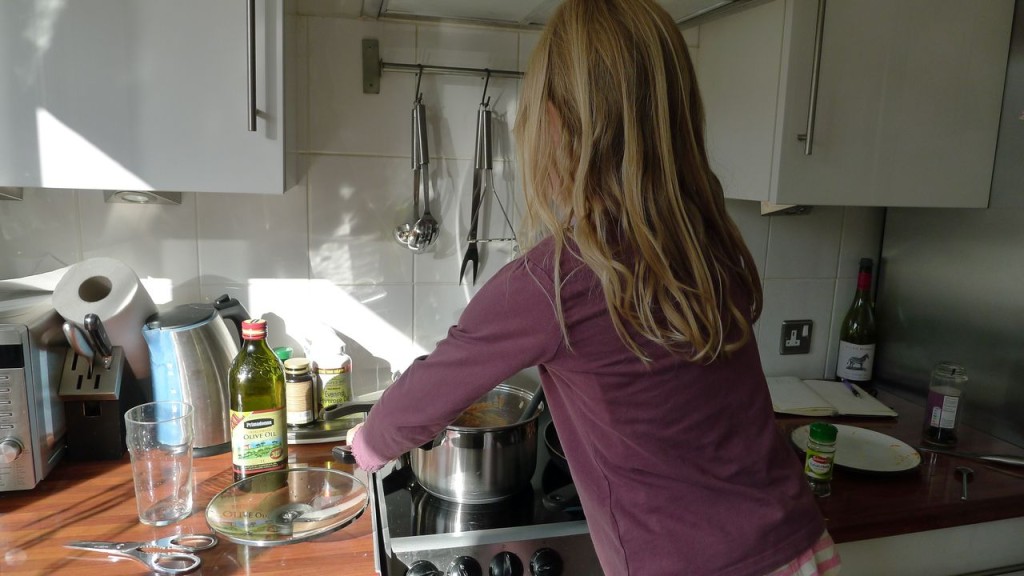 The resulting meal was delicious and I promised her that I would include it on my blog.  She will be delighted that I actually have!
So here it is…Roo's special vegetable pasta with crispy bacon and seeds.  And if my 7 year old can make it then anyone can!!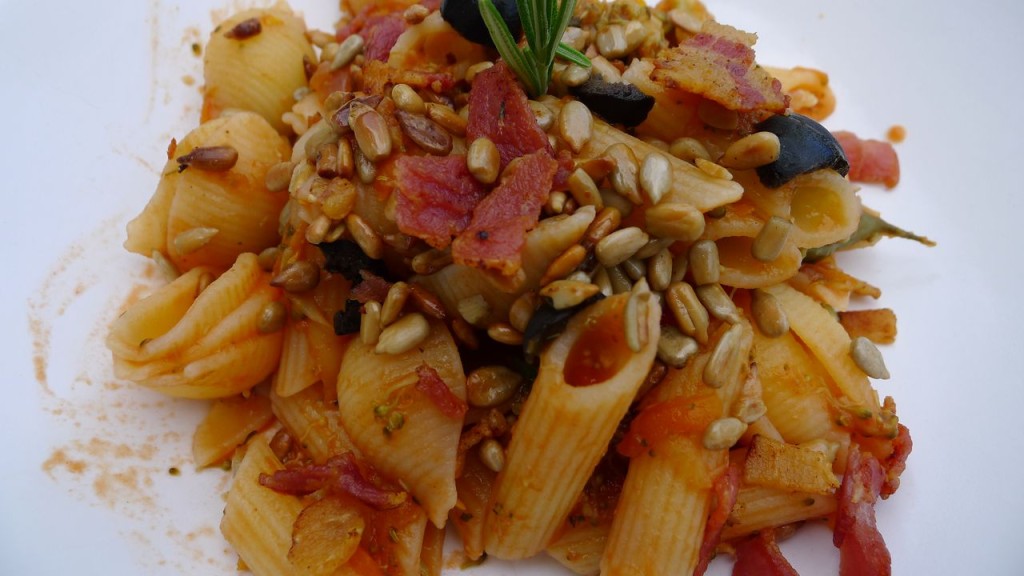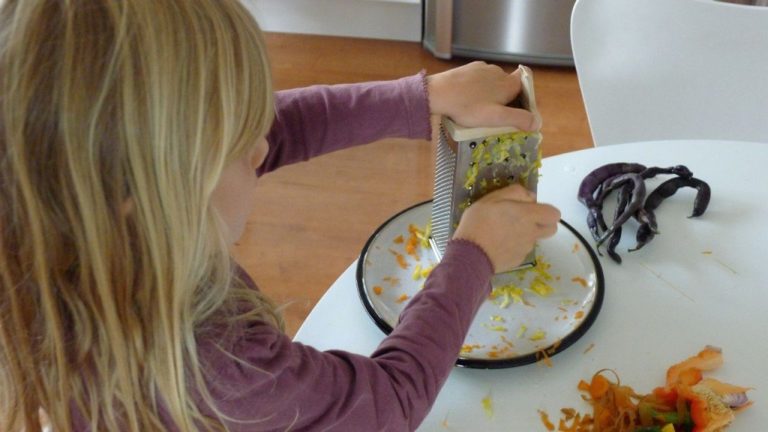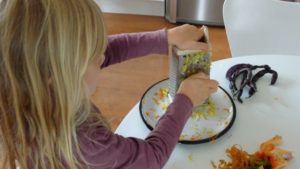 Vegetable Pasta with Crispy Bacon and Seeds
Gluten-free, Dairy-free, Egg-free, Nut-free, Soya-free, Fish-free; can be vegetarian or vegan
Ingredients
Half a red onion

-

finely chopped

1

clove

garlic

-

finely chopped

1

large carrot

-

grated

3

florets of broccoli

-

broken into small pieces

Half a red pepper

-

chopped

Handful green beans

-

chopped into 2cm pieces

Half small courgette

-

grated

400

ml

tomato passata

-

sieved tomatoes

1

tsp

mixed herbs or a handful of chopped fresh basil if you have it

Sprinkle chilli powder

1/4

tsp

stock powder

-

I use Marigold

4

tbsp

sunflower seeds

-

toasted in a frying pan until golden

4

rashers bacon

-

grilled or fried until crispy

Handful pitted black olives

-

chopped (optional)

320

g

gluten-free pasta
Instructions
Place the onion, carrot and red pepper in a large pan with approx. 50ml of water and cook the vegetables on a low heat with the lid on for approx. 10 minutes until soft. Replenish the water if it evapourates.

Add the remaining vegetables and allow to cook for a further 5-10 minutes, keeping the water topped up so there is just enough to cover the bottom of the pan.

Remove the lid and allow the water to evaporate before adding the passata, herbs, stock and chilli powder. Continue to cook on a low heat for a further 5-10 minutes until the vegetables are soft and the sauce thickened.

Meanwhile cook the bacon and seeds and chop the black olives.

Cook the pasta according to the instructions on the packet.

Once the pasta has cooked, drain and rinse, then add the sauce. Stir to combine and serve with chopped crispy bacon, sunflower seeds and olives scattered on the top.

To make this vegetarian or vegan, replace the bacon with grated cheese or beans.
What have your kids treated you to this summer?!