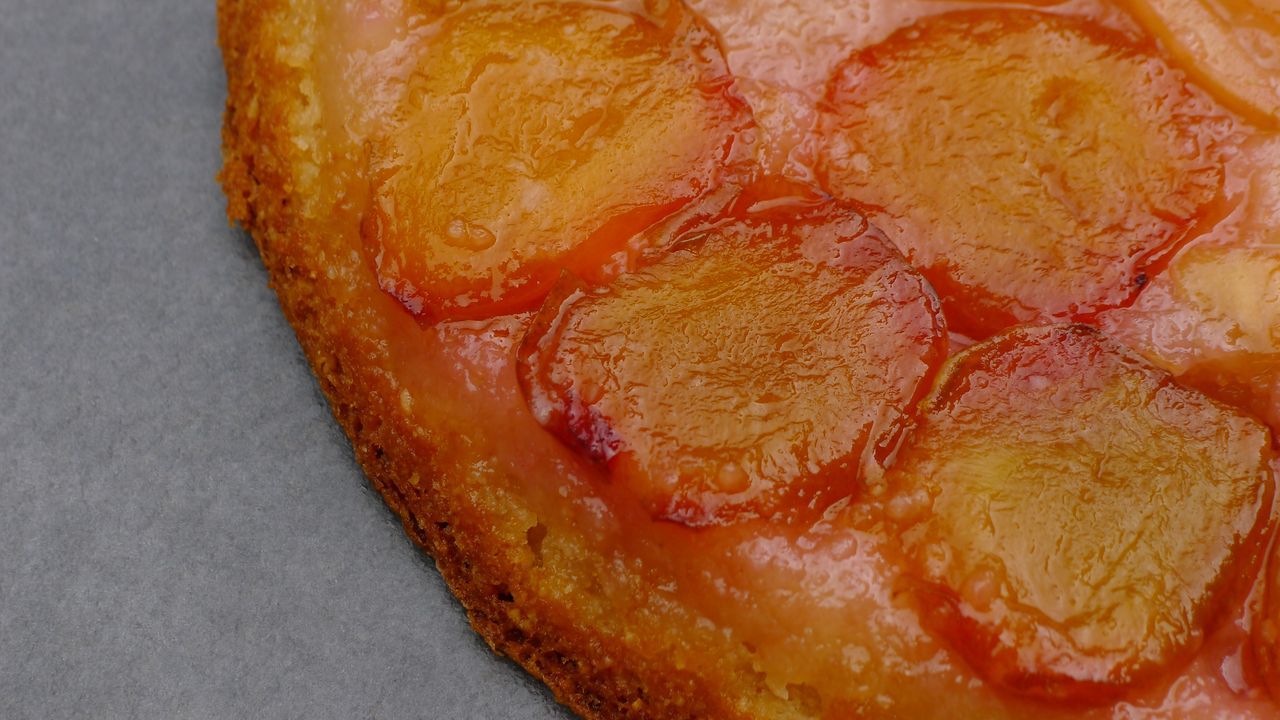 Life has been hectic of late…since the kids broke up from school there has barely been a day that we haven't had something planned.  Finally today we have had a day at home enjoying each others company…and doing some experimenting with food!
My mum and step dad stayed for the weekend to look after the kids while we snuck off to visit the relatively newly Coeliac UK accredited, Percy's Country Hotel and Restaurant (more about that in September).  After a fabulously restful weekend with lots of incredible gluten-free food, I arrived home to some amazing plums from mum's garden.
Today I decided to try a tarte tatin made with cake rather than pastry.  Unfortunately having set my heart on that, I discovered that the large quantity of plums wasn't quite so large once I had discarded all of those that had worms in them!  I therefore had to fill the middle of my tart with apple…so it was not quite as it should be!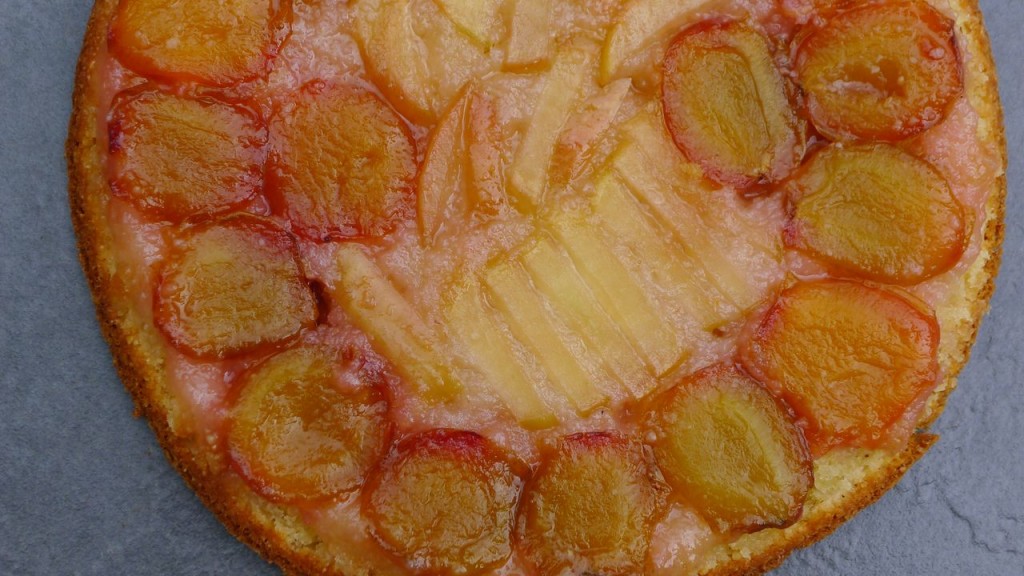 Anyway, it tastes amazing so I thought I would share it with you while I had a spare minute…knowing that many of you will have a surplus of plums to deal with!
Let me know what you think and what your favourite plum recipes are!  I apologise for this one not being dairy-free, but I am currently rather excited by the fact that my daughter (Roo from now on) can safely eat dairy again!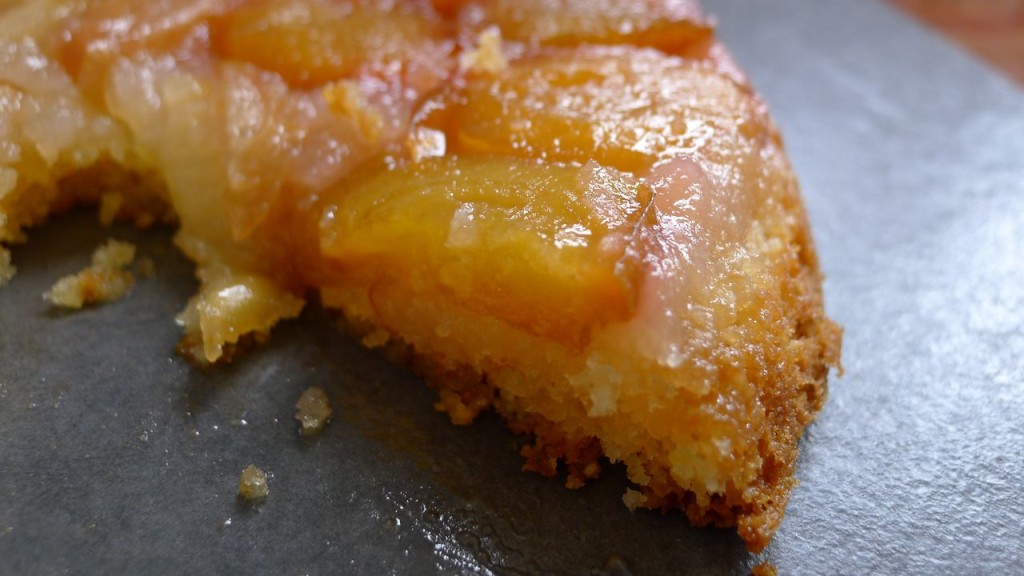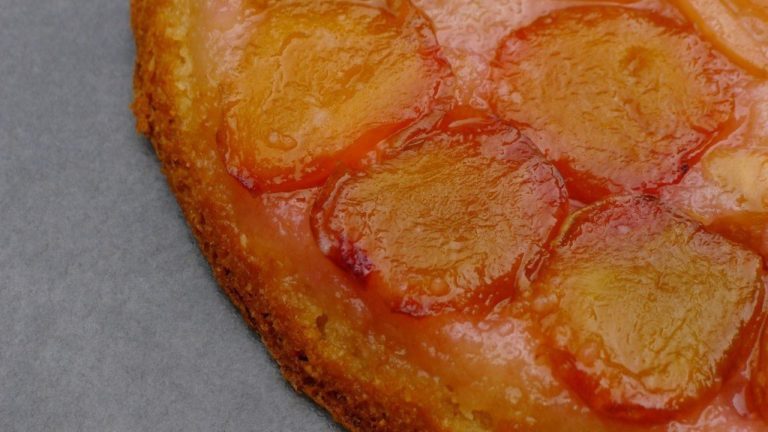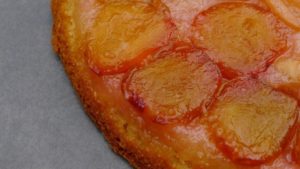 Gluten-Free Plum and Almond Tarte Tatin Cake
Gluten-Free, Soya-Free
Ingredients
For the syrup top:

100

g

sugar

30

ml

water

For the tarte:

10-12

plums

120

g

butter plus extra for greasing

120

g

sugar

120

g

sour cream

1

egg

3

tsp

finely ground flax seeds

-

I use the coffee grinder to do this

60

g

ground almonds

1 1/2

tsp

baking powder

Zest of one unwaxed lemon
Instructions
To make the syrup dissolve the sugar with in the water over a low heat. Once dissolved, turn the heat up to medium and boil until the syrup turns a pale amber colour.

Grease a 20cm glass flan dish while the syrup is cooking and then cut the plums in half removing the stone.

Place the plum halves cut side down in the dish.

Once the syrup is ready pour it over the plums and set to one side.

To make the base of the tarte cream the butter and sugar together (ideally with an electric whisk) until pale and fluffy.

Add the egg, flax seeds, sour cream and lemon zest, mixing together again before finally adding the almonds, flour and baking powder and giving it a final mix.

Place the mixture on top of the plums and spread evenly.

Bake in a pre-heated oven at 180 degrees, 160 degrees fan oven for approx. 30 minutes until golden and firm to the touch.

Cool for 5 minutes before turning out onto a serving plate.

Serve either warm or cold.
I have shared this recipe on: