This gluten free, dairy free crumble is the perfect topping for any fruit. Or indeed cake. With this recipe you make the crumble separate from the fruit which means you can store it in the fridge or freezer and add it when required. You'll need four ingredients and just ten minutes to make it.
This post contains Affiliate links. As an Amazon Associate I earn from qualifying purchases.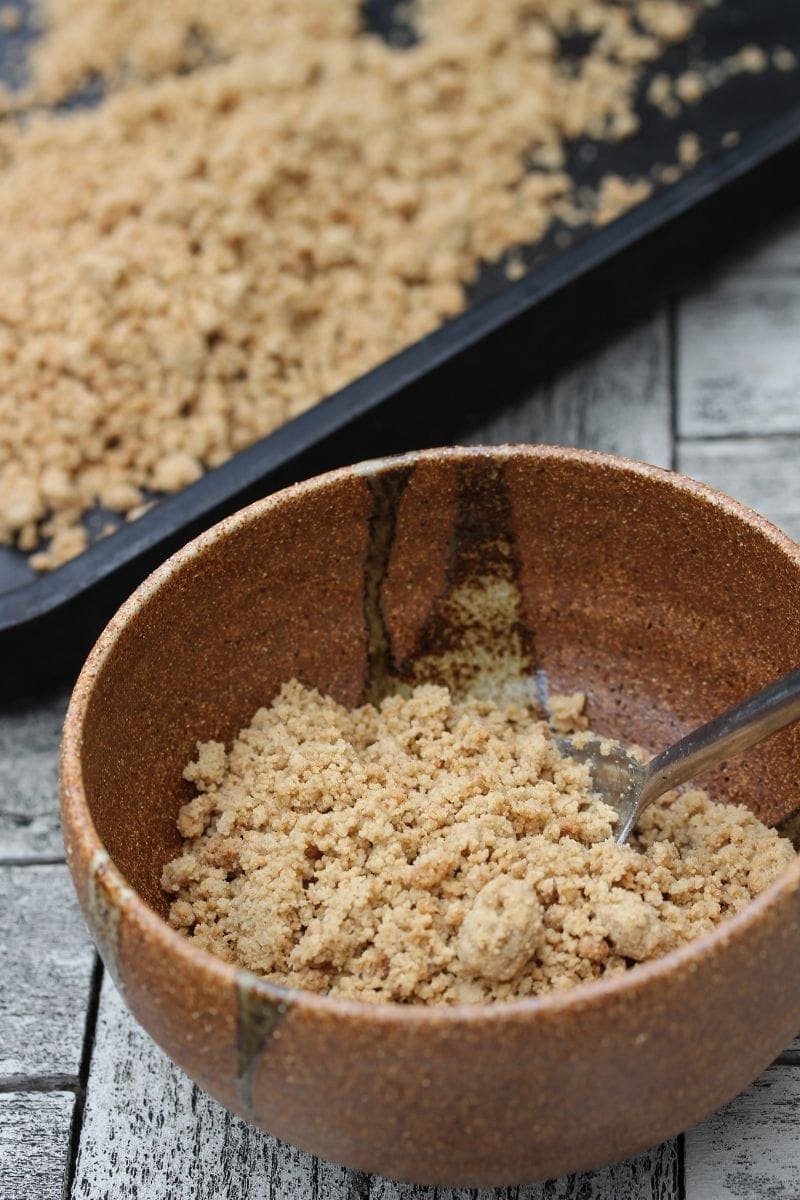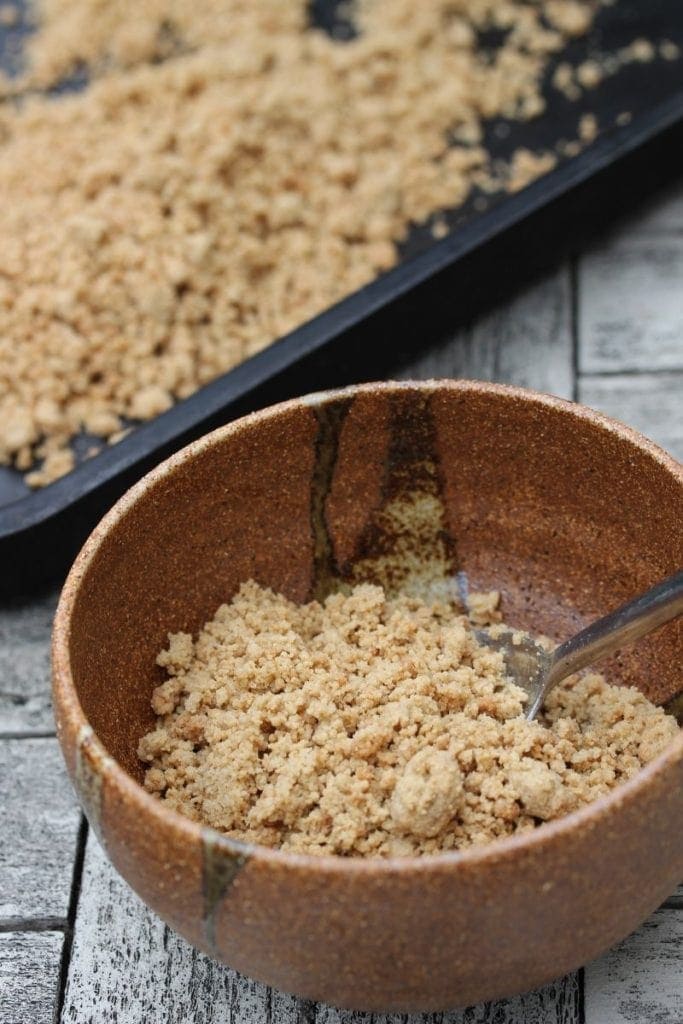 The story behind this quick gluten free dairy free crumble
This is a recipe that I have had knocking around for a long time. One that my husband keeps telling me that I should add but that I always think is just too simple.
I hope I am not insulting you by adding it.
It really is so quick and easy to make and is perfect this time of year when there is a glut of fresh fruit about. It's a great way to get children to eat fruit.
Most crumble recipes require you to make the crumble and place it on top of fruit to cook. With this recipe I cook the crumble and then use it as a topping.
The resulting streusel topping can be stored and used when you want it. Just scattering a small amount on top of fruit for a healthier crumble pudding.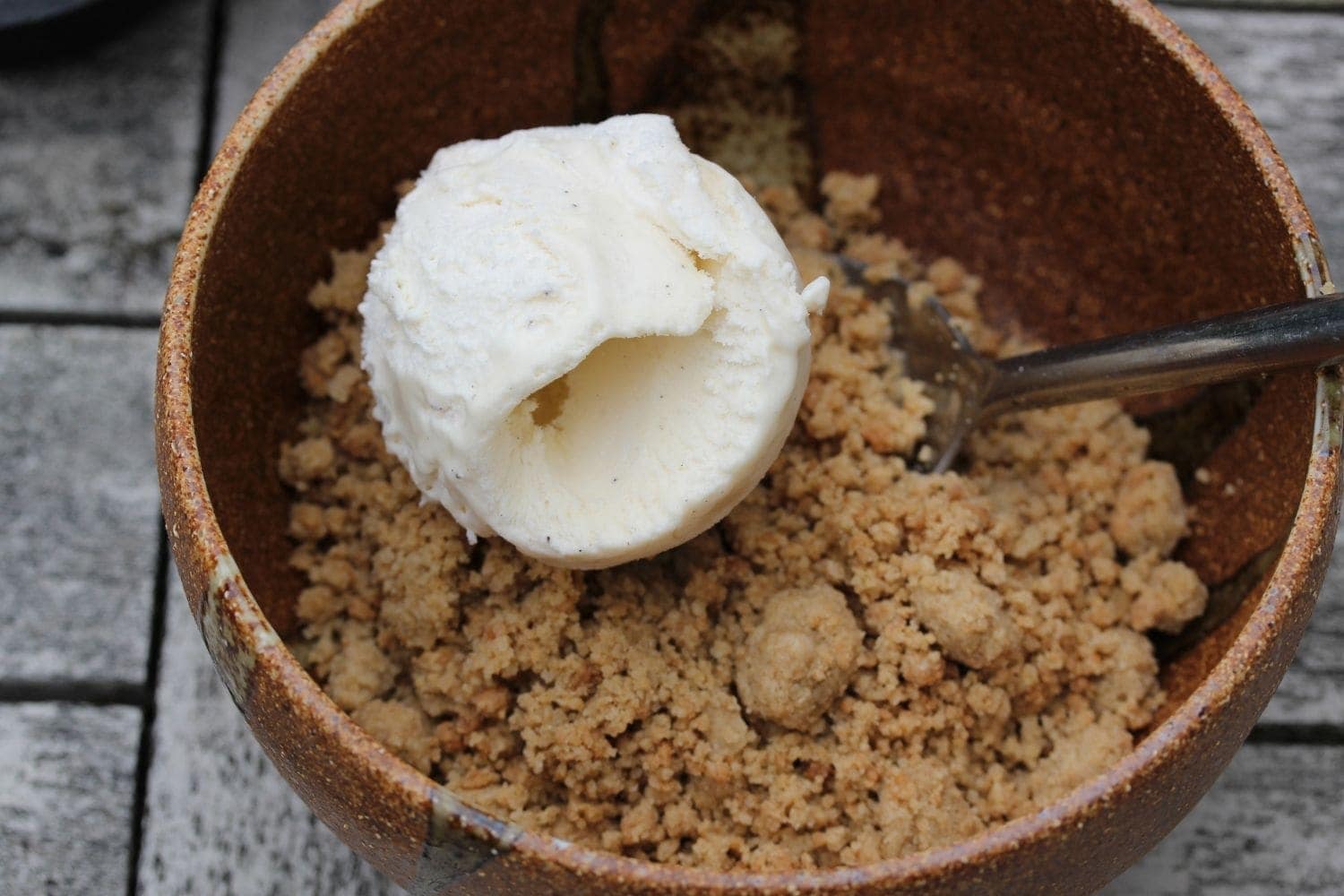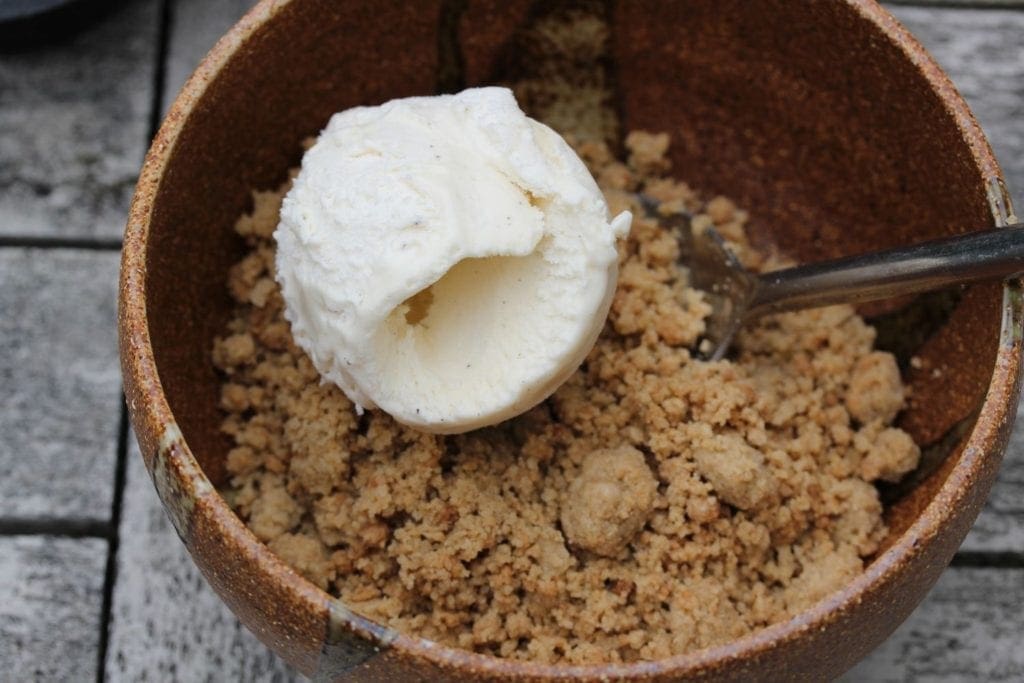 Crumble varieties
Once you've made the topping it's really easy to make whatever gluten free dairy free crumble you like.
If you cook some apples you can scatter this on top to make an apple crumble.
Cook some rhubarb and make yourself a rhubarb crumble.
Pick some blackberries and add them to some cooked apples for a blackberry and apple crumble. Alternatively, make a Christmas crumble by adding mincemeat to cooked apples.
Having a pot of this in the fridge or freezer means that any time you want a quick dessert you have something on hand.
I usually also have pots of cooked fruit in the freezer so I take one of those out and warm it up, make up my crumble and have a pudding on the table in a matter of minutes.
If you wanted to make this from scratch, peel (if needed) and chop your fruit. Lightly cook it over a low heat for about 20 minutes until soft. Depending on the fruit you may need to add some water. Sweeten to taste then add my crumble mixture.
Because you are cooking the crumble before adding it to the fruit you use a lot less than you would in a traditional recipe and therefore it is much healthier, crisper and cheaper.
Not only that, but this is a particularly low sugar crumble recipe. If you prefer a sweeter version then add more sugar.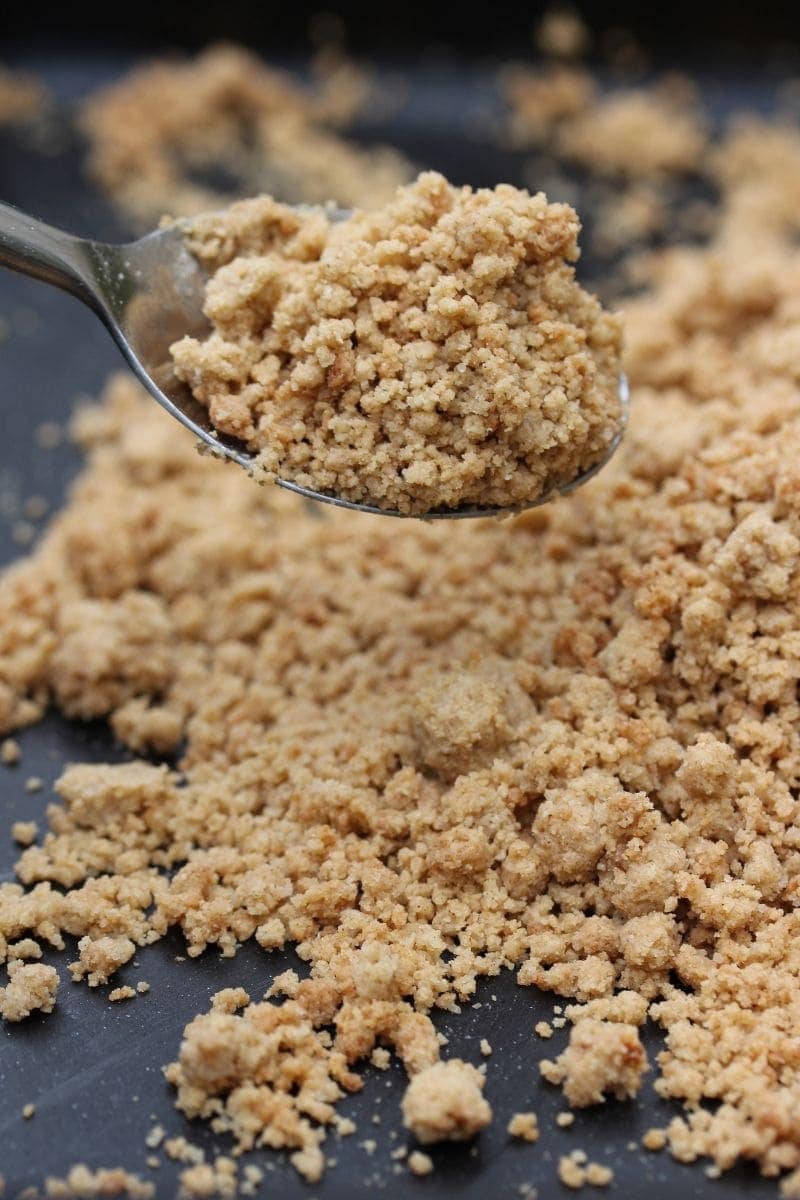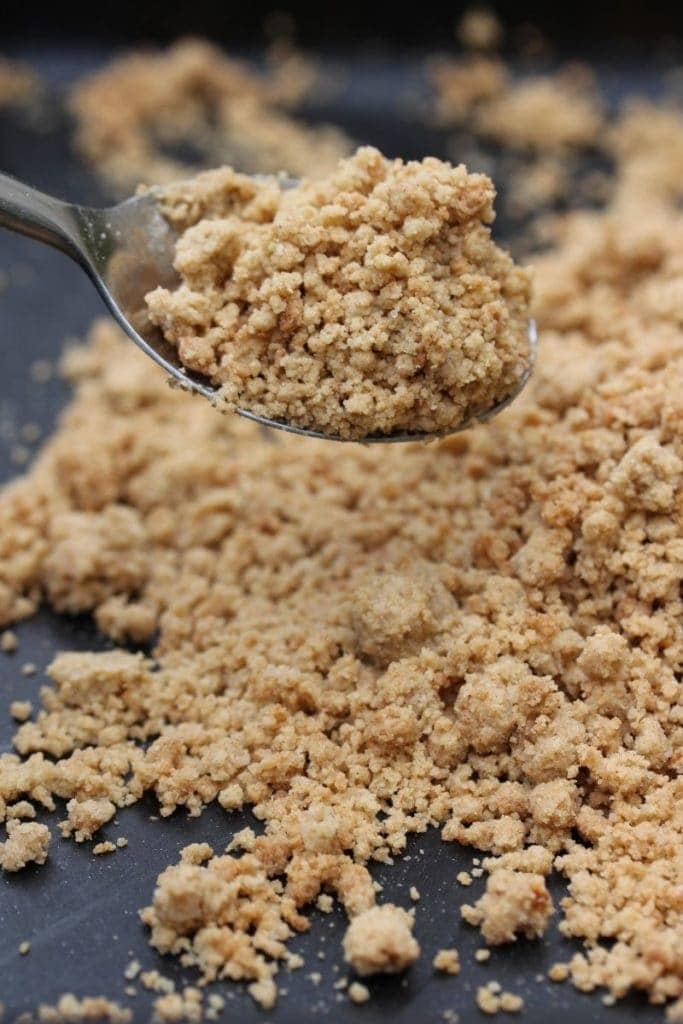 How do you make this gluten free dairy free crumble?
The easiest way to make crumble is to place all the ingredients into a food processor and process until you have a crumb texture.
I personally have this KitchenAid food processor and it's brilliant for a huge variety of recipes.
I use it to make my gingerbread, healthy flapjack recipe, gluten free soda bread and more.
I even use it to grate vegetables and cheese so it has many uses. It's also lovely and small and fits in one of my cupboards leaving more space on the worktops.
If you don't have or don't want a food processor then you can still make this recipe.
Just rub the margarine and flours together with your fingers, then stir through the sugar.
Once you have the mixture you can either keep it uncooked in the fridge or freezer or move to the next step.
To cook the crumble, spread the mixture across a large baking tray and place under a pre-heated grill on a high heat. Every minute or so, mix the crumble mixture and place under the grill again.
Continue to do this until you have a crispy crumble. Don't take your eye off it or it will burn, or melt into a biscuit!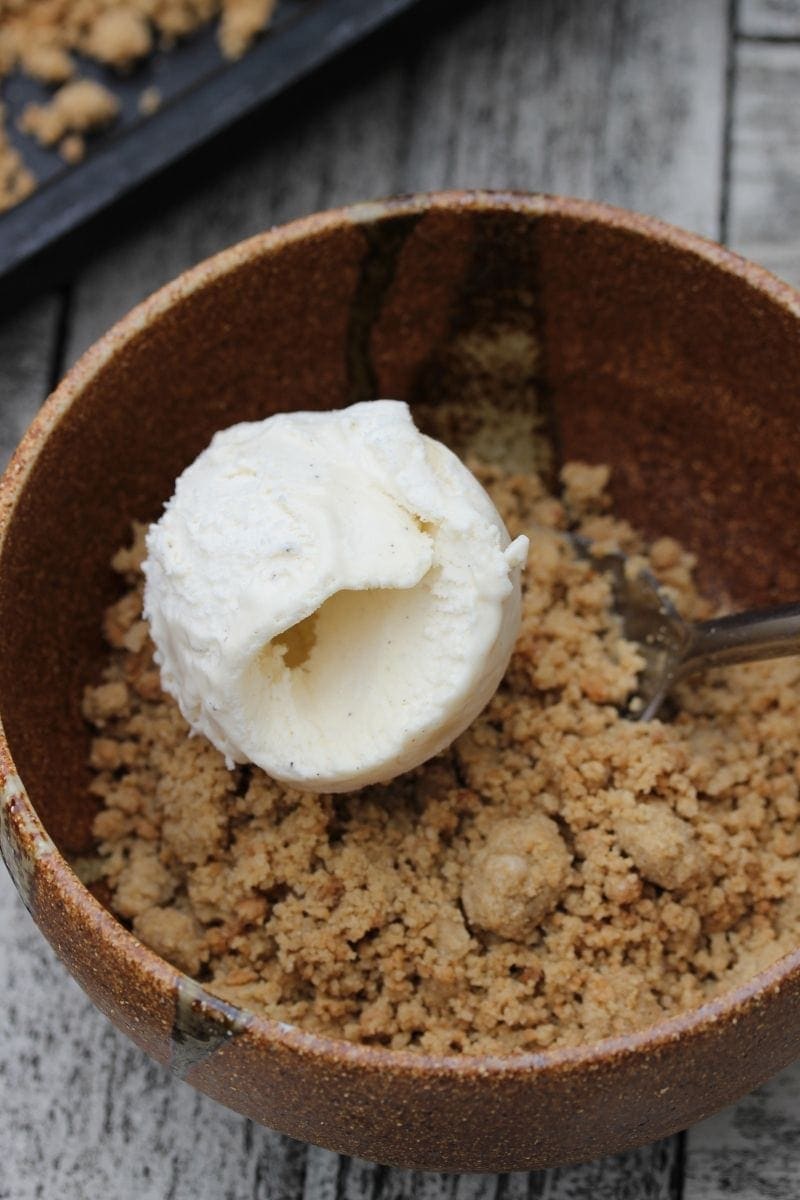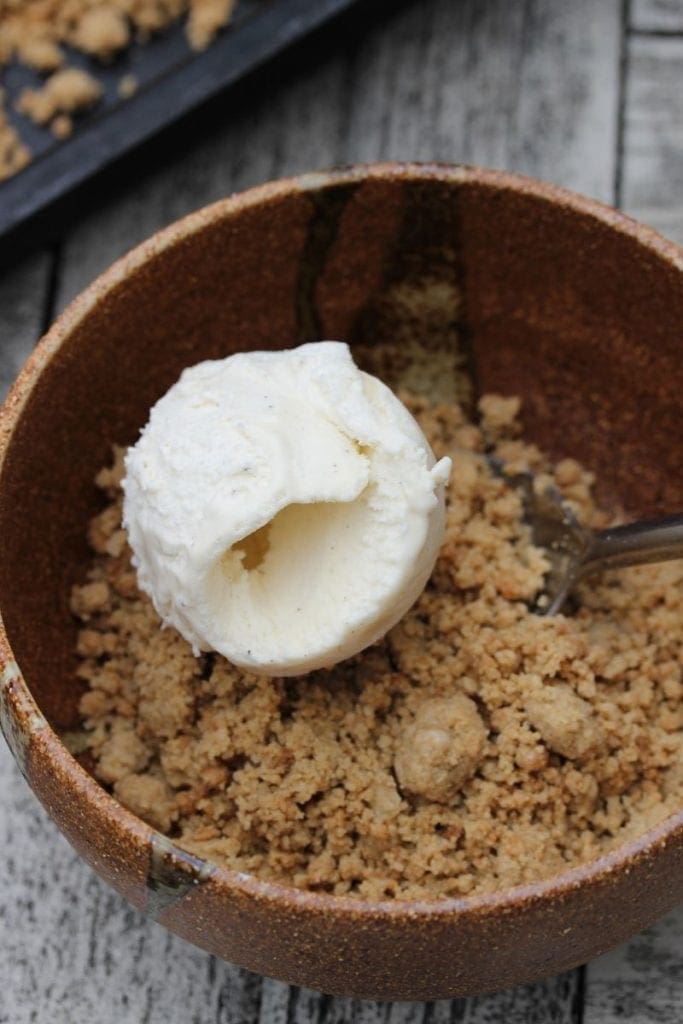 Can I make this gluten free crumble topping without oats?
The simple answer here is yes.
I understand that many people with coeliac disease don't tolerate oats. And in New Zealand and Australia coeliacs are advised not to eat oats at all. Even if they are gluten free.
If you want to know more about why then read Eating Gluten Free In New Zealand; Coeliacs & Oats.
So if you don't tolerate oats, or have been advised not to eat them just replace the oat flour in the recipe with gluten free plain flour.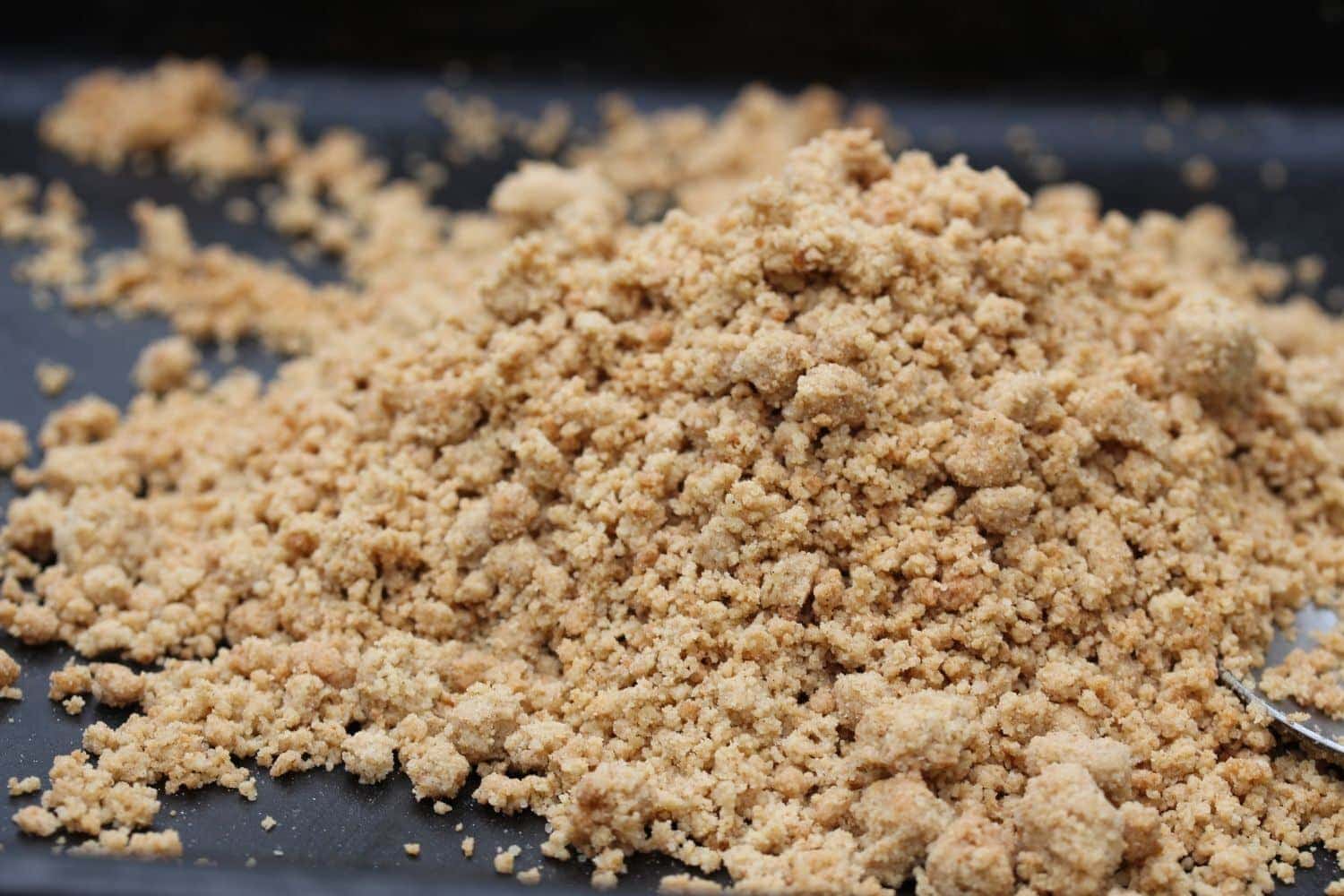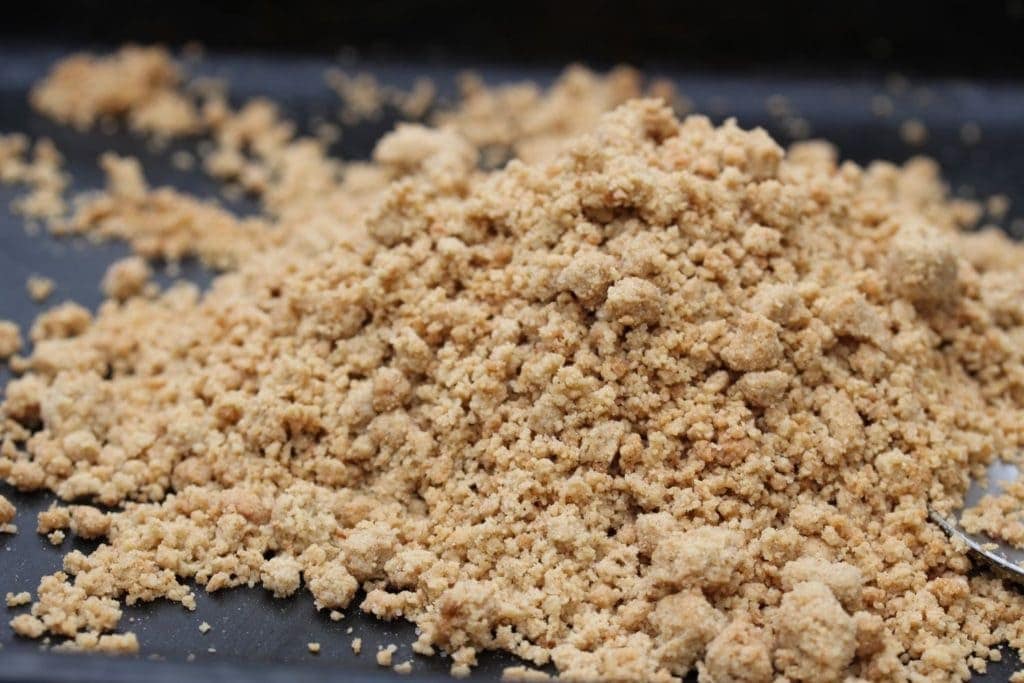 What gluten free flour do you need for this crumble?
Since developing my own wholegrain rice free, gluten free flour blend I always use that.
It's a blend of 70% wholegrain gluten free flours with a small proportion of white flours to help lighten the blend.
It is a truly multipurpose blend meaning that you'll never need more than one bag of flour. It can be used to make gluten free bread, cakes, biscuits, pastry, pasta and more.
If you don't yet know what a gluten free flour blend is, or what gluten free flour is, then head to this article: What on Earth is a Gluten Free Flour Blend?
In it I explain what gluten free flour is and why if you don't understand this you'll have problems with gluten free baking.
So read it if you don't want to waste any more expensive ingredients.
If you're interested in buying my flour blend you can do so from my gluten free flour shop.
Pin the recipe to Pinterest so you don't lose it: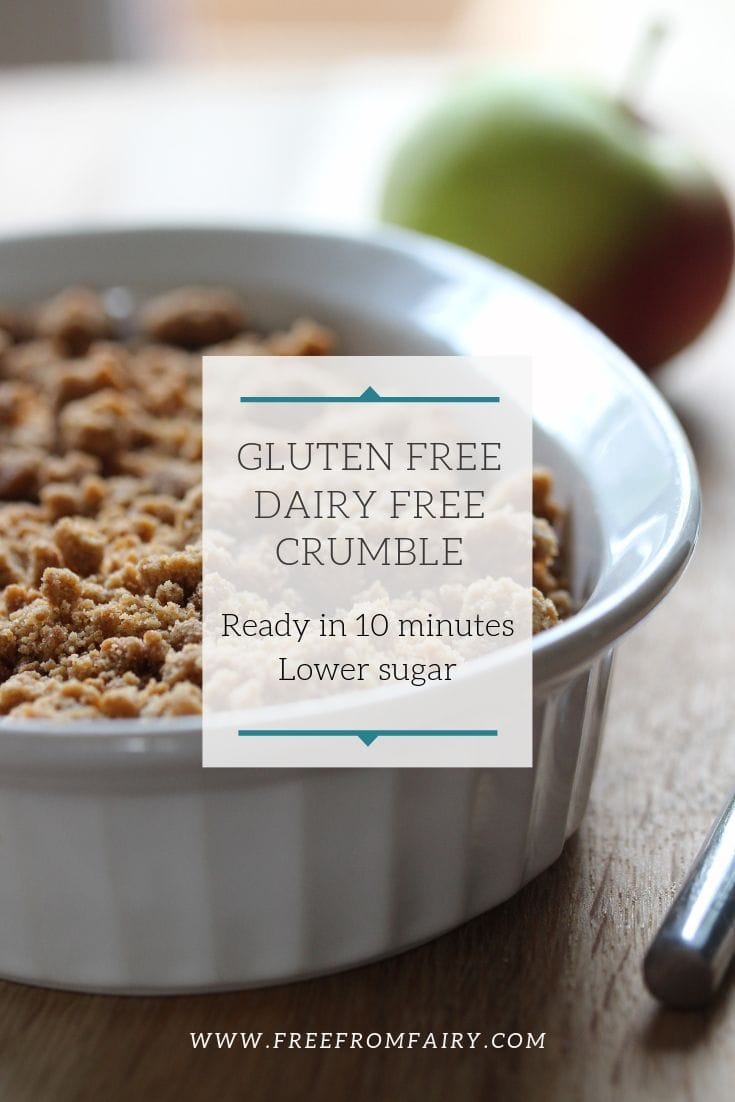 If you like this recipe sign up for my free recipe booklet. In it you'll find recipes for gluten free scones, Victoria sponge cake, Yorkshire puddings, pancakes and more. You'll also receive my weekly newsletter of recipe inspiration, tips and news.
Just enter your details in the box below to have it delivered to your inbox now (please check your junk folder if you don't receive it):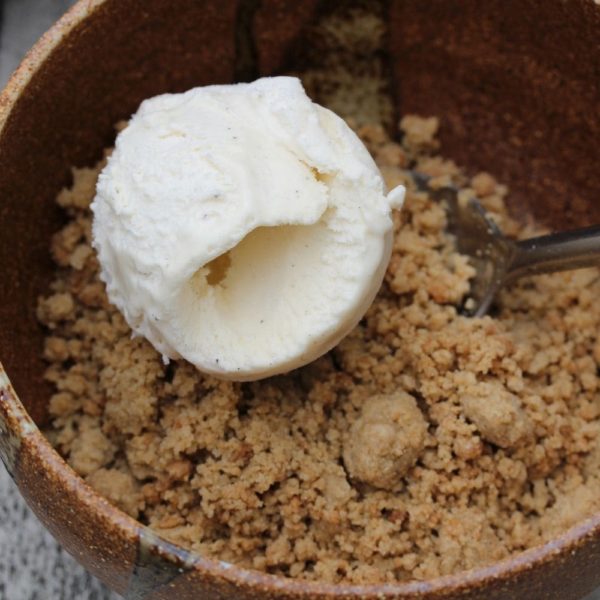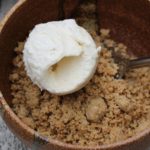 10 Minute gluten free dairy free crumble
Gluten-free, Dairy-free, Egg-free, Soya-free, Nut-free
Ingredients
190

g

gluten-free plain flour

I use my wholegrain blend

35

g

oat flour

grind some oats in a coffee grinder or food processor - or the same amount of plain flour

100

g

dairy-free margarine

or butter

45

g

white sugar
Method
Place all the ingredients together in a food processor and process until you have a crumb texture (if you do not have a processor then rub the fat into the flours and then add the sugar).

Spread in an even thin layer over a baking tray.

Place under a pre-heated high grill for 5-7 minutes, mixing regularly until golden (don't take your eyes off this, it will burn easily!).

While the crumble is cooking place 2 tablespoonfuls of your chosen cooked fruit into a ramekin or small bowl, per person.

Once cooked, sprinkle 2-3 tablespoonfuls of crumble onto the top of your fruit and serve.

This amount of crumble will serve approx. 8 people this way so I cook half and place the other half in the fridge for another day. It will keep uncooked in the fridge in a sealed container for a couple of weeks, or in the freezer for a good few months.
Recipe Notes
Nutrition information is for guidance only and doesn't include any fruit you use.
Nutrition Facts
10 Minute gluten free dairy free crumble
Amount Per Serving
Calories 201
Calories from Fat 81
% Daily Value*
Fat 9g14%
Sodium 82mg4%
Potassium 46mg1%
Carbohydrates 27g9%
Protein 3g6%
Vitamin A 475IU10%
Calcium 5mg1%
Iron 0.6mg3%
* Percent Daily Values are based on a 2000 calorie diet.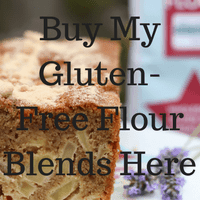 I shared this recipe with: