The recipe for pecan butter came to me one day when I was thinking about nut butters. I'm a huge fan of peanut butter and almond butter and I love pecans. So I decided to set about making a pecan butter. The result is incredible. I've lightly spiced mine so it tastes like pecan pie. What's not to like?
This post contains Affiliate links. As an Amazon Associate I earn from qualifying purchases.
Jump to Recipe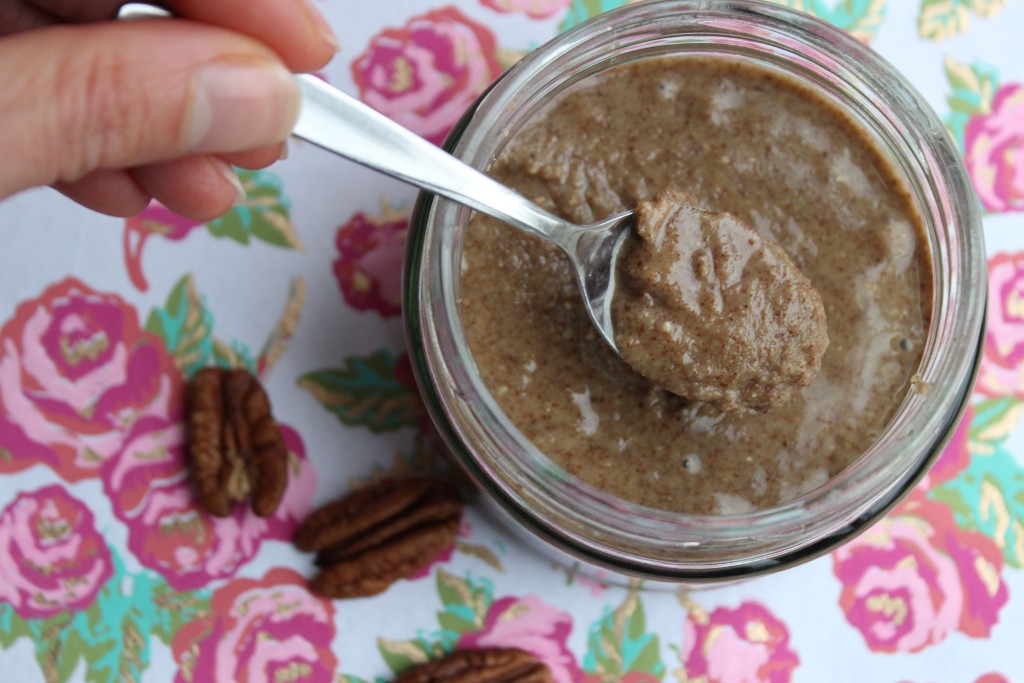 Creamy, decadent and addictive are the words I would use to describe my latest recipe for pecan butter!  If you're a fan of pecan pie you are going to love this nut butter!
Why pecan butter?
I adore nut butters but being on the low FODMAP diet means that I have to avoid various nuts and generally limit my intake of others.  
That is a bit of a problem given that I am a nut-freak and that once I get my spoon dipped in a pot of nut butter I find it hard to go back!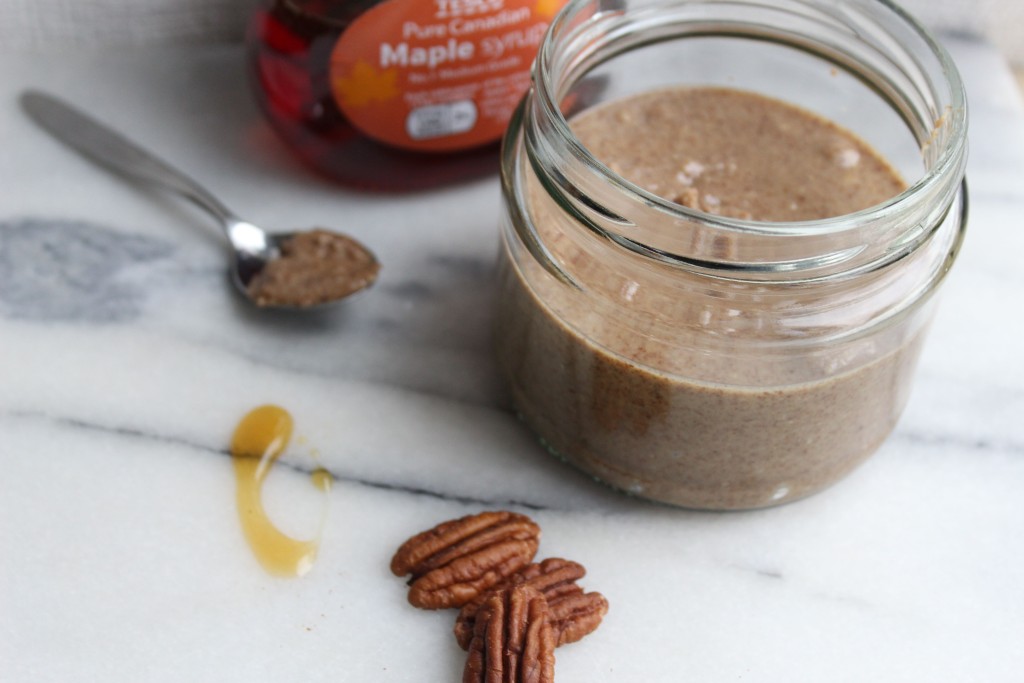 I confess to demolishing the best part of the first jar of this in a couple of days…my tummy isn't too impressed but my endorphins are flying!
I think this nut butter is particularly festive so perfect around Christmas or to make and give as a gift.
I've added mixed spice (if you are in America I think you call that pumpkin pie spice) and sweetened it with a dash of maple syrup.
This is pretty much perfect spread on anything.  I can highly recommend it on pancakes and in porridge!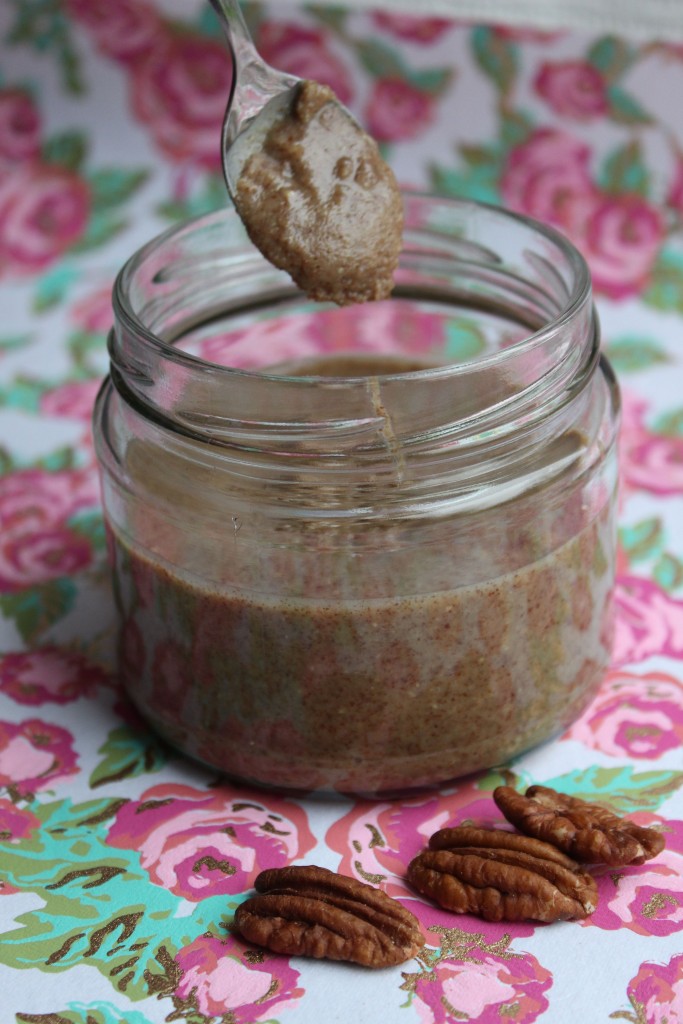 What is low FODMAP?
The low fodmap diet was devised in Australia to manage the symptoms of Irritable Bowel Syndrome (IBS).
It is a complicated diet that cuts out certain carbohydrates for a period of time. This helps to eliminate or reduce the symptoms of IBS.
Although I didn't find it helped me I know many people who have been helped by it.
It isn't a diet that can be followed easily and should always be done under the supervision of a dietician.
If you'd like to find out more about it then I highly recommend visiting the Monash University website.
Can I eat this if I'm following the Specific Carbohydrate Diet (SCD) or GAPS diet?
The SCD and GAPS diets are other diets that I tried in order to settle the IBS and other symptoms that I was experiencing. They have been used to help people with Crohn's disease, ulcerative colitis, coeliac disease, diverticulitis and other digestive conditions.
You can find out more about the SCD diet here, and the GAPS diet here.
If you are on the Specific Carbohydrate Diet or GAPS diet then leave out the maple syrup. Or you could replace it with honey depending on the stage of the diet you are on.
How do you make a pecan nut butter?
Making a nut butter is much simpler than you might imagine.
When making any nut butter I recommend toasting the nuts lightly in a dry frying pan as the first step. This brings out the full flavour of the nut.
Nuts, due to their high fat content, burn really quickly. The trick is therefore to stand and stir the nuts around in the pan to prevent any one surface from getting too hot.
Once lightly toasted (you'll begin to smell them when they're ready) they can be transferred to a high power blender or a hand held chopper along with any other ingredients.
The advantage of a high power blender is that you'll get a really smooth butter in next to no time. However, they can be a challenge to clean out and you may loose some of the butter in the bottom.
The advantage of a hand held chopper is that you can get all the nut butter out but it may not be as smooth!
How do you store pecan nut butter?
The important thing about storing any homemade nut butter is that you use a sterile jar. This prevents any bacteria from getting into your butter.
Sterilising a jar is easy. There are a number of methods but I like to place my clean, wet jars (and their lids) on a baking tray upside down, then heating them in the oven at around 180 degrees C for 15 minutes.
I recommend storing the nut butter in the fridge for up to one month, or freezing it in portion sizes (ice cube trays are helpful here) for up to three months.
Don't lose the recipe, pin it to Pinterest now!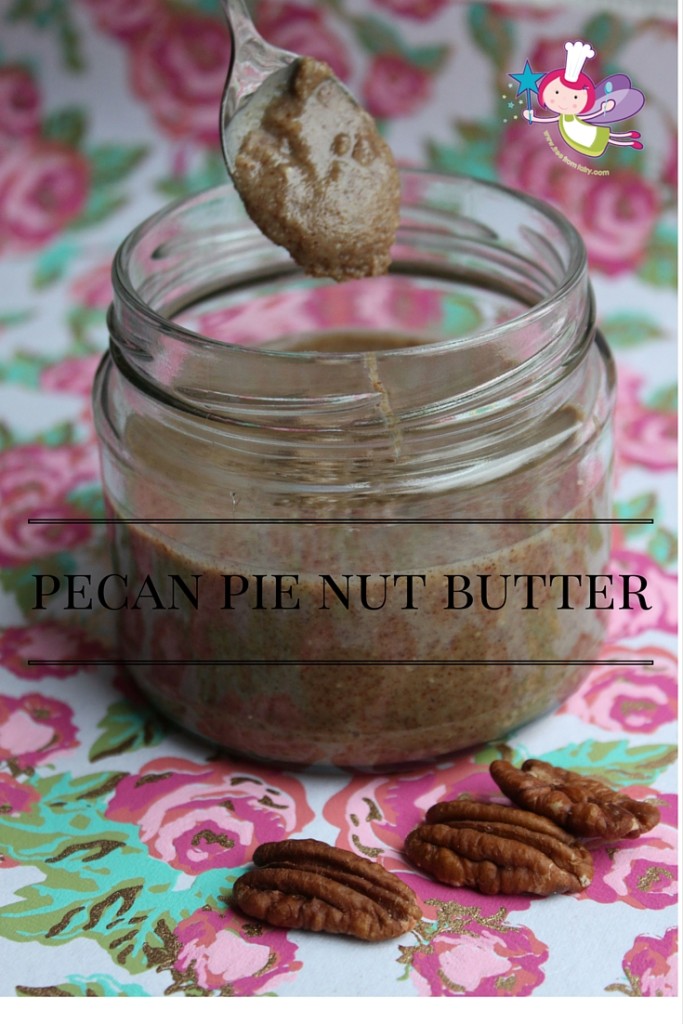 Pecan butter recipe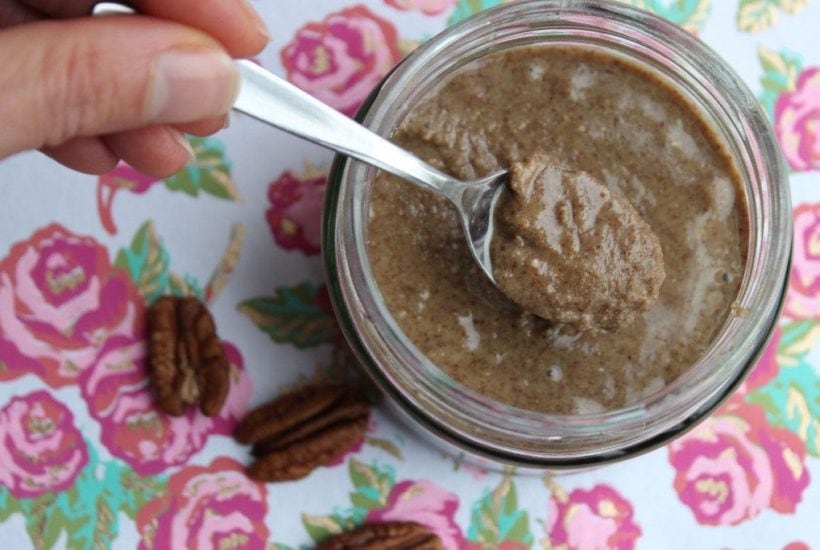 Pecan Pie Nut Butter (Gluten-free, Dairy-free, low FODMAP)
Gluten-free, Dairy-free, Egg-free, Soya-free, Refined Sugar-free
Ingredients
250

g

pecan nuts

1/4

tsp

good quality sea or rock salt

1/2

tsp

mixed spice

1

tsp

maple syrup -

optional - you can use more or less if you like
Instructions
Place the pecans in a frying pan over a medium heat and toast for around 5 minutes, stirring frequently to prevent burning

Transfer the hot pecans into a hand held chopper, food processor or blender

Add the other ingredients and whizz until you have a smooth paste (takes around 3 or 4 minutes in a cheap hand held chopper)

Transfer to a sterile jar and try not to eat it all at once!