This gluten free vegan gingerbread recipe is so easy to make, holds together well and is perfect for making a gingerbread house and/or gingerbread men. I've used banana to sweeten and bind the mixture, and with just 25g of added sugar it's a lot healthier than you average gingerbread recipe. This makes it the perfect afternoon snack for the kids as well as at Christmas.
This post contains Affiliate links. As an Amazon Associate I earn from qualifying purchases.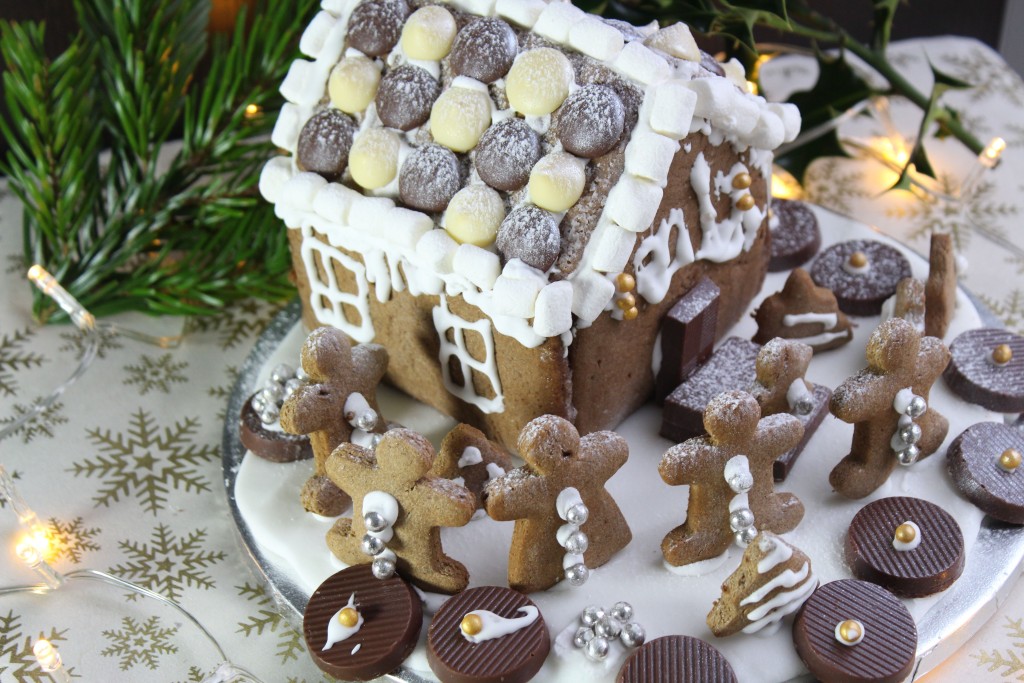 The story behind this recipe
I like to indulge in food, but with my current IBS predicament, indulging is something that I shouldn't be doing…
However, if I develop recipes that fulfil the requirements of the low FODMAP diet for IBS and have reduced sugar in them then I figure that a little bit of indulgence for Christmas should be allowed!
Having said that, if you are on the low FODMAP diet you should eat in moderation and I would recommend only a small piece of this recipe.
You might also want to swap the molasses for maple syrup, and the flax seeds for milled chia seeds, both of which have been tested as 'safe' ingredients by Monash University.
Enter the low sugar, healthier, vegan gingerbread recipe.
I've used this to make numerous gingerbread men, women, children, trees, angels and a house.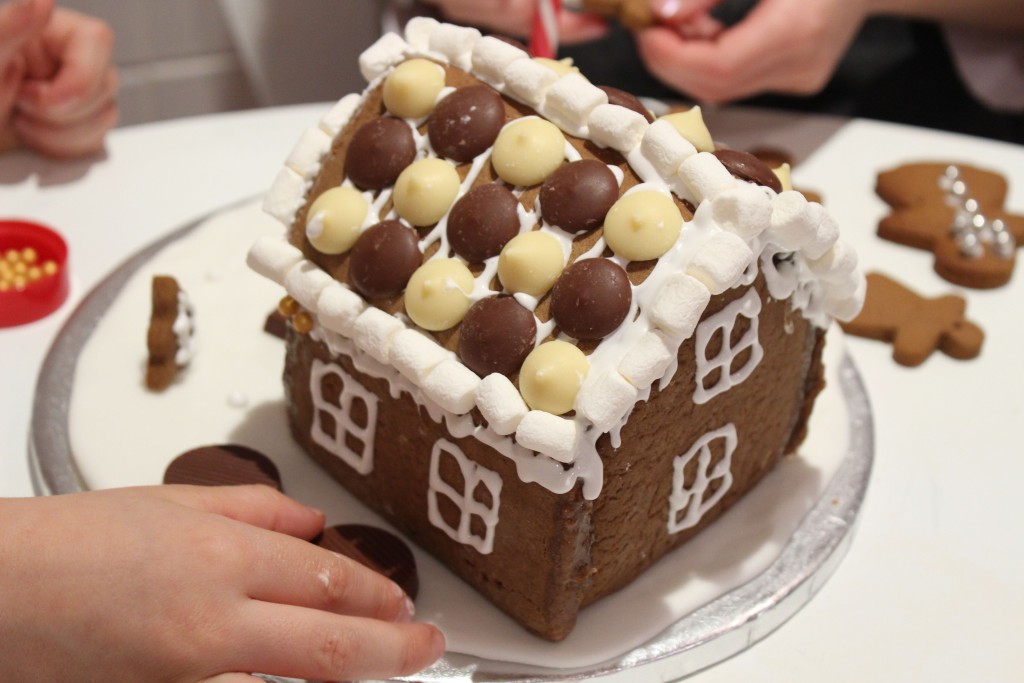 Making a gluten free gingerbread house
I bought a gingerbread house cookie cutter set a few years ago which makes house building very simple. It's like this one.
Once the gingerbread pieces were all baked and cooled, I used caramel syrup to 'glue' the house together. It stuck within seconds with no need to stand a hold it for hours.
You can get the recipe for caramel syrup that I used here, but reduce the quantities by about 1/4 unless you have a gingerbread house the size of a real one.
The pictures here are of the first house we've have ever made and it was easier than I thought it would be.
The kids had a wonderful time decorating it. They used traditional royal icing (not vegan) to draw the windows on and to stick on the sweets. If you need a vegan royal icing recipe then you'll find one here. I haven't tried it but it uses aquafaba (chickpea water) in place of the egg.
What gluten free flour do you use for the gingerbread?
The recipe works amazingly with my multipurpose, wholegrain gluten free flour blend. It binds without the need for gums, rolls, cuts and bakes beautifully.
In addition to that my flour blend is made from 70% wholegrain flours, meaning that your bakes will be far more nutritious than when made with other flours on the market.
You can read all about the blend and why I created it here. But if you're ready to buy it you can do that in my shop.
If you aren't clear why the gluten free flour blend you use is so important to your baking then read this article: What On Earth Is a Gluten Free Flour Blend.
In it I explain some of the common reasons for gluten free baking failing or being difficult. Once you've read it you won't waste any more valuable ingredients.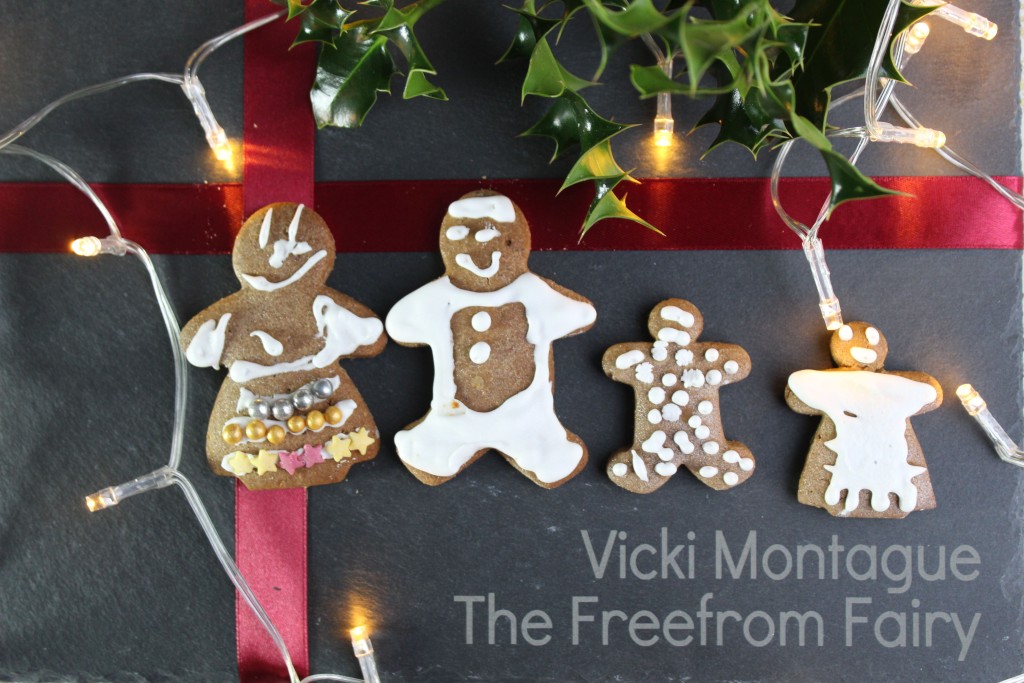 Adaptions to the basic recipe
If you don't have allergies or intolerances you might like to adapt the recipe to suit your needs.
For example, f you don't have flax seeds but do have eggs then use an egg instead of the flax egg (1 tbsp ground flax seeds plus 3 tbsp water). I prefer the recipe with the flax egg but it does work with an egg.
If you can eat dairy then replace the coconut oil with butter.
If you can eat gluten, replace the flour with normal wheat flour.
There you have it, the perfect healthier gingerbread recipe!  Having said that, just because it is healthier doesn't mean you can go and eat it all in one go (mmm…note to self!).
Free gluten free recipe booklet
If you like this recipe then enter your details in the box below to receive a gluten free recipe booklet direct to your inbox. It contains recipes for gluten free 'essentials' such as bread, scones, cake, Yorkshire puddings and more.
In addition to the recipe book you'll get my weekly newsletter of gluten free recipe inspiration, tips and news.
Pin the recipe to a Pinterest board so you don't lose it: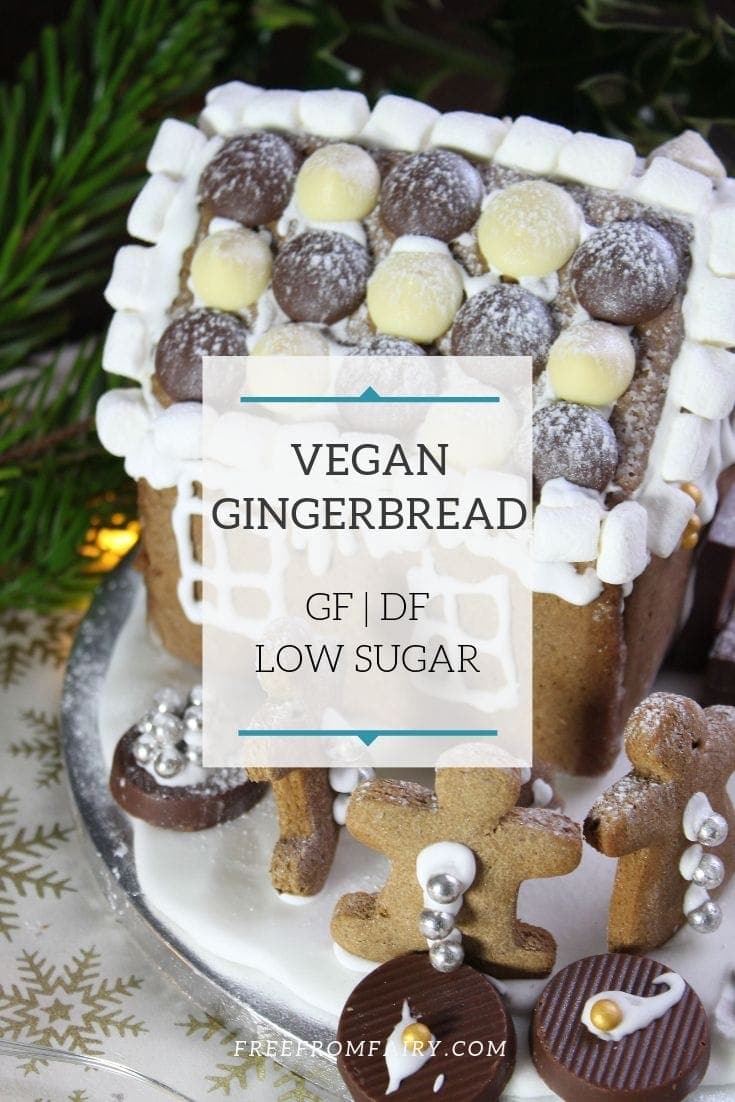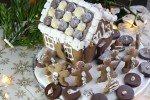 Vegan Gingerbread (Gluten-free, Dairy-free, Vegan, Low FODMAP, Low Sugar)
This simple gingerbread recipe is vegan as well as gluten-free, dairy-free, egg-free, nut-free, soya-free, low sugar and low FODMAP
Ingredients
50

g

gluten free oat flour

-

or more gluten-free plain flour

2

tsp

ground ginger

1

tsp

ground mixed spice

-

(pumpkin pie spice)

1/2

tsp

bicarbonate of soda

25

g

brown sugar

-

or coconut sugar if you prefer, but not for those on low FODMAP diet

50

g

coconut oil

50

g

banana

1

tbsp

molasses -

or maple syrup if low FODMAP

1

tbsp

ground flax seeds

-

or chia seeds if low FODMAP - mixed with 3tbsp water

Zest half lemon

-

optional
Instructions
Mix the ground flax seeds (I do mine in my coffee grinder) with the water and set aside

Place the dry ingredients into a food processor and blend well

Add the coconut oil and process until you have a texture like fine breadcrumbs

Add the molasses, banana, lemon zest, if using, and flax mixture

Blend again until you have a sticky dough

Remove from the bowl and wrap in cling film

Place in the fridge for around 20 minutes before rolling out on a well floured clean surface

Cut out whatever shapes you like and place on a lightly greased or lined baking tray

Bake your shapes for 10 - 12 minutes in a pre-heated oven at 180 degrees (160 fan)
Notes
Nutrition data for guidance only.
Nutrition (Approx)
Calories:
127
kcal
|
Carbohydrates:
18
g
|
Protein:
2
g
|
Fat:
5
g
|
Saturated Fat:
4
g
|
Sodium:
54
mg
|
Potassium:
83
mg
|
Fiber:
2
g
|
Sugar:
4
g
|
Vitamin C:
1
mg
|
Calcium:
10
mg
|
Iron:
2
mg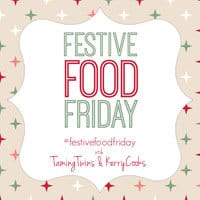 at
TamingTwins
and
KerryCooks