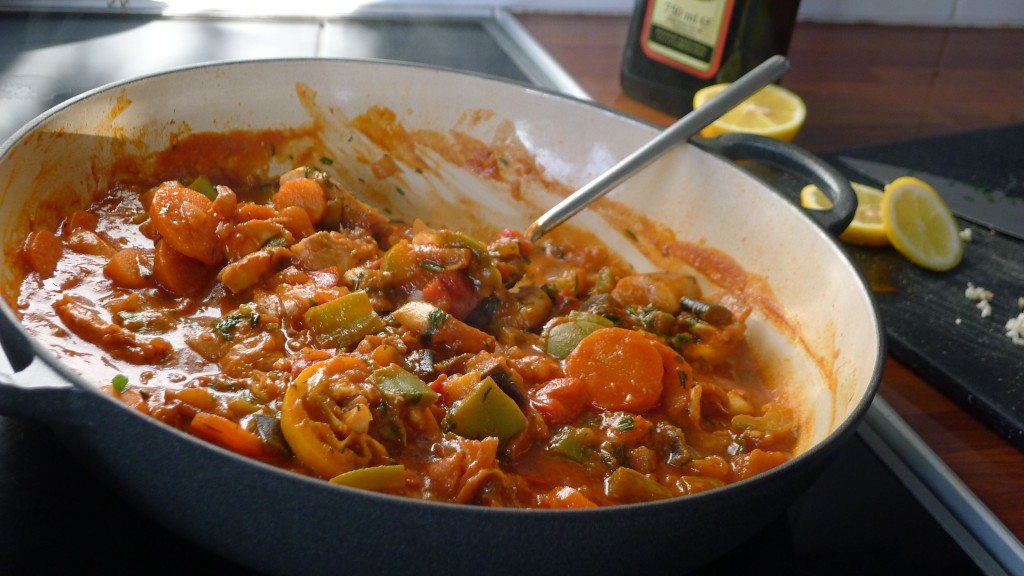 Hi!  How are you?  How was your Easter?
The kids are back at school and the chaos has subsided so it is time for me to share a quick update on my diet along with a recipe. Yes, you did read that right!  I can't keep them all for my book it is just too painful!
I am pretty chuffed with myself because I am 4 weeks into my SCD diet and I can honestly say that I haven't cheated once, despite having chocolate stuffed under my nose on a regular basis at Easter (and being an enormous chocoholic)!
For those of you who don't know about the SCD diet it is a diet that excludes grains, starches and sugars with the aim of rebalancing the gut flora.  By avoiding these foods the theory is that bad bacteria die off, and, by eating fermented foods and probiotics, you replace them with 'good' bacteria.
With regards to probiotics I have been approached by a company making a new probiotic with some heavy claims on sorting IBS, so I have jumped at the chance of trying them.
These probiotics are called Symprove and I have been asked to trial them for 12 weeks and let you know the results. I am pretty interested to see if they help as I have had mixed results with probiotics in the past. I will of course keep you posted!
So, the four weeks in general have not been easy!  The first two were incredibly challenging in particular.  I wrote about that here.
The latter two have not been without their challenges but have been easier.  However, this week I decided to go back a bit and remove nuts, most fruit and honey.  These are items that you can eat on the diet but which I have realised are not agreeing with me and are those that are on the whole recommended to be introduced later on the diet.
I had been eating peanut butter by the spoonful to get me through craving sweet things…only to read that it is one of the main culprits for failure to get results on the diet.  And since my tummy was still not entirely happy and I have still been having issues with candida I decided I had to fight the urge to eat that too!
My approach to the diet had always been to do the introduction part – where you only eat meat, fish, eggs and carrots, for a few days and then introduce anything allowed on the diet. I knew that I would have to listen to my body and potentially remove certain things, but in order to prevent too much weight loss I decided that this was the best approach.
Pretty miserable eh?  Well, I keep thinking positively…that it will all be worth it when my tummy starts behaving itself and I can eat everything again!  On the plus side, there have already been quite a few noticeable and unexpected side effects to the diet.
The first, and most immediate, was that my hormones settled down and my PMS symptoms were irradiated (having been getting progressively worse over the last year or so)!  In addition I have seen the eczema on my hands getting noticeably better (although not perfect), I have a flat tummy (when I avoid the foods listed above), my skin is clearer (less spots) and I have stopped loosing hair.
At first I thought I was imagining the latter…but over the last week I have definitely noticed a lack of hair around the place!
Was it just me who lost handfuls of hair every time I washed or brushed it?  I was forever emptying out the shower plughole and pulling swathes of it from my hairbrush.  But not any more!  Just like when I was pregnant, the hair loss has pretty much stopped!  I should have the thickest lushest hair ever, soon!!!  I wonder if you will be able to tell when watching my 'cook along with me' videos!!
Anyway, the other day I whipped this lovely dish up and it went down a treat with the whole family.  It shows you the kind of food that you can eat on the SCD diet and proves that it is not all miserable!!
It uses frozen white fish which is super cheap and can often be not very nice!  However, in this dish you wouldn't know and it helps to make our money go a bit further…which is good when buying and eating lots more good quality meat (for this diet) than I am used to (being a 'reformed vegetarian'!).
I served this for the rest of the family with a lovely fresh homemade loaf of gluten-free and dairy-free garlic soda bread.  I had it with courgetti (courgette spirals).  I hope you enjoy it as much as we did!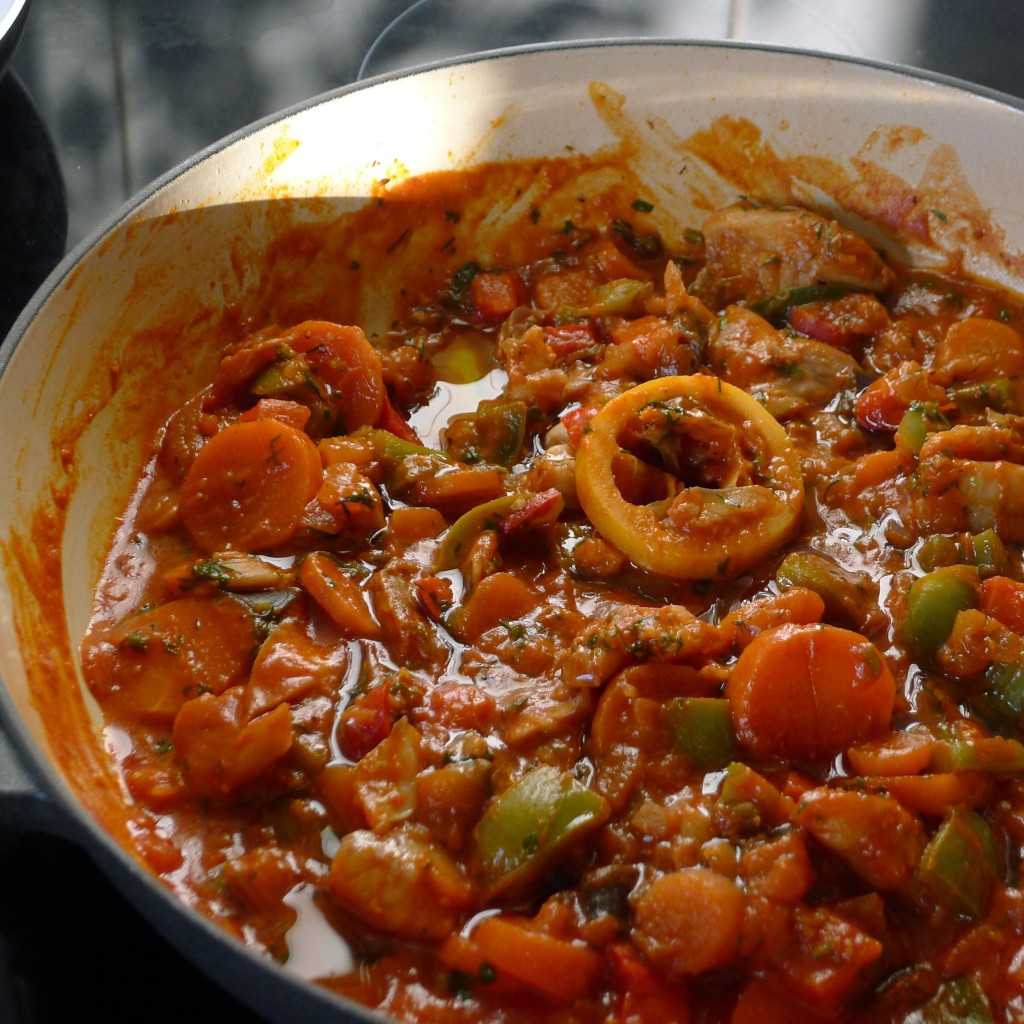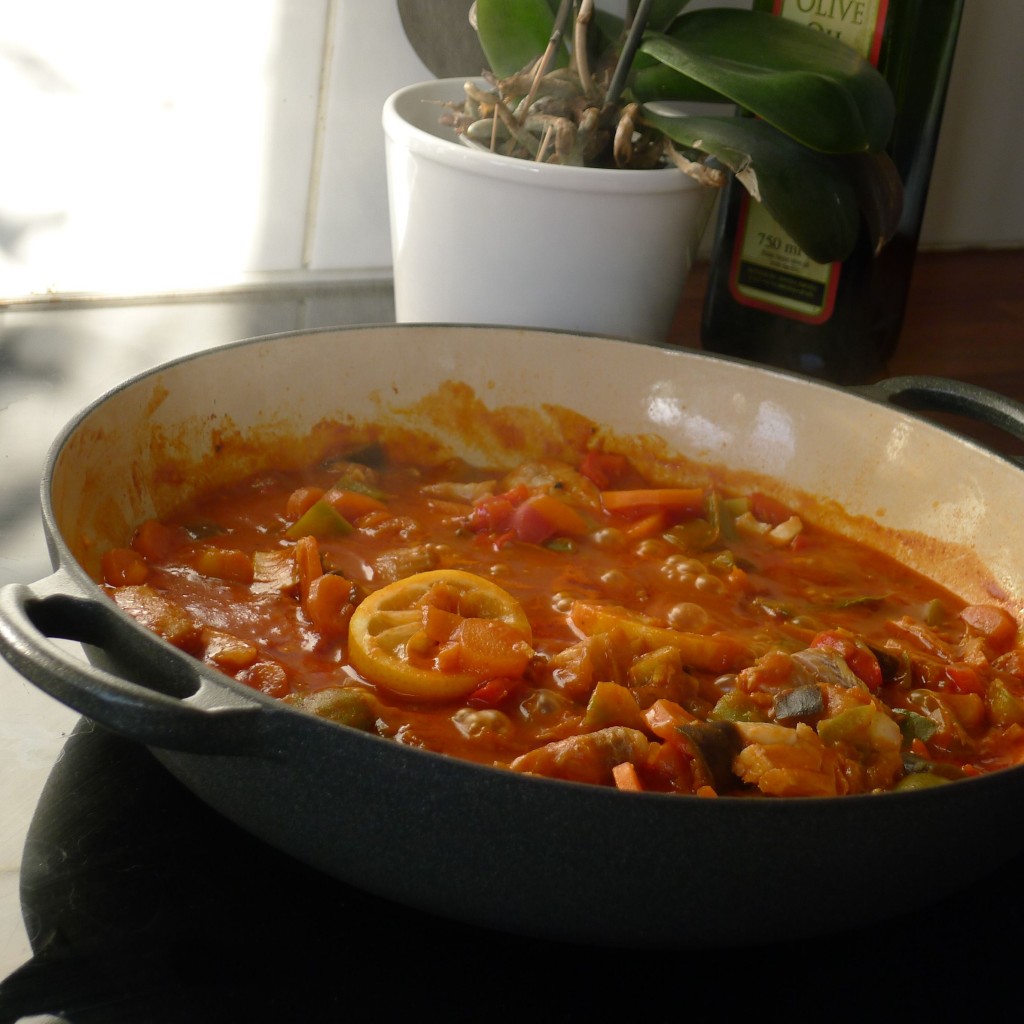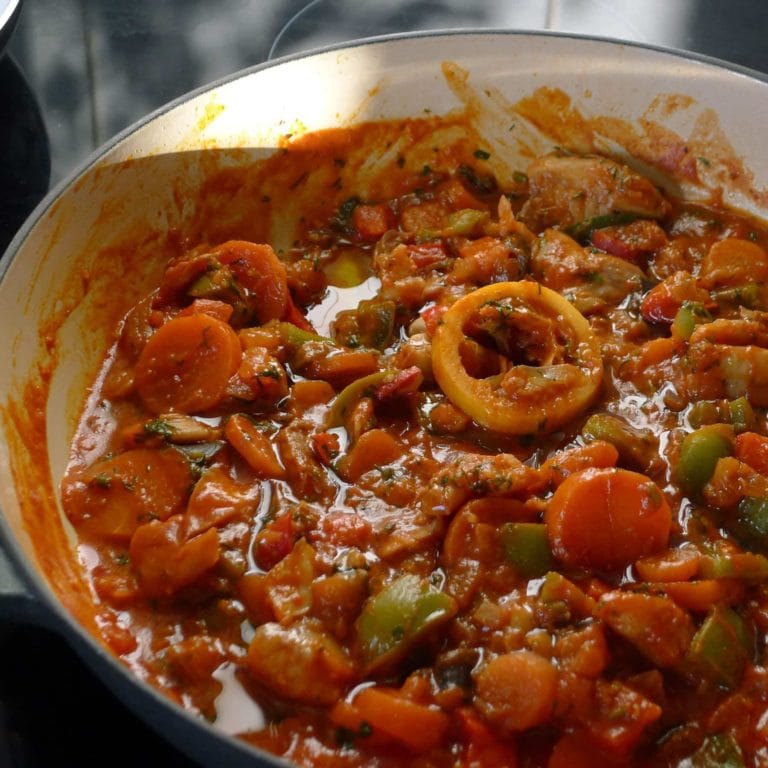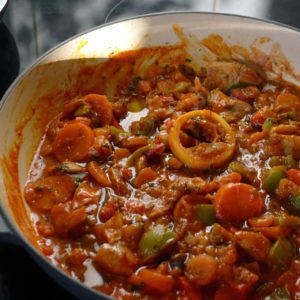 Simple Fish Stew
Gluten-free, Dairy-free, Nut-free, Soya-free, Egg-free, Paleo, SCD, GAPS
Ingredients
1/2

red onion

-

chopped

1 1/2

peppers

-

any colour, chopped

1/2

aubergine

-

chopped

1

large carrot

-

chopped

2

cloves

garlic

-

chopped and crushed

200

ml

passata

250

ml

homemade chicken stock

-

or other stock you have

1

tsp

smoked paprika

Pinch

saffron

3

frozen white fish fillets

1

lemon

-

sliced

2

bay leaves

Handful parsley

-

chopped

Handful dill

-

chopped

Salt and pepper to taste

Olive oil for drizzling at the end
Instructions
Place all the vegetables in a large pan with enough water to cover them. Place the lid on the pan and simmer for approx. 20 minutes until cooked through. Add more water if they dry out before softening.

Add the stock, paprika, saffron and passata and simmer with the lid off for a further 20 minutes.

Finally add the whole fish fillets (frozen), parsley, dill, bay leaves and 2 lemon slices (pips removed!) and cook over a low heat with the lid off for a further 20 minutes or so, until the fish is cooked through.

When ready to serve drizzle with olive oil (this way you get the benefits of the oil because if you cook with it you loose those benefits) and bring to the table with the spare lemon slices.
I have linked this recipe with Gluten-Free Wednesdays and