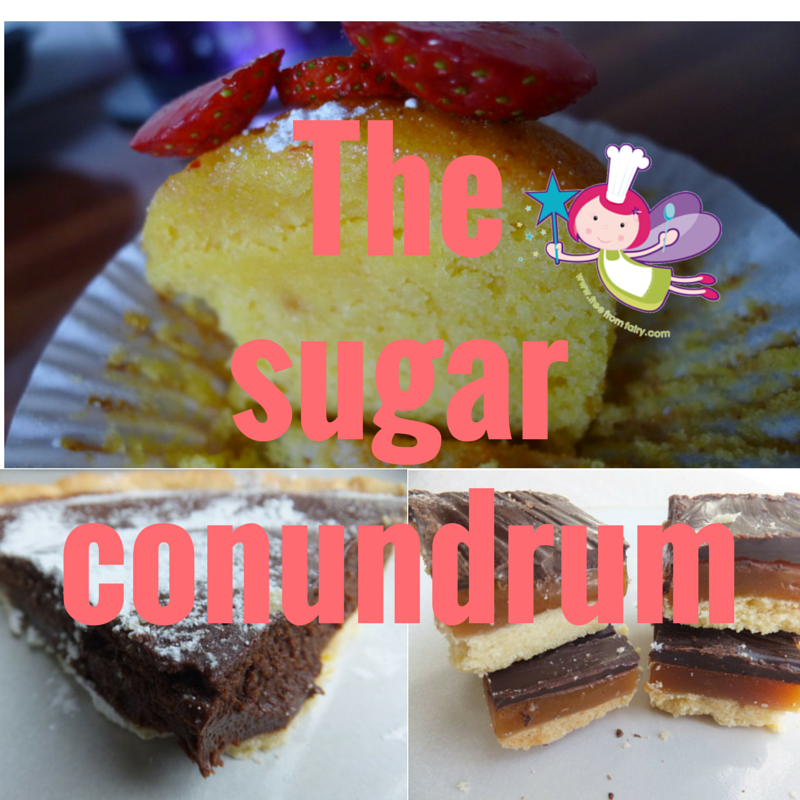 We all like sugar, right?
Well, the vast majority of us do anyway, and having just had Easter I am sure most people have eaten their fair share of it.
But we are also being told day after day that it is making us sick; that it is the cause of obesity, diabetes, heart disease and other undesirable ills of the twenty first century.
So what should we do?
Give it up…like the crazy person that I am?
Reduce our intake…yes, but how easy is it to do that when it is so addictive?
I know that although I can reduce my intake for a while, it slowly starts to creep back up again and before I know it I am eating way too much again!
Perhaps we should all shun the white stuff in favour of all those alternatives popping up on the market that claim to be healthy?
Dr Robert Lustig (presenter of Sugar: The Bitter Truth) has called for a tax on sugar similar to that placed on alcohol and tobacco because of what he calls its 'toxic nature'.
The United Nations' public health arm recently recommended that people reduce their daily intake of sugars to 6 to 12 teaspoons per day.
It added that curtailing sugar to less than 5 percent of calories consumed "would provide additional health benefits" and help prevent diseases such as diabetes and heart disease.
The guidelines apply to foods and beverages with added sugars, not to those with naturally occurring sugars such as fruits, vegetables and milk.
With all of this information I have been troubled by sugar for quite some time and have therefore spent a considerable amount of time reading about it and its alternatives.
I have even offended other bloggers by my constant questioning of their sugar/sugar alternative choices…sorry!
If you know about Sarah Wilson of I Quit Sugar fame, then you will know that her sweetener of choice is stevia.
I was pretty intrigued about the stuff since it is said to be up to 200 times sweeter than table sugar, contains no calories, does not raise blood sugar levels, does not cause tooth decay and comes from a plant (and is therefore a natural sugar).
The main documented downside is that it can be pretty bitter and is therefore often mixed with other sweeteners and chemically processed to produce a less-than beneficial product.
It would seem that when buying stevia you have to take a good look at the ingredients to check there are no added sugars or highly processed items.
There are mixed views on whether those with candida can safely eat it.
Because it is often packaged with other things you are advised to be cautious, and interestingly, Elaine Gottschall, who wrote 'Breaking the Vicious Cycle' outlining the specific carbohydrate diet (SCD), does not recommend consuming stevia.
She says that  "This class of glycosides (terpenoids) often have physiological effects on mammals and microorganisms."
So, I guess although it has been used extensively in Japan for numerous years, there are few studies out there on the long term impacts on humans, and being on the SCD it is not an option for me.
Another natural sugar alternative, a 'sugar alcohol' that seems to be cropping up more and more is erythritol.
Again I have done a fair bit of research on this and found that it too does not cause tooth decay (can even possibly prevent it), has 6% of the calories of sugar yet 70% of the sweetness, does not have an affect on blood sugar levels and unlike other sugar alcohols (like xylitol, sorbitol and maltitol), does not cause digestive issues since it is absorbed into the body before reaching the colon.
In addition, studies have shown that erythritol is resistant to fermentation by a range of microbiota from human guts which is why it is less likely to cause bloating or gas than other sugar alcohols.
Having said that I have also read that the 'bad bacteria' that may be lurking in our guts can digest erythritol and it is therefore no good for people like me who have issues with an imbalanced microbiota!
Gut bacteria aside, these alternatives to sugar sound pretty good don't they?
Well, I have read at least one report that the very fact that blood sugar levels are not raised by these sugar alternatives can cause problems in itself.
It is suggested that since your body is expecting sugar in the system (because you have eaten something that tastes sweet), insulin is released…and then is not required because no sugar enters the blood stream, leaving insulin running free in your blood, potentially leading to hypoglycaemia.
I have also read that they can still lead to obesity since the sweet 'reward value' of the food can impact on our brains making us eat more…
OK, well what about things like coconut sugar, dates, honey, agarve and maple syrup?
How often do you see them cropping up in recipes that claim to be healthy and sugar-free?
All the time so they must be good right?
Well all of them are sugars and many contain more fructose (the part of table sugar that is considered to be the problem) than table sugar.
They still impact on our bodies in the same way as sugar, but may contain a few additional nutrients that are most definitely not contained within table sugar.
Some would therefore prefer to include these sweeteners in their diet as opposed to processed sugar, but at the end of the day…they are sugars!
The Specific Carbohydrate Diet that I am currently following does not allow any sugar apart from that naturally found in fruit, and honey.
The reason for allowing honey is because it is a monosaccharide and therefore easy for the body to digest.
It also happens to be sweeter than table sugar therefore meaning that you need less of it.
In my bid to try and help my family to be more healthy I have tried out many things.
I have cut back on the fruit intake of the family; I have tried out sugar alternatives and I have reduced the amount of refined sugar in all my recent recipes.  And what conclusion have I drawn?
That all sugar is bad, in whatever form, if eaten in excess along with other unhealthy foods.
So, what does that mean?
Well, it means that if you eat a balanced, healthy diet, a little bit of sugar here and there as a treat is OK…it is just having the discipline to keep that sugar to a minimum that is the hard part!
Having not had any sugar for over month I can safely say that I actually no longer crave it which is a position that I never thought I would get to.
For me, it is all or nothing.
If I don't have it at all it is a lot easier than having a little.
And eating a low carb diet also means that I crave it less since I guess my blood sugar levels are more even throughout the day.
So, to conclude, there are many sugar alternatives on the market that are possibly better than eating pure refined sugar…but perhaps rather than find sweet alternatives, we should just be cutting our desire for sweet things all together?
What are your views on sugar?
Have you ever tried to cut back or cut it out of your diet?
What is your sweetener of choice and why?
I shared this with: