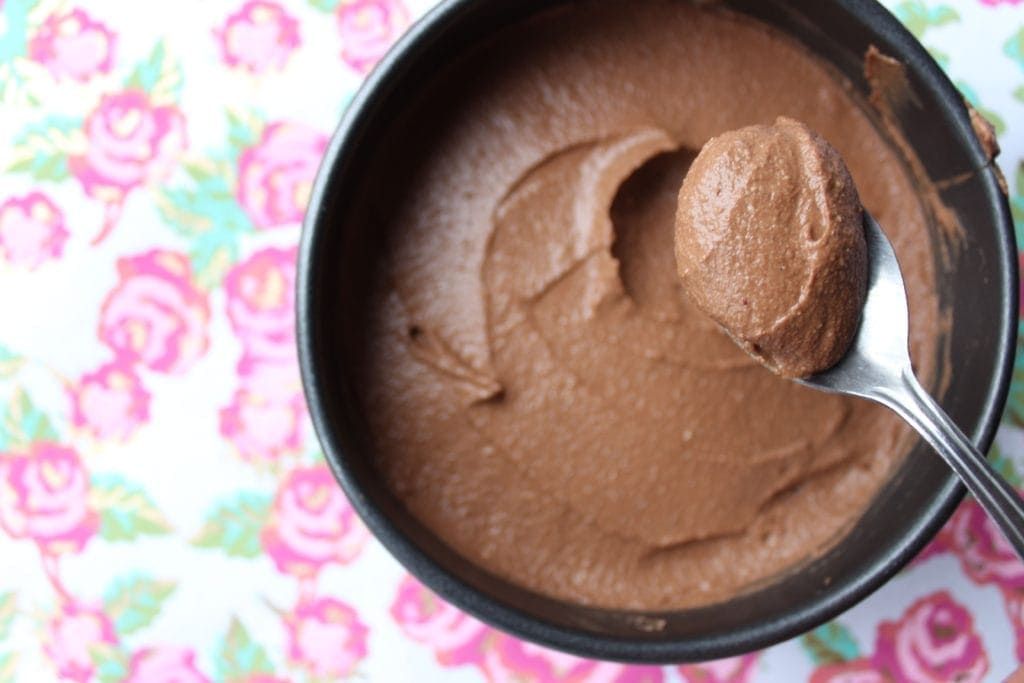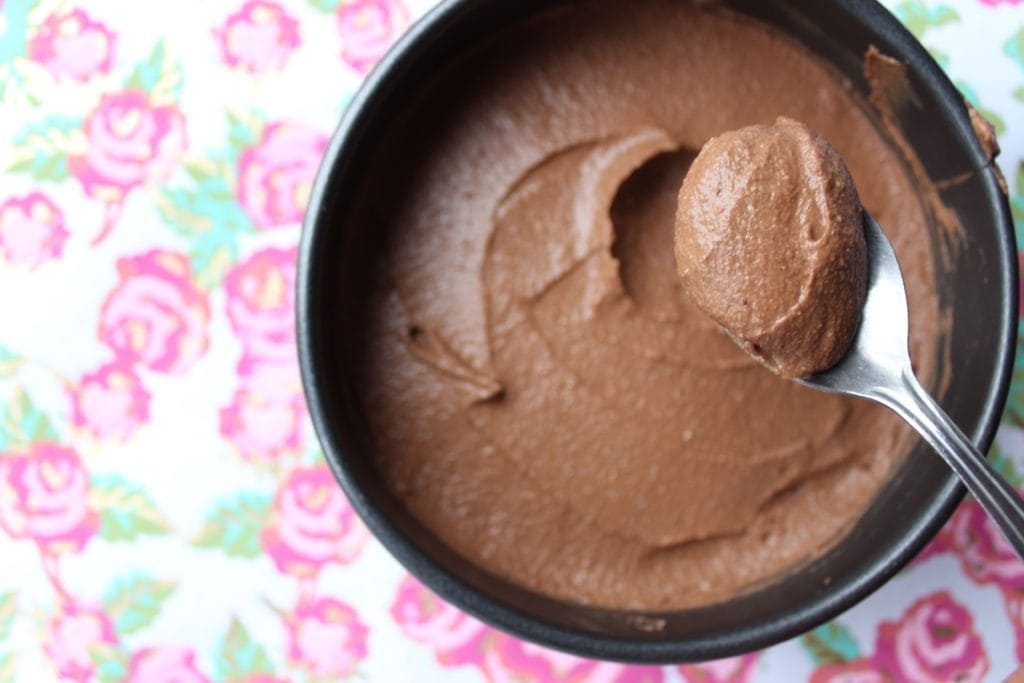 Today I'm going to give you one recipe that can be used to make two different delicious chocolate treats; a sticky chocolate cake or a chocolate pudding.  Cook the chocolate pudding and get a chocolate cake, or just eat the mixture before it's cooked because it is too darn nice to bother cooking!
Before I give you the recipe though, you get a little story…one which starts off like a horror story but soon turns into a detective story…hopefully with a happy ending.
It was Saturday night when I noticed that my wee was red.  Red, the colour of blood kind of red.
I was rather taken aback.  Not overly worried because I felt fine.
I certainly had no urine infection (you certainly know when you have one of those) and I dismissed it and went to bed (despite Mr M's worried glances).
At 2am Roo called saying she needed the toilet.  Since I was up I thought I may as well go as well.  And there it was again, blood-red wee.
I climbed back into bed, my heart pounding, getting hotter and hotter as I imagined myself lying in a hospital bed dying of some dreadful form of cancer.  My tummy troubles disappeared into insignificance as my over-active imagination ran wildly through the deepest pits of horror.
Then a thought popped into my mind.  I'd eaten beetroot burgers for tea.
Could beetroot cause wee to turn red?  It had turned my hands red when I had grated it and despite Mr M having had the same tea, and not the same colour wee, my mind clung onto this explanation.  My exhausted brain fell deeply back into restless sleep.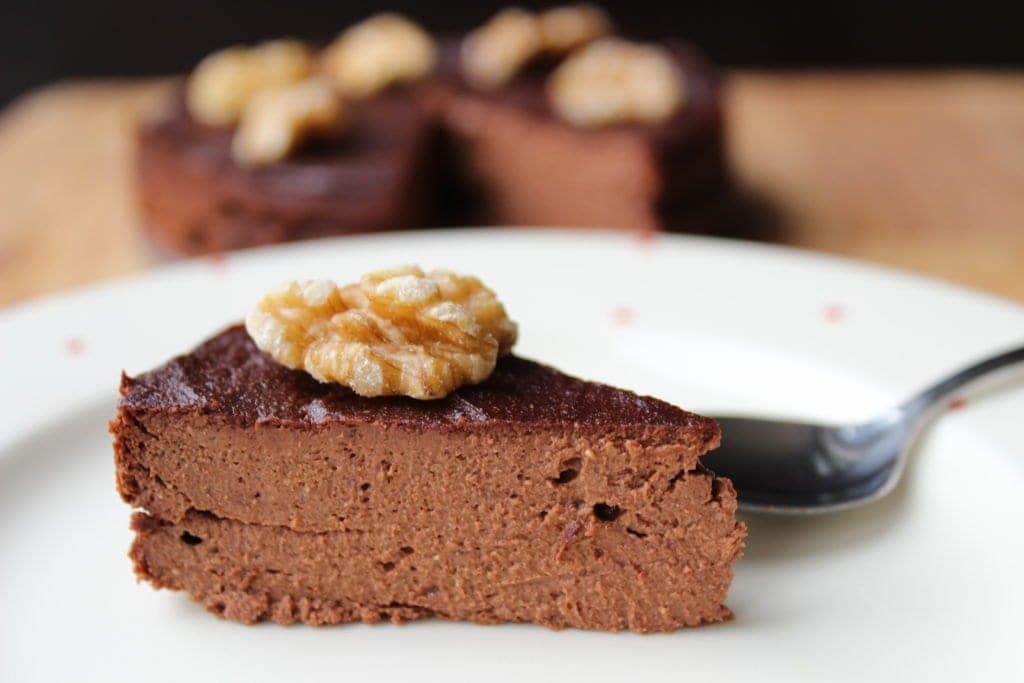 When I got up in the morning the first thing I did was google 'red wee…beetroot'.  Hey presto!
According to Wikipedia, red urine caused by eating beetroot is called beeturia.  With a little more digging I found that this odd condition affects 10 – 14% of the population.  This still didn't satisfy me because I have eaten beetroot before in my life and never had this effect from it.
A little more digging gave me a plausible explanation and one which may just present itself as the cause of many of my tummy ills…
Betacyanins, the compound in beetroot that gives it its beautiful red colour, are not always broken down in the digestive system of some people.  This is where it gets interesting because, of course, I know that my digestive system is not right…
It is thought that betacyanins are broken down when stomach acid has a low pH, but that they are not broken down when the stomach acid is not, well, acidic enough.  In this instance the compounds pass thorough the intestines and are absorbed through the intestinal walls in the colon into the blood stream, then filtered out in the kidneys and excreted in the urine.
And why is this interesting?  Well, if your stomach acid is not acidic enough (hypochlorhydria) then it can apparently lead to numerous health issues including:
Heartburn (yes it is often caused by too low stomach acid, not too much!)
Indigestion
Bloating and cramping
Constipation or diarrhoea
Intestinal infections
Food sensitivities
Undigested food in stools
Acne and/or eczema
Chronic fatigue
Dry skin or hair
Weak or cracked nails
Asthma and allergies
Protein and mineral deficiencies
Anemia and weakness
Osteoporosis
Hair loss in women
Autoimmune disorders
As many of you will know, I suffer from a large number of these symptoms.
Furthermore, I have read that when stomach acid pH is not low enough the following things can happen:
proteins cannot be broken down properly into their constituent parts which can lead to mood disorders such as depression along with hair loss and brittle bones
pathogenic bacteria, and that found in food is usually killed by the stomach acid.  However if the stomach acid pH is not low enough these pathogens can find their way into the intestines. In addition the stomach can become a place where bacteria can grow (usually it is a sterile area)
when proteins are not broken down properly, vitamin B12 is not easily absorbed. Folate and non-heme iron absorption is also affected
constipation and bloating occur because food sits for too long in the stomach instead of moving quickly through the digestion process
undigested carbohydrates create food for pathogenic bacteria which in turn produce toxins and gas.  In addition to this the undigested proteins and other food particles can leak into the blood stream (through holes in the intestinal lining potentially created by inflammation) causing food allergies and intolerances when the body creates antibodies to these foreign particles.
To cut a long story short, beetroot could have given me a clue to my ongoing health issues.
In response to this, I have ordered some Betaine HCL with added pepsin capsules from Amazon.  These are recommended by Dr Natasha Campbell-McBride in her book GAPS, Gut and Psychology Syndrome, which is the diet that I followed for some time last year.
I will keep you posted on what effect they have on me, and may well take the 'beetroot test' again once I have been taking them for a while!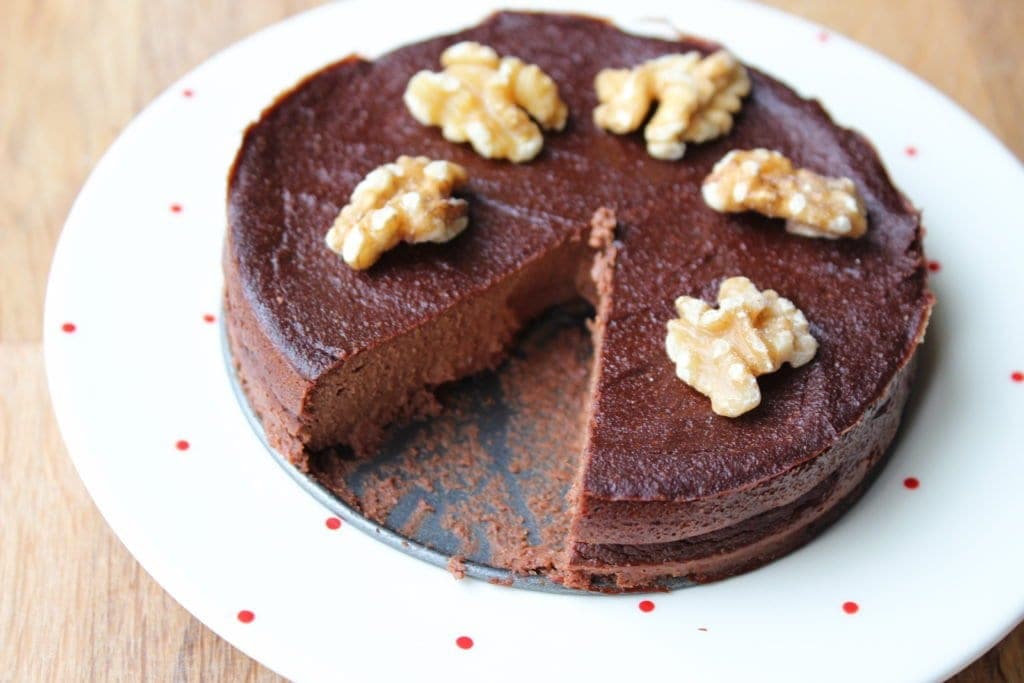 So, story aside I know many of you are itching to know how to make a chocolate pudding and a chocolate cake from the same mixture.
Sweetened only with a whole apple, a whole banana and some butternut squash puree (you could use pumpkin), this pudding is one that nobody needs to worry about eating.
By combining the whole fruit with its fibre and water with some protein, the sugars will be processed by your body in a more measured way meaning less impact on your blood sugar levels.  Not only that, but both versions are utterly delicious.
If you want a truly decadent desert then make a simple chocolate sauce by heating 1 tbsp coconut oil, 1 tbsp cocoa, 1/2 tbsp molasses, 1/2 tbsp rice syrup, honey or maple syrup and 2 tbsp dairy or dairy-free milk until thick…and pour it over the top of the cake.  A dollop of coconut yoghurt (or some cream if you can eat it) would top this off nicely!
Let me know what you think.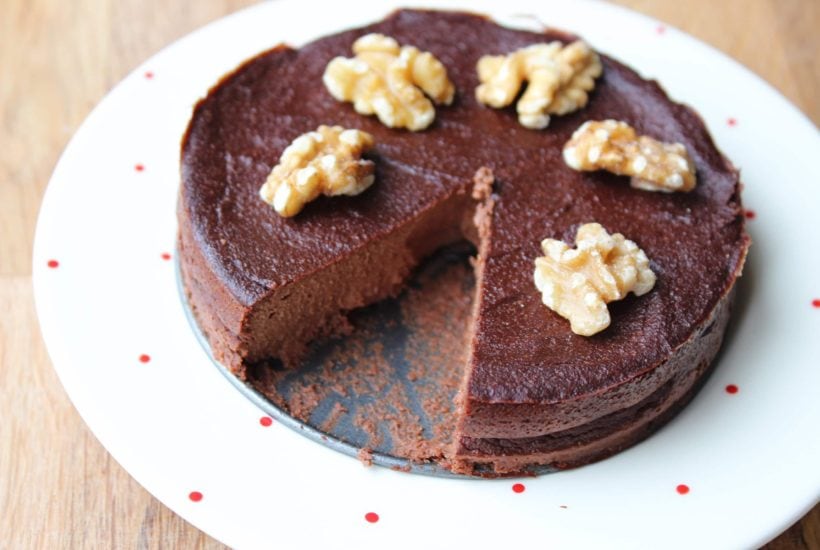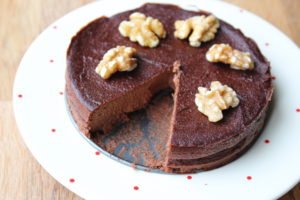 Sticky Chocolate Cake or Chocolate Pudding - Two Recipes In One
Gluten-free, Dairy-free, Egg-free, Soya-free, Refined Sugar-free, Sugar-free, Paleo, SCD, GAPS
Ingredients
1

small ripe banana

1

red or green apple

-

choose red if you want this to be slightly sweeter

50

g

cashew nuts

50

g

almonds or other nuts of choice

20 - 25

g

cocoa or cacao

-

go for cacao if not cooking

2

tbsp

butternut squash puree

-

I made this but you could buy pumpkin puree and freeze the remainder in ice cube trays for next time

1

tsp

vanilla extract -

sugar-free

1/2

tsp

cinnamon
Instructions
Place all the ingredients into a high powered blender and whizz until you have a completely smooth paste

If you want to have a no-bake chocolate pudding, place the mixture into four serving dishes

If you want to make a cake, scoop the mixture into a small cake tin (mine was around 12cm diameter) and cook for 15 - 20 minutes (depending on the size of your tin) at 180 degrees (160 degree fan, gas mark 4)

Cool then place in the fridge to set before cutting