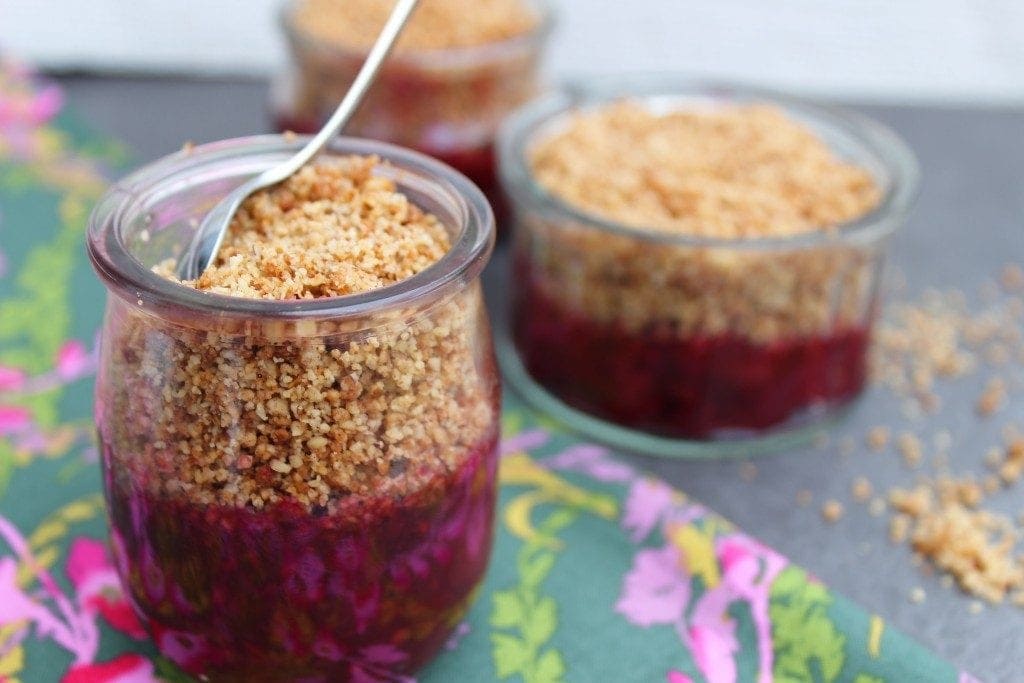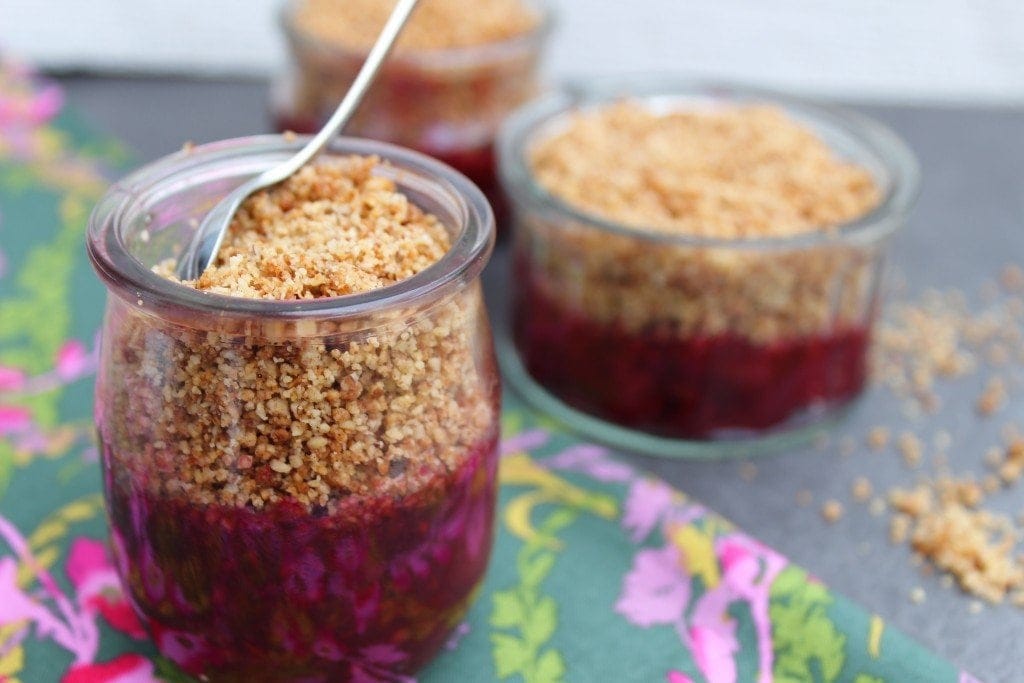 I was intrigued when I was challenged by Iceland to create a healthy family friendly recipe using some of their products.
I admit to not having stepped into Iceland since I was a kid, so with £40 worth of gift vouchers in hand I entered with a little bit of trepidation not entirely sure what I would find that was both healthy and suitable for my diet (gluten-free, dairy-free and sugar-free).
I was actually very surprised with the range, and delighted to find frozen chopped herbs (I hate chopping herbs, but love the flavour of fresh herbs vs dried herbs), sliced frozen peppers (perfect for the type of food that I cook and saves the chopping again!), frozen kale (I'm looking forward to trying that out since I love kale and look forward to having it to hand in the freezer whenever I want it) and some grass-fed wagyu beef burgers!
I am the first to admit to being very fussy when it comes to meat. I generally only eat local meat that I can buy from a butcher who I can quiz. On this occasion, however, I made an exception as these burgers say they are made from the highest quality beef (the wagyu cow is a prized animal genetically predisposed to intense marbling and producing a high percentage of unsaturated fat. The meat is known for its quality and commands a high price) and they are gluten-free, which as many of you will know, is pretty unusual for store-bought burgers. They also only cost £3 for two burgers, which I think is pretty good value (provided they taste good..I'll let you know!) for a quick and simple meal. I also bought some ostrich steaks! Not quite sure why, but I thought it would be a good idea to try something different. They are known to be very high in protein and low in fat whilst tasting like beef so I decided to experiment.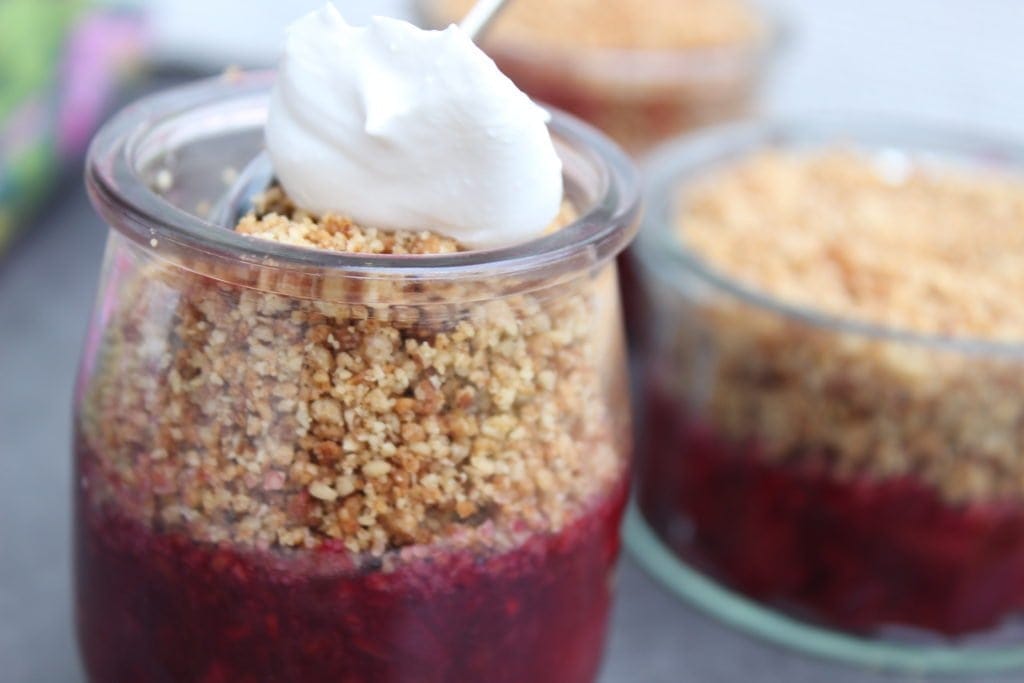 The thing I liked best about my trip was the price of the frozen vegetables, but also the variety and convenience of them too. And not only that, but because they are frozen, there is no chance of them 'going off' and being binned, meaning less waste.
We eat an awful lot of vegetables and sometimes it can be hard to get them fresh enough to last us a week (and because we live in a village I don't want to be going shopping several times a week).
Buying a selection of frozen vegetables is a great solution to this problem…provided that you choose wisely. In my experience using frozen vegetables such as onions, spinach, sweetcorn, peas, brussel sprouts, peppers, cauliflower, herbs, and hopefully kale, in cooking provides perfect results. You would never know they weren't fresh. If I'm honest I am not a fan of cooking such vegetables to eat on the side…they just don't seem to cook the same as fresh ones in my experience.
Anyway, on to the dish that I created after my shopping trip.
As you will know, I have now completed the I Quit Sugar 8 week programme (more on that later in the week) and I have no plans to return to eating the white stuff! In fact, I don't even crave sweet stuff now.
However, I created this healthy crumble for occasions like last night when we had an old friend over for dinner.
I combined chopped nuts and coconut oil in the topping to help slow down the impact of the fruit on blood sugar levels. By combining protein and fats with fruit the fructose is absorbed into the blood stream in a more measured way, thereby not creating a surge in blood sugar levels only to be followed by a slump (and the need to reach for something else sweet to get those levels up again). In addition, I added some mixed spice and a little bit of rice syrup. You could use whatever sugar alternative you prefer, but this is my preference now as it doesn't lead to the cravings associated with other sweeteners and also seems to suit my tummy.
For the base of the crumble I used an Iceland frozen red berry mix (raspberries, blackberries, redcurrants and blackcurrants) and a tin of peaches in juice. If they were in season you could replace the tinned peaches with the same weight of fresh peaches (400g). I then sweetened the mix with four drops of vanilla stevia…again you could use whatever you like, but stevia has no fructose which is what I am now trying to avoid (with the exception of some fruit).
Finally my choice of fruit was made based on those that are lower in fructose, but sweet enough to create a pudding without the need to add too much sweetener.
It is a simple pudding that you can create with storecupboard (and freezer) essentials.
I hope you enjoy the recipe. And I'd love to hear your views on Iceland. Is it somewhere you shop…or would you now?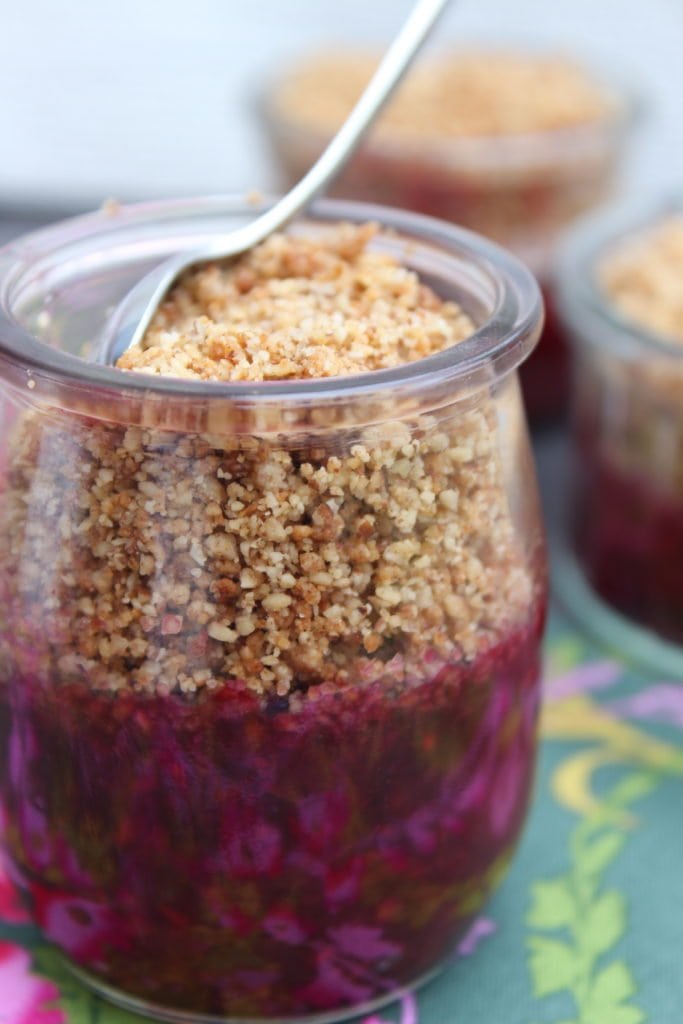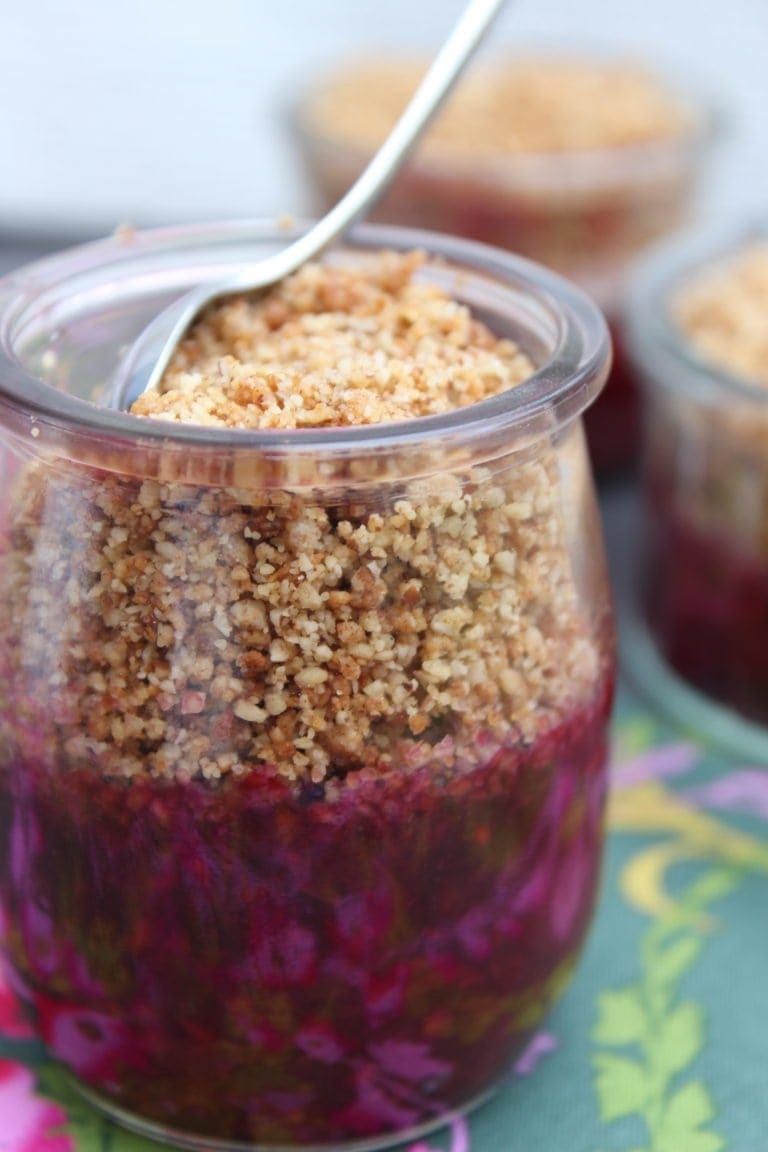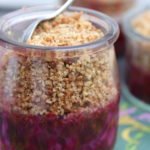 Healthy Red Berry & Peach Crumble
Gluten-free, Dairy-free, Egg-free, Soya-free, Refined Sugar-free, Grain-free, Paleo, SCD, GAPS
Ingredients
For the topping:

60

g

almonds

60

g

pecans

1

tbsp

coconut oil

1

tbsp

rice syrup

1/2

tsp

mixed spice

For the base:

1

tin peaches in juice

drained and rinsed

120

g

Iceland frozen red berry mix

4

drops vanilla stevia
Method
To make the topping place the nuts into a small chopper and whizz until you have a fine 'breadcrumb' like texture

Add the coconut oil, rice syrup and mixed spice and whizz again to combine

Spread the mixture out onto a baking tray and place under a grill at high heat for around 8 minutes, watching and stirring it around all the time to prevent it burning. You want it to be nice and brown but not burnt!

Whilst the topping is browning, chop the peaches into small pieces and add to a saucepan with the frozen berries. Simmer for 15 - 20 minutes until thickened and the fruit is soft

Check the sweetness, and if required add a few drops of stevia, or a little of your chosen sweetener. I found four drops of stevia was sufficient, you may want more

To assemble the pudding divide the cooked fruit between four little dishes. Divide the topping into four and sprinkle over the top

Serve either hot or cold with a dollop of coconut yoghurt if you fancy
This recipe was commissioned by Iceland and I was paid to create it, as well as being sent vouchers to buy the ingredients. This did not affect my opinions and they are all my own.